I've handed out a lot of gardening advice in the 4+ years I've been writing here, but some tips are just so timeless I find myself coming back to them over and over.
Here are 20 tips I think every gardener should know.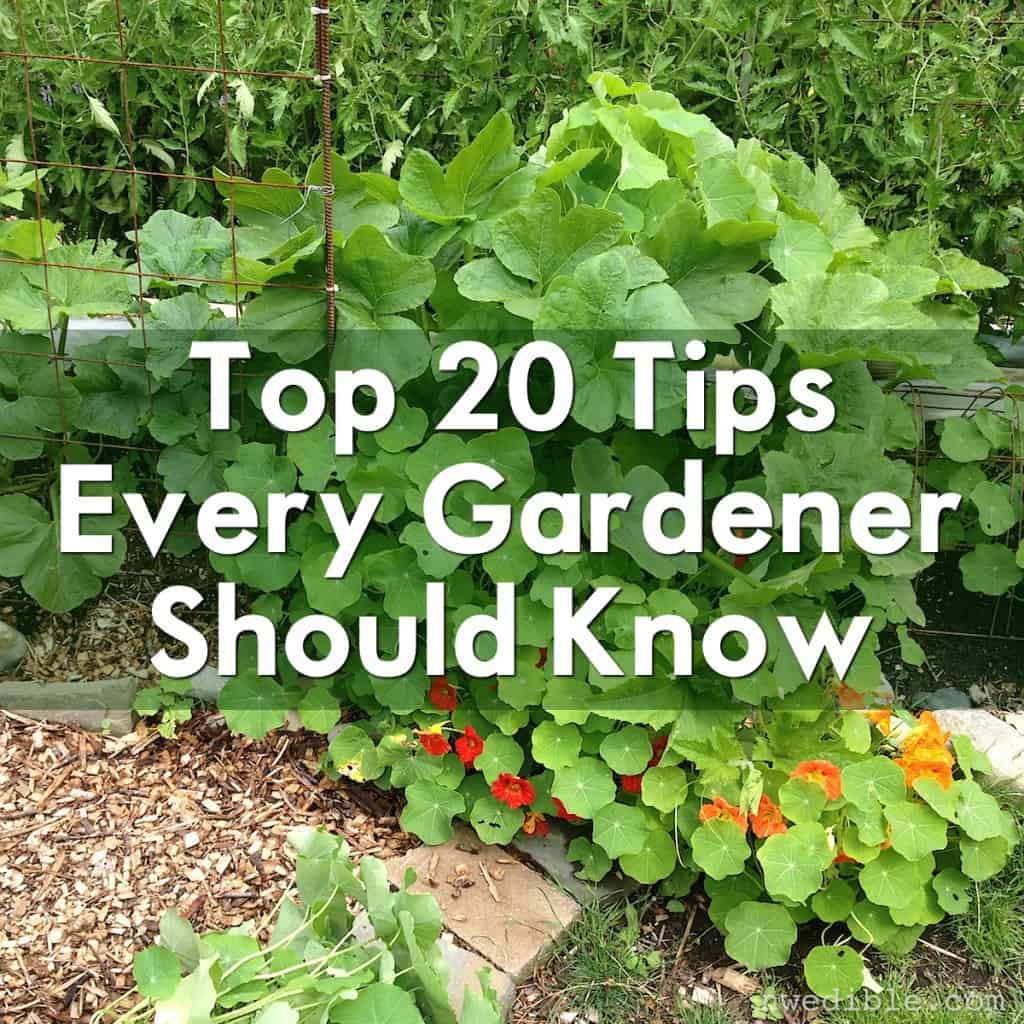 Top 20 Tips Every Gardener Should Know
1. Go organic
You're a big boy or a big girl. You can make up your own mind about chemical pesticide, herbicides and fertilizers. You can, if you so choose, walk into Home Depot and buy a bag of Casoron and so thoroughly poison your immediate environment that seeds won't germinate for a year or more.
But before you do – before you spend the money and the time and get all that stinky dust all over your clothes and subject your local groundwater to the inevitable runoff – consider if perhaps a more gentle approach might work. Perhaps the tools of industrial monocrop agriculture – the hard core weed killers and pesticides – just aren't appropriate to the scale of your backyard. Try organic approaches first. I'm willing to bet you'll like the results.
2. Grow what you will eat and eat what you can grow
If you are a family of dedicated veg haters, so be it. Grow strawberries and raspberries. Look to your own larder for inspiration. If you buy a ton of pizza sauce, maybe a few nice Roma-type tomatoes and a big pot of basil would suit you best. It's all ok!
Conversely, there is something that grows with almost no work or fuss where you live. In my area, it's kale and most potatoes. In the south, I think it's sweet potatoes. In the midwest, maybe squash? Whatever your local Sure Thing is, learn to love it and your gardening will always be more satisfying.
3. Seeds are where it's at
Store-bought starts are expensive and limiting. And with most varieties of vegetables, starts are totally unnecessary. You'll get more variety options, healthier crops and you will pay far less if you buy seeds. Peas, beans, corn, beets, carrots, greens, lettuce, kale, summer squash, winter squash, cucumber, melon and more can all be direct sown very successfully.
4. No crappy seedlings
If you do buy starts, make sure they're good! Truth time: There are a lot of crappy seedlings offered for sale at this time of year. I've seen it all: the nutrient stressed, the root-bound, the already bolting. Before you plunk down your cash, know what seedlings are beyond help so you can pass them up.
Learn more: How To Spot And Avoid A Crappy Seedling.
5. Sow in blocks
Consider square-foot style block planting for maximum yields. I personally consider the square foot gardening spacing guides to be too tight to allow for best plant growth, but planting in blocks, with plants spaced in triangles is a great way to maximize the number of plants you can grow.
6. Garden all year round
Another way to maximize the harvest is to lengthen how long your garden is "on." Use season extension techniques like cloching, soil solarization and thermal mass to start your growing season earlier in spring and extend it later into fall. Even very cold climate gardeners can harvest year-round with the right plant choices and crop protection.
Learn More: The Keep It Simple Guide To Cloches and Understand Thermal Mass To Be A Climate Zone Hacker!
7. Succession sow for a continual harvest
Plant salad greens at least monthly, and ideally every 2 weeks to get a nice, long window for harvesting fresh greens. Plant 2 or 3 waves of broccoli, bush peas, corn and bush beans throughout the growing season, each staggered by a few weeks.
Learn more: How To Make Year-Round Gardening Really Work.
8. Embrace self-seeding plants
Ever wish your garden would just plant itself? Well, part of it can, and will! The self-seeding crops are a busy gardener's secret weapon for early, easy harvests. I have a whole little patch of cilantro that's up in my garden right now I never planted, and I couldn't be happier! Arugula, mache, lambs quarters, calendula, nasturtium and kale have all naturalized happily in my yard and just pop up wherever they want. Because there is always a bounty, it's easy to yank (and eat!) plants that are out of place.
9. Know when to harvest
One of the greatest stumbling blocks new gardeners face is what to do when confronted with the actual harvest! Don't let the prize slip through your fingers – learn to recognize the signs that your crops are ready for your table.
Learn more: When and How To Harvest Broccoli and Cauliflower.
10. Pee on your compost pile.
Urine is a great fertilizer, and it's free! Don't let your own liquid gold go to waste – pee-cycle it! Add your pee to the compost pile to help warm everything up or dilute and use it to fertigate crops directly. When you capture your pee as a valuable nutrient source you also cut way down on toilet water use, which is good for your pocketbook and the environment.
Learn more: How To Use Pee In Your Garden
11. Practice root-to-leaf, whole plant eating
Many garden crops happily deliver a "second harvest" beyond what the grocery store will give you. Broccoli leaves are like collards, beet greens are very similar to chard (a close relative). Kale makes delicious broccoli-like florets in the early spring, and the pods from shelling peas can make a delightfully pea broth to be used in a springtime risotto.
Learn more: How to Harvest and Cook Kale Florets
12. Just grow up!
Harvest more more crops in the same space by embracing trellising. I like to use concrete reinforcing panels and rebar or T-Posts to make a long lasting, strong and durable trellises. My inexpensive but attractive DIY garden arches are super strong, and were made with just concrete mesh, rebar and zipties.
Learn more: DIY Concrete Mesh and Rebar Trellis
13. Perfect is over-rated. Practice weed triage
Get realistic about what a garden "should" look like and you'll save yourself zillions of hours and lots of gardener-insecurity. Embrace weed triage by mulching, smothering, chopping and dropping or simply ignoring the harmless weeds. This will give you more time to carefully dig out the truly pernicious and noxious ones before they become a big problem.
Learn more: 5 Ways To Save Time In The Garden
14. Landscape fabric is the Devil's cloth
I'm not saying there's never an appropriate place for weedblocking landscape fabric. But 99% of the time, landscape fabric is not the right answer. I will use it under permanent hardscape features like stone patios or gravel paths. Never, ever, ever use weedblock fabric in a border, or around shrubs or trees or anything that's growing. I speak from experience, here: you will only harm your garden in the long run if you invite this devil cloth into your growing areas. Just say no.
15. Mulch is an Angel's soft blanket
Mulch everything, everywhere, always. No exception – if the dirt is exposed, cover it with something or nature will cover it for you, typically with weeds. Organic mulches that break down over time will feed your soil the way nature does – from the top-down, without tilling.
I have never had anything work like mulching with arborists woodchips to draw in soil microbes, aerate, and develop gorgeous soil tilth in my garden. The magic of arborists woodchips is they act like miniature sponges, buffering the soil moisture in the ground, while encouraging tons of earthworm and fungal hyphae activity. If, like me, you live in an area where arborists woodchips are plentiful and available free, I believe they make an ideal garden mulch. If some other else is more abundant and plentiful in your area, use that.
16. When in doubt, add herbs.
Herbs are the best bang for your gardening buck. They are literally the most cost-effective crop you can grow. They transform simple food into delicious food. They smell great and are delightful to look at. Plant herbs with abandon and never feel guilty if you don't harvest them all – when those herbs flower they bring in beneficial insects by the score.
Learn More: The 1 Edible You Must Grow and 3 Simple Steps To Bring Beneficial Insects To Your Garden
17. Compost happens
I am a terrible composter. I really am. I've never had the patience to get all scientific with my greens and browns. But you know what? It doesn't matter! You can compost any way that works for you – hot composting or cold composting, trench composting, vermicomposting, chicken-composting, in a casual pile or in a badass compost tumbler. Compost will, eventually, happen.
The most important part of composting is that it turns waste into a valuable soil amendment! Your compost does not have to (and probably won't or shouldn't) look like the stuff from the bag at the garden center. That's ok! Even if you think you are a terrible composter, compost anyway.
18. Think beyond the plate and into the glass
You don't have to garden just for the food value. The drink value can be pretty awesome, too. Consider the possibilities: herbal teas, infused booze and farm-fresh libations are all made better when your own fruits, herbs and vegetables add to the flavor.
19. You'll screw up. (Spoiler alert: We all do.)
No matter how long you do this, you'll screw up. No matter how many blogs or books or magazines you read – things will go sideways. Crops will die. Pests will become unbalanced. The sun won't shine. Some years you will grow better weeds than crops. This happens, and it's ok. Just get out there and learn from your garden.
Learn more: Garden Anxiety
20. Learn To Think Like A Plant
Closely related to #19 – when you are a really great gardener you still screw up, but you do so less because you think like a plant. Oh, sure, my lettuce isn't doing trigonometry, but it does have a world view. Certain things make it happy and certain things make it unhappy.
When you learn to think like a plant, you can feel the arch of the sun on your face and intuit how it will strike the leaves of your veg. You can thrust your fingers into the ground and imagine how difficult it will be for the roots of a plant to find a path through the particles of soil. You can appreciate the amazing possibilities that exist in a single seed.
Learning to think like plant is the goal, the beginning and the end of gardening.
9