Here in the Maritime Northwest, year round growing is easier and, to my mind, more rewarding, with season extension techniques.
Perhaps the cheapest and easiest semi-permanent option for season extension is the low tunnel cloche. With a low tunnel cloche, any garden bed can be turned into something like a very petite hoophouse with some plastic sheeting and a frame over which that plastic is stretched.
As simple as the concept is, various gardeners execute the details in thousands of ways, depending on their climate, resources, and preferences.
The supports can be hoops of PVC, metal tubing, rebar, heavy gauge wire, concrete reinforcement mesh, or whatever else you have hanging around.
The plastic could be greenhouse film, an expensive but longer-lasting option, or a simple plastic drop cloth from the painting section of Home Depot with a life expectancy of maybe 2 years.
Over the nine years that I've been gardening seriously, I've tried all kinds of stuff – including stapling the plastic to lathe and securing the sheeting with all manner of heavy things – logs, rocks, bricks, random broken garden tools.
And through these experiments I have learned that, when it comes to cloches, it is best to just Keep Is Simple.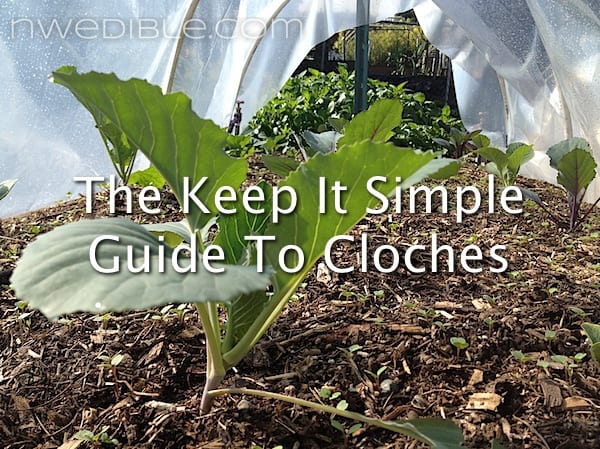 I recently redid most of my tattered, broken-down tunnel coverings with greenhouse film. Here's my currently preferred KISS method of cloching my raised garden beds.
Framework
Years ago we built these low-tunnel cloche supports out of PVC and they have lasted very well. I think only two or three hoops have cracked from exposure.
Whatever you build your frame from, I strongly advise having some kind of center rib to secure the hoops to each other (otherwise they tend to slump to one side) and to stop the plastic cover from drooping in the rain or snow. We used PCV connectors, but anything that keeps your hoops rigid is good.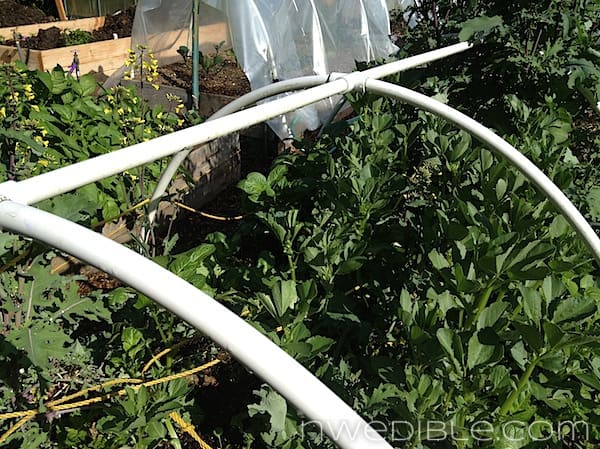 Greenhouse Film
Traditionally I've used the cheap builder's plastic in 4 or 6 mil. For this replacement, I invested in actual greenhouse film. It's quite a bit more expensive, but should last 4 or 5 years instead of 1 or 2 for the builder's plastic.
No comment yet about actual longevity, since this is the first time I've used greenhouse film, but working with this stuff was a dream. The plastic just feels more rugged and heavy duty than the cheap film I was using. It's also far more clear than builder's plastic, which tends to be a milky opaque.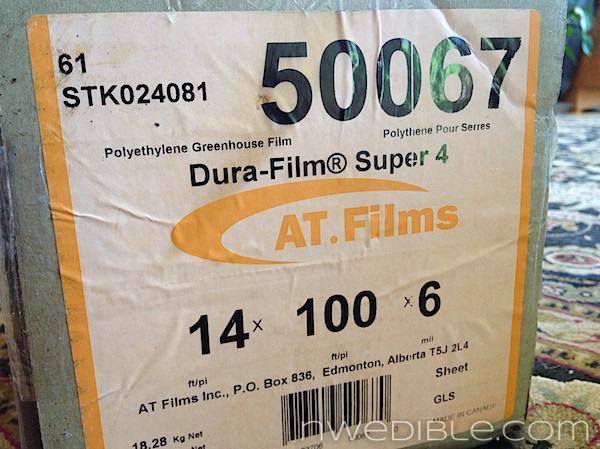 This 14′ x 100′ roll gave me 11, 9-foot by 14-foot sections of low tunnel cloching material. That size covers, with margin, the PVC hoop framework over our 4-foot by 8-foot raised beds.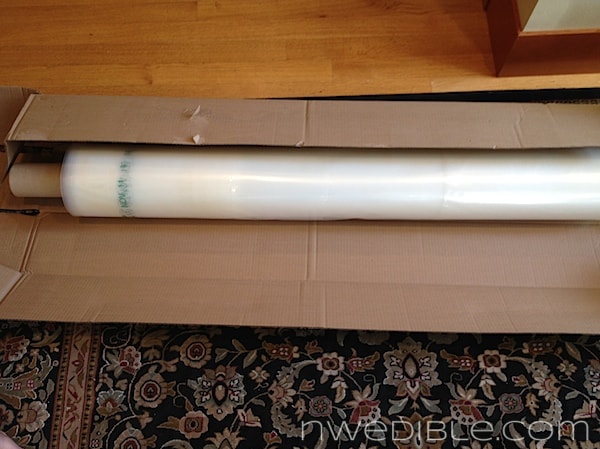 I unrolled and cut the greenhouse film indoors, on carpet, to prevent tearing, crumpling and snagging.
Securing Your Cloche: Large Binder Clips
Of all the ways I've tried to secure the plastic film to my cloche hoops, these large binder clips are my favorite. They are very secure and stop the film from flying away in our occasionally quite impressive windstorms, and last for years. After a while outside they start to rust but they still work.
Securing with binder clips also makes it very easy to move, adjust, and vent the greenhouse film. Just unclip, adjust the cloche, and reclip. If you watch for specials, they are also pretty affordable. I got several boxes of 12-clips on Amazon for $3.18 each. For securing to a PCV-hoop framework, nothing else I've tried even comes close to doing the job as well.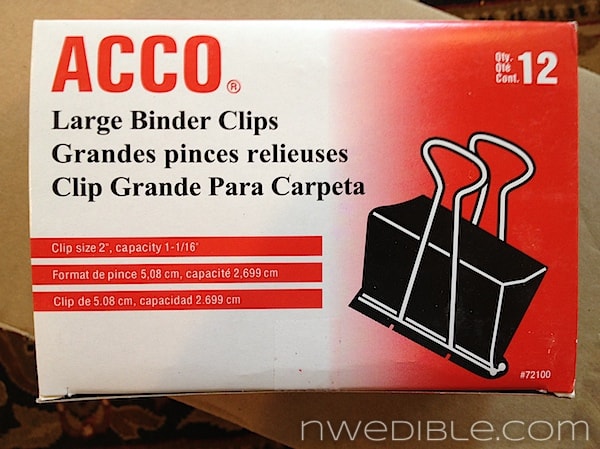 After draping the greenhouse film over my PVC hoop framework, I used 7 binder clips to secure each low-tunnel cloche. Each corner got one clip, and the top spine of the framework got three.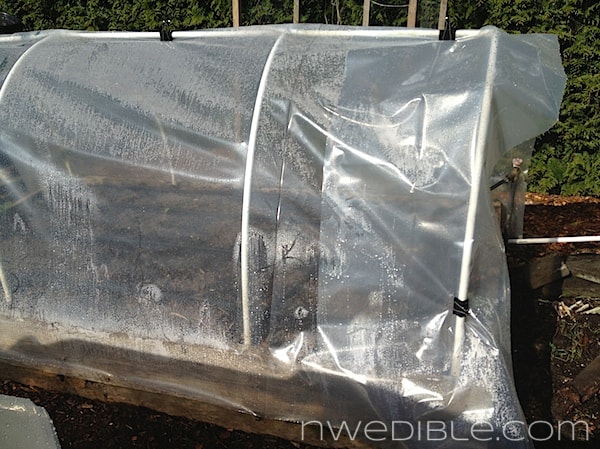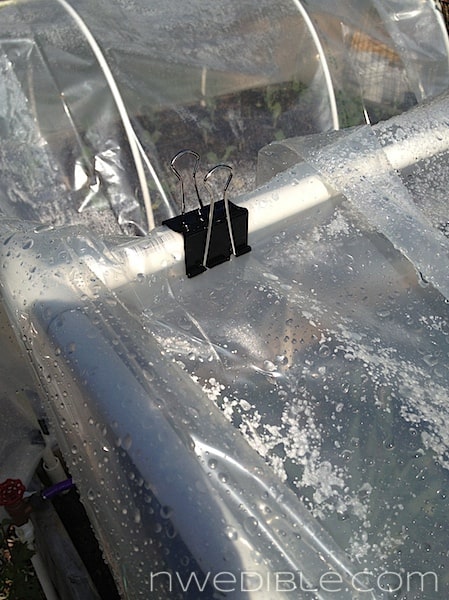 Venting
The whole reason to use a low-tunnel cloche like this in a home garden is to extend your season earlier and later and to increase heat for the real sun-lovers like melons and eggplants.
However, too much of a good thing (warmth) is a very, very bad thing. You can literally cook your seedlings to death under an unvented cloche on a nice, sunny day.
At this time of year (late April) my cloches are in place but are fully vented on the ends 24/7, unless I am protecting something like tomato transplants. In that case, I'll close the cloche in the evening. But even a fully vented cloche like this will keep day and night temps several degrees warmer. The soil in the bed warms up over the day, and acts as a heat sink as night, slowly radiating that warmth back out to the plants.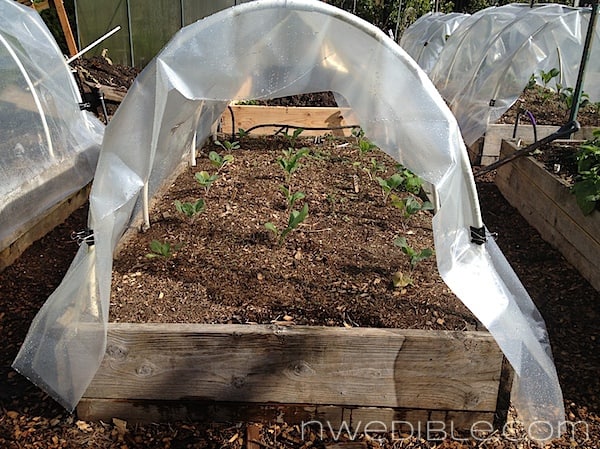 Diffuse Light
Even cool season crops seem to grow much better under a cloche like this. Sure, they can take the chilly nights and alternating bright sunny days and overcast drizzle, but a more consistent environment of even, diffuse light makes them happier.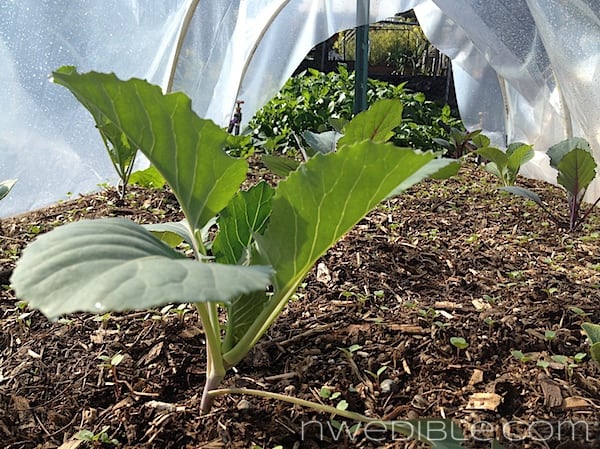 Cats like it too, FYI.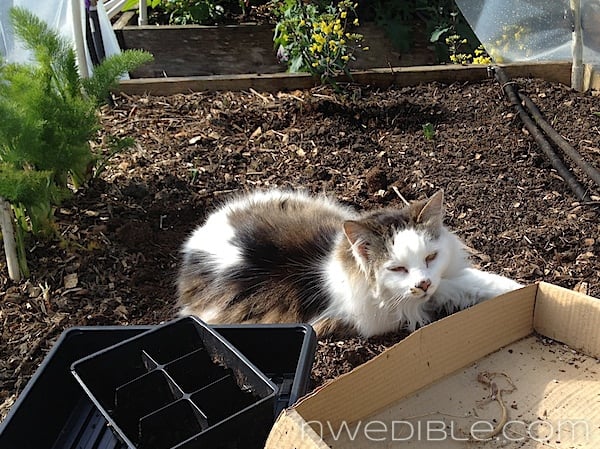 More Cloche Options
There are about a bazillion ways to protect transplants and encourage earlier germination. I couldn't possibly list them all – that would not be keeping it simple – but here are a couple other techniques I also use.
Micro Cloche
This is a good re-use for those clear plastic food containers that lettuce mixes and cut up fruit sometimes come in. If you or your neighbors ever buy the big, one pound containers of organic spring mix or spinach that they sell at Costco, those are just great for this.
Sow your seeds as usual, but bump your timing up by 2-4 weeks, depending on your climate. Pop a plastic food container over the seeds and secure against wind with a garden staple.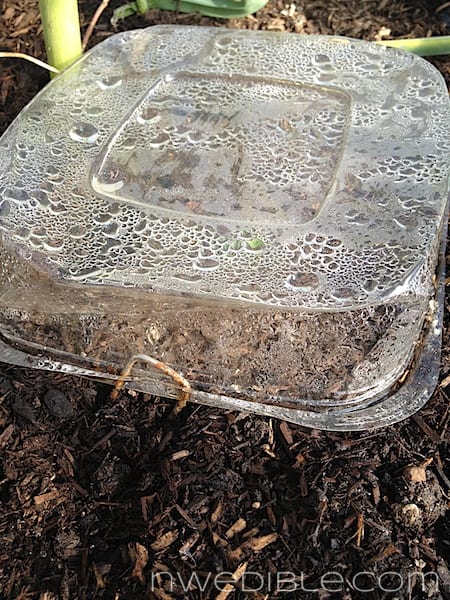 The mini-cloche will warm up the soil and help your heat lovers germinate in place much earlier than they would have without the protection. These are summer squash seeds, for example, sown on April 21st and germinated April 28th or 29th.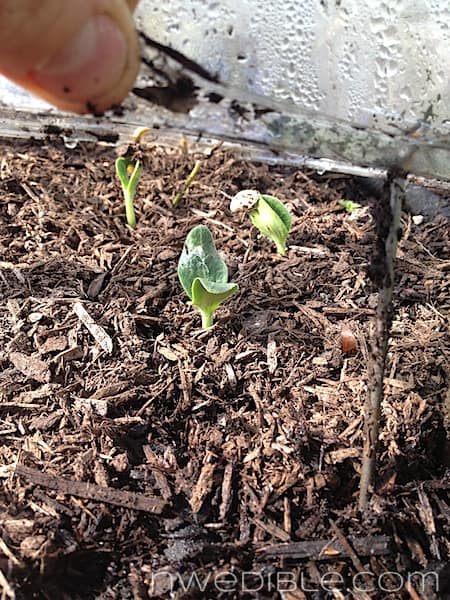 Clear Plastic Mulch -> Super Low Tunnel
This is the area where I'm growing winter squash this year.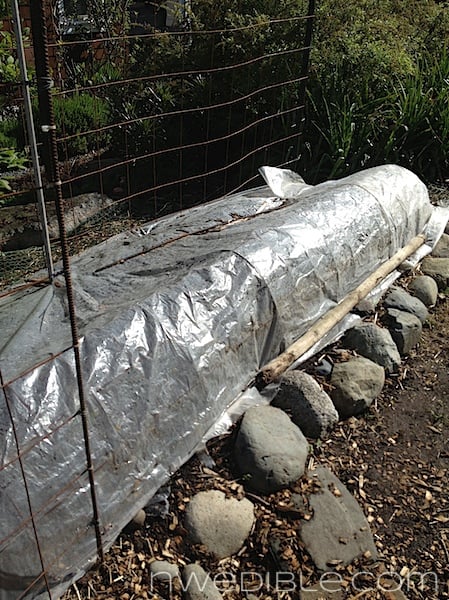 I direct sowed my seeds, then secured a slightly oversized scrap of clear plastic (the cheap kind – my greenhouse film does not sit directly on the ground) directly over the soil to warm the soil as much as possible. As soon as the first seeds germinated I slipped a scrap of concrete wire mesh under the plastic. The concrete wire mesh is bent into a tunnel about 16″ tall.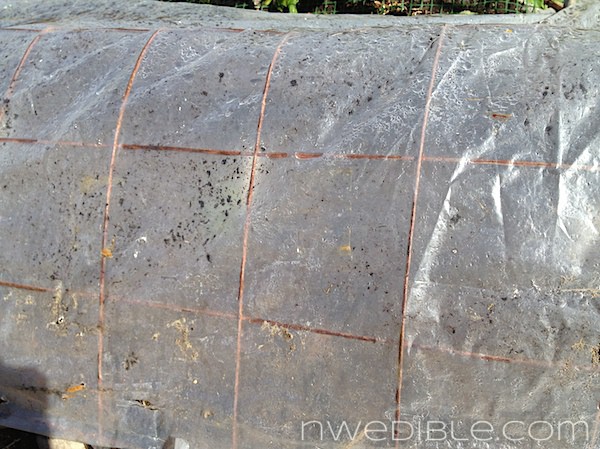 And underneath the tunnel, happy little winter squash seedlings.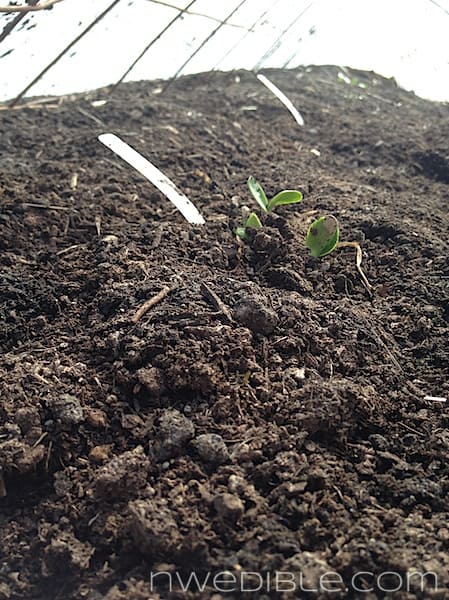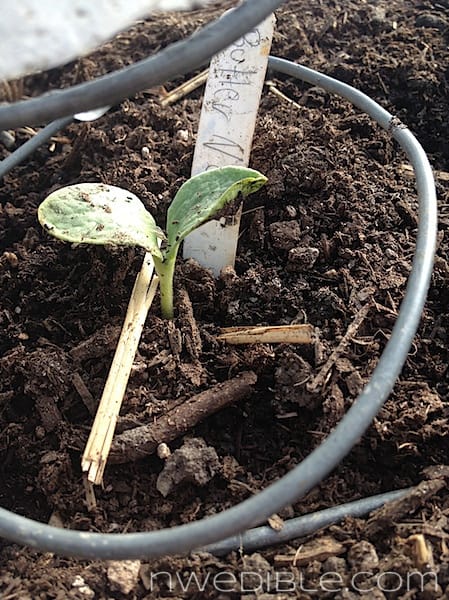 In the main raised bed area, these pole beans got a similar treatment, with a scrap of sheet plastic secured directly over the soil until germination.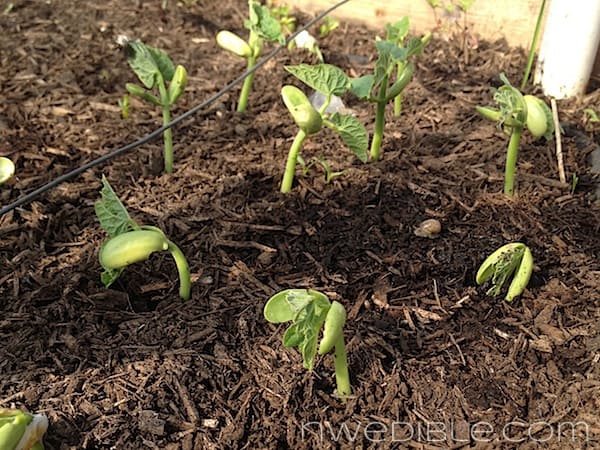 Traditionally, I have started all of melons, squashes, etc. indoors and then gone through the rather laborious process of hardening them off and transplanting them out. Last year I tried this method of direct sow + soil solarization (which in a Seattle spring just takes the soil to a pleasant germinating temperature) with low-tunnel protection and am finding it far less labor-intensive, with better results and less risk.
I like better results with a simpler solution.
Do you use cloches to increase warmth or extend your season? What does your plant protection scheme look like?
142