Apparently we here in the Northwest are getting the heat the rest of the world is lacking. It's downright summery these days! So, with sun on your shoulders and soil rapidly drying out beneath your feet, what needs to be done in the NW Edible Garden in May?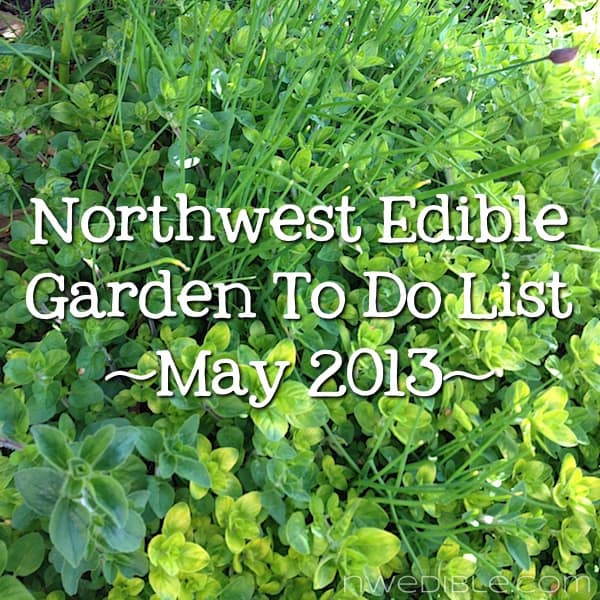 Plan & Purchase
Warm season edibles-tomatoes, peppers, beans, eggplant, melon, cucumber and corn-are in the nurseries and everywhere now. If you missed it last week you might like my post on how to spot and avoid a crappy seedling. It's tempting to buy the larger size transplants, but a 4″ tomato and a gallon tomato may be only a week growing difference and often smaller plants establish and transplant better than older ones. So feel ok saving some money.
It's hard to believe, but it's time to start thinking about the fall garden. Yes, I know: you don't even have the summer garden planted. Just keep it in the back of your head that many of the fall and winter crops like Brussels Sprouts and some of the long-season cabbages mature veeeeerrrrry slowly, and will need to be started in June or early July. So start thinking about your fall crops and make sure you have what seed you'll need and what garden beds you'll want when the time comes.
Sow Indoors
Historically I have started a lot – a lot – indoors under lights, including cucumbers, squash and even beans some years. These are all crops that people do not generally start inside, but I have had good success this way. If you want to go this route and have not yet gotten your summer crops up and growing, start the following under lights ASAP:
Summer and winter squash
Melons
Beans
Corn
Basil and other tender herbs
My new preferred method is to direct sow these crops under clear plastic and rely on the increased soil temp to give me strong and early germination. Given the strong warm trend we are seeing here in early May, I'd say direct sowing is the way to go this year.
If you just love indoor-sowing, you might also:
Continue to start salad greens indoors to have little lettuces, etc. ready to pop into any open patch of ground.
Continue to start brassicas like broccoli, cauliflower, cabbages, etc. indoors for late summer/early fall harvests.
Sow & Plant Outside
We're really into direct-sow time of year now! Keep top layers of soil moist for germinating seeds and be prepared to cover seedlings with a low tunnel cloche or individual cloches in the evenings until overnight temps are reliably above 55-degrees.
If you are behind on your plantings of spring crops, don't feel too bad – delay generally means super fast germination, so it's not too late for lettuces and radishes and other favorites. It's even still worth sticking enation-resistant peas and short season potatoes in the ground.
Squashes – winter and summer squash can be seeded now with appropriate protection for chillier nights and microclimates.
Beans – Bush and pole beans. Scarlet runner is the most cool-night-tolerant bean I grow.
Brassicas – broccoli, cauliflower, cabbage, brussels sprouts, kohlrabi and kale can be sown directly in the ground now. Make sure you are planting varieties that will mature quickly (if you want to eat them in mid/late summer) or slowly (if you want them to be fall crops).
Root Vegetables – beets, carrots, radishes parsnips, root parsley and turnips. These can all be planted. You will have the best results in loose open soil and I encourage you to cover your carrot and parsnip seedlings with row cover to prevent the dreaded carrot root maggot from destroying your veggies.
Corn – Generally I'd say wait until mid-month, but if all this sun has warmed your soil considerably, go for it now. Remember corn is wind pollinated, so for successful ears you need to sow it in blocks, not rows. My old-timer veggie gardener neighbor tells me that a 4 x 4 block (16 total corn plants) is the minimum for reliable pollination.
Greens – lettuce, New Zealand spinach, mustards, arugula, mache, Asian greens, cress and greens mixes can be sown directly for salad and quick sautes.  Mustards and arugula especially tend to bolt at the drop of a hat this time of year, so harvest those greens young!
Swiss Chard – I plant a whole 4 x 8 bed of chard every year. Love it!
Onions – green onions and leeks can be sown. Onion sets and starts can still be put those in for small onions (get on it!), but it's too late to start a bulb onion patch from seed for this year.
Potatoes – Still fine to plant through May, depending on when you want to harvest them and what variety you grow. I've planted short-season Yukon Golds as late as June.
Herbs: Chives, parsley, mints, marjoram, oregano, dill, fennel, borage, cilantro, fennel, basil and the like can all be sown out.
Transplant
Summer transplants including peppers, tomatoes and squashes can, with a hope and prayer, start to tentatively move out to the garden this month if you are cloching and careful about overnight lows. But those sunny days will fry your transplants fast if you do not sufficiently vent your cloches. Constant cloche vigilance!
If you are going into a greenhouse or tunnel cloche, you can move your tomatoes out to the garden in the first half of May. If you are setting the maters out without protection, give them until later May or early June
Peppers are more tender than tomatoes, so I generally set mine out into the greenhouse mid May but this month I am a wild woman and have them already transplanted into a cloched bed. Crossing fingers.
Squash transplants will need protection from low temps and slugs.
Harvest
Salad Greens – new crop lettuce and spinach are tender and delicious.
Rhubarb – very harvestable.
Asparagus – mine's coming up. Gardeners in slightly warmer microclimates or those with very sandy soil might be harvesting already!
Spring cauliflowers – We're done with our overwintering caulis this year but their are varieties just heading up now.
Sprouting Broccoli and Brassica Florets– My sprouting broccoli is just about over this year, but I can still use the greens like collards. A few of last years kale plants were giving me lovely florets and starting to bloom until a few days ago when I had to yank the plants to make room in the bed. Bees love those yellow brassica blossoms, so if you have room, leave your bolted brassicas alone as long as possible.
Chard – Last year's sad neglected chard plants have popped! They look great right now, but will likely go to seed very soon.
Kale – If you planted your kale early, it should be large enough to harvest from.
Overwintering carrots and beets – possibly the tastiest kind!
Herbs – chives, tarragon, lemon balm, mint, parsley and cilantro are all coming up. All the woody herbs are putting on lots of new growth. I'm swamped with oregano.
So, how does your May garden grow?
0