Last April 2nd I took these photos of my newly-constructed Half-Ass Hugelkultur Beds.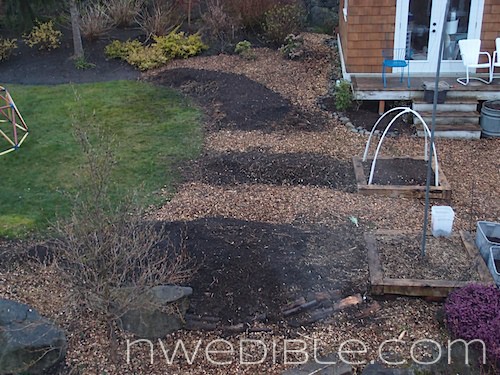 Today, just shy of three months later they look like this.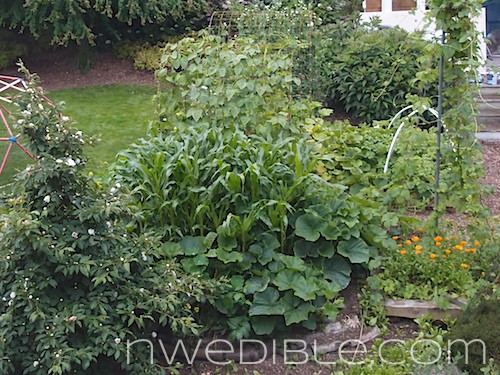 Can I get a woot-woot for hugels?
Other than the massive attack of greenery, one of the biggest changes in this planting area are the twin concrete mesh trellises we installed over the paths. The natural rusty-tones of the unsealed concrete mesh blends in to the background, but if you look closely you can see the two trellises covering the walkways and the beans, peas and squashes that are are scrambling to cover them.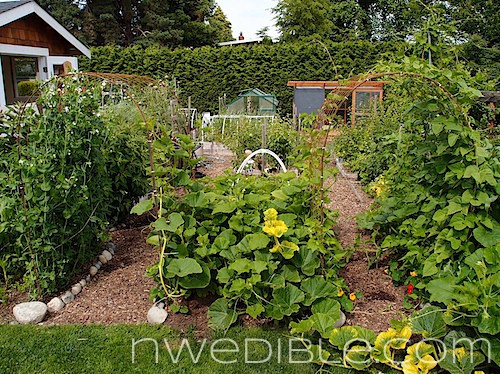 Building these trellises was simple and very inexpensive compared to comparable decorative trellises sold in nurseries. We put both up in one-and-a-half leisurely days with "help" from our kids. If we had the benefit of this blog post before we started it would have been a simple one-day project. 😉
Trellis Materials and General Explanation Overview
Each trellis is made from 6 pieces of 3/8″ x 10′ rebar ($3.25 each). Four lengths of rebar are used as straight corner stakes that are pounded into the ground and 2 lengths are bent into hoops that are secured to the corner stakes and form the rounded top of the trellis.
The rebar frame is draped with an appropriate length of concrete reinforcement mesh cut off a 5′ x 150′ roll ($105 total or $.70 a linear foot). The lengths of concrete mesh we ended up needing for our approximately 7′-tall trellises were 17′ long, but this measurement will vary depending on how wide and how tall you make your trellises.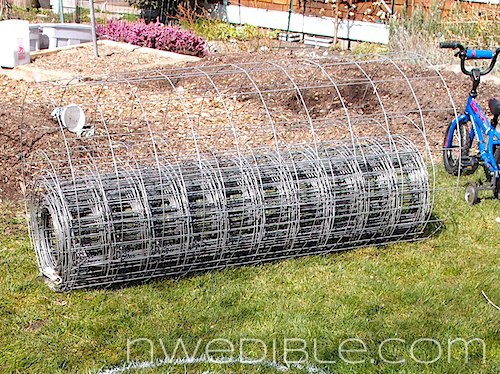 The trellises are held together with plastic 8″ zip-ties ($4 for a 100 pack, enough for two trellises). We had white zip-ties on hand, so we used them, but if I were buying specifically for this project I would get the black zip-ties which are more discrete.
Total cost for per trellis: $33.40. Similar trellises in my local nursery are narrower, less sturdy and sell for about $200.
Step One: Pound Rebar Corner Stakes Into Ground
If you have 10′ lengths of rebar, you'll be pounding 4 of them 4-5 feet into the ground for a 7′ tall trellis (remember, the curved sections add height). Keep that in mind. Perhaps 8′ lengths of rebar are available in your area? Perhaps you want very tall trellises? Perhaps you want to hacksaw off 18″ before you start? These are just things to consider before you start pounding.
We considered all these things after we started pounding. This left us with little choice but to keep pounding…and pounding. Our trellises are secure.
Place your four corner stakes carefully. Measure across, and across the other way, and diagonally to ensure they are square. Take your time with this, because if your stakes are out of alignment the concrete mesh will not drape over the rebar frame nicely. Our trellis was 4′ wide and 5′ deep (the width of the concrete mesh).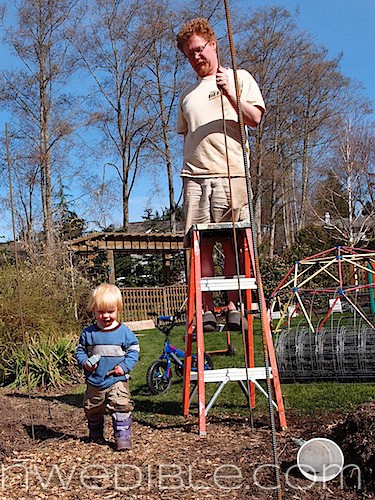 Once you are confident about corner post location, bring in a work crew to pound those rebar stakes into the ground. Make sure your crew comes to the job with their own equipment. We knew we could trust this laborer when we saw his quality plastic Bob the Builder hammer.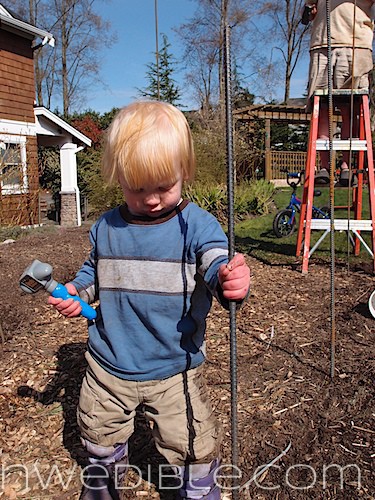 Supervise your work crew to ensure the corner posts drive in plumb and true. No tilting! This will be important when you have to drape the mesh paneling over the frame.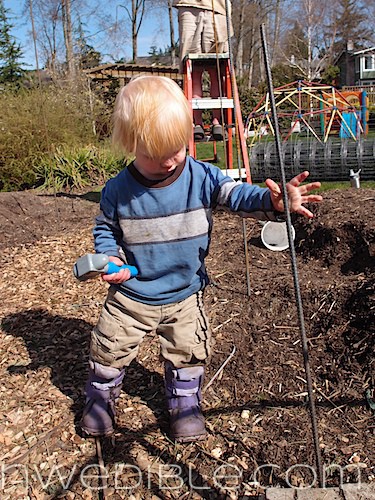 Step Two: Bend Rebar Hoops
3/8″ rebar can be bent into a hoop shape by hand. It's a bit of a full-body activity to get everything shaped the way you want it and it can take a bit of tweaking the angles and curves, but it's not really complicated. Just put your foot in the middle and work the sides up gently until it's the right shape.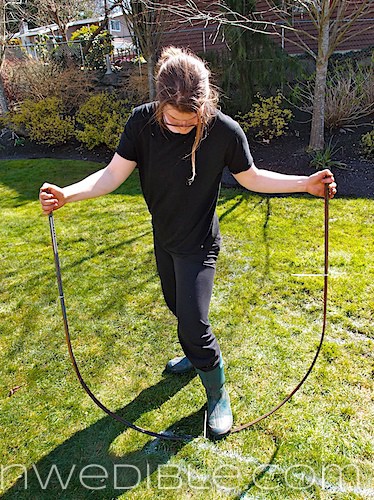 (I have no idea how a picture of me was taken that makes me look like I have no hips or butt. This has got to be the weirdest photo angle ever. In reality have the kind of butt that makes my personal trainer friends use terms like "extended gluteal shelf" and causes 17 year old boys who think they are clever to yell at me from their car: "damn, that's a lot of butt!" I'm not kidding – that really happened to me about a month ago. Anyway, I digress, back to trellises.)
The point is, put some curve into that thing. And yes, I'm back to talking about rebar now. And make sure the finished width is the same as the distance between your corner posts.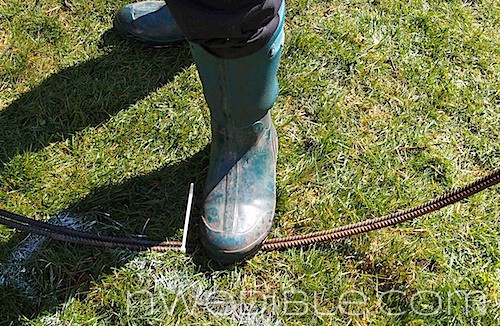 Important Tip! Bend both rebar hoops together. Use a few zip-ties and lash two of your lengths of rebar together. Then work the rebar into a symmetrical bend. You have to do it this way because it will be damn near impossible to get identical bends in two pieces of rebar bent separately by hand. And if your two hoops aren't very close or identical in shape, your trellis will look wonky when it's assembled.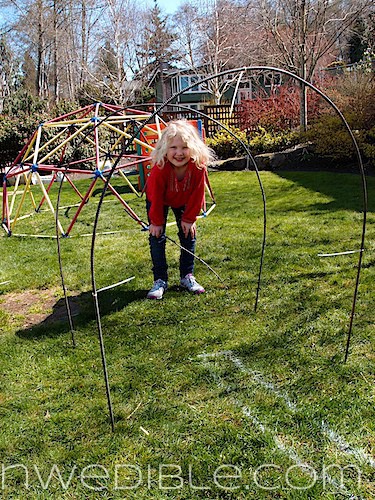 When your two hoops are complete, set them aside to play a round of Giant Croquet. Or not, whatever floats your boat.
Step Three: Attach Hoops to Corner Stakes with Zip-Ties
A few zip ties on each side will hold your hoops to the corner stakes. We found the best way to line everything up was by the very scientific "eyeball it" method. When both hoops looked like they were about level, we balanced a scrap piece of wood across the center of the two hoops and put a level across the wood. From there we made any adjustments necessary.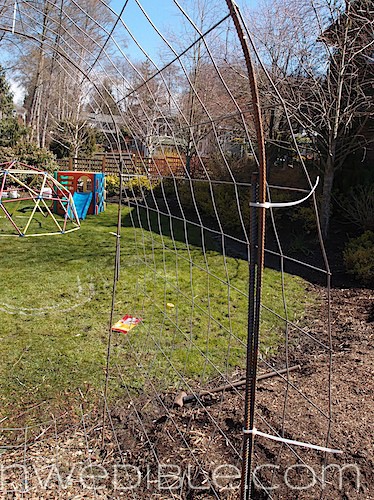 Because the rebar is ridged, you can tighten the zip-ties just shy of all the way snug and they will hold the rebar in place but allow a little wiggle up or down depending on what adjustments you need to make.
When the hoops are in place to your satisfaction, ratchet in the zip ties and throw a few more on for good measure.
Step Four: Attach Concrete Mesh to Rebar Frame.
It really helps to have two people to do this bit. Hoist your pre-cut length of concrete mesh up to the rebar form. Try to get it straight and level.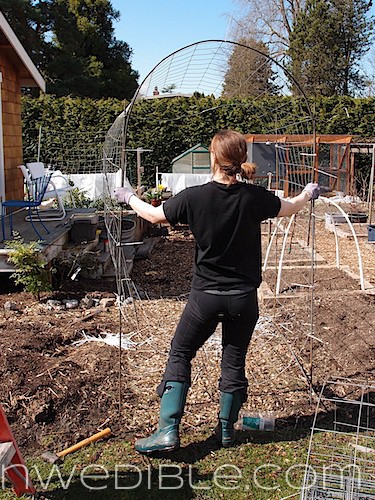 Throw a few zip ties around the mesh and the frame at the top and work your way down from there, attaching the mesh as necessary, every foot or so. Although this photo shows the mesh inside the rebar frame, we found it worked better to sit the mesh on top of the rebar if possible.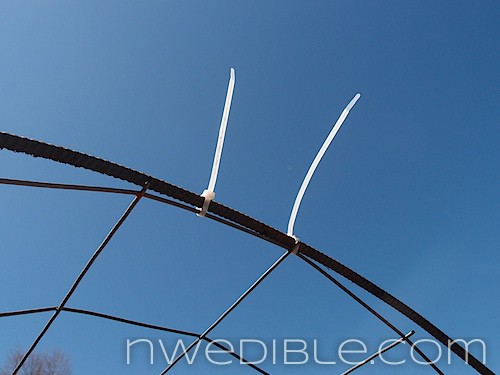 Just work your way down. As you attach everything together with the zip-ties the trellis will lock together and become much more sturdy.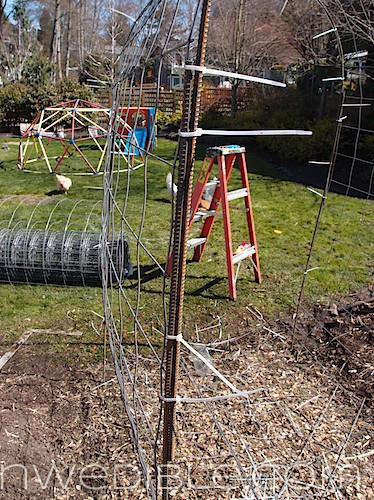 We cut our mesh too long and had to go back and trim the edges. Laying on the ground and snipping fairly burly wire is a pain in the butt. Avoid if possible.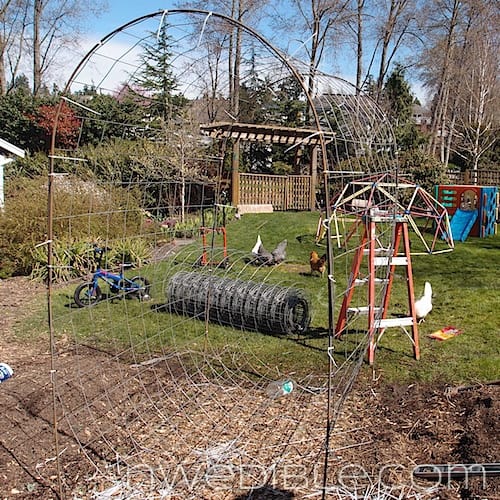 Final Details
Go through and snip the tails off your zip ties.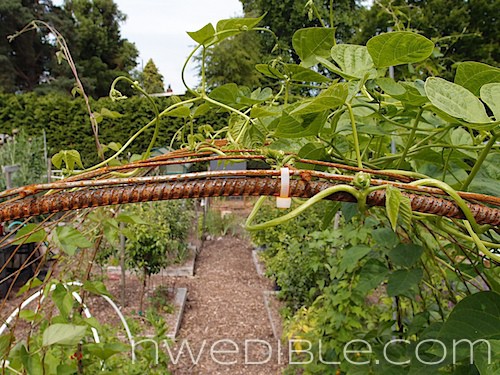 As the trellis sits a bit and all the various metal pieces pull against each other and get hit by the sun and cold and sun again everything kind-of pulls together.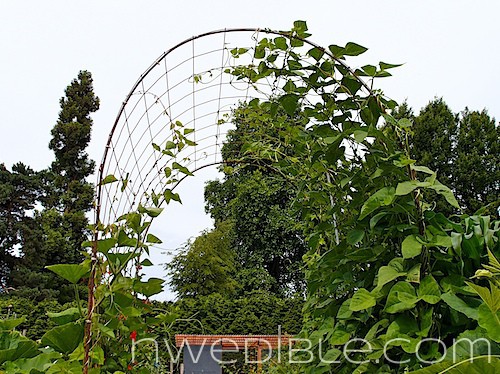 If you want your trellis to be anything other than rust-chic, you should seal it or paint it asap. It will start to take on a patina almost immediately. I happen to like that rusted metal look, but if you don't you'll want to protect your metal from the elements.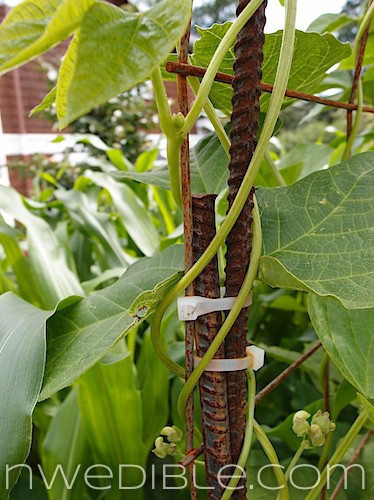 Concrete mesh is the perfect DIY trellis material. Per linear foot it is super cheap. It's reusable and long-lasting. It's strong enough for even large melons and heavy squashes.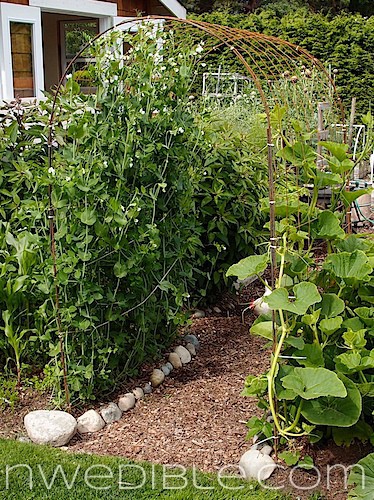 The size of the openings – 6″x6″ for the roll mesh we used, 5″x5″ for the flat panels I believe – are large enough to get your hand through for harvesting tomatoes, cucumbers and summer squashes.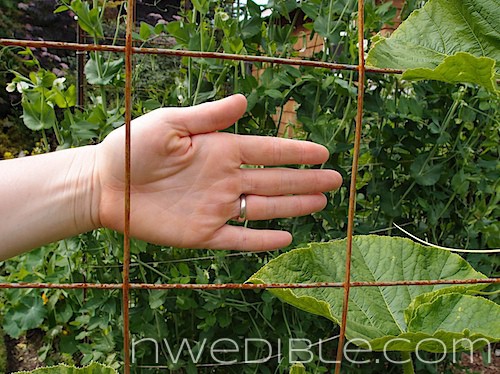 The wire is a good size and texture for climbing vines like beans and hops to run up, and it looks good in the garden.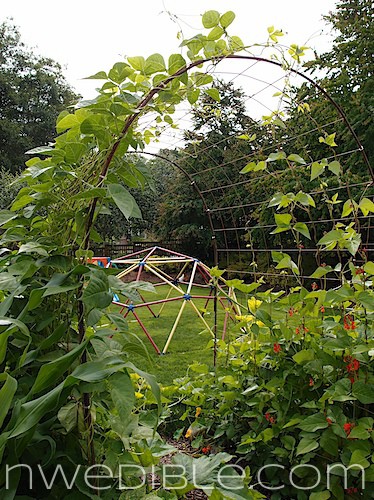 Trellises like this can help to define a lovely transition from one area of the garden to another.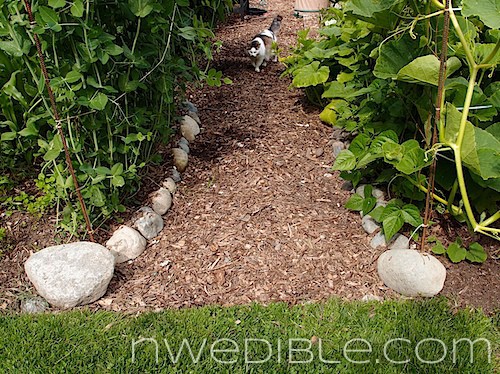 In season, they can even give you something to munch on as you walk through.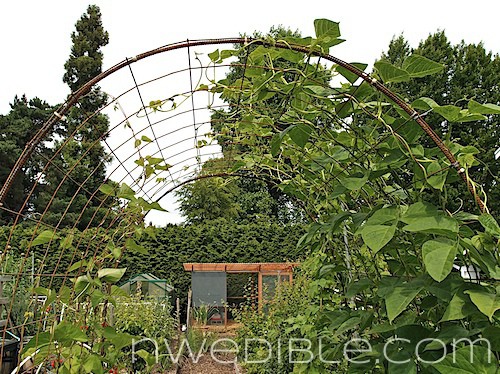 We love how our concrete mesh trellises have turned out!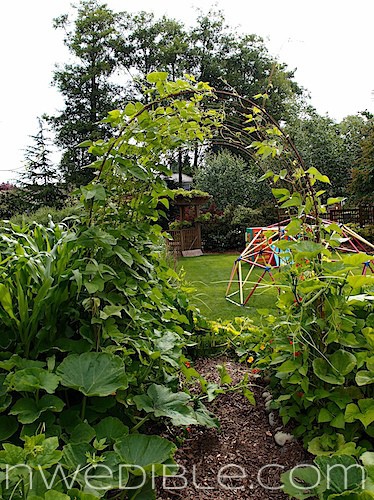 You might want to check out how the gardeners at Grow and Resist and Dog Island Farm are using concrete mesh, too. Have you used this versatile hardware store staple in your garden yet?
159