Beginning of July and everything is soggy with occasional gloombreaks. Typically, Pacific Northwest gardeners are feeling really cheated right about now, having made it through Juneuary and confronting a July that's not yet delivering summer.
Try not to worry – this is all about expectations. Every year we expect summer to run from June to September, and every year we get upset that it doesn't. In reality summer in the Maritime Northwest runs from mid-July to late-August. Everything sunny outside of that 6-week window is just total bonus.
I have a friend who claims summer in Seattle starts reliably on July 5th – you know, just so Independence Day celebrations take place under cloudy skies. He might have a point.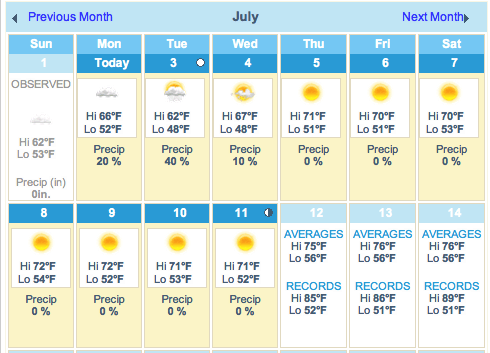 But hey, it could be worse. A lot worse. Now is an excellent time to swallow that gratitude pill that the worst of Pacific Northwest summer weather is some overcast skies. For information and options on how to donate or assist the victims of the Colorado wildfires, click here.
Plan & Purchase:
Garlic should be ordered now for planting in late September/early October.
Sow Indoors:
Much of the fall garden needs to be started asap to give you harvestable vegetables by the time fall rolls around and growth slows to a crawl. If you didn't do it last month, get your long-season coles like broccoli, cabbage and cauliflower started.
You can sow them directly if you have the space and the tenacity to battle slugs for your seedlings, but I sow them in cell-packs. Indoor sowing under lights will get things growing fast and even but sowing outside will result in hardier transplants. Your call.
By mid-July it just won't be worth starting the hardy coles or root crops that make up the bulk of the edibles through the cold season. So if you are planning on a year-round garden, you really need to hustle.
Fall Cabbage
Overwintering Cabbage
Fall Broccoli
Sprouting Broccoli
Fall Cauliflower
Overwintering Cauliflower
Kales
Swiss Chard
Collards
Kohlrabi
Sow & Plant Outside
If you have a bare patch of earth anywhere in your garden right now, use it for your fall and overwintering root crops.
Fall Root Crops: Carrots, beets, radish, rutabaga (my favorite survival crop!), turnips and beets really need to go in as early in the month as to give a good sized harvest.
Green Onions: I'm always surprised how long green onions take.
Fall Salad Greens: Swiss chard, Frisee, escarole, radicchio, and arugula can be sown out mid-month. Lettuce and spinach will be better and longer lasting if protected from the hottest days or if sowing is delayed until the end of the month.
Long-maturing brassicas: Fall and overwintering broccoli, cabbages and cauliflower, plus kale, collards, kohlrahi and Chinese cabbage can all be sown out now if you aren't starting these crops indoors.
Green beans: If you haven't gotten your beans in, why not give an early July sowing a shot? I bet it will germinate quickly!
Fall peas: If you grow a fall crop of peas (I never have – does it work?) you should start them this month, or so the experts tell me.
Transplant Out
If you started your fall stuff inside in mid-June, it might be ready to go out by the end of this month. If your garden isn't ready for the transplants yet, you can usually keep them going just fine in 4″ pots for another couple weeks. Try to have your leeks in their final spot by the end of July.
Cabbages
Cauliflowers
Brussels Sprouts
Sprouting broccoli
Kale
Leeks
Harvest
Everything is ready except the real heat lovers, it seems. Lots of variety makes for lots of salads and A-to-Z stir-fries!
Artichokes
Beans*
Beets
Broccoli
Cabbage
Carrots
Garlic*
Onions
Peas
Salad greens
Tomatoes*
Zucchini
*end of month, with a bit of luck
Fruit
Strawberries
Blueberries
Raspberries
Currants
Maintenance
There's a lot to keep alive right now! It can feel overwhelming. True confessions: this is last year's list. I have barely gotten to any of this this year. I have grand hopes that this month I shall catch up in the garden. Hope springs eternal.
Weed
Water, particularly seedlings that haven't yet established a good root system.
Mulch. Mulch. Mulch.
Cure garlic
Pinch out climbing beans
Pinch out tomato shoots
Train cucumbers
Side dress heavy feeders
Net ripening fruit against birds
Hill up potatoes
Summer prune soft fruit and tree fruit
Prune summer raspberries
Tie in blackberries
Thin apples and pears
Prune espalier trees, stone fruits, and grape vines
Trap, snip, or apply Sluggo regularly if necessary for control of slugs and snails
Apply copper fungicide or homemade baking soda controls for fungal diseases if necessary
Handpick cabbage caterpillars or apply BT for cabbage moth control if necessary
Foliar feed with fish emulsion if necessary to give heavy-feeders a quick boost
Preserve, freeze and dry what you cannot eat fresh. Remember, eat fresh when possible!
How's your garden growing?
All Photos: Weather.com
1