Perhaps your garden, like mine, has a dumping ground area. Some place where random bits of lumber, useful but not in-use buckets and lengths of rebar mingle with weeds, neglected tools and a compost bin that's seen better days. That's the Ugly Side of Urban Homesteading – it's when a focus on reuse and the productive possibility of stuff isn't managed or organized particularly well.
Here's a before photo of the garden's worst dumping zone just before I decided our "productive homestead" look had slumped into a "embarrassing junk-pile" look.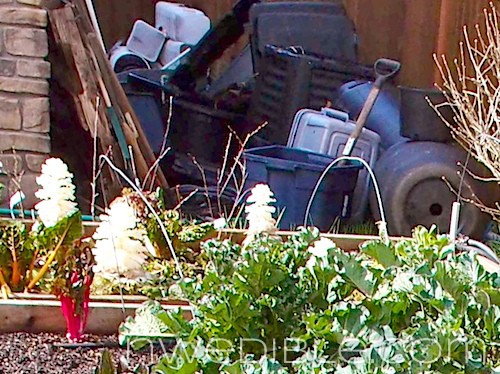 This is a side-yard area between our house and the fence, about 8′ wide. Half of that width is a concrete path that was, at the time this photo was taken, impassable with junk. The other half was dead and dying grass, put in as sod by a landscaper who wasn't thinking about what "full shade" really means for the long-term health of grass. If you're thinking it looks like stuff is literally just thrown atop other stuff, you're right.
The worst part of this space was that it was completely visible from the street. This side-yard wraps to the front of our home, and anyone walking by would only need to turn their head to see the wreck this area had become.
And that is not how we do front yard gardening, people! I firmly believe that front yard gardening is about showing off how wonderful edible gardening can be, both aesthetically and productively. It's about not giving the "Our Town Hates Veggies!" idiots any ammunition to suggest that growing vegetables isn't appropriate except behind tall fences in the way-back. Like it or not, if you garden in the front, you gotta keep that shit up for all the other front-yard gardeners out there, and those that are trying to convince local powers-that-be that they should be allowed to grow some chard in full view of the tender eyes of the public.
In other words, Trash Heap Chic will not fly.
Clearly, something had to be done.
We started by piling everything we could onto the concrete path side of the sideyard. Once the "grass" side of the area was uncovered, we tore up whatever remaining sod and weed-mess we could and smoothed out the soil with a grading rake.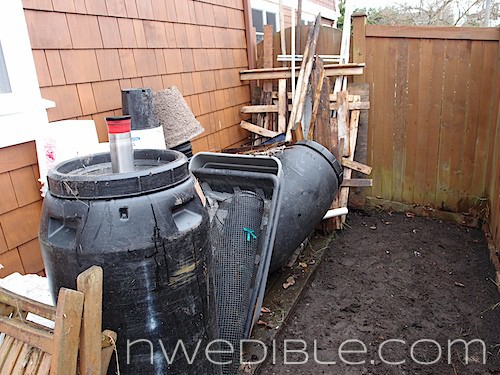 Down went a layer of landscape fabric we had on hand. I hate, hate, hate this stuff as a mulch substrate in areas where plants are being asked to grow (roots entangle and it's bad news for the long-term health of trees, shrubs, etc. – ask me how I learned that lesson…), but I do think it does a good job of slowing weed growth in path areas like this.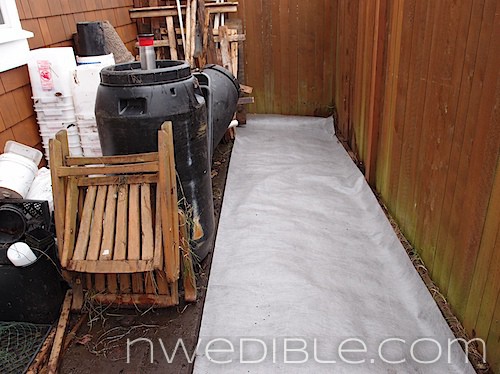 We put down a thick layer of bark chips and began to put the garden-storage zone area back together in an organized and more maintainable manner.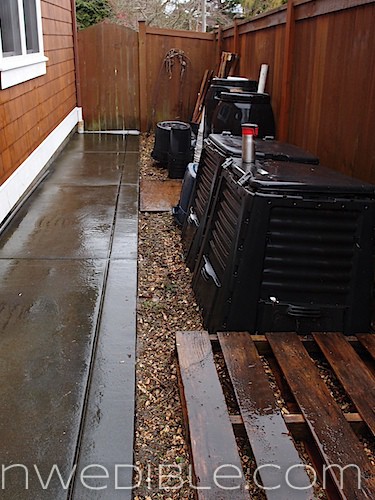 Old plastic buckets were used to contain random bits of wood or pvc pipe.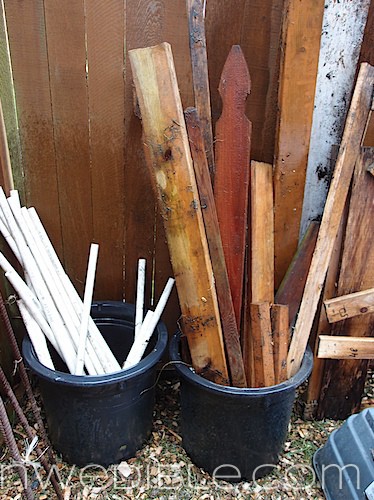 Everything looked a lot more tidy, but I still wanted to screen off the view into this storage area from the street. Solution? A pallet in decent shape that I found by the side of the road and a few heavy-duty metal T-Posts I had. They were propped up in one of my backyard junk piles, just waiting for a moment like this to shine.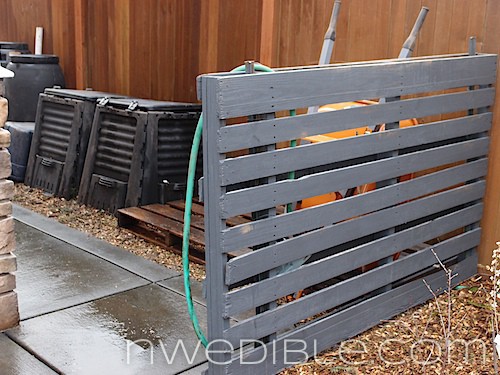 I set the pallet up and propped it level and more-or-less plumb with bricks and odd rocks. Then I drove the T-Post's in at either end of the pallet, between the front and rear slats of the pallet.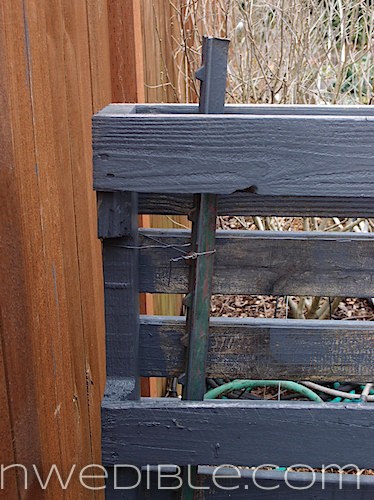 The pallet was now securely held-up, but still had a lot of side-to-side movement. I wired both sides of the pallet to the T-Posts to provide a bit more stability.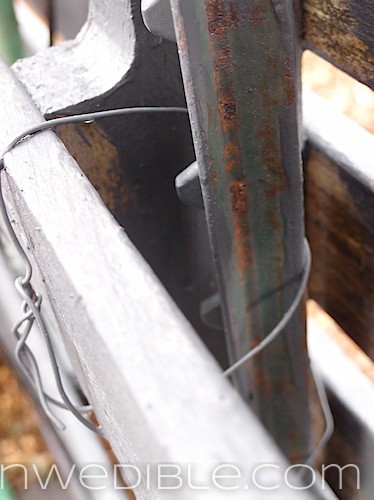 At about 7 pm, racing to get done before full dark (this was all happening in March), I painted the pallet hastily with the same exterior grey paint we used for Coop 1.0 and Coop 2.0. The result was a very effective and totally free screen that disguises the side-yard storage area quite well.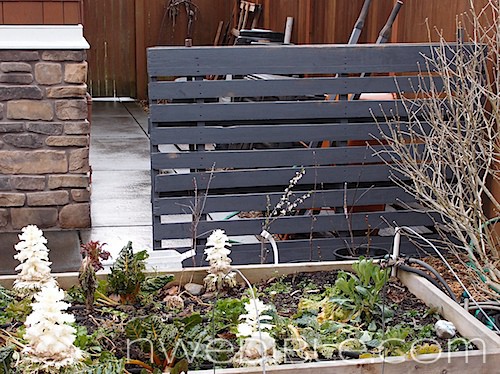 Now, if people glance past the front beds and down to the side-yard, the view they are confronted with is Reuse Chic, not Trash Heap Chic. I can live with that.
0