"If you get nothing else, please, please just get the moisturizer," the overly plumped and overly plucked sales-cultist implores me. "You know, these are the years that really count for your skin."
The moisturizer is $75 for a two-ounce jar. The jar, it must be said, is a very pretty sandblasted green. It's worth at least $2.50 all by itself.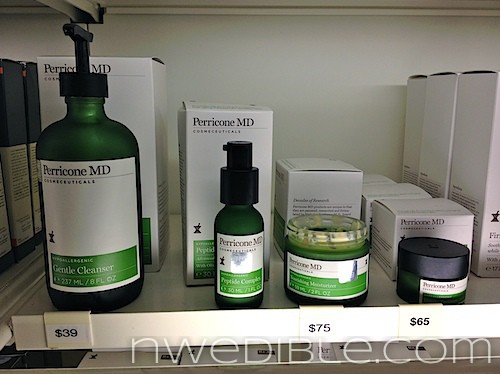 The salesperson is desperate to dab her ecru goo on my face. Her white lab coat implies some sort of medical training, but her extremely loose interpretation of the term "serum" and the fact that she's working a lotion bar at a mall cosmetics store tells me she's probably a few credits shy of her M.D.
"Yeah, usually I just rub pork fat on my face," I say, feeling the mild adrenaline rush that precedes an oncoming girl-fight/sales-pitch dodge situation.
She laughs, her chuckle light and perhaps a tad nervous – not a lot of lard-moisturizing gals at the mall, I suppose – but commendably undeterrable. "You will see the difference immediately. This line is specially formulated to include Cold Serum Polyphenols and DMAE. It's developed by a doctor, he has incorporated anti-inflamatory properties into every product, and I can tell from the redness in your skin that the olive fruit compounds in the sensitive line will soothe and protect your skin perfectly."
"And what exactly is DMAE?" I ask. This question is baiting, asked only for my own private amusement, and not because I really intend to buy the high-priced cream being hawked.
"It's like a fish oil extract," the saleswoman tells me eagerly, "An amazing antioxident!"
Then she lowers her voice and leans in, her ticket-getter red lips whispering a secret only I can be allowed to hear: "And that's the only complaint we ever get with this product. Some people do say that the serum has a mild fishy smell when they first open it. But once they use it they love it because it ab-so-lute-ly works!" She is back to gushing. Fish-face-stank will not deter her enthusiasm for her beloved face goo.
"Oh, yeah, I know what that's like," I sympathize, deep in co-conspirator mode, "my moisturizer smells a bit like bacon when I first rub it on."
Her eyes get wide. She nods just a bit and it's clear we've bonded. We totally get each other – it's like we're sisters now. "Let me do just half your face and you'll be stunned at the difference. It is immediately obvious what this product does. It's that powerful." She rests her hand just for a moment on my forearm, 'cause now we're all close like that.
I am, for the first time in at least six months, at The Mall.
And not just any store at the mall – not REI or Barnes and Noble – but a store dedicated exclusively to high-end cosmetics.
I had almost forgotten that places like this existed. This world, this altar to someone else's image of good-enough and pretty-enough, is so far from my daily reality that I feel like I deserve a passport stamp for venturing out this far.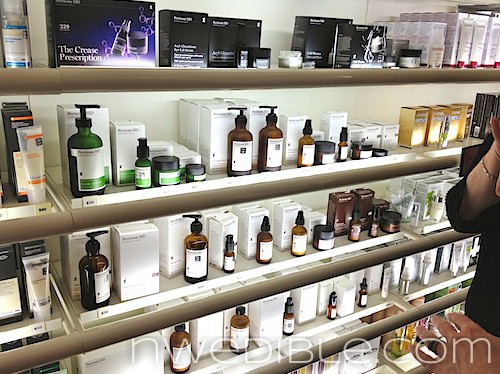 The store is perfectly lit. The products are uplit dramatically. Every bottle and every potion looks magical and promising. The mirrors are lit in warm and soft full-surround light. This kind of lighting magically erases dark circles, minimizes zits and gives a glow of pore-less perfection to almost any face. It's the same kind of lighting strip clubs use to make dancers look like they don't have cellulite. It's fantasy lighting.
Posters of 14 year old girls in $900 camisoles, $200 haircuts and priceless make-up jobs decorate the store. There are two kinds of customers: beautiful young girls doing everything they can to look older, and women who are no-longer-young-girls doing everything they can to look younger.
Both varieties of customer strike me as a little sad.
"Sure!" I say to the salewoman, "Go ahead."
Out come the sample products. And that is how I come to have a $332 facial skin maintenance system applied to one-half of my face.
"This'll be a blog post one day," I think to myself, as I start surreptitiously snapping pictures on my phone. "I just want to make sure I can remember the products," I explain when the saleswoman glances at my phone, "I'm such a visual person."
"Of course!" she beams, and continues massaging in focus-group-approved lotions.
First, half my face is washed with a $39 hypoallergenic cleanser.
Then, a $75 nourishing moisturizer, a $65 firming eye cream and a $98 peptide complex is smoothed on. To top it off, a $55 tinted sunscreen "evens out" my skin tone while providing "full spectrum UVA/UVB coverage."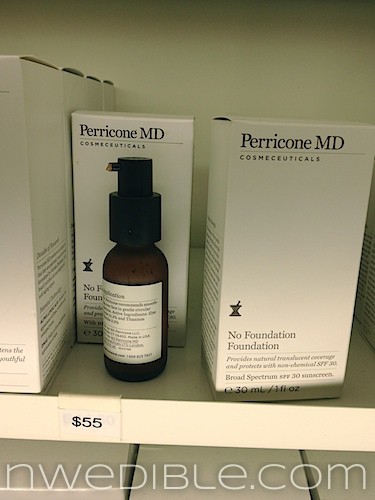 "Look how that automatically color-adjusts to blend in with your exact skin color!" The salesperson proclaims, pleased with my transformation from pork-smeared barbarian to civilized mall customer.
"Wow!" I hear from my girlfriend and shopping companion. "Oh yeah, I can totally see a difference. That is incredible!"
"Really? Which half has the stuff on it?" I ask my friend, teasingly.
"This one, obviously!" she says, confidently, pointing at one of my cheeks.
And she fucking guesses wrong.
That, my friends, is the power of Hope In A Bottle.
So, which side of my face do you think was civilized with the power of $332 worth of polyphenols, DMAE, olive fruit extract, cold serum and – most importantly – the incomparable power of merdae equorum?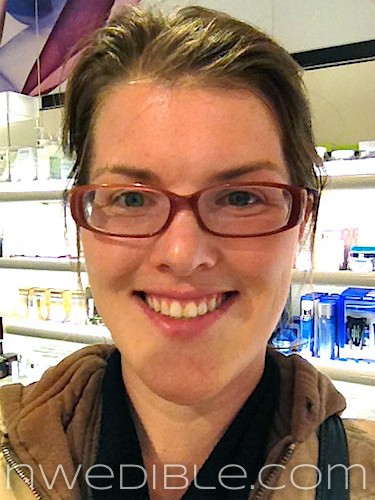 Well, isn't is obvious?
1