In a garden, some years things go smooth(ish) and some years things are a little bumpier. The biggest bump I've run into this year is cabbage maggots which decimated a full bed of nearly-sized-up broccoli and did a number on a few other spring brassicas around the garden.
The root maggots, combined with a few missed sowings in early spring, mean we don't have much of a spring garden. But the nice thing about a garden is that, for as many things that seem to go wrong, there still always seems to be a head of lettuce to pick or a handful of peas or strawberries to munch on.
Hugelkultur Beds
Without a doubt, the stand-out growing area of the year are the hugelkultur beds I installed earlier this year. I went for a Three Sisters kind of planting, growing legumes, corn and squash in close proximity. Wow, that experiment seems to be working: everything is growing like crazy-pants.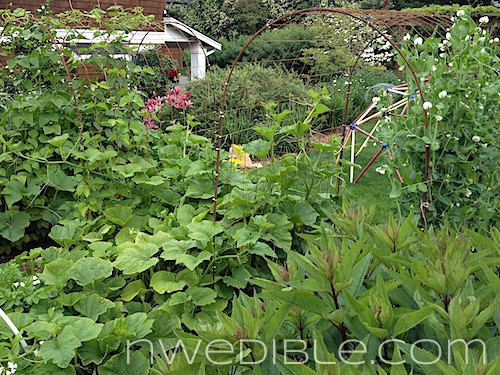 The three various-sized hugels flank two concrete-mesh trellises we built a bit ago (a How To post on these is coming.) Beans and pole peas are climbing the trellises.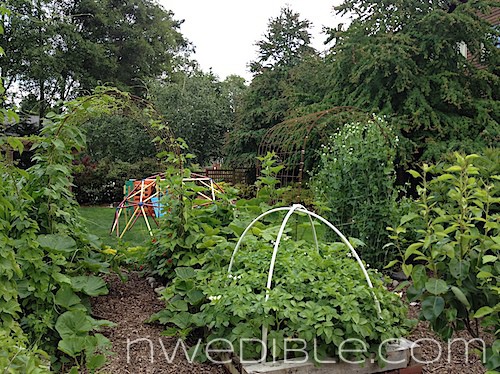 Winter Squash and Scarlet Runner Beans are in a race to the top of this side of trellis.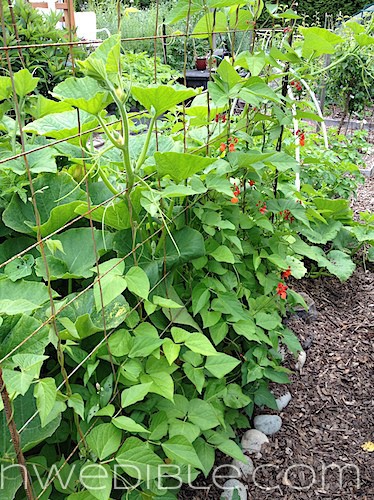 But they are both too late: the Romano Beans have already climbed to the top of the 6 1/2 foot trellis from the other side of the arch.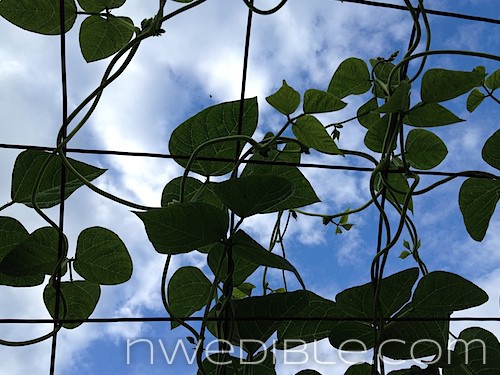 Look at that corn! You know the saying "Knee high by the forth of July?" Well, these cornstalks are about nipple-high on me, and I'm 5'9″ tall.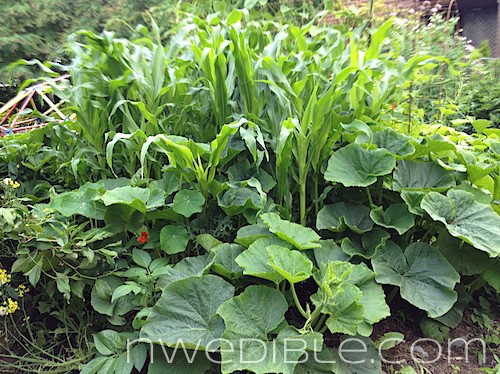 The shadier side of the trellis has the garden's second planting of peas. I just picked the first few snap peas off of it last night.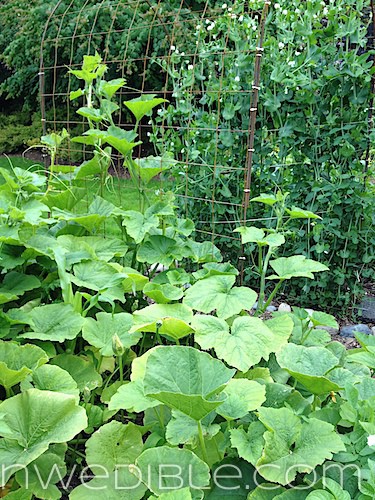 Front Beds
Long season fingerling potatoes and hardneck garlic share space.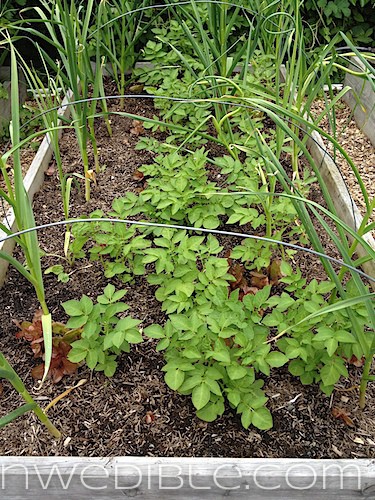 A recent transplant of "Homemade Pickles" pickling cucumber will be getting a trellis to climb soon.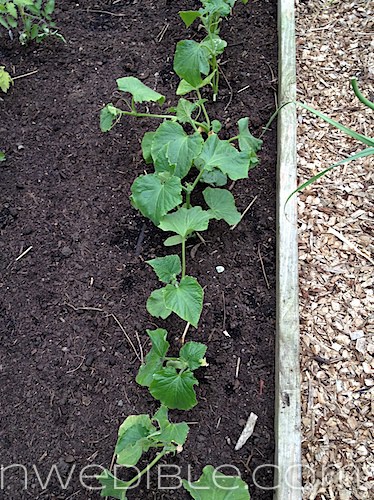 Onions are rapidly switching from "leaf" mode to "bulb" mode now that we've crested the summer solstice. You can see the swelling at soil level increase day by day.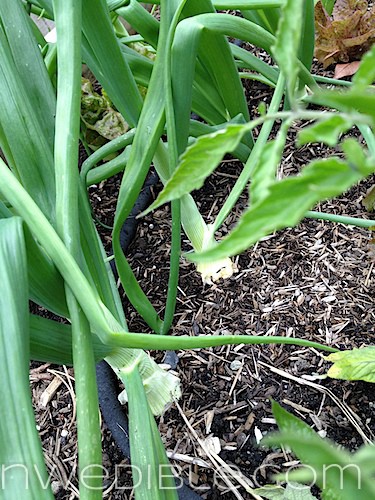 Full bed of Shuksan strawberries started ripening well 2 days ago. My toddler son has a nasty habit of picking not-yet-ripe berries and stomping on them. We're working on that.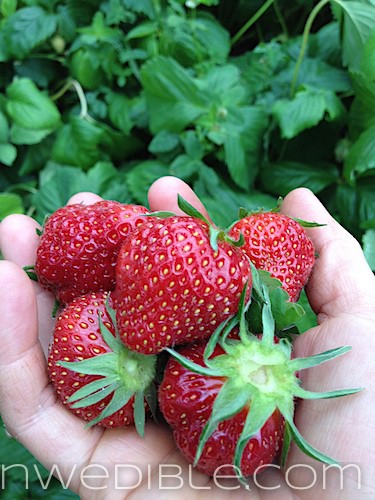 Random scatterings of lettuce are undersown throughout the beds.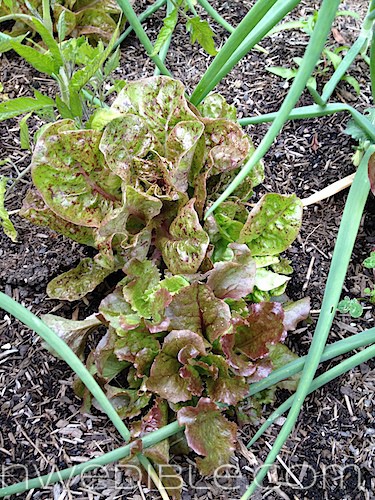 Back Beds
A lot of my beds look messy this year. I'm going for kinda mixed up and low-maintenance and as a consequence it's a bit hard to see what's going on, but this bed contains garlic, tomatoes, and arugula I've let go to seed for the pollinators.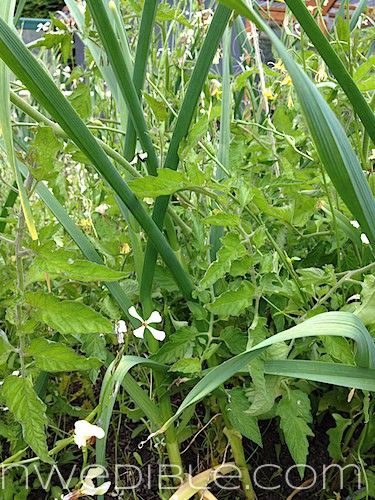 This one is two kinds of kale – Chidori and Tuscan Black – along with Italian Flat Leaf Parsley and more arugula.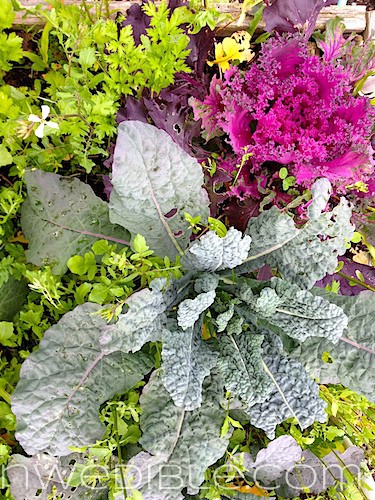 Calendula is a welcome guest anywhere, and here has self sown alongside (or perhaps swamped is a better word?) the Lemon Cucumbers and dill.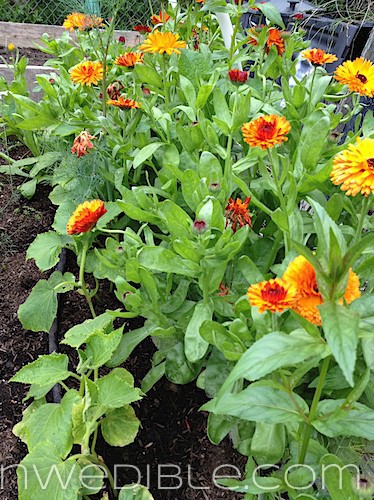 Somehow a few of last years beets made it and are starting to size up. A nice surprise since I never did get a main sowing of spring beets in the ground.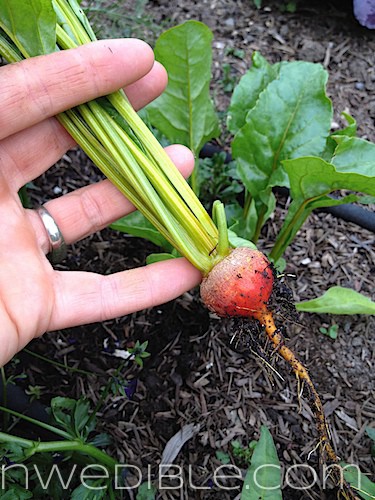 Tomatoes in pots are trained up twine to save space. The first fruit is set but there definitely won't be any Forth of July ripe tomatoes this year.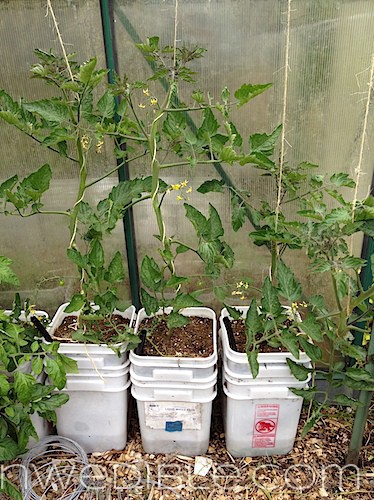 Last years bed of chard is being allowed to form seed, which I will attempt to save. It's my first seed saving adventure outside of peas and beans – wish me luck!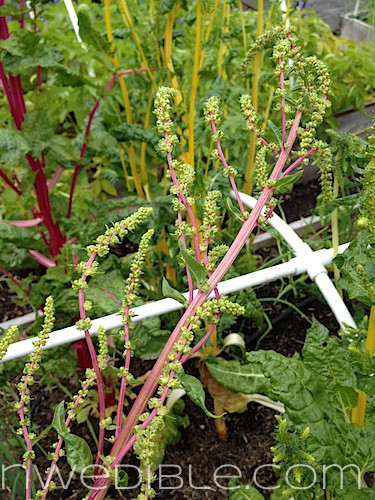 I have potatoes growing everywhere and to my chagrin a few plots appear to be showing sign of early blight. Anyone got a good organic remedy before it gets any worse?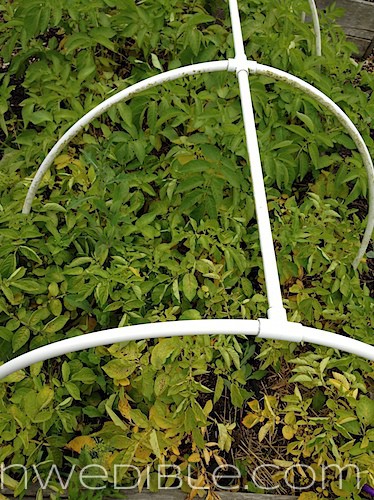 The peas are thriving. This is the first planting and I've already tipped back the vines at about 7 feet. We're been eating off this row for at least a month now – Homebrew Husband says 6 weeks – and it's still going strong.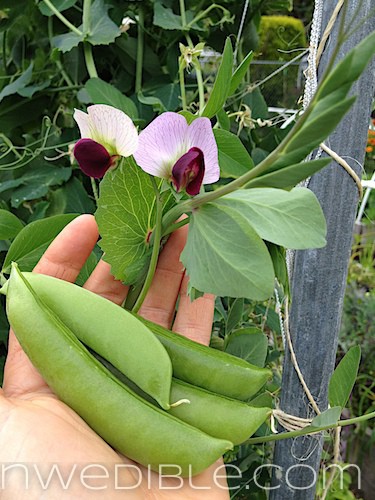 The artichokes are taking off. I'll be getting out there and harvesting a big feed of 'em for marinating.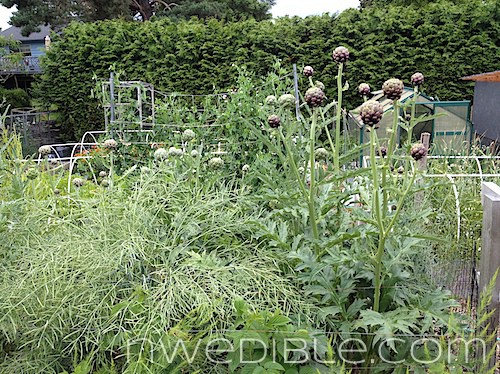 The fruit tree quartets are doing pretty well. Some minor leaf curl but generally filling in very well. I have gotten many questions about pruning these quartets and I'll be posting about that soon.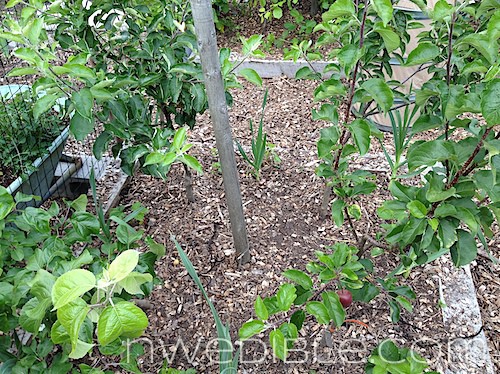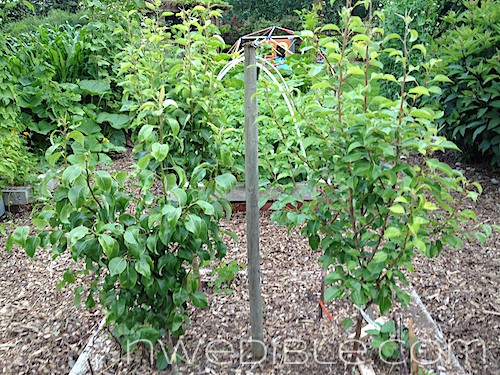 I'm going to let just this one apple go. I'm a sucker like that.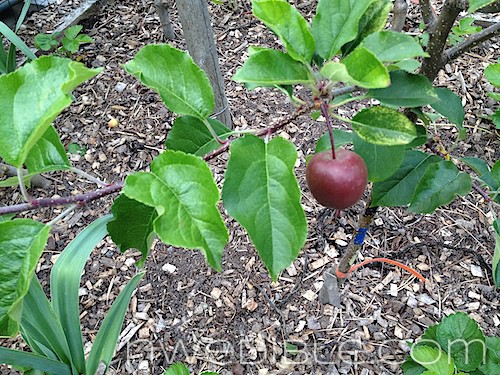 Elsewhere
Most of the fruit and herbs are grown in borders around our property. Here a blueberry ripens with sage.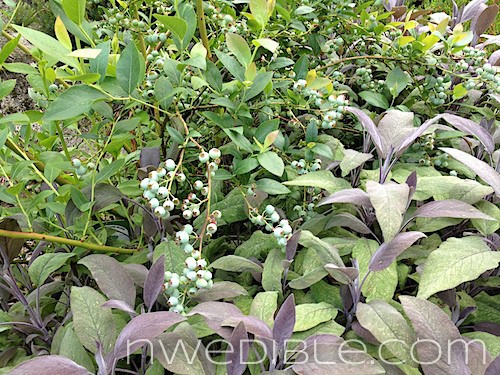 Just a few feet away, more blueberries are mixing with catmint and self-sown calendula.
I sure hope you've thinned your apples and protected them with little nylon footies. Do as I say, not as I didn't do this year.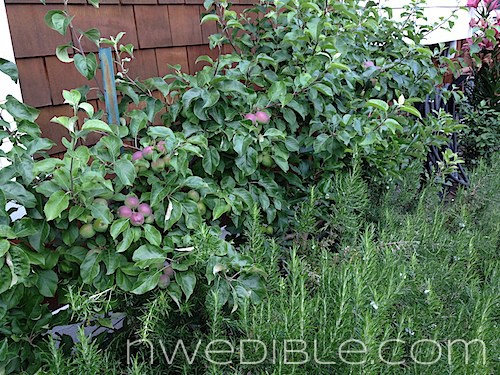 Bay, lemon verbena, chives, oregano and many other herbs just out of frame are planted right out the backdoor.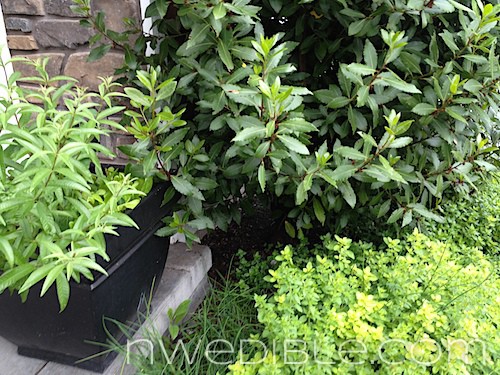 The first sowing of the fall crops happened a few days ago. The first of the eager little seedlings are up and growing.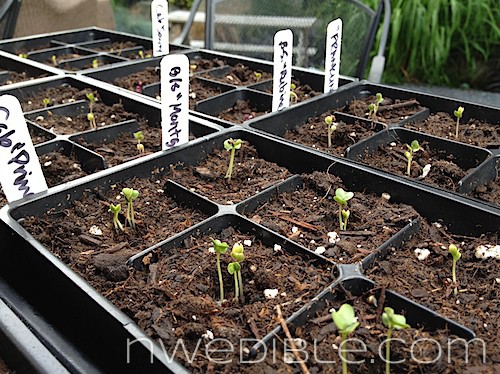 How is your garden growing, here just on the far side of the solstice?
Big thanks to Meg at Grow & Resist for reminding me with her own mid-month meanderings that this month's photo tour still needed to get done. Thanks girl!
1