Update for May, 2018: Spring is here. The global vibe I'm getting for late April and early May weather is "unpredictable" – wild temperature swings, unseasonable cold snaps, unseasonable heat, general weirdness. The atypical seems to be getting pretty typical.
Fortunately, our mild maritime Northwest climate continues to be a bit more restrained. The big thing I'm noticing this May is a lack of typical levels of rainfall. It's not really common to get multi-day stretches of clear weather this time of year, but that seems to be what we are looking at.
If natural, gentle, regular sprinkly rains don't return, keep a close eye on your garden's irrigation needs. Be especially mindful of new transplants and newly sown seeds, which won't have the root mass yet to tap into the moisture that is still deeper in the soil.
It's always folly to try to predict the weather, but I have a very positive gut feeling about this year for our fruiting, heat-loving crops. Although I wilt anytime the temps climb past 78, the summer crops of tomatoes, peppers and squash love long, hot days, and I think we will see plenty of them this summer. My guess is we will have a greater-than-average number of days in the 80s.
The big tasks this month are direct seeding nearly everything, and transplanting out your previously-started warm weather crops.
Watch the overnight lows; once your location is reliably above 50 at night you can move your hardened-off tomatoes outside. Since it's not unusual for overnight lows to hover around 50 well into July, a little protection in the form of a low tunnel or wall-o-water type season extender will really help your warm weather crops thrive through cool spring evenings.
Read on for the giant list of everything to do in May, along with my convenient, printable, At-A-Glance Grow Guide. As always, keep your local microclimate and seasonal variations in mind, and adjust timings as needed.
Printable At-A-Glance Grow-Guide!
If you like your Gardening To Do Lists simple and direct, you're in luck! Just click the image below to download the May At-A-Glance Grow Guide in PDF. Or, continue reading for the full details on everything you should be doing in your garden this month.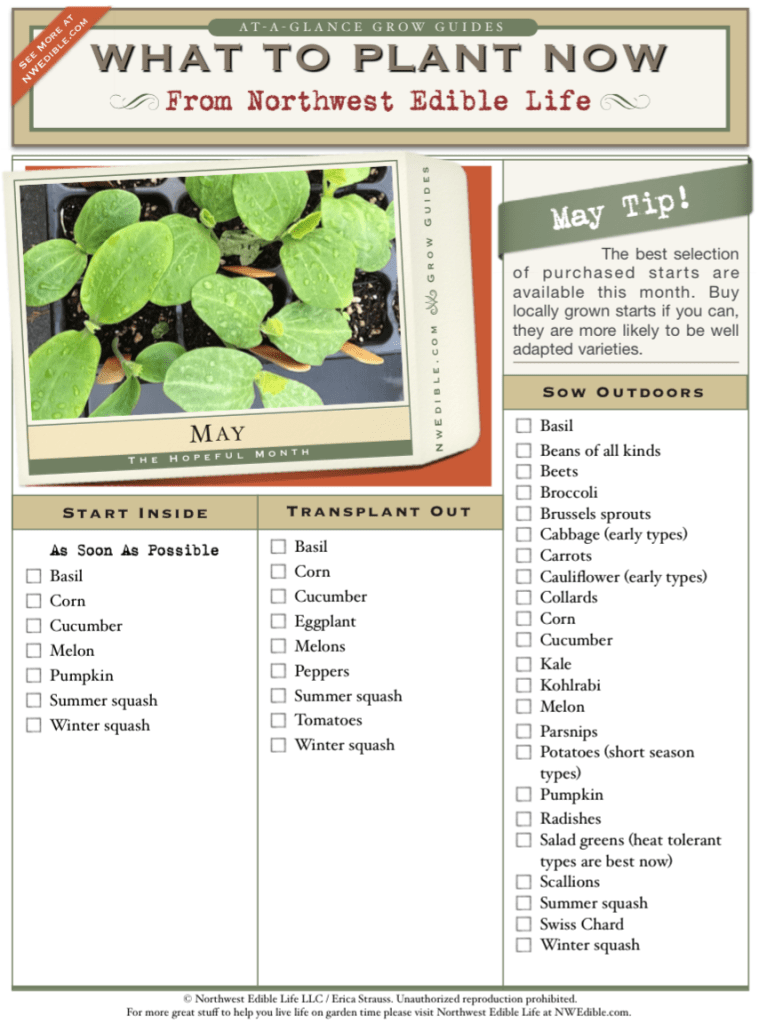 Plan and Purchase
Warm season edibles like tomatoes, peppers, beans, eggplant, melon, cucumber and corn are in the nurseries, outside of grocery stores, at farmer's markets and pretty much everywhere now.
But wait….STOP!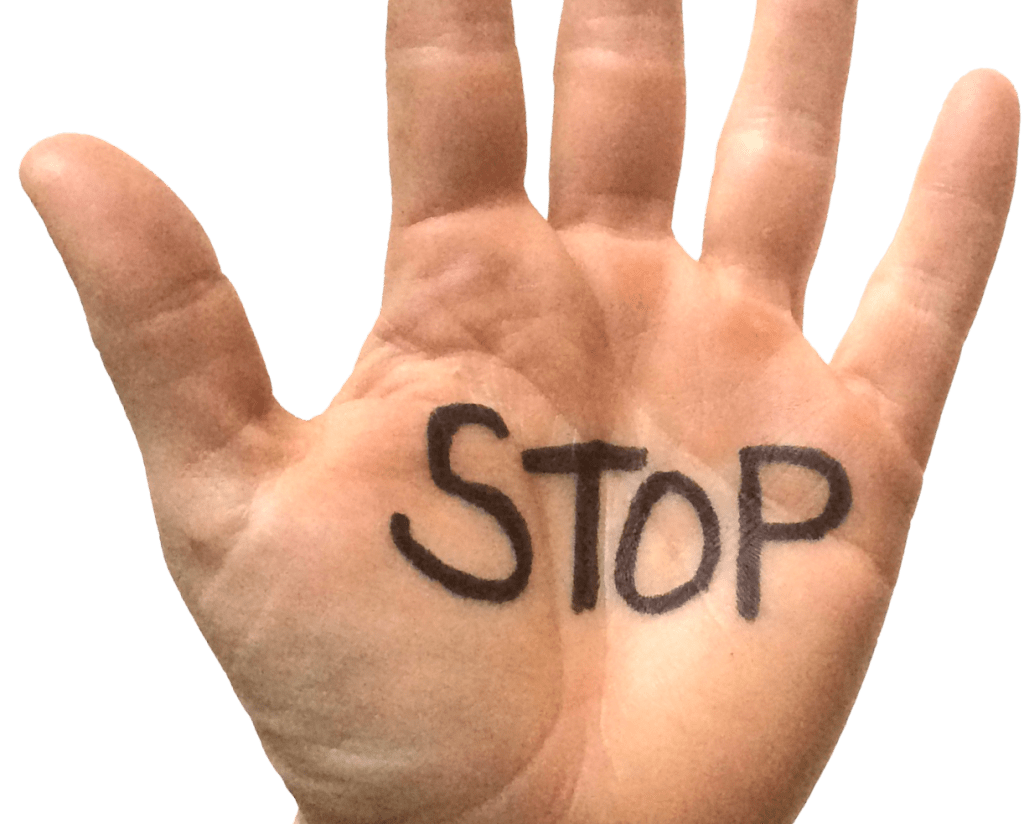 Just because you can buy it does not mean you should, or that it's ready to be transplanted out. Your marching orders for seedling season:
No Big Box starts. Go with locally grown seedlings – they are more likely to be varieties that will thrive in your backyard, and they are less likely to introduce new diseases to your garden.
Harden off seedlings before you give them a space in your garden. Assume all seedlings you purchase today were living in an 80 degree greenhouse yesterday and transition them gently.
Watch your overnight lows and be prepared to protect tender transplants against sudden drops in temperature.
Smaller plants establish and transplant better than older ones, so go with the 4″ tomato instead of the gallon. They'll catch up, don't worry.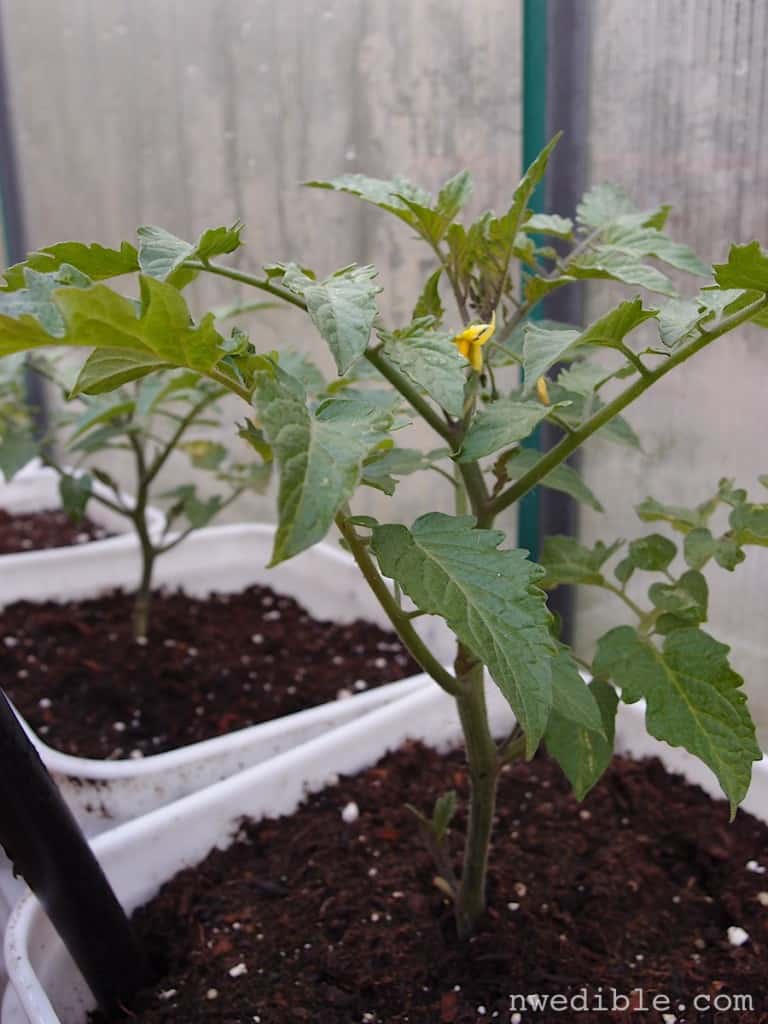 Start thinking about the fall garden. No, you don't have to do anything yet, but just keep it in the back of your head that many of the fall and winter crops like Brussels Sprouts and some of the long-season cabbages mature veeeeerrrrry slowly, and will need to be started in late June or early July to give you a satisfactory harvest.
Make sure you have what seed you'll need and that some space in the garden beds will be available when the time comes. (Learn More: How To Make Succession Planting and Year-Round Gardening Really Work.)
Start Indoors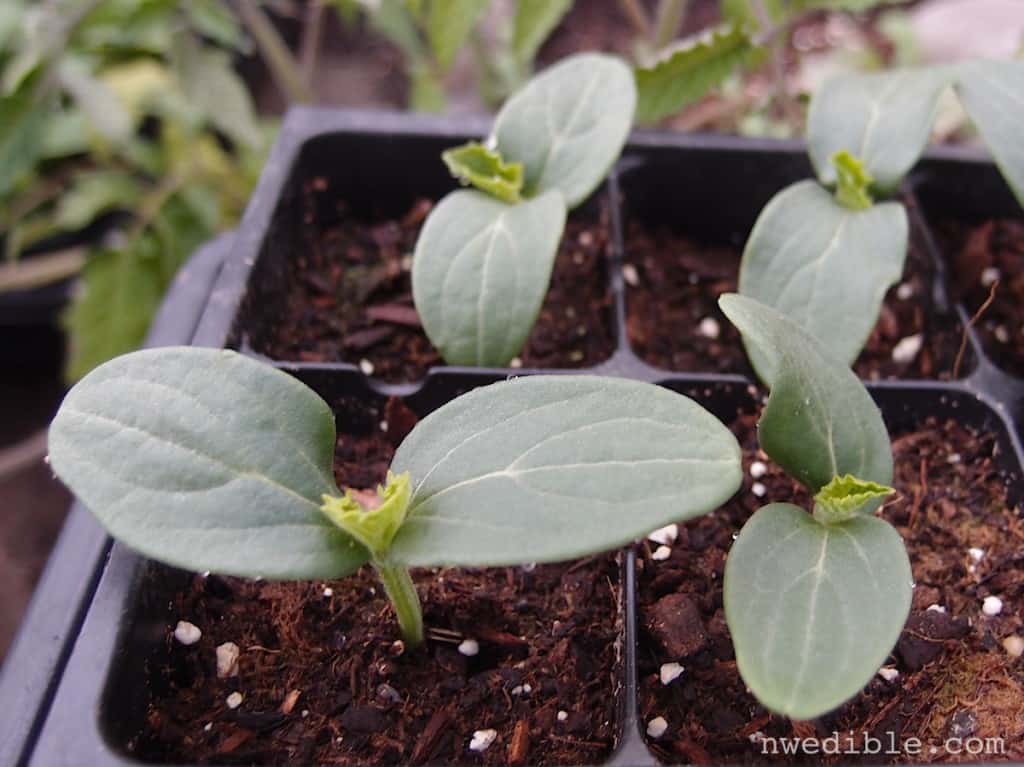 At this point everything can be sown out directly, which is less work and energy than starting crops indoors. But you may still prefer to get some crops going under lights, or in small pots in the greenhouse or cold frame, to have at the ready.
The biggest reason I give some of these warm-season crops a head start under lights is because I've had too many rows of just-germinated cucumbers devoured in a single night by slugs. I've lost entire rows of beans this year to the slugs and I'm not happy about it. (Sluggo and ducks are the only thing I know that really helps control slugs.)
That said, nothing in the curbit (squash) family really loves being transplanted, so don't let those crops languish in pots too long before transplanting.
Cucurbits
These tender melon-family babies can still be started indoors, but don't delay – if you start them today, they will be happy 3 or 4 week old transplants at the end of May or beginning of June. Don't try this with super-long season winter squash, but the fast growers like zucchini and cucumbers still have plenty of time.
Cucumber
Melon
Pumpkins
Summer Squash
Winter Squash
New to starting your own seeds? Here are some resources to help:
Leafy Greens and Herbs
At this point I think you might as well direct sow these outdoors, but if you want, you can start inside:
Basil – Always more basil! Start a lot – it's not too late. It's basil, the Queen of Herbs!
Swiss Chard
Salad Greens – only heat tolerant varieties at this point. Think romaine, not spinach.
Hardy Herbs – Think parsley, chives, fennel, chervil, oregano, dill, mint, sorrel, marjoram, lemon balm, pansies etc.
Other Stuff
Corn – you can start this inside. It actually works pretty well. Make sure you start enough though – you want blocks of corn stalks at least 4 by 4 for good wind pollination, so you'll need a minimum of 16 seedlings, and I'd recommend twice that.
Sow Directly & Transplant Out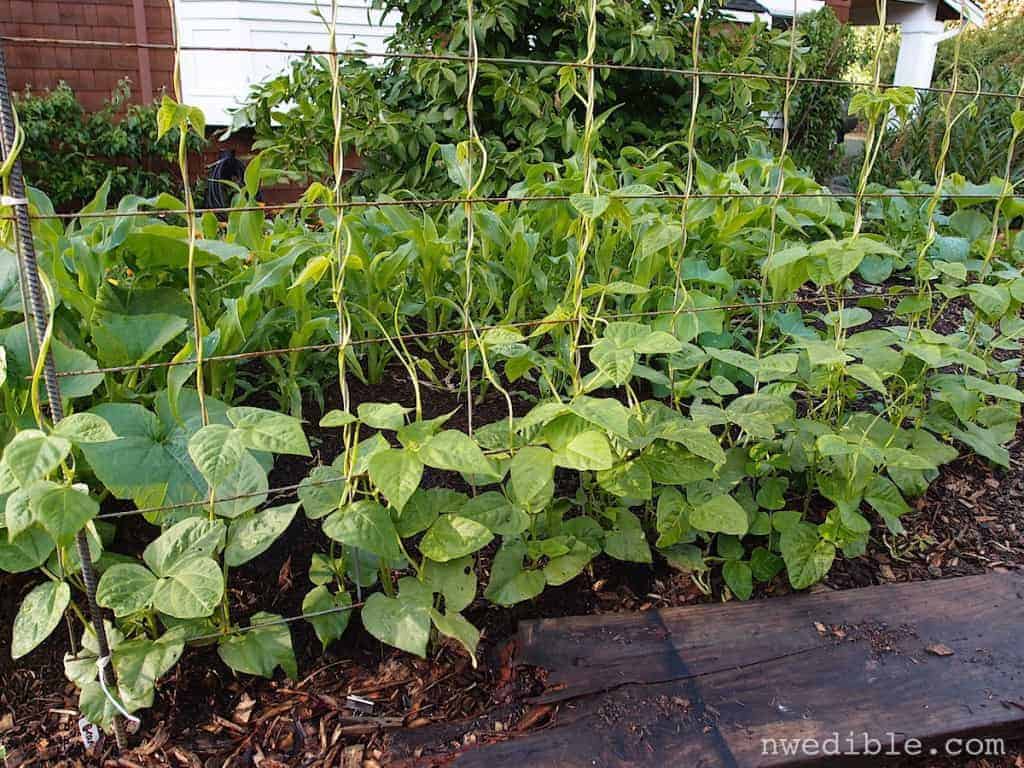 If your soil is warm and you don't have a massive slug problem, you'll get the best results with many of summer's favorite veg by direct seeding.
By mid-May it's typically safe to direct seed beans, squash, cucumber and corn. Check for warming soil temps and overnight lows consistently in the mid-to-high-50s or above: these are what determine if your seed will germinate rapidly and grow happily, or will languish and potentially rot.
Need to give your warm-weather crops a heat boost? Direct sow heat lovers like corn and squash under vented clear plastic or mini-bell cloches made from old milk jugs and and rely on the increased temps to give you strong and early germination. Just be careful temps under a cloche don't get so hot that you cook your seeds or newly germinated seedlings!
This is a great month to get the kids involved – the large seeds of beans and squash are easy and fun for kids to sow. (Read more: The 5 Best Vegetables To Grow With Kids.)
Brassicas
In the Pacific Northwest, brassicas do very well as a year round crop, so if you want a nice continual harvest of broccoli and cabbage, consider a May sowing in addition to the big April transplanting.
The important thing if direct sowing these crops is slug protection. Again, Sluggo. Use it. Transplants can also fall victim to those damned mollusks, so be on the lookout (preferably at night, with a sharp pair of scissors in hand.)
Broccoli
Cabbage (early types)
Cauliflower (early types)
Collards
Kale
Kohlrabi (spring types)
Cucurbits
If you prefer direct seedling over starting these indoors, go for it! Just (again, again, again) watch for slugs who think cucurbit cotyledon are the most delicious things ever.
Cucumber
Melon
Pumpkins
Summer Squash
Winter Squash
Nightshades
Over the course of this month, all the nightshade crops can be transplanted out. Watch overnight lows in your particular garden to help decide when the time is right, and how much protection to give them.
Eggplant
Peppers
Tomatoes
Legumes
All beans can be direct seeded this month with great success.
Bush snap beans – Hard to go wrong with Provider. Fast and dependable.
Pole beans – Scarlet runner is the most cool-night-tolerant bean I grow, and the Romano types are my favorite for all around fresh eating and freezing.
Dry beans – I am in love with Calypso for this area.
Roots
These can all be sown at any time. Just make sure your soil is dry enough to rake to a fine tilth. Roots do best in deep, fluffy soil.
Beets
Carrots
Parsnips
Potatoes (short season types)
Radishes
Scallions
Harvest
Serious fresh eats! May is the month when eating from the garden can start to happen with abandon, and marks (for my family) the end of nearly all shop-bought produce for 7 or 8 months.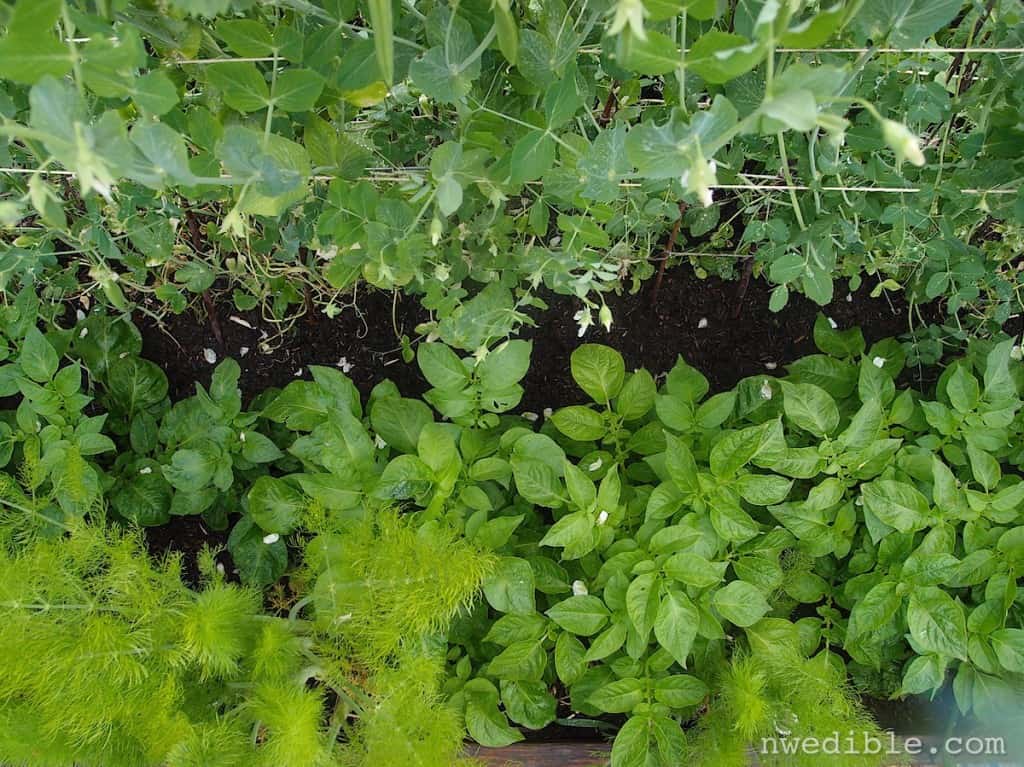 Salad Greens – lettuce, spinach, mustard greens, radish greens and more!
Broccoli – Yum!
Spring cabbages – with luck these will be ready towards the end of the month.
Overwintering leeks and green garlic
Rhubarb
Asparagus – An established patch will still be harvestable.
Spring cauliflowers – The earliest cauliflowers should be ready in late May.
Kale – Prime in baby-leaf stage, or sprouts from last years plants.
Chard – Overwintered chard is still churning out leaves.
Peas – harvesting peas in May is possible if you started peas in a length of guttering and the weather cooperates!
How's your May garden blooming?
Pin for Later or Share with a Friend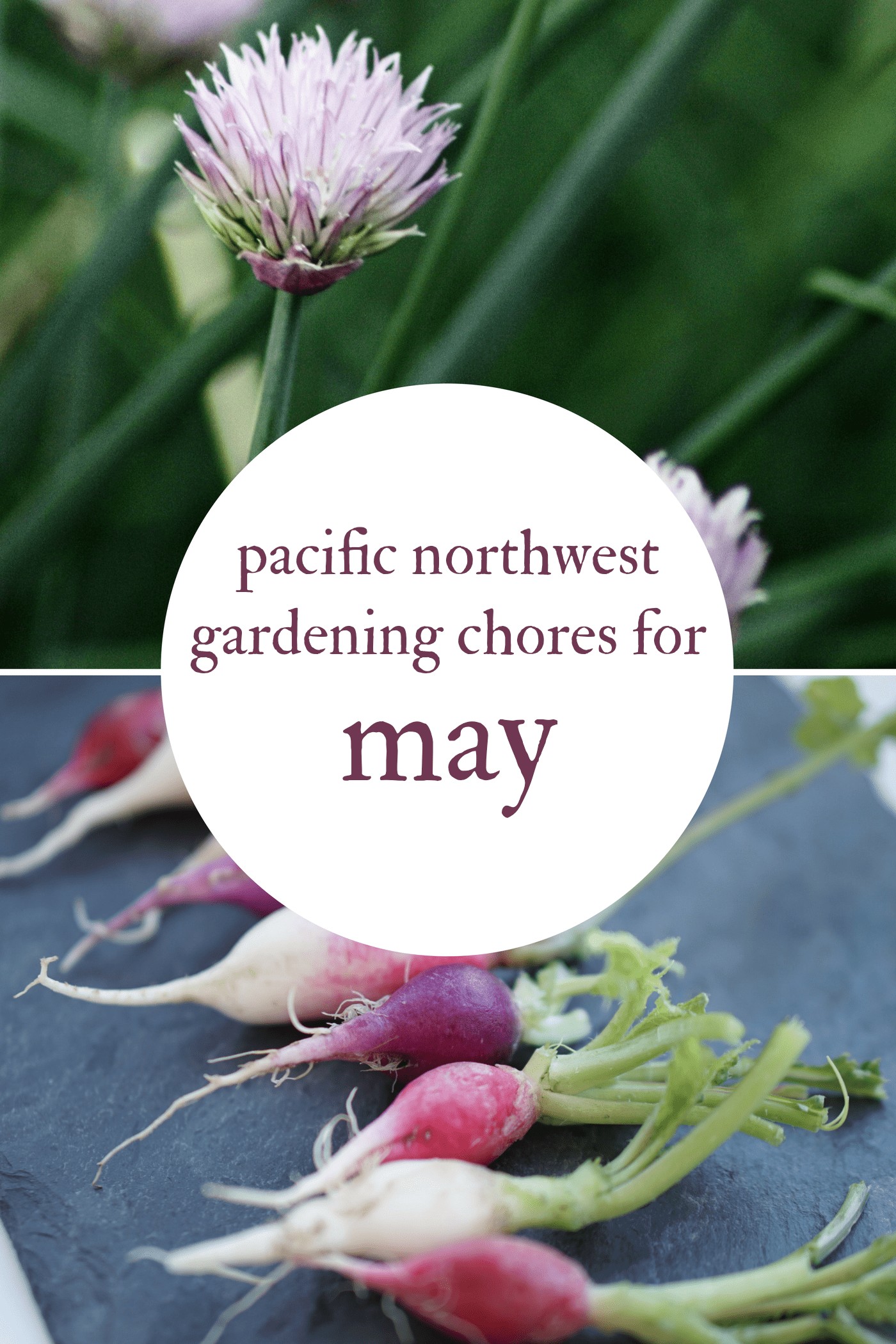 164