In early February I started some broccoli seeds the way I normally do, under a bank of full spectrum fluorescent light tubes. At the same time, using the same seeds, the same seed potting mix, and an identical pot (a 6-cell starter tray of 72-sized-cells), I started some broccoli seeds for a friend. She took her seeded pot home and put it immediately on the windowsill of a bright, south-facing window.
About a month later, on March 8th, we compared our results.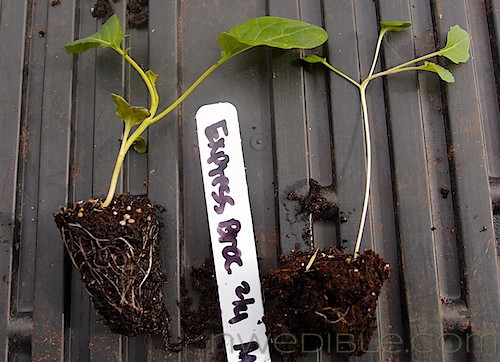 On the left, the broccoli seedling grown under lights. On the right, the seedling grown in a window.
Notice that in pretty much all ways, the seedling on the left is better: stockier, better color, more upright growth, bigger leaf size, stronger overall growth and much better root development. In fact, the seedling on the right after a month in pot didn't have enough root development to fully hold its soil ball together.
This picture actually minimizes the signifigant stem lankiness issue because of the positioning of the top of the root ball, but if you compare the distance from soil to first true-leaf node you will see that the windowsill seedling has a pale, spindly stem about twice the length of the light-grown seedling.
These two seedlings were both pretty representative samples of the packs we compared. Honestly, I wouldn't count on the windowsill-grown seedling to last an evening after transplanting. It'd be slug fodder.
This is why I invested in the seed-starting set-up I did. (Read more about my indoor seed starting set up.) Pacific Northwest late winter and early spring sun is not generally strong enough, through layers of typical cloud cover and various UV-reflective-coated windows, to allow for really strong seedlings to be grown out on a windowsill.
How do you grow the strongest possible seedlings indoors?
76