Sophie wrote to me a few days after I posted this photo on my Facebook page.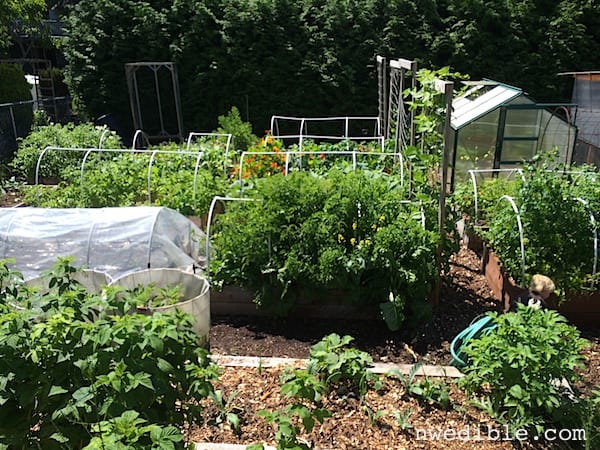 She wanted to know if my garden had always looked this healthy.
Hello! Quick question! Do you feel like your garden always looked this nice and healthy? Or did it take you time? Time to improve the soil, learn from experience, time to invest? I don't see my garden taking off just yet and I'm worried that it won't. I really feel like I've done all that I can for a healthy garden. Help! Have you dealt with garden anxiety?! I hear comparison is the thief of joy.
Sophie
Hi Sophie,
It took three years of gardening before I got a single cabbage to form a head. I got like two zucchini from four plants my first year and I remember being so proud of those squash. I threw a baby shower for a friend and used the zucchini in the buffet. "Homegrown zucchini!" I beamed, and some woman I'd never met before scoffed and said, "Psaw. Zucchini is a weed!"
I nearly cried.
I have planted then subsequently cut down a pear tree, an apricot tree, and a peach tree. I've girdled a plum through sheer neglect and I've noticed my son's new favorite game is "peel the skin off the cherry trees" so my days as a fruit tree killer might just be getting started.
I'm pretty sure I killed three red current bushes last week by transplanting them at a terrible time of year. We'll see, they may yet revive. I dig up shrubs, plop them down, and dig them up again two years later. I had a thriving patch of asparagus, then decided it needed to move a foot to the left and basically killed the patch. It's not easy to be a perennial in my garden.
I have planted potatoes from the store even though I know better, and garlic white rot in my garden makes growing one of my favorite crops nearly impossible. I plant packets and packet of carrot seed every year and – in a good year – harvest a few solid bunches of carrots. Cost-benefit? Negative. It's that damned carrot maggot nearly every time.
I am a crappy composter, I haven't pruned or trained my tomatoes at all this year and I'm pretty sure my summer squash has a magnesium deficiency. If there is ever a day when I feel even remotely caught up in the garden, I guarantee you I'll get excited and start some stupid project like digging a duck pond.
The older lady next door to me who does not have a 30,000 person Facebook page and has never given a presentation on edible gardening in her life is a way better gardener than I am. Many of my readers are better gardeners than me. But I can't let all that kill the joy I get from being out there doing my thing, and you shouldn't either.
So, no, my garden did not always look like it does now, and even how it looks now might not be how you think it looks. Mostly I don't post pictures of the total failures, even though I still have them. (I take heart knowing that this happens to everyone; periodically even professional seed growers have entire crop failures.)
Everything you see in the books and blogs is shined up for public consumption. Shit gets staged to make those garden porn photos happen, just as much as in food photography or high fashion. So don't assume what you see is the whole truth. Good angle choices and cropping photos does a lot to hide the weeds. Half the time my yard looks like a crappy work zone that no one bothered to clean up. Because seriously, that's what it is. Right now? Like a bomb went off.
Comparing my garden to others, yeah, I do that. Where would any of us be without inspiration? It's good to enjoy the Art of the Possible. But don't chase someone else's garden as your goal. Sure, take ideas and incorporate them, and seek out the info you need. But do try to prune out those anxiety-forming comparisons and perfectionism.
There have always been parts of my garden that have flourished. My first year I did great with peas and swiss chard. By year three I was doing pretty good with cucumbers. I think it was the 5th year that I finally felt confident about broccoli. Then at year 8 cabbage maggots ate the roots right off two beds of broccoli. What are you gonna do? But year by year, it has gotten easier. Things have clicked – not always in the garden, but in me, and how I relate to what that space does for me, and for my family.
Let me get a little woowoo for a minute. I think that good gardeners love to nurture their gardens and good gardens nurture their gardener right back. It's a funny thing about nurturing: it's hard to do if you are anxious. It's hard to put that away and just be there in your space, listening for what your plants really need. And I do think that when you can think like a plant, you're half way there. The rest is details. When you can really imagine the straining effort of a seed leaf reaching towards the light and when you can feel the soil and imagine your fingers as delicate little root hairs trying to fight their way through the tilth, then I think you are in this headspace where you can nurture your garden for real, from the humble perspective of just one of the many components that will influence the health and vigor of your plants.
There is no start or end point, there is no point at which you've got it all sorted out. Gardening is a constant dance with nature, just trying to figure out where you should step in and where you should get the hell out of the way. You have to appreciate the beauty of the work in motion, because – like dancing – it loses joy if you freeze-frame it.
It'll get there, your garden will take off, and there will be these phases when everything just meshes together. Enjoy those when they happen because as soon as they do, you'll probably decide you want to change a bunch of stuff. That's typically what I do. There is no perfect garden, there is only a space that nurtures you back. Take heart, keep calm and keep gardening. It will get there, I promise.
9