A few months ago I planted a half-bed of Caraflex cabbage, a new-to-me variety that has become my official favorite fresh eating cabbage. This pointy-headed cabbage has performed wonderfully for me on dense spacing, so I'm a bit embarrassed to admit that I've made basically one thing with it.
That's not to say the cabbage has gone to waste, mind you. As soon as a head feels heavy and dense I cut it free and walk it into the kitchen. But since I developed this  red curry and cabbage salad a few weeks ago, I've been eating it to the exclusion of nearly all other food.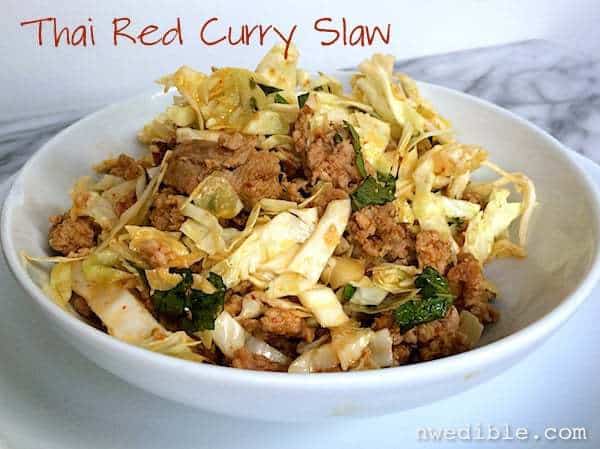 This salad is something like coleslaw meets the Thai salad laab. It's cheap: some ground meat and a cabbage and you are mostly there, but also exotic, with lots of pumped up flavor from red curry and lime juice.
I've added extra herbs and extra veggies. I've tweaked the dressing more and less spicy. All variations have been craveable. I highly recommend you make this salad and then play around to find your favorite variation.
Find the meat you prefer (I love beef with red curry but I'll bet shrimp would be awesome too). Add additional Southeast Asian-compatible herbs, thinly sliced scallion or red onion. Try adding cucumbers, shredded carrots,  tomato wedges or fresh pineapple or mango to the mix. Swap maple syrup for honey and soy sauce for fish sauce, if that's what you have on hand. It'll be good. Cook, taste and have fun.
The one key ingredient that you cannot mess with is a Thai-style red curry paste. This is a  one of those things most of us would be daft to DIY, since the commercially available version is awesome and inexpensive. I buy this brand of red curry paste locally. If you have a moderately sized SE Asian community anywhere near you, you should be able to find a better price at your local Asian Megamart. It's spicy, so in this salad, start with a little bit and then increase until you have the spice and flavor intensity that's right for you.
I know a lot of times folks end up spending five bucks on some exotic ingredient they use once. I just want to put in a plug for these Thai curry pastes. I have the red, yellow and green variants. They last a long time in the fridge – a year, easy. So if spicy and SE Asian flavors appeal to you, and if you eat seafood (the brand of red curry I use contains shrimp paste) consider adding curry paste to your toolkit. I consider it to be a staple condiment up there with Sriracha and green Tabasco.
If you hate curry, Sriracha and green Tabasco, well, maybe we can still be friends. We can talk about cookies or something.
Printable Recipe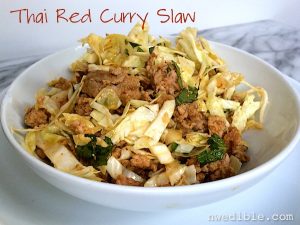 Print
Thai Red Curry Salad
A Thai-influenced main-dish coleslaw with lots of flavor!
Ingredients
Red Curry Vinaigrette
1-3 tbsp red curry paste, to taste
1 tbsp fish sauce
1 tbsp honey
2 tbsp olive oil
4 tbsp freshly squeezed lime juice
Salad
1 pound ground beef, pork, chicken or turkey
1 medium green cabbage, shredded
1 bunch cilantro, chopped
1 bunch mint, chopped
Instructions
Make the Red Curry Vinaigrette. Combine the curry paste, fish sauce, honey, olive oil and lime juice in a large bowl. Whisk together to combine, adjust seasonings to your taste, and set aside.
Meanwhile, fry the ground meat of your choice in a large skillet over medium heat. Stir occasionally, breaking up the meat into bite-size chunks.
When the meat is fully cooked, transfer it the bowl with the Red Curry Vinaigrette. Stir the meat and dressing together.
Add the shredded cabbage, cilantro and mint the the bowl with the meat. It's best if the meat is still a bit warm when the vegetables and herbs are added. Toss all the salad components together until fully combined.
Serve right away in shallow bowls. Garnish with additional chopped herbs, peanuts, cucumber slices or lime wedges as desired.
Nutrition Facts
Serving Size 4
Amount Per Serving
% Daily Value
* Percent Daily Values are based on a 2,000 calorie diet. Your daily values may be higher or lower depending on your calorie needs.
5