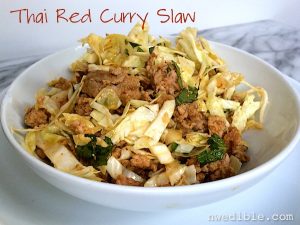 Thai Red Curry Salad
A Thai-influenced main-dish coleslaw with lots of flavor!
Ingredients
Red Curry Vinaigrette
1-3 tbsp red curry paste, to taste
1 tbsp fish sauce
1 tbsp honey
2 tbsp olive oil
4 tbsp freshly squeezed lime juice
Salad
1 pound ground beef, pork, chicken or turkey
1 medium green cabbage, shredded
1 bunch cilantro, chopped
1 bunch mint, chopped
Instructions
Make the Red Curry Vinaigrette. Combine the curry paste, fish sauce, honey, olive oil and lime juice in a large bowl. Whisk together to combine, adjust seasonings to your taste, and set aside.
Meanwhile, fry the ground meat of your choice in a large skillet over medium heat. Stir occasionally, breaking up the meat into bite-size chunks.
When the meat is fully cooked, transfer it the bowl with the Red Curry Vinaigrette. Stir the meat and dressing together.
Add the shredded cabbage, cilantro and mint the the bowl with the meat. It's best if the meat is still a bit warm when the vegetables and herbs are added. Toss all the salad components together until fully combined.
Serve right away in shallow bowls. Garnish with additional chopped herbs, peanuts, cucumber slices or lime wedges as desired.
Amount Per Serving
% Daily Value
Recipe by Northwest Edible Life at https://nwedible.com/thai-red-curry-cabbage-salad/