You'd think that the hard part would be getting the seeds to germinate and coaxing that little seedling to grow. But time and again I see gardeners stumble just at the finish line: harvesting.
All season long plants have been tended and, just at the big, edible moment of payoff, the gardener hesitates: "Is it ready? Should I wait? Will it get bigger? Am I too late?"
Nothing seems to stump new gardeners more than the harvesting of broccoli and cauliflower. This makes sense, really. Most of the fruiting "vegetables" like tomatoes and peppers turn color when they are ready to be harvested so there's a strong visual clue. Most of the leafy vegetables can be harvested at many sizes and still give you a great result: baby lettuce = yum! Head lettuce = yum!
But with broccoli and cauliflower you are really playing a game of chicken with the plant. You are trying to let the head grow as big as possible without going over and into the flowering stage, when it turns tough and bitter.
Funny, It Doesn't Look Like A Flower
To figure out when to harvest, it helps to know a little about what you are actually eating when you eat broccoli or cauliflower. It's a bit easier to explain with broccoli – and I have a bunch in my garden right now so I can show what I'm describing – so I'll use that example, but everything I'm about to say holds true for both vegetables.
Broccoli is a member of the brassica family that has been bred to make a giant succulent flower head. It is that flower head that we eat. The teeny little green beads that make up a head of broccoli are called florets. Each one of those florets wants to develop into a pretty yellow flower and make seed. If broccoli is given enough time, it will grow a big afro of yellow flowers.
You want to have eaten all those florets long before that happens because when a broccoli plant (or any plant, actually) goes into it's flowering and seed making stage, certain changes happen to the plant that cause it to toughen up and get serious about survival. Leaves get bitter, stalks get tough and woody and the broccoli spends a lot of money on onsies and diapers as it prepares itself for plant parenthood.
Not Too Old, Not Too Small, But Just Right
So, how do you harvest a head of broccoli when it is full-size but before it goes too far?
First, look at size. Different varieties have different natural mature sizes, and like everything in gardening there is a lot of potential variability based on growing conditions. In my garden, I'm happy with a main head of broccoli that is 6 to 7 inches across. That's a very respectable head of broccoli.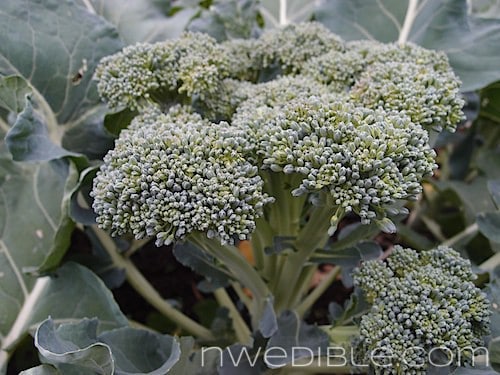 All else being equal, broccoli and cauliflower will make heads in accordance to their leaf growth before they start heading. In other words, big broccoli plants with big healthy leaves will make big broccoli heads and stunted little broccoli plants will make stunted little broccoli heads. Broccoli plants that are bred for bigger frames will tend to make larger heads than "compact spacing" type varieties.
This is why you must never, ever, EVER buy a broccoli or cauliflower transplant that has already started to form a head. You might think, "ahh, that's so cute! An inch-wide cauliflower plant. I'll get that one, it's got a great headstart, so to speak."
DO NOT DO THAT!
That broccoli or cauliflower is, for all intents and purposes, done. It has already initiated it's heading up as, essentially, an infant. It will not get bigger. If you buy that transplant you are paying probably $80 a pound for button-sized broccoli. You are wasting your money.
Full size, healthy broccoli and cauliflower plants will start by making a small head but that head will get bigger. Many a new gardener, myself included, has panicked when they see their first teeny little cauliflower or broccoli head and thought, "Oh no! What did I do? I ruined it! It's teeny."
Web searches will say things like, "broccoli and cauliflower will button (produce small unusable heads) when under stress," adding to the feeling of panic and garden failure. So, the typical new gardener reaction is to cut off the teeny baby broccoli head in an attempt to "salvage something…anything!" from their plant.
Tragedy. That's basically broccoli head infanticide. The right response is…patience. Those little broccoli heads start little but they will get bigger…up to supermarket size or larger, if they are happy and growing well. So just watch and wait.
Look At The Florets
There will be a point, a several day (or even several week, depending on the variety) window, when the broccoli or cauliflower crown hits full size and stops growing but starts to loosen up. The individual florets will get fatter and then will spread apart slightly and take on a less tightly packed quality.
This is the ideal time to harvest. This is slightly later than what you will see for store bought broccoli, but since your broccoli isn't going to be on a truck for a week you can maximize size a bit more than the commercial growers can without sacrificing quality.
At this point the head is as big as it's going to be and still tastes great and is juicy and tender. Let it go a bit longer, maybe 2-3 more days – possibly a week if you have a broccoli with good field holding ability – and the florets will start to get a distinct, loose, spread out look. Those green beads will start to look like fat little flower buds, because this is exactly what they are. They will seem to elongate, moving to a more oblong shape.
At this point the broccoli is still good eating quality but is moving rapidly towards flowering and the further along it gets the tougher and more mealy it will be. The florets will get progressively looser, and may start to take on a yellow-tinged look in places. I never like my broccoli to get to this point, it's just too far.
One day a few of the flower buds will open into a cruciferous yellow flower. Last call, dude. If you have not yet done so, for God's sake, harvest your broccoli now. It won't be the most delectable crudite on the tray but it will still probably be alright compared to a two-week-old grocery store specimen.
Once your broccoli head starts actively flowering, you can still eat it – it's not poisonous or anything – it just won't taste the same as it would have a few weeks prior. If you do opt to harvest broccoli in flower, consider cooking it like you might flowering kale or mustard greens because it will be stronger than younger broccoli would be.
After The Harvest
If you were a commercial market grower, after you cut the head off all your broccoli plants (at more or less the same time because labor is expensive) you would rip up everything and replant. As a backyard grower, you shouldn't do that.
Cut the broccoli head off, and cut it fairly low. Give yourself 6 or 8 inches of stalk to go with the head. (Hey, I'm still talking broccoli, don't be a pervert.) Then, let the broccoli continue to grow and it will form side-shoots. Certain varieties, like Umpqua and Waltham 29, are more prone to continued side shoot production and those varieties are good for home gardeners.
These side-shoots are the plants attempt to make seed. Many varieties will work really hard to fulfill their quest to become parents by sending out dozens of side-shoots. They aren't nearly as big as the central broccoli head – more broccolini sized – but you can get a good handful of them off a few plants if conditions are good. Harvest side-shoots the same way you harvest the central head but note that they will run to flowering faster.
Eventually, even the most tenacious broccoli plant will give up and stop putting out usable-sized side shoots. This is when you harvest the leaves. Broccoli leaves are practically indistinguishable from collards or the scotch-type kales in most cooked-greens recipes. You can substitute to your heart's content.
If you have a lush garden and you aren't interested in eating broccoli leaves because you are too busy stuffing yourself with cherry tomatoes and figs, I recommend ripping up the plant and making a chicken pinata with it. Shake off excess dirt, tie a string around the plant where the stem meets the root system and hang the broccoli plant upside-down in your chicken run somewhere. Chickens love broccoli and will have a blast pecking at the leaves.
Are there any vegetables that you are unsure about when to harvest? I always have to double check specific herbs. Is it when they are in flower? Just before flower? But that's what I love about gardening – there's always something to learn.
208