My wife and I are newer to the preserving game and are super pumped on it. Last year we preserved a lot of food but it wasn't really conducive to living off of. We canned mostly jams, jellies, some pickled veggies (cauli, beans, asparagus, etc) and then did a lot of peaches!

What I hope you can help us with is what some of the 'big ticket' items are that you preserve every year. If you think of the most useful things that you draw on in winter and early spring, what would those items be? I've heard tomatoes so we are planning on that this year but what else? Also, I don't think I will ever using pickling vinegar again. It tastes terrible and is so strong that I'm the only one in the house who ends up eating the pickles.

Brent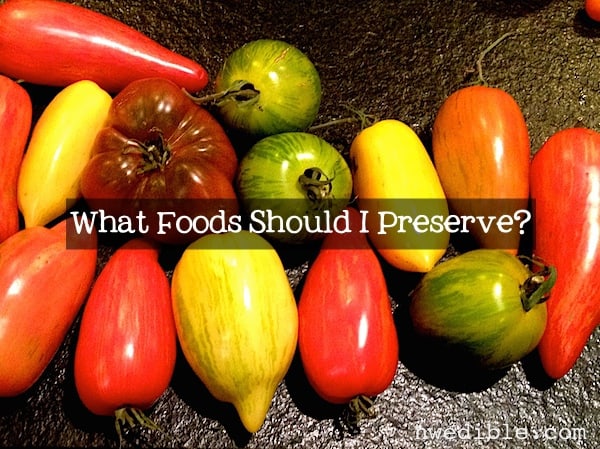 Well, like all good questions, the short answer is, "it depends."
It depends because every family eats a bit differently. I can tell you what is the most useful to me but I think the most helpful thing is to look at how you and your family eat. When you go grocery shopping, what do you buy? What condiments, meats, pulses, and vegetables make a regular appearance on your table? How you eat needs to direct what you preserve if your goal is a larder that actual helps you cook day in and day out, eat well and save some money.
So I got back to Brent and I asked for some specifics. I told him that if he could fill me in on his food style, I'd have better advice. He analyzed his family's typical way-of-eating and got back to me with this:
We love to eat stir fries, pasta, tacos, pizza and soup. My wife and daughters typically eat 'snack lunches' which most often consist of veggies, hummus and bread or crackers. I would say those are the big hitters for us. We find a different way to eat tacos every week which is great and then on the weekend I bake our bread for the week and make pizza. We often make large pots of soup so that we can put a significant amount in the freezer for easy lunches.

The big hitters at the market are definitely fresh veggies (as seasonal as possible), some meat products, noodles and flour. We also buy canned tomatoes and tomato sauce. Crazily enough, I discovered this last week that my kids love Sauerkraut which is hilarious to me. I made a quart of it and they just devoured it so I guess we can add fermented cabbage to the mix 🙂 Pretty much we are open to trying anything. We throw all kinds of different ethnic foods into the mix each week too, like Thai, Indian, Mexican, Japanese, or Vietnamese. Things on noodles are definitely a fav!
Based on how Brent and his family eat, the short list I recommend for him is…
Tomatoes
You can preserve all these yourself, but if you buy the tomatoes to process you'll probably pay more money than it would cost to get a #10 can or case of tomatoes at Costco. If you are buying tomatoes, figure 2.5-3 pounds of raw tomatoes per quart jar to get an idea of the ingredient cost for your finished goods.  If you grow the tomatoes you'll save a lot of money here. Homemade tastes way better and you'll know where they are coming from. So it's a judgement call based on your personal money/time/food values assessment.
I'd do canned whole or halves for pasta sauces, Indian braised dishes, soups, stews, and basics too numerous to list. I can 200-300 pounds of whole tomatoes each year in order to have 1-2 quarts a week on hand all year round. That might be more than you need, but it goes to show how versatile they are.
Make a basic tomato sauce, too. I make mine from the skins and trimmings of my whole peeled tomatoes, so it's essentially free. (Recipe here.)
Possibly consider a dedicated pizza sauce given how often you have pizza. You'll need to follow an approved recipe here – no throwing in big handfuls of garlic and fresh basil and olive oil – so you may find, as I have, that it's more versatile to have a basic sauce on hand and season it up to taste. One pint jar of tomato sauce + one small can of tomato paste + seasonings makes a good pizza sauce without further cooking.
Tomato paste: I find it makes more sense to buy a case of organic tomato paste than to make it. There's just too much time involved for paste and too much risk of scorching. Your milage may vary, of course.
Salsas
With all the tacos you eat, salsa are a great place to go homemade. Water bath canned salsas require following an approved recipe, lacto-fermented types are more versatile if you have a family recipe for pico de gallo you love.
I make at least three kinds of salsa a year because I will eat it a jar at a time (no joke, I've been known to get sides of chips and salsa at Mexican restaurants and just spoon the salsa into my mouth.) I love the Roasted Corn Salsa from Food In Jars, The Cilantro Peach Salsa from Canning For A New Generation, and the Cultured Pico-de-Gallo type salsa I ferment (recipe here).
Salsas are an awesome way to literally spice up cheap grocery store staples – rice and beans type meals are so-oh-oh much better if you have a half cup of roasted corn salsa to top it with.
Don't overlook using salsas as a mix-in ingredient, too. I like to combine a fruit salsa (like Peach Cilantro) with a can of coconut milk to make a fast Thai-ish style simmer sauce for meat or veggies.
Canned Dry Beans
Canned dry beans – sounds like an oxymoron, right? Basically this is taking dried beans like pintos or black beans and pressure canning them. This gives you the insane convenience of a shelf-stable, fully cooked protein source for the price of….well, beans.
Canning dry beans requires a pressure canner (this is what I have) – you absolutely cannot process beans in a boiling water bath canner. But if you have a pressure canner or are willing to buy one (look for used models to save money but have the gauge tested before use!) you can turn a very inexpensive staple into an easy convenience item for almost nothing.
Garbanzos are my favorite legume to can. The texture turns out great. I make big salads of marinated chickpeas and veggies in season. And of course, if you have a can of cooked chickpeas on hand, you are a quick puree away from hummus. Since your wife and kids eat a lot of hummus, this could be a big win on the homemade front.
Canned Meats
As long as you're getting a pressure canner for chickpeas, you might as well learn to can meat. Commercially canned meat – chicken, beef, whatever – tastes terrible to me, but home-canned meats can be absolutely delicious. The trick is to use cuts – like pork shoulder and beef chuck – that you typically have to cook for a very long time to tenderize anyway. I typically cube the meat, then pre-sear fatty braising cuts under the broiler just to render some of the excess fat out of the meat, then process the meat as directed here.
If you get in the habit of canning your own meat, you can add seasonings as you like, and these permeate and flavor the meat during processing. Try garam masala. It makes meat taste meatier.
I love canned pork shoulder for tacos. It tastes like slow-braised pork, because basically it is. Or, think down a more Bahn Mi route to get your Vietnamese fix and hot up your canned pork with chilis, cilantro, and fish sauce before spreading it on a nice baguette. Top with an Asian-style slaw or quick-pickled veggies for an awesome sammie.
A few jars of canned beef chuck, plus some canned black beans and canned tomatoes – add seasonings and it takes about 20 minutes to put chili on the table.
Since you eat meat, good tasting canned meat can be a huge time saver. I cannot tell you how convenient it is to have pre-cooked, good quality meat in the pantry for those nights when you are hungry and home late and didn't thaw anything and are this close to ordering take-out.
Depending on your personal financial-to-food ethics assessment, you can get the bulk cuts of meat at Costco (cheaper) or as part of a bulk buy from a local farmer (more ethical). I encourage meat eaters to see how they can shift their meat dollar towards more ethical sources of meat. Sometimes this means going with the cheaper cuts instead of steaks and chops. Luckily these cheaper cuts tend to be more flavorful and the best for pressure canning.
Fermented Vegetables
Since your kids like sauerkraut, there's a real opportunity here to go down a very healthy, delicious direction of food preservation – lacto-fermentation! Like vinegar pickles, fermented vegetables are preserved through acidification of the food product. The difference is what acid and where it comes from. In vinegar pickles, acetic acid (aka "vinegar") is added by us, whereas most fermented veg are acidified when the natural digestion process of several beneficial microbes converts carbohydrate to tasty, tasty lactic acid.
Fermented foods have the advantage of being fast, easy and energy free to prepare. (No giant pot of steaming water in late August). They are also freakishly healthy and, according to, well, me, some of the most delicious foods in the whole world.
Fermented foods tend not to last quite as long as water bath or pressure canned foods, and they are alive which means it's normal to get subtle flavor changes over the life of the food. To extend the storage of fermented foods, ferment in the largest containers you have that will not pose a storage problem or create too much of the preserved product and store in the fridge after the initial fermentation. I had several 1-gallon containers of fermented salsa way that lasted over a year stored in the fridge.
You know that scene in Portlandia? – "We Can Pickle That!" – that's kinda true. There are very few limits on what veggies you can ferment. I love fermentation-pickled spicy green beans and carrots. The only thing I've had very bad luck with is raw beets. I recommend Wild Fermentation if you want to learn more about fermented foods.
Sauces, Chutneys, Versatile Jams and More
Various sauces in the pantry make quick stir fry meals even quicker. I recently made a pork and veg stir-fry and finished it by dumping in a jar of plum-soy-ginger sauce from the pantry. Very time saving and delicious.
Since you like Indian food, think about making a few small batches of seasonal chutneys through the year. These will go a long way to turning a pot of basmati rice and some lentils into something fantastic. Bases like tomato, fig, mango, pineapple and more make great chutneys, but do follow approved recipes for canning so you know how many onions and whatnot are safe to add. If you want to just play around with flavors or add mustard oil or other things that are frowned upon in canning, just freeze for chutney instead of canning it.
Too-many jams can be MacGyvered into awesome sauces for that kind of dinner. Add a bit of soy sauce and vinegar and sesame oil to peach jam and now you have a peach stir-fry sauce. A little mustard with apricot preserves? Now it's a glaze for roasted chicken breasts. I use most of my sweet preserves like that, honestly. This post talks more about ways to use typical sweet preserves in savory applications.
Canned Fruit, Dried Fruit and More
Blanching peaches for canning.
A bunch of canned peaches are great, and once you've canned one fruit you've got the system down. Pears are quite good canned. You can also play with seasonings. Last summer I made the bourbon canned peaches from Food In Jars. Fantastic. Maybe not so good for the kids, but great for a special treat for grown ups.
Around here the kids eat a ton of dried fruit. I am moving more and more to drying fruit instead of canning it. I like that there is less sugar used, and less heat in the house in summer and the preserved product is portable. ("Here, here's some dried peaches for the car.")
Dried fruit is also used in our baking, on hot cereal, and is added to pilafs and salads. Think dried apricots with couscous – that kind of thing.
You can also do fruit roll-ups naturally in a dehydrator – this is good if you see a screaming deal on stuff like mangoes or peaches that are a bit over-ripe. Peel, puree, dry and viola! Fruit roll-up! Kids love these. This is a good tutorial for mango fruit roll-ups.
What are your must-preserve items? Do you think about how you eat and planning what to preserve around that, or do you just jump in when the produce looks good?
PS: Do you have a question you'd like me to tackle as a blog post? Please drop me a line with your questions, stories, challenges and more. I get a lot of emails so I can't address everyone's question but I will do my best!
P.S.S: Do you have money burning a hole in your pocket, or do you just need to make some sensible investments for your productive home? Here are the items I use and recommend for food preservation, etc. All links are affiliate links, which means if you buy through them a small percentage of your purchase goes directly to support this site – but your cost stays the same. More info on all that stuff here. Thanks for your support, guys!
My pressure canner. I have the 30 quart model, which is a beast. B-e-a-s-t. What I like: no gasket to wear out, weighted gauge so no need to check your dial gauge for accuracy every year. I had a bit of a saga when I initially bought this thing, but it has really proven itself.
My food dehydrator. What I like: it does the job, has even heat, a good fan, simple controls, is decently easy to clean and it's moderately priced. But my dream dehydrator is the Excalibur with stainless components. Maybe one day, when I find $500 on the sidewalk or something.
2