Let's imagine for a moment that this isn't a corner of the internet dedicated to growing vegetables, cooking good food, hanging out with chickens and periodically swearing.
Let's image this is Upworthy.com, a website dedicated to sharing mildly interesting and/or uplifting things marketed with the most annoying yet compelling headlines ever.
If Upworthy were to title this post, it would be called something like this:
This Compressor Spent Ten Years Locked In A Cold Dark Room. When It Finally Gave Up, I Nearly Cried.
I Thought It Was A Refrigerator, But Then I Smelled The Milk.
Try Not To Roll Your Eyes When You Hear About This First World Problem.
I Thought This Kitchen Appliance Was Unstoppable. I'll Never See Cold Storage In The The Same Way Again.
On Friday of last week the compressor on our fridge died. Temperature was sitting at around 48 degrees when I discovered the problem. The freezer had crept from from 0 to about 25. I immediately took action by eating all the melting ice cream. Priorities.
I wish I could say that I'm surprised, but the truth is this rather fancy, name-brand fridge has been one giant, expensive mistake from the minute we bought it ten years ago. It's been repaired countless times, it's sprung leaks and peed all over our floor, damaging the floor and kitchen cabinets. The particular model had a problem where the door fell off and squished people, so there was a recall and the door hinges were replaced. The ice maker breaks so often my husband can field strip and repair it before the ice even starts to melt. The paint on the door is literally bubbling up and rusting off for the second time. I'd bang my head against the fridge in frustration except for the very real possibility the entire door would fall off and kill me.
Duel file this one under "First World Problems" and "World's Tiniest Violin."
Meanwhile, we have a second fridge in the garage. It's a 15+ year old hand-me-down value-line Hotpoint that cost maybe $350 new. It has given us zero problems. Typical. I use the second fridge to hold curing meats, fermented items, food experiments in progress for this blog, overstock fruit and vegetables I've purchased or harvested for processing and my collection of seeds.
Because of the Eat From The Larder challenge, our main fridge was fairly empty, which was a blessing when I had to play Food Tetris to arrange everything in the garage fridge. But my hand was forced on some freezer items that became refrigerator items due to space constraints. So more than any other week so far, this week has been about using up what must be used up. So, yeah, for lunch one day we ate puff pastry jam tarts. Try not to judge. I'm not saying it was healthy – I'm just saying I didn't have to throw out puff pastry. Also, I think I need bigger pants now.
Psychologically, I feel like (major kitchen appliances repairs aside) we have a better groove than we had last week. Instead of throwing fits about not going to the Muffin Store, my son asks, "Is the laddah challwenge ovah yet?" and I say, "No, not yet, sweetie," and he just sort of sighs in this sad, resigned way.
Here's what we've been eating:
Breakfast & Snacks
Eggs continue to get laid at an impressive rate, so most breakfasts are quick-scrambled eggs.
My quest for a rocking homemade granola bar is over! These Cranberry Chocolate Chip granola bars based of the recipe in the DIY Cookbook are great and actually hold together.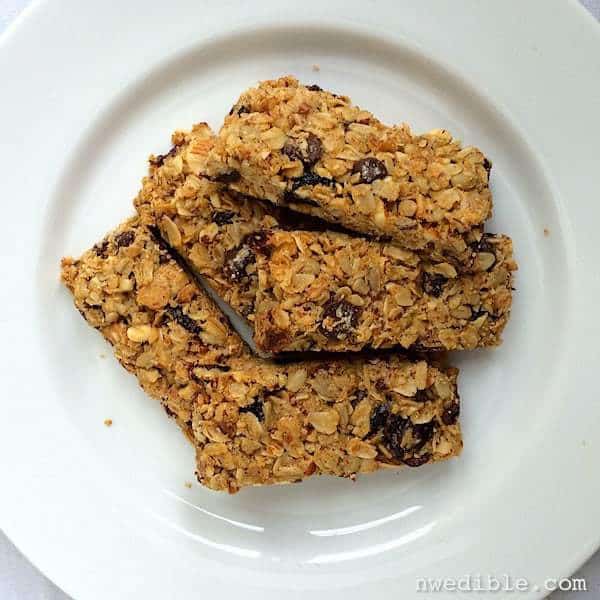 Puff Pastry Everything – when the fridge died, I had several sheets of frozen puff pastry that became not-frozen puff pastry. I made a faux chocolate croissant type thing, blackberry jam tartlets and savory caramelized onion hand pies. All were, frankly, delicious.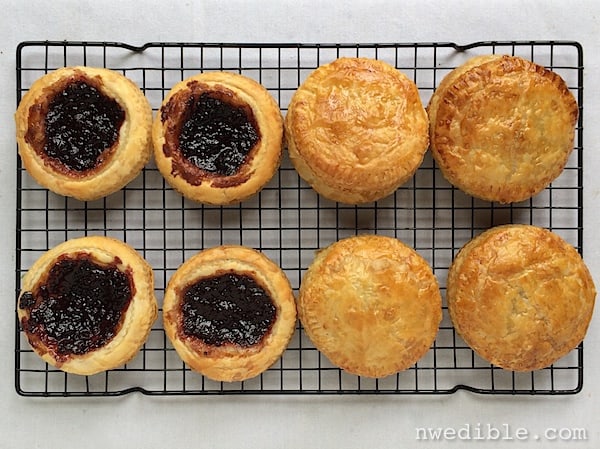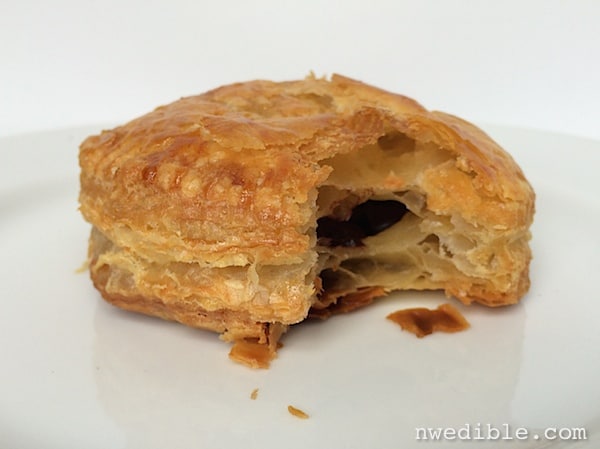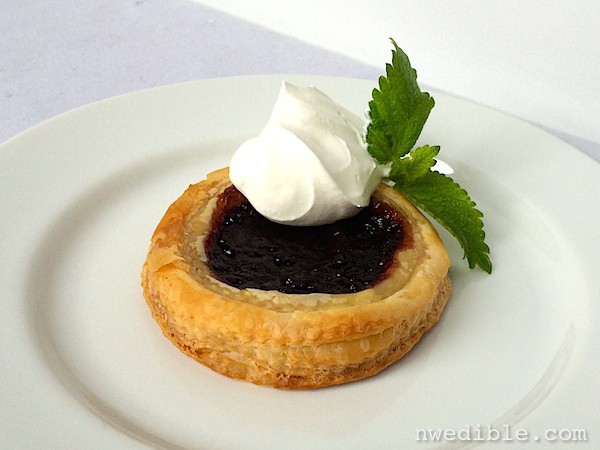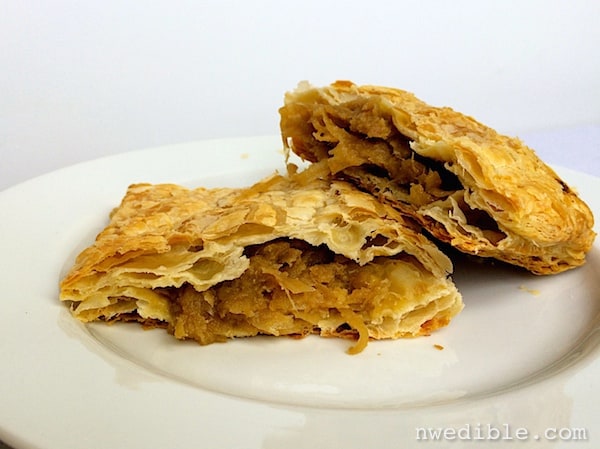 Lunches and Dinners
After an early April dearth of veg, I am relieved to say the garden is producing enough for me to get my greens on. One of my overwintering cauliflowers (Maystar) headed up last week. My intentions were good – roast it for dinner with curry, or maybe make spicy cauliflower. But I couldn't help myself. I ate the entire head, floret by floret, right in the garden. Didn't even share.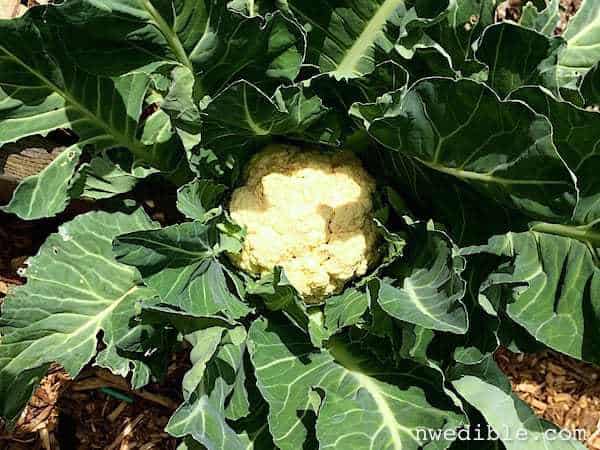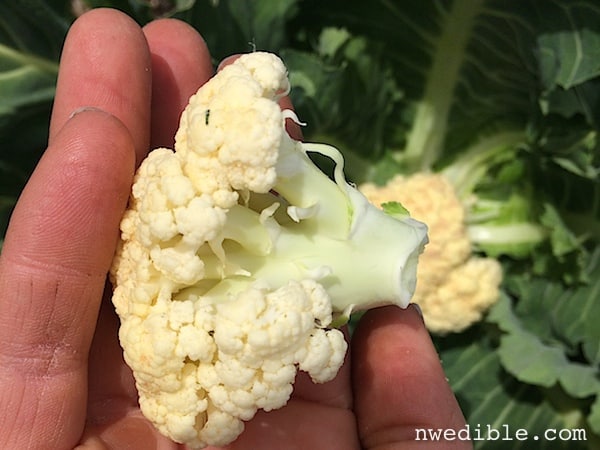 Braised elk shanks got paired with whole wheat spaghetti as we continue to eat down the game in the freezer.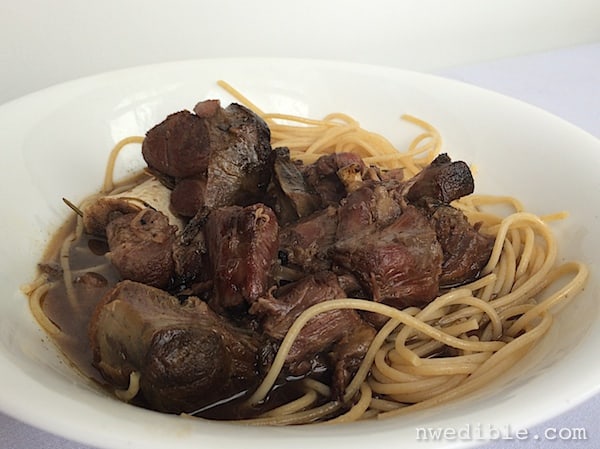 Leftover shanks, plus leeks, cauliflower greens, and a few parsnips from the garden were turned into this "kitchen sink" soup – as in, I put everything in it but the kitchen sink. With flatbread and a salad from the lettuce that's finally large enough to harvest, it made a great meal.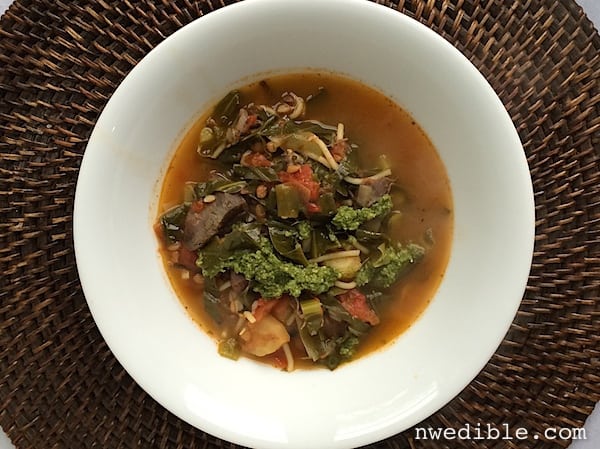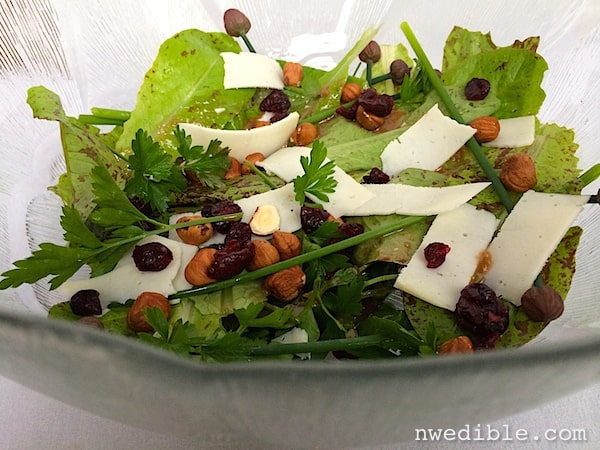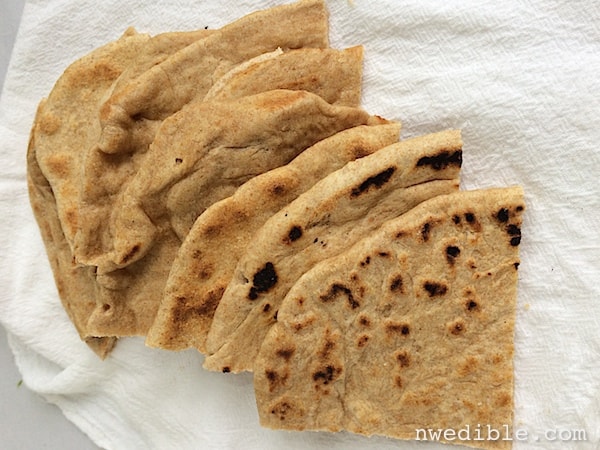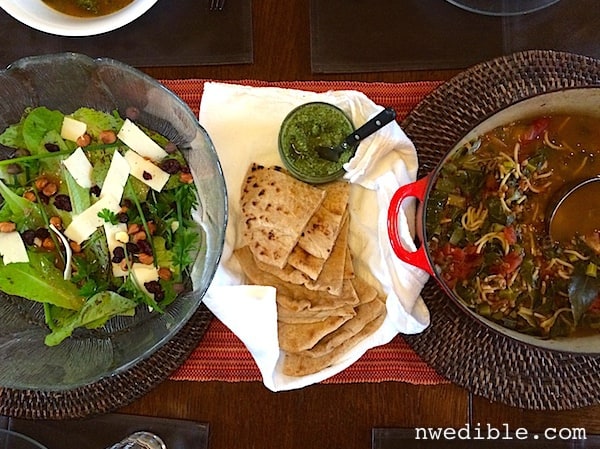 Of course the infamous killer hamburger was thoroughly enjoyed….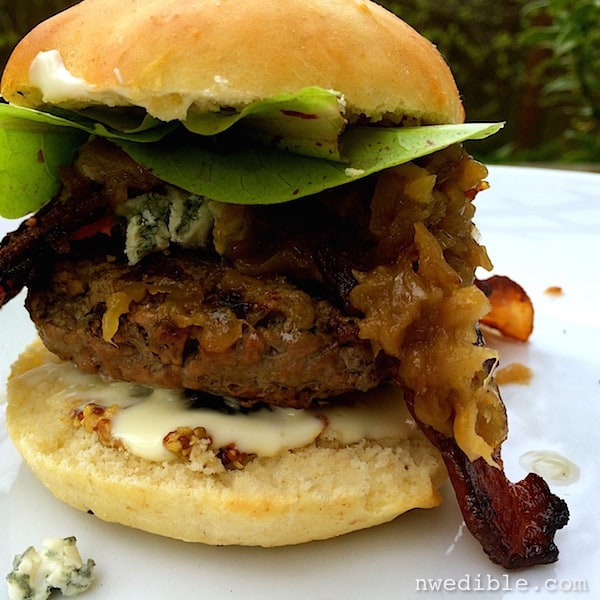 After the fridge died, we were left with a rapidly warming whole chicken and a thawed meatloaf that needed eating. So one dinner was basically just meat – chicken and meatloaf patties cooked on the grill and served with a bunch of dipping sauces. This became a few lunches, too.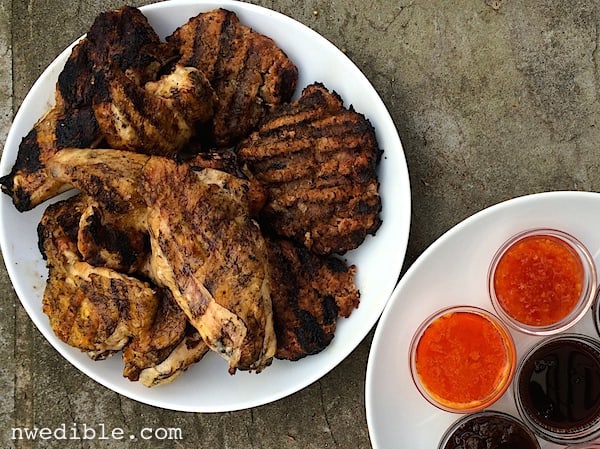 Classic rice and beans! I think we've managed to avoid this pantry cliche up until now, but the truth is, we really like rice and beans. With a little home canned pork shoulder, some roasted corn salsa and a dollop of frozen guacamole this was a very satisfying meal.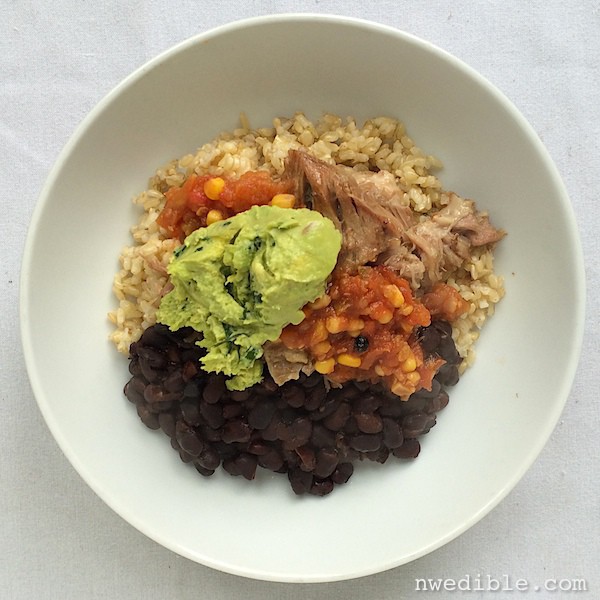 A bunch of frozen burritos that I made several months ago for fast school lunches were taking up room we didn't have anymore, so I converted them into fake enchiladas by laying them in a baking dish and covering with a mix of tomato sauce and peach salsa (surprisingly tasty) and a handful of shredded cheese. Baked until hot and melty, they were really good with a side of the thawed guacamole from the night before.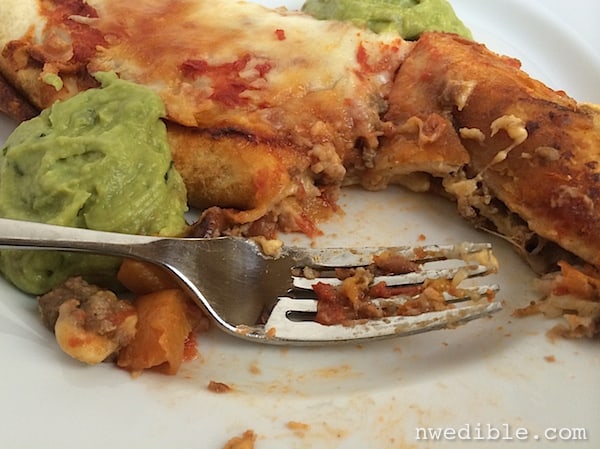 We didn't do much for Easter. We aren't particularly religious and Homebrew Husband was seriously sick all weekend. I had plans to try to make a fancy From The Larder holiday spread, but nothing came of it.
All in all, feeling solid with the challenge. I expect all the money we've saved this month eating from our larder will get funneled into fridge repair or replacement which is a bit bittersweet. On the one hand, it's awesome that the financial impact of something like a dead fridge can be mitigated by tapping into our food stores. On the other, I would really rather that money go towards other things. I've also considered just going without that fridge for awhile and seeing if we really need it. Time will tell.
How is the challenge going for you? Are you eating down your food stores? Are you happy with the money you are saving? Will this change the way you eat, or are you itching to get back to more convenient options?
1