There are situations where you want certain plants dead, but hand weeding is difficult or counter-productive because it will bring fresh seeds to the surface to germinate. This may be a situation for an herbicidal spray. I approach this topic with hesitation, because some of you stopped reading at the second sentence and are right now composing long ranty hate-emails describing how I am worse than BP and Monsanto put together to even suggest folks use herbicides.
But hold up a moment. I'm not saying it's time to break out the Round-Up. That stuff'll kill you. Well, more accurately, it'll kill your cells, but really what are you if not a collection of your cells? I'm saying that there can be a time and a place for responsible herbicide use. And responsible means non-toxic. (Well, except to weeds. Obviously you want something toxic to weeds. That's the point.)
I don't have a lot of areas in my yard that benefit from herbicidal sprays – weed management at my place is mostly smothering. I throw cardboard and wood chips on everything and that really minimizes my weed burden. The few weeds that do grow in heavily mulched bed are typically very easy to hand pull.
But once a year or so – typically in Spring – I'll whip up a batch of DIY herbicide from non-toxic ingredients I already have around the house. I'll spray down the gravel patio and prevent newly germinated annual weeds from growing into a bigger problem. A sprayed-on natural weed control option can be particularly useful for compacted areas like patios, pathways and gravel driveways.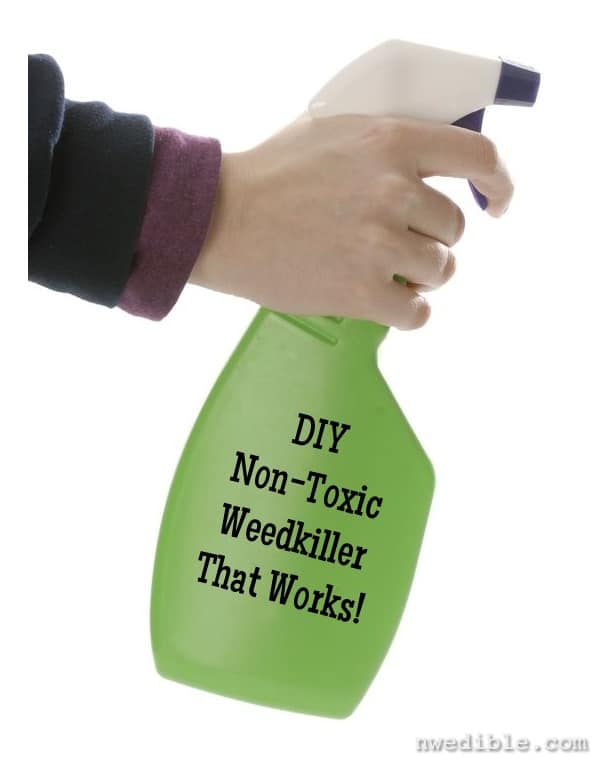 DIY Non-Toxic Weedkiller
This is the recipe I use. It's similar to organic herbicides like Burnout II or Avenger but with a far more appealing price tag. I typically make a quart at a time (four times the recipe below) which fills one professional-sized spray bottle. You can scale the recipe as needed.
Ingredients
1 cup homemade citrus cleaner concentrate, undiluted. (See link for full directions. The brief version is, soak citrus peels in white vinegar for several weeks, until vinegar has strong citrus aroma, then strain.)
1 tablespoon citric acid (available at homebrew stores or online)
1/4 teaspoon liquid dishsoap (environmentally friendly/non-toxic strongly preferred)
Method
Combine citrus cleaner and citric acid in a spray bottle. Secure lid on spray bottle and shake until the citric acid dissolves. Add in dish soap, replace lid, and gently flip bottle a few times to incorporate soap without creating a mass of bubbles.
How It Works
The white vinegar base contains acetic acid, but at the typical 5% acetic acid concentration, household vinegar alone isn't particularly effective as a weedkiller. The citrus peels are important – they contribute the essential oil d-limonene to the vinegar. D-limonene is what makes commercial orange cleaners such powerful grease-cutters! That same property strips the cuticle (protective coating) right off the leaves of the weeds and lets the acidic ingredients burn out the foliage. The citric acid is there to boost the burnout capacity of the acetic acid and the soap helps the other ingredients stick to the leaves long enough for the weed killer to work.
How To Use This Spray
This spray works best applied to areas of new annual weed growth while weeds are still fairly small and actively growing. Spring is the perfect time to take preventative action. Wait until you get a hot, sunny day (as hot and sunny as your area can manage) and are confident you won't see rain for several hours. You want the weeds you are targeting to be actively transpiring, with open pores on their leaves. Cover the weed thoroughly with the spray, making sure to coat the leaves and the central growing point of the weed.
What It Will Do
This is a non-selective, contact herbicide, which mean it will kill pretty much anything green it touches, assuming you apply it as directed. It is most effective on young, annual, broadleaf weeds.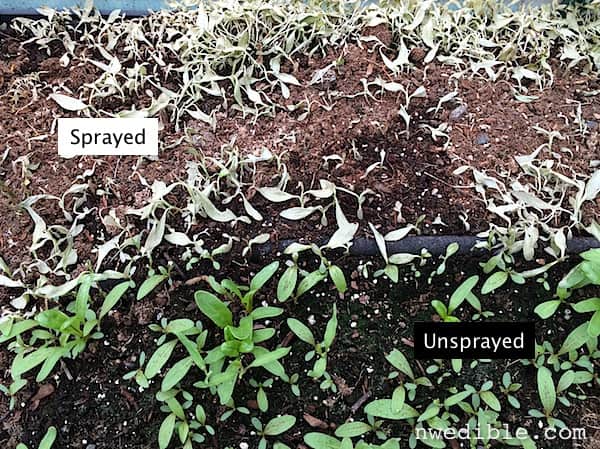 What It Will Not Do
This will not stop new weeds from germinating and growing. It will not provide good control to hard-to-eradicate perennial weeds. This is not a magic bullet for weeds like bindweed, creeping buttercup, horsetail, or bermuda grass. Unlike translocating herbicides like Round-Up (glyphosphate) this DIY herbicide will not move from the leaves into the root system. Plants with aggressive, energy storing root masses will tend to bounce back from this spray. Sorry about that, but I want to set your expectations accurately. If you are diligent about a regular repeat-spray program, you will eventually weaken the root system of pretty much any plant, but honestly, in hard cases a garden fork and digging is probably the best non-toxic way to manage difficult perennial weeds.
Cautions
Citrus essential oils like d-limonene can be dangerous to cats. If you have cats you might want to keep them away from the treated area for several hours after you apply this spray. Since this spray is used in an outdoor setting with lots of air circulation, I think this it is unlikely to harm kitties, who will avoid strong citrus smells naturally (commercial cat repellant products often contain d-limonene for this reason). Use your own best judgement and never, ever spray something like this directly on a cat.
This herbicide is non-selective. If you spray this on your vegetable seedlings or other things you like, you'll kill them. So be careful. Work on a still day, and don't be sloppy. Be careful along property lines so you don't harm your neighbor's plants. Consider that, while this weedkiller isn't toxic in a general way and doesn't poison the soil like many herbicides, it's going to be irritating as hell (or worse) to any little ground critter who gets coated with it. Think of the worms, people!
79