Maybe you are a compost geek. Maybe you totally adore balancing greens and browns and maybe the challenge of maintaining a 155 degree pile for days on end really hits your g-spot (g for "gardener," naturally).
If that describes you, this post isn't for you.
This post is for those of us who basically suck at making compost. This is for all the gardeners out there who feel like secret failures because "dark, crumbly and sweet smelling in three weeks" has never once manifested in their compost pile. This is for everyone who has paid $90 for one of those plastic composter bins and then come to loathe the thing and it's puny, pathetic, back-breaking little shovel-out holes.
True confession time: my name is Erica and I am a crappy composter. My compost is exclusively cold. No weed seeds are ever killed. I never have the right mix of greens and browns. My compost doesn't cook, it just rots. The whole compost pile thing has been a burden to me, a reminder of my many failures, for as long as I've been a gardener. Based on the number of "what am I doing wrong with my compost?!?!" questions people ask me (questions I am obviously supremely unqualified to answer), I suspect I'm not alone in this.
But none of that matters anymore because I have chickens.
My chickens are master composters. Seriously, if they could just find a way to drive to Master Composter Certification they could totally teach that class. (Except they'd eat all the red wiggler worms, but whatever.) Chickens are aerating, nitrogen-pooping, humus-creation machines. I have permanently off-loaded nearly all my composting duties to the hens, and I'm never going back.
This time last year I posited that the real bounty of the coop might be compost, not eggs.
Now, a year later, I'm sure of it.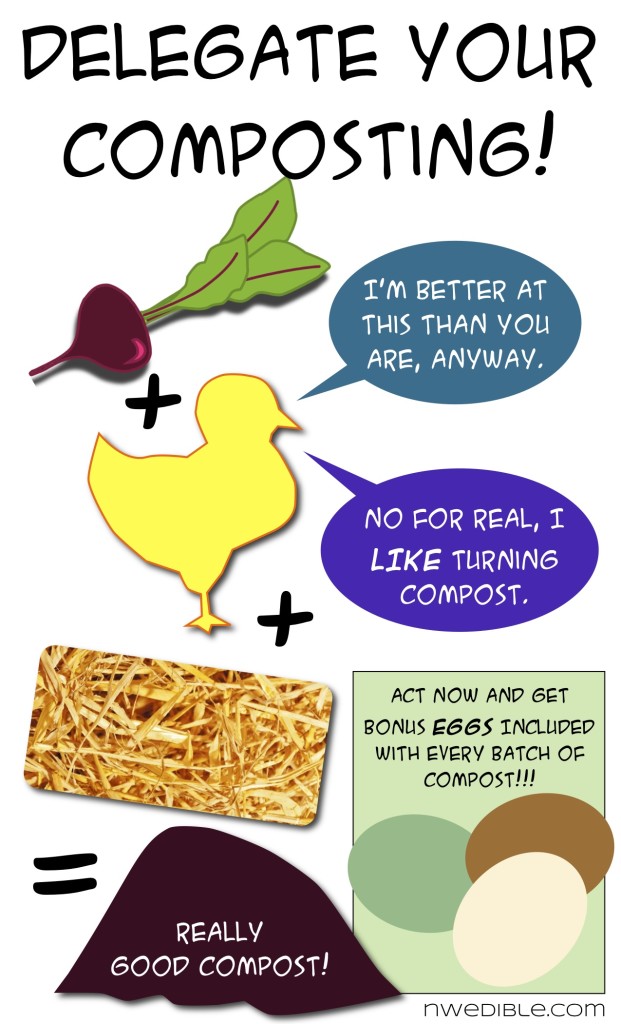 Here's how our composting system works in practical terms: we throw almost all our scrap food and leafy garden trimmings into the coop's run. Citrus rinds and coffee grounds are the notable exceptions. The chickens run around like manic feathered dinosaurs, freaking out about spent brewers grains and frost-bitten chard and broccoli leaves and chickweed. They chomp down and turn all that food into high-nitrogen poop.
The poop mingles with the high carbon straw bedding with which we line the run, and the sand from the coop floor. The chickens dig and scratch and turn everything up and voila: nearly perfect compost.
Now, this doesn't happen in 3 weeks. In fact, I only harvest the compost once or twice a year. I say "harvest the compost" because that sounds much more pleasant than "shovel chicken shit" and because it's far more accurate.
People talk about the chore of cleaning the coop. I just do not have that chore. I do not scrape poop and I do not have a manure management issue. What I have is "Hey awesome! It's time to amend my garden beds."
In early spring, I add a nice layer of compost and some organic fertilizer to my garden beds to prepare them for spring planting. In late fall, I top dress beds to protect the soil from rain and compaction. In the past I've hauled in bags of compost to accomplish these tasks, or gotten a bulk delivery and wheelbarrowed loads of commercial compost from the driveway to the back yard.
Now, I just rake up the thick layer of compost that's built up in the bottom of the coop and haul it in buckets the few feet to my garden beds. It's shocking how much compost comes out of the coop – 2 ½ to 3 ½ cubic yards of nearly perfect compost every six months, for free.
Within a day or two of scraping the coop floor bare, I bring in another bale or two of fresh straw, cut the bailing line, and maybe kick the bale open for the hens. They take it from there, happily tossing their nice new bedding hither and yon all the run, and the process starts again. In six months, if I want it, another several cubic yards of compost will be mine for the harvesting.
Everything about composting has changed. The whole process has been re-framed into a system that requires less work and money and effort (and guilt!) from me. This is a far lower effort and far lower input way compost and it makes for a fairly tight loop. It works.
This is the direction I want to go with my garden in general: lower cost (in time, effort and money) in maintenance, more loops that feed themselves, more reward, less effort. The coop compost experiment has shown me that easier and better can go hand in hand.
If you suck at composting, just consider delegating the whole process. That's my secret. It turns out you don't have to be a good composter at all if you're a decent chicken keeper.
Do your chickens do your composting for you, too?
P.S. Since I know not everyone can have chickens, the next best way to get more relaxed about any composting inferiority complex you might have (not that you do, just sayin') is to read The Complete Compost Gardening Guide by Barbara Pleasant and Deborah L. Martin. I love the multitude of ways composting is covered in this book, it opened my eyes to the idea that there were a lot of techniques outside the bin I could experiment with.
35