It is always a treat to go out to the garden, cut some veg, and use them to make a great dinner, but I think the reward is heightened in mid-winter. With winter harvests, you just never know, you know? But this winter has been very mild, and my late-planting of brassica starts have mostly survived (if not thrived). The jewel of the veggie patch right now is kohlrabi.
If you aren't familiar with kohlrabi, it's a member of the cabbage family which grows a swollen, globe shaped stem right about the soil line. It's a lot like tender, peeled broccoli stem in flavor and texture. It's sweet and crispy eaten raw (try slices dipped in blue cheese dressing!) and delicious sauteed.
I harvested three decent, softball-sized kohlrabi, plus a few smaller baby ones, and used them in a simple stir-fry with prawns, carrots and a Vietnamese sauce called nuoc cham.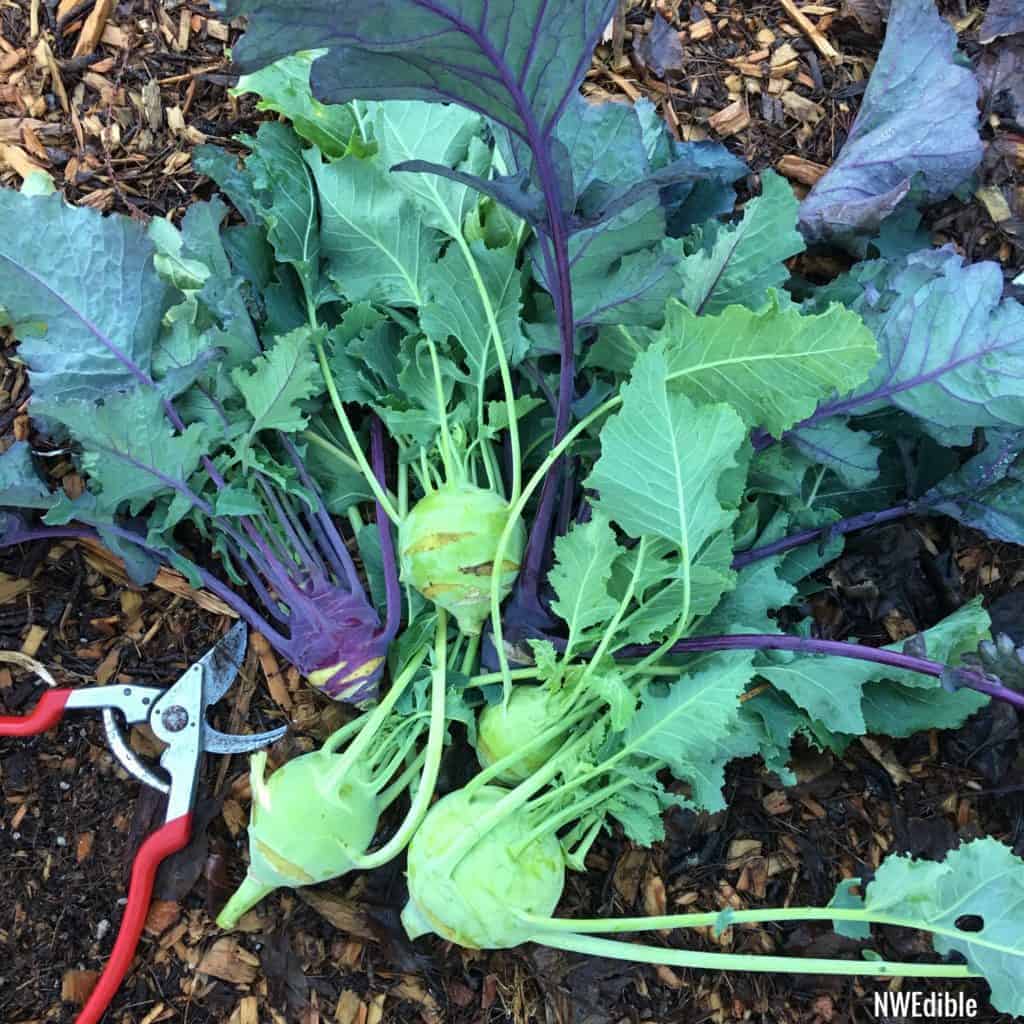 Nuoc cham is typically used for dipping or dressing. In the spirit of all great Vietnamese cuisine, it balances salty, sweet and sour flavors in a fresh, appealing way. Nuoc cham typically contains fermented fish sauce, lime juice, sugar and water, kicked-up with garlic and chili. Sometimes vinegar is added. But variations abound, and there is no one exact nuoc cham recipe in the same way there is no one exact salsa recipe.
The nuoc cham variation for this recipe stays fairly true to traditional, but because I wanted the flavor to be strong enough to use as a stir-fry sauce, I left out the water and added rice vinegar. Some is used as a glaze for the stir-fry; the remainder is served on the side.
Vietnamese Stir-fried Kohlrabi and Prawns, Step by Step
This dish comes together so quickly in the wok or skillet that you want to have all your recipe components ready to go before turning the heat on high.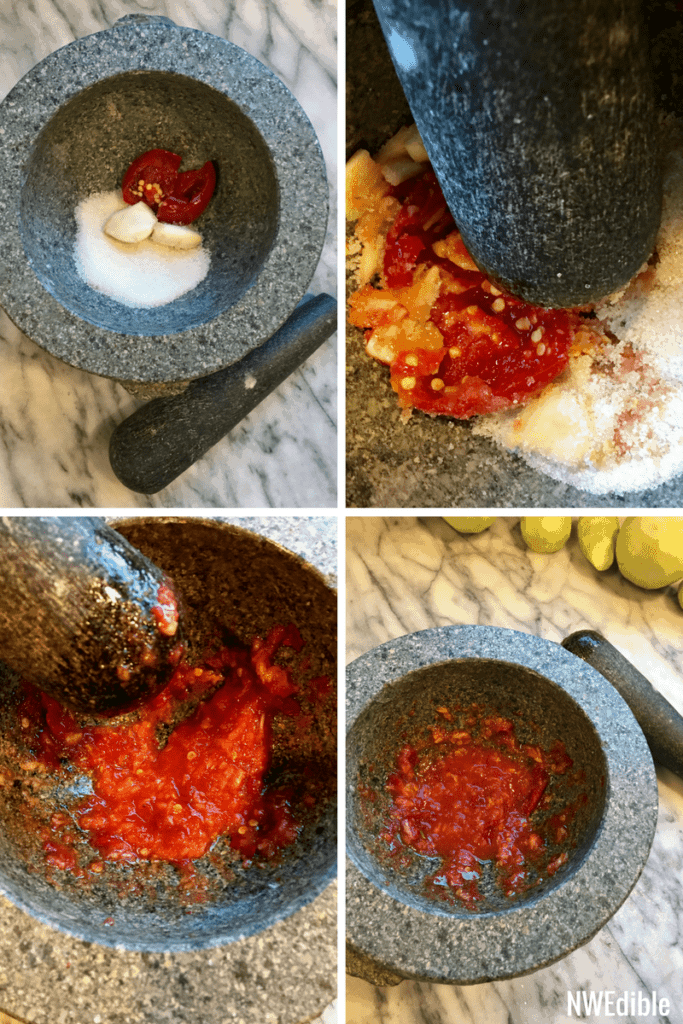 Start by making the nuoc cham sauce. I went traditional, and mortar-and-pestle'd garlic, chili and sugar together until they made a thick but relatively uniform paste. Then lime juice, rice vinegar and fish sauce were added. If you aren't feeling medieval, pop everything in a blender or similar (I use the mini chopper attachment to my stick blender) and give it a blitz until combined. There will be about 3/4-cup nuoc cham when you are done. Set the sauce aside for now.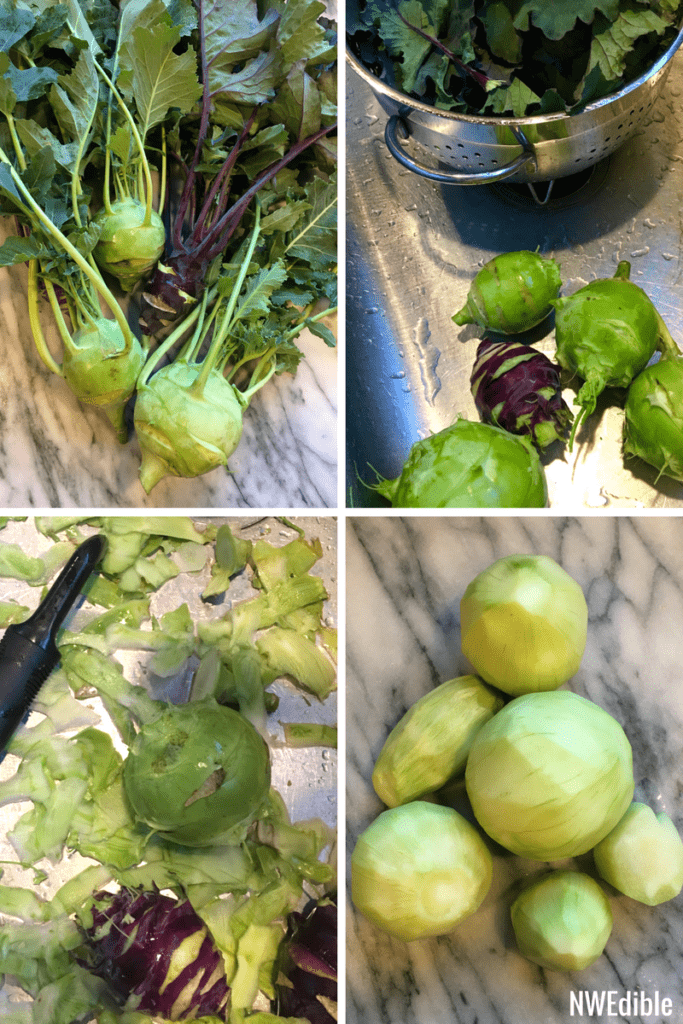 I my seperated garden kohlrabi into root and bulb. If you are using store bought kohlrabi, try to get ones with nice tender greens. If that's not possible, consider substituting in a big handful of baby kale or spinach for the kohlrabi greens.
Wash everything up and peel the kohlrabi bulb. I cut the kohlrabi into halves or quarters depending on the size of the bulb, then cut each section crosswise into half or quarter moons slices about 3/8-inch thick. The goal is kohlrabi slices that will cook uniformly. While you have your peeler out, peel and slice two large carrots on the bias into bite-size pieces.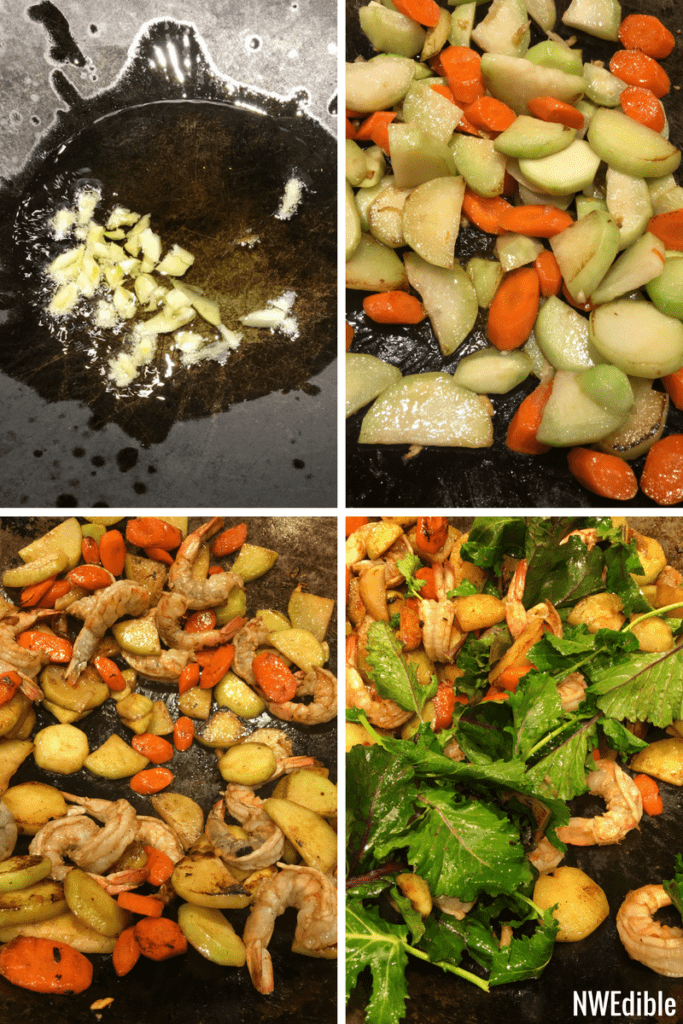 Time to cook! I cooked everything up in my big wok. If you have a wok, this would be a great time to use it. If not, a very large skillet or saute pan will work.
As with most stir-fry meals, the trick is to add ingredients in reverse-order of the time they will take to cook. After toasting a little garlic in oil to season the stir-fry, add the dense carrot and kohlrabi and stir-fry until the vegetables are crisp-tender and are just starting to caramelize.
Then add the quick-cooking prawns and just as they start to pinken up and curl, add the tender greens from the kohlrabi, which only need a minute or two to soften.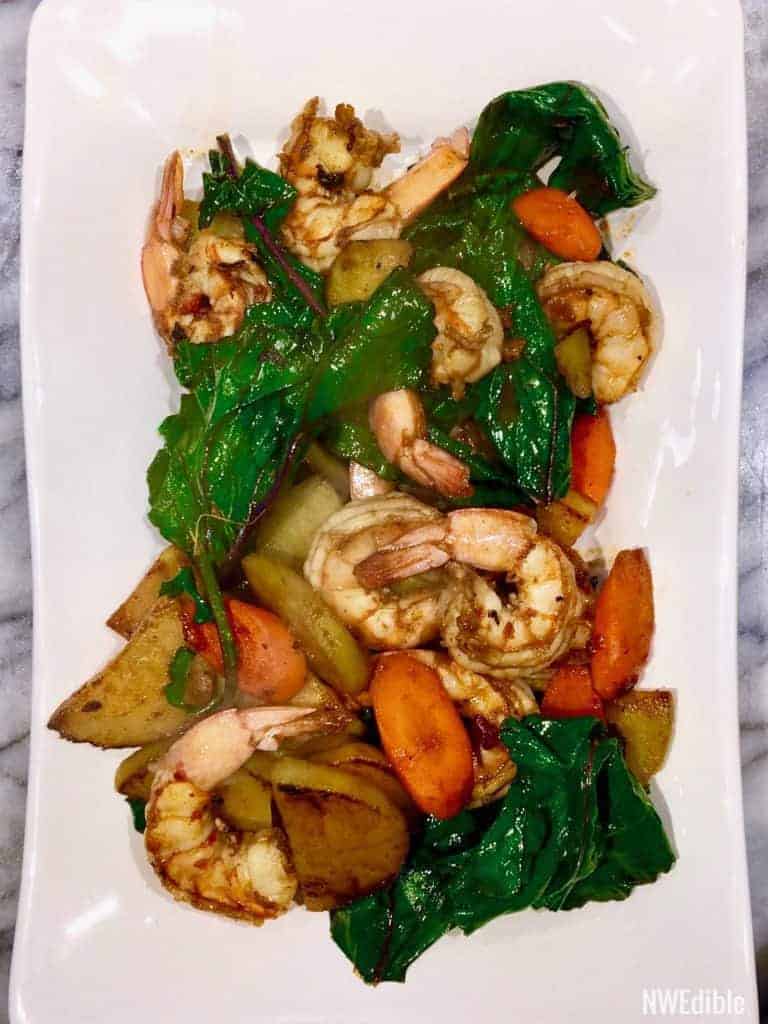 When the greens wilt, add 1/4-cup of the reserved nuoc cham sauce to lightly glaze the stir fry, stir everything once or twice more, then get your dinner out of the wok and onto a plate. Serve with steamed rice if desired, and serve the remaining nuoc cham on the side (you'll probably want to pour it over your rice).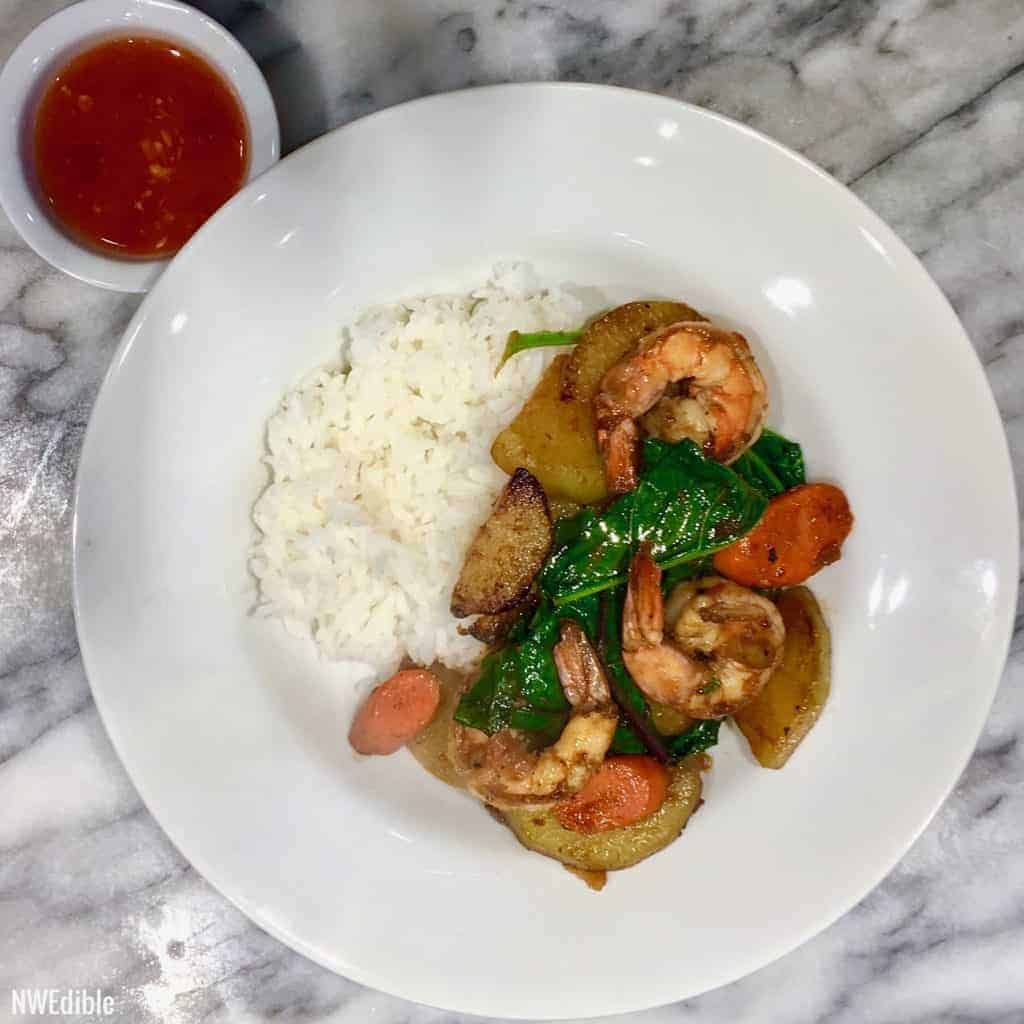 Vietnamese Kohlrabi and Prawns Printable Recipe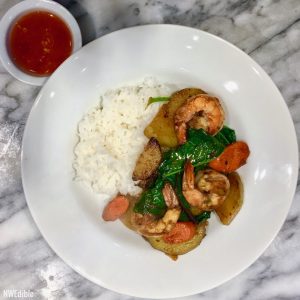 Print
Stir-fried Kohlrabi and Prawns with Vietnamese Sauce
Yield 4 generous servings
Ingredients
For the Sauce
2 garlic cloves, peeled
1 small fresh or fermented red chili, or 1-2 tsp fermented chili sauce
2 tablespoons sugar
2 tablespoons freshly squeezed lime juice
1/4 cup rice vinegar
1/4 cup Vietnamese or Thai fish sauce
For The Stir-Fry
2-3 tablespoons oil
2 cloves garlic, peeled and minced
4 medium kohlrabi, peeled and cut into rounds or half-rounds
2 large carrots, peeled and cut into bite-size pieces on the bias
1 pound jumbo prawns, peeled and deveined (about 16 large prawns)
The small, tender greens from 4 medium kohlrabi, washed and trimmed of any tough stems
To Serve
Instructions
Make The Sauce
Add the garlic, chili and sugar together in a mortar. Crush together with a pestle until the ingredients have formed a thick, mostly uniform paste. Add the lime juice, vinegar and fish sauce and stir to combine.
Alternatively, pulse all ingredients in a blender until garlic and chili is pureed and sugar has dissolved.
Transfer to a bowl and set aside.
Cook the Stir-Fry
Heat oil in a wok or very large skillet set over high heat. Add garlic and cook, stirring constantly, until fragrant, about 15-30 seconds. Just as garlic starts to brown, add kohlrabi and carrot to the walk and cook, stirring frequently, until vegetables are crisp-tender and begin to brown.
Add prawns to the wok, and stir to combine. Add additional oil if necessary to keep prawns from sticking. Stir-fry until prawns are just beginning to pinken and curl, then add the kohlrabi greens to the wok.
Add 1/4 cup of the reserved sauce to the wok, and stir to glaze the ingredients. When the prawns are just cooked through and kohlrabi greens are wilted, transfer the stirfry to serving bowls and serve immediately with steamed rice.
Are you harvesting anything in your garden here in mid-January?
14