As regular readers know, I love a good taco. In fact, I even have a formula for delicious homemade tacos. One of the essential components of a great taco is something crispy and crunchy.
The Central American, lightly fermented cabbage slaw called curtido fits the bill perfectly, and has all the benefits of other fermented cabbage condiments like sauerkraut or kimchi. In El Salvador, this curtido is often served with puffy, cheese filled corn tortillas called pupusa. I think it's great with everything. But especially tacos.

Making Curtido Cabbage Salsa
If you've ever made any kind of sauerkraut, curtido should be familiar. The key components are cabbage, carrot and onion. I like to add a few hot peppers, cilantro and lime.
The ferment itself is a simple shred-salt-stuff affair. Your life will be made better if you shred all the vegetables in a food processor. Feel free to adjust the seasonings to taste.
I aim to add 2% salt by weight to this ferment. If you want to adjust the proportions of the recipe (below), just follow this formula to figure how much salt to add:
Weight of curtido in grams x .02 = Grams of salt to add
After the vegetables in this ferment begin to give off their juices, make sure you pack the curtido firmly into your crock or jar to remove any possible air pockets from the ferment.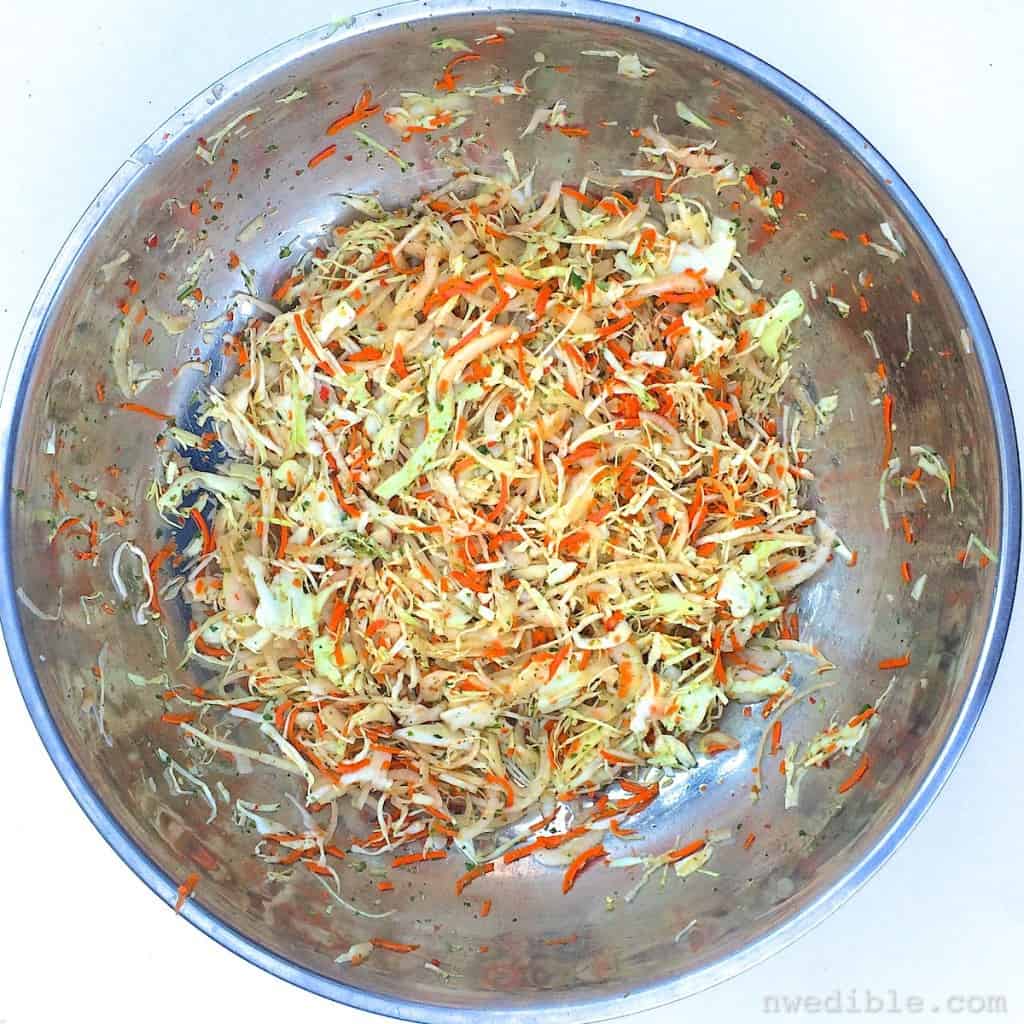 Printable Recipe For Curtido Salsa Kraut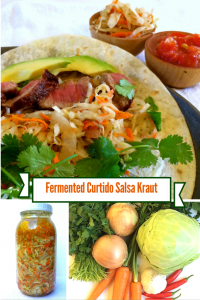 Print
Curtido Salsa Kraut
A lightly fermented Latin-American kraut - excellent with tacos!
Ingredients
1 small cabbage, cored and finely shredded (1 lb. 12. oz. as prepared)
4 medium carrots, peeled and grated (8 oz. as prepared)
3 medium onions, peeled and very finely sliced onions (1 lb. 8 oz. as prepared)
2 garlic cloves, minced (optional)
1 bunch cilantro, minced
3-4 small, hot red peppers, minced
Zest and juice of 2 medium limes
36 grams salt (about 2 tablespoons + 1 teaspoon fine sea salt)
Instructions
Clean and prepare a 1/2 gallon glass jar or fermentation crock for fermenting. Make sure it's scrupulously clean!
Add all the prepared vegetables and the lime juice to a large, non-reactive bowl.
Sprinkle the salt over the vegetables
With clean hands, massage all ingredients together until the vegetables begin to give off moisture, about 3 minutes.
Transfer the Curtido Salsa Kraut to the clean half-gallon mason jar or crock, pressing down firmly with clean hands as you go to eliminate any air pockets in the jar.
Weight down the ferment. There should be enough juice from the vegetables to rise up and fully cover the solids. If there isn't, add 1 tsp of fine sea salt to a cup of water, then add enough of this brine so that the liquids fully cover the solids.
Loosely seal the crock or jar, and leave the Curtido Salsa Kraut at room temperature out of direct sun, for 2 to 5 days.
Check the ferment daily. Look for bubbles and other signs of fermentation, burp the lid to release any pent-up carbon dioxide in the jar, and taste the development of the Curtido Salsa Kraut with a perfectly clean spoon. If you notice any scum developing on the top of your brine, skim it off promptly.
When you like the taste of the Curtido Salsa Kraut or after 5 days, transfer the ferment to smaller jars for cold storage in the refrigerator, where it will keep for at least 6 months.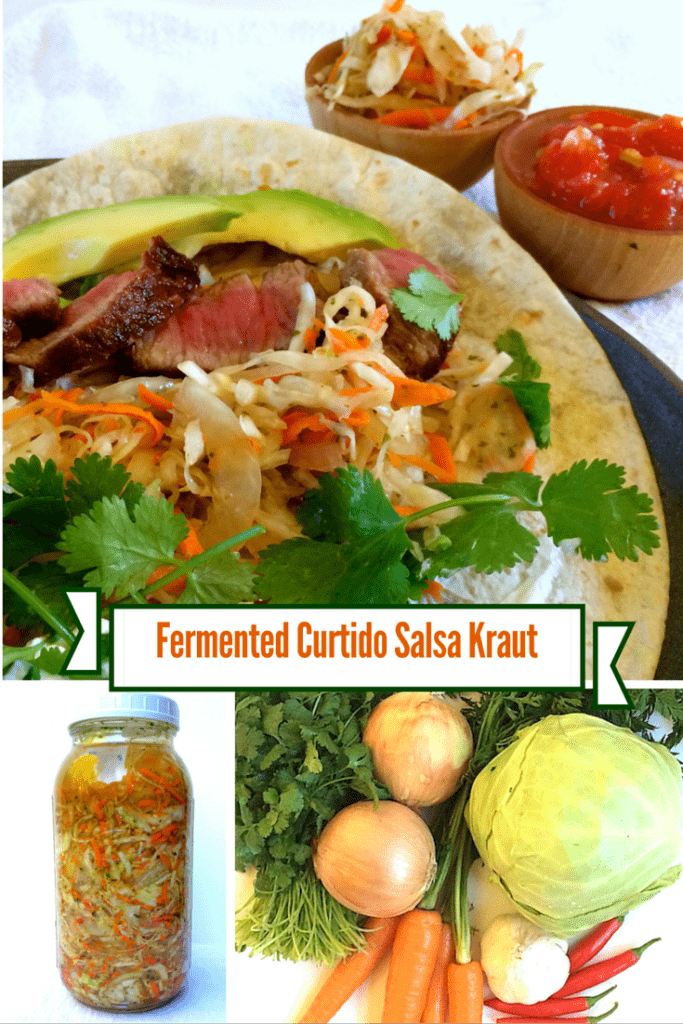 12