The cuisine of Mexico is complex, diverse, by turns subtle and bold. And I am a total gringo with only a cursory, Rick Bayless cookbook-skimming understanding of Mexican cuisine. Which is my way of saying, I make no claim to authenticity here, but in my house, this taco formula works.
My kids come back for more, my daughter claims she is a Taco-etarian, my son squeezes down on the tortilla press and everyone in the fam ends up with juice dripping to their elbows. And I suspect that might be a bit closer to real deal Mexican food than Old El Paso Taco Shells. But what do I know?
The Formula
Homemade (or at least really good and fresh) tortillas, corn or flour as desired
Braised, shredded meat (cold season) or grilled, chopped meat (hot season)
Something crunchy
Salsa
That's it. If I have time I might do a black bean side dish. If I have extra garnishes on hand we might break them out: jalapenos, avocados, salty cheese or thick yogurt cheese to stand in for sour cream have all graced our tacos, but the essentials are tortilla, meat, crunchy, and salsa.
Tortillas
For the tortillas, I prefer corn and the kids like flour, so usually I make corn. (Wha-huh? Yeah, they can deal and corn tortillas are simpler by three ingredients to put together.)
If you like flour tortillas, I have made this recipe from the excellent Lard: The Lost Art of Your Grandmother's Cooking cookbook (review here) and it is great. If you are making flour tortillas, I've found it's easiest to roll them out with a rolling pin before proceeding with frying.
For my typical corn tortillas, I buy a kind of fine cornmeal called masa harina made from hominy, which is basically corn soaked with an alkali like lye.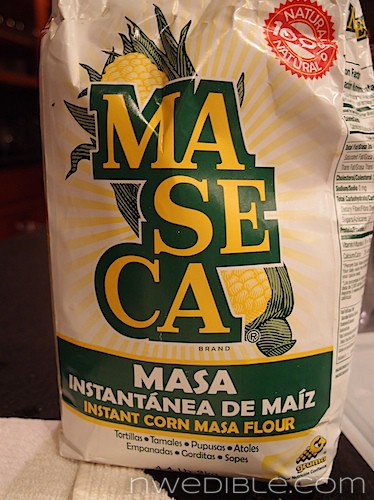 Combine the masa with water. I use 2 cups masa and 1 cup water, then slowly add in a bit more water while kneading everything together until I have a dough with a texture just like Play-dough.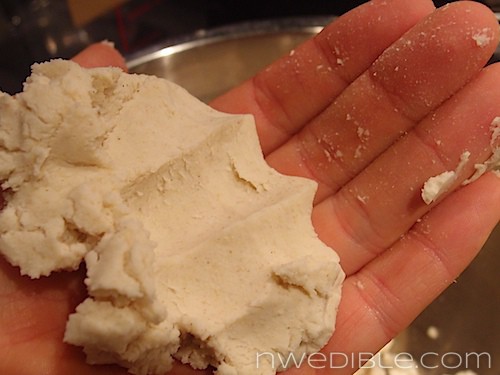 Let the dough sit covered for awhile – half-an-hour is good – and then divide into golf-ball sized pieces. Place a ball of masa, one at a time, onto a tortilla-sized piece of parchment or plastic wrap. Put another piece of plastic wrap or parchment over the top of the masa and smoosh the ball into a tortilla. The plastic or parchment stops the masa from sticking to everything and is re-usable though your entire tortilla-making adventure.
You can smoosh with a smooth-bottomed frying pan or with a sturdy, flat-bottomed plate (I did this for years, it works fine) or you can pony up the cash for an actual tortilla press, like this: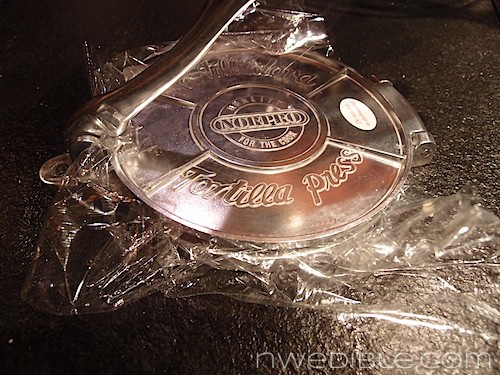 The press is faster and fun for my kids, but whatever converts a ball of dough into a flat, thin disk of dough will work. With this press, my tortillas don't come out super thin, but that's ok for how we do it.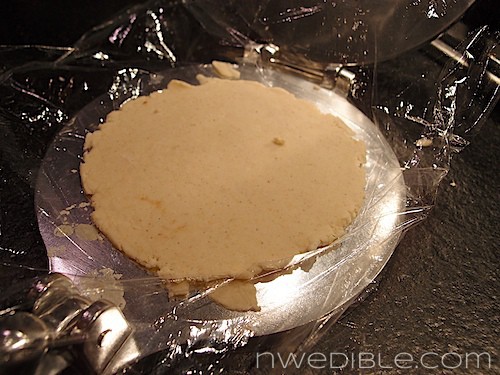 Fry your little tortilla disks in a cast iron skillet over medium-high for one or two minutes on each side, until golden. I put a bit of olive oil or lard in the skillet, but I think this is optional.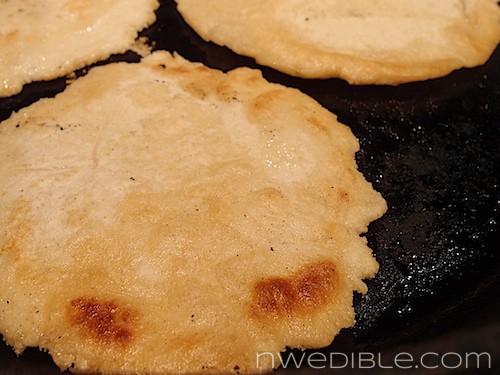 After your tortillas are cooked, set them aside on a sheet pan and lightly sprinkle them with salt while they are still hot. This is very important.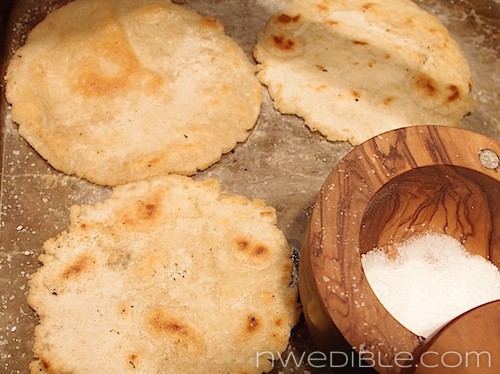 The Meat
Now, I say "The Meat" because in this family we eat The Meat, but if you eat only The Veg, you can substitute beans, grilled tofu, firm grilled veg like sweet potato (sweet potato taco! Yum!) queso fresco or whatever else makes your heart sing.
There are two kinds of meat to use in The Taco Formula. Fast-cooking, full-flavored, grillable meats like skirt, flap or flank steak, pork tenderloin or firm fish like mahi mahi or salmon should be seasoned with salt and lime juice and grilled or seared hot until medium-rare. Then they should be thin sliced or chopped. This is what you want to do during summer when it's so pleasant to spend a bit of time in front of the grill.
In winter, go for hardy braising cuts that cook for a long time, like pork shoulder, beef short ribs or – what we had here – beef cheek meat.
"Uh, hold on, did you just say you were going to eat a cheek?"
Yeah, I know, cheek. It comes from the inside of the cow's head and that can be a little freaky, I guess, unless you start to consider that rump roast is basically cow ass. Anyway, I'm going to let you in on a total Foodie Bubble secret: cheek meat is fantastic. Halibut cheeks, pork cheeks, lamb cheeks, beef cheeks – I've eaten them all and swooned. Cheeks are maybe the best braising cut around, since they are full of gelatin and fat and impossible to overcook. And cheek is 100% muscle, so it tastes like you are used to muscle (steak) cuts tasting. It's doesn't have that mineral quality of organ meats that can take a bit of getting used to.
But all that is secondary: you can use any meat that braises well. Dry, salt, sear hard, braise low-and-slow and you'll know it's done when it falls apart on you. Feel free to do this part days ahead of time; braised meat usually gets better for several days as it sits, and it reheats gorgeously.
The Crunchy
This can be anything that adds contrast to the tender or chewy meat, and is a great place to go seasonal with your veg. For these particular tacos I used shredded kohlrabi tossed with a squeeze of lemon for no other reason than that I have kohlrabi in the garden right now.
Anything that could conceivably be made into a slaw can be shoved into a taco. It's all good.
Ideas – some combination of:
Cabbage slaw (a perennial favorite and plays well with other crunchy things)
Jicama
Kohlrabi
Shredded lettuce, especially crispy romaine-types
Carrots
Radish or Daikon
Sprouts
Sweet or spicy peppers
Want to get goofy? How about a pork tenderloin taco with apple-jalapeno slaw and spicy mango salsa? At first you might think, "Um, apple on a taco?" but then you'd probably ask for seconds, right? This is a versatile formula.
The Salsa
I generally have at least two kinds of salsa on hand – a fresh Lacto-fermented Salsa – which I put on everything, and the Peach Cilantro Salsa from Canning For A New Generation that I really like with seafood, pork and chicken.
For these tacos, it was the LF Salsa.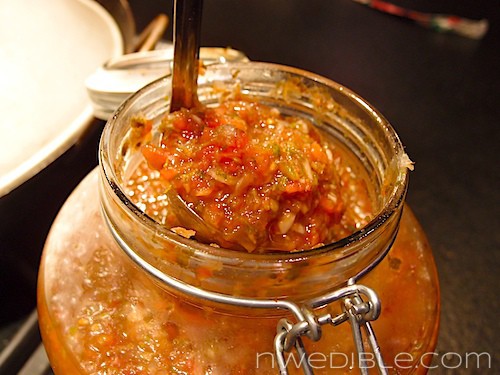 Assemble and Eat
This isn't rocket science. Assemble the taco fillings on the tortilla, fold up and eat. If you like other stuff like black beans, cheese, avocado, sour cream or whatnot, you can put that in there too. But don't go insane with quantity if, as here, you have small tortillas. No one likes an exploding taco.
I usually end up with a line of family members at the stove, eating their tacos as fast as I can assemble them. Which brings me to one final suggestion: Assemble-Your-Own Tacos are really quite fantastic for parties. If I were hosting a crowd I might go for good store bought tortillas, which would take the work on these down to practically nothing. But if you are just having a few friends round for casual dinner, and you can offer up an assortment of toppings, DIY Tacos can be a really fun thing to do as a combo meal/activity.
Do you have your own version of Taco Night, too?
Psst…the Federal Trade Commission wants you to know that this post contains affiliate links. More info here. 
2