Stir-frying is a great technique when you have a little bit of a few things. Often as the garden is just ramping up, you don't have quite enough of a single vegetable to get a good, solid feed without wiping out all of that vegetable. And then late August comes, and you have too much of every kind of vegetable, but that's another story.
At this time of year, maybe you have a handful of sprouted broccoli, and a few leaves of kale, and a couple of green onions that are finally bigger than a stir-stick. Or perhaps you have some spring garlic, a few early peas, a handful of overwintering carrots, some spinach and a couple leaves of cilantro.
Harvest first, cook second is a good rule. When your harvest basket demonstrates variety but not necessarily a huge quantity of any particular vegetable, a stir-fry is a fast and easy way to get a garden dinner on the table.
Stir Fry Tips
Stir-fry is more a concept than a recipe, and it's an easy one to master. The tricks are: hot pan, small pieces, add-in cooking.
Hot Pan: Please don't use non-stick here. I mean, actually, don't use non-stick at all, but especially not here because the goal is to get your pan sizzling hot. Think of the canaries! I use a large wok, but a large cast iron skillet or large heavy frying pan will work great.
Small pieces: Your veggies and any meat should be small enough to cook quickly. Think one-bite size, and aim for slices more than chunks.
Add-in cooking: this is where people often get it wrong with stir-frying. You can't just chuck everything in at once. You start with the stuff that takes the longest to cook, like meat, onions or carrots, and progressively add-in in the stuff that takes less time, like peppers or green beans. You throw in things like leafy-greens, green onion tops and herbs at the very end.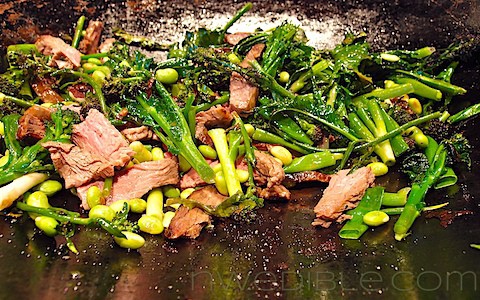 Mason Jar Stir-Fry Sauce
To make the process even simpler, it helps to have a simple, versatile sauce on hand to toss over your veggies. This is mine. It's Asian-y enough to taste right on a stir-fry, but basic enough to go with pretty much any meat. You can dress it up or down with whatever additional seasonings, like ginger, garlic, Sriracha, sesame, chili, etc. float your boat. As is, it's kid-approved.
1 ¼ cup soy sauce
1 cup oyster sauce
1 cup maple syrup (Use the real stuff. If you only have maple flavored syrup, use brown sugar to taste instead.)
½ cup rice vinegar
¼ cup dijon mustard, to taste.
Pour items into appropriate size jar. Most of my quart jars have built-in measuring marks on the side of the jar; or just eyeball it – you don't have to be real exact with this.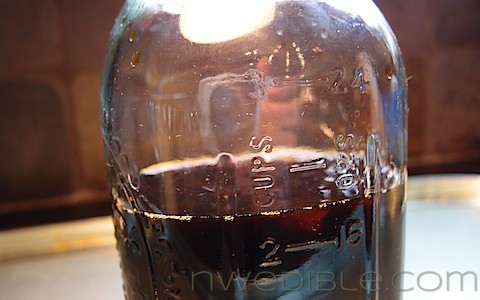 Seal jar with a leak-resistant lid and shake it all up to mix everything together. I am absolutely in love with my new reCap Mason Jar Lids which make stuff like this super easy.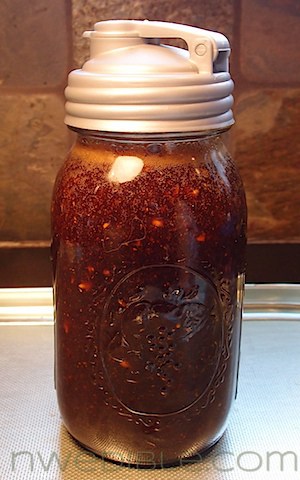 You can make this sauce your own. Want a tangier sauce? Add more vinegar and mustard. Want it less sweet? Back off on the maple syrup. Vegetarian? Use one of the many mushroom "oyster" sauce options. Addicted to Sriracha (and without spice-phobic children)? Squirt a little hotness in there.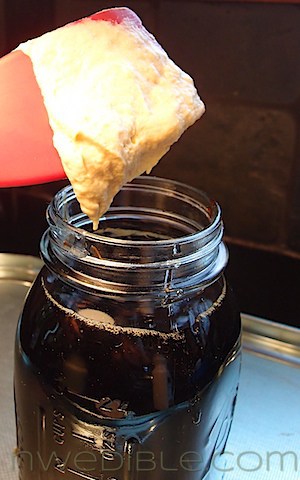 Makes 4 cups and keeps more or less indefinitely in the fridge assuming you don't modify your recipe by adding any fresh garlic, ginger or whatnot to the sauce.
To use this sauce, add it to your stir-fry towards the end of cooking, when your veggies are 1 to 2 minutes from crisp-tenderness. This sauce has enough sugar in it that it will quickly glaze around your stir-fry components. A lot of stir-fry sauces are thickened with a corn starch slurry, but I prefer a less clinging sauce and skip that step.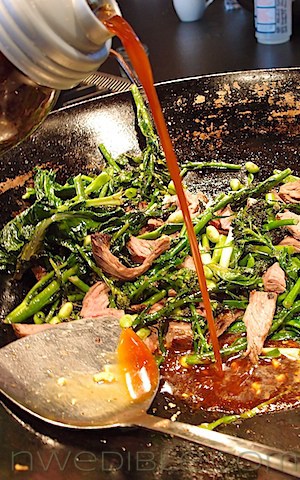 215