I've been dealing with my own minor family health emergency here at the NWEdible homestead, so let's recap. If you have followed along and completed our emergency challenges this month, here's where you stand:
You are doing freaking great!
Much of our action so far this month has focused on taking the uncertainty out of the several minutes to the several days immediately following a disaster.
It's time to shift into a long-term mindset
A good rule of thumb: in an emergency, if it's safe to get home and stay there, do so. Even if you are inconvenienced by a power outage, lack of infrastructure or isolation from the rest of your community, typically the most comfortable place to be is at home.
Home is where you have food, pillows, extra clothes, big fluffy dogs, random camping gear, extra batteries, board games – all kinds of stuff that will make riding out a disaster far more pleasant. Preparedness just makes it easier to stay in a safe home longer and more comfortably.
Think back to your Zombie Apocalypse Scenario. Mine, as a reminder, is a full-rip of the Cascadia Subduction Zone – a major, region-crippling earthquake. Yours might be a superstorm, tsunami, or massive hurricane.
In any event, your Zombie Apocalypse situation isn't over when the disaster is over. Broken infrastructure, power outages, displaced people and disrupted supply lines all mean "getting back to normal" can take weeks – even months or years – beyond the discrete event of the disaster.
Sadly, right now many of our Puerto Rican friends are dealing with the brutal aftermath of Hurricane Maria. From the linked article: "We do not have supplies. In my house, we do not have water. There is no gas. The lines are long." And: "Almost a week after Maria hit, some isolated towns still have not been heard from at all." The wind is long gone, but for the US citizens without fuel, electricity, food, water or supplies, the crisis in Puerto Rico is ongoing. (Options to help here.)
Your 72 Hour Bags will see you through the initial emergency. But if you are hunkered down in the aftermath of a major disaster, you need to think about how you are going to provide for your own basic needs beyond those three days.
How Long Are We Talking About Hunkering Down?
All major emergency management agencies in the Pacific Northwest now advise people keep a minimum of two weeks worth of food, water, first aid and basic home comfort supplies on hand. That's what I'd recommend for anyone in earthquake, big winter storm, mudslide, flooding, or hurricane country.
Then, if you….
enjoy preparedness as a hobby (no shame – I do!),
look at your reasonable regional risks and they include "earthquake that makes roads impassable for 4-6 months"
know other people in your life will show up at your doorstep and you won't want to have to make the call about turning them away,
belong to a faith where food storage and other preparedness is prescribed for you (shout out to the Mormons),
or otherwise would feel better with additional supplies,
…then you might choose to prepare for a longer time period.
But just start with two weeks as your goal.
What Does "Basic Needs" Mean?
If you live in a standard urban or semi-urban environment and an emergency hits which causes the power to go out for two weeks, you can assume the following:
Power, Heat and Light
The lights won't come on. The A/C won't come on. The heat won't come on. Your cell phone will not charge. Your Prius will not charge. Your gas stove or oven may not work because of an electrical ignition system. Your life will become very, very quiet. People who are not accustomed to power outages sometimes forget just how totally dependent the modern house is on a free-flowing river of electricity.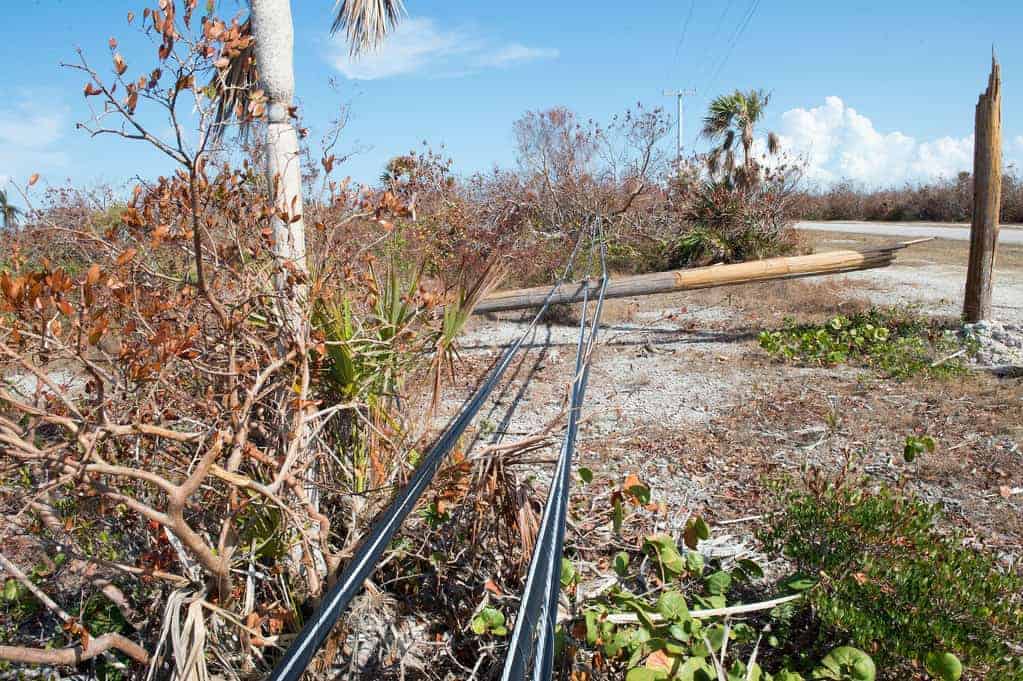 Water
The water may stop running. If you live someplace that pumps water, when the power fails, the pumps are run off generators. When those run out of fuel, the pumps stop and water stops coming out of the tap. Any number of disasters can also cause broken pipes which stop water pressure more or less immediately, or cause floodwater or wastewater to contaminate water sources. Even when everything is completely functional, it's not unusual for municipal water companies to issue boil notices because of contamination of water sources.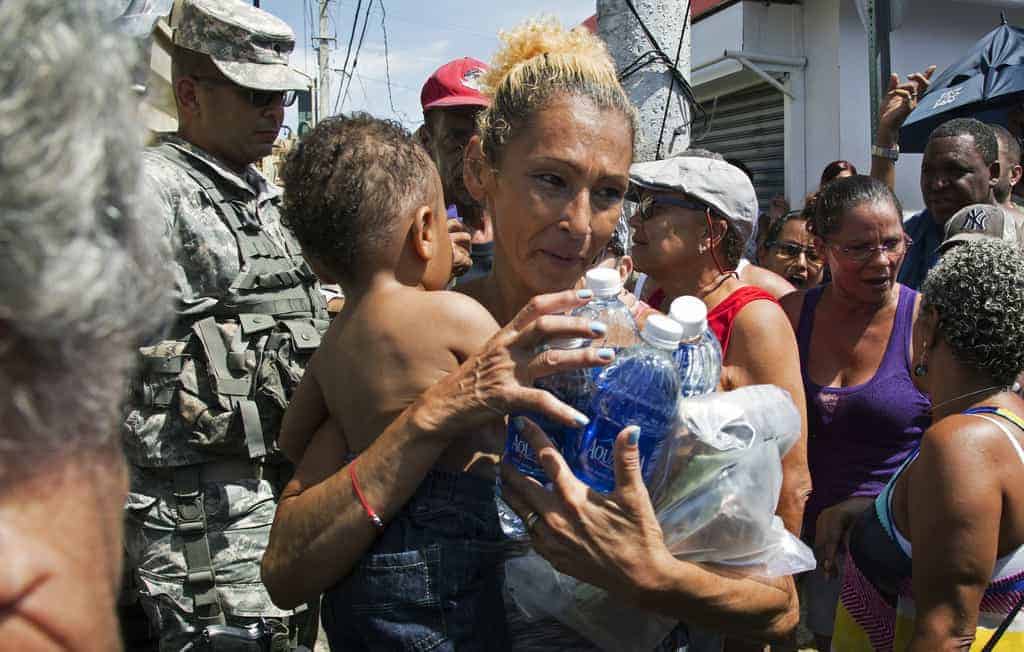 Food
Grocery stores will be completely emptied within hours to, perhaps, a day. In the event of disasters which have some warning, like hurricanes, store shelves can be empty long before the emergency even makes itself felt. Without power, grocery stores themselves will close – the refrigerators, freezers, and cash registers all require electricity to run.
The supply chain and delivery system that gets stuff to stores in the United States is both phenomenally fragile to sudden shocks and impressively resilient in its longer-term adaptability. Eventually, supplies will get to you. But the just-in-time delivery you're used to will be disrupted.
Fuel
Gas stations probably will be shuttered. Those that are open will have very long lines. Gas may be rationed. People who wait in long gas lines tend to get nervous and prone to panic and aggression. Best place to be in this situation? Not in that gas line.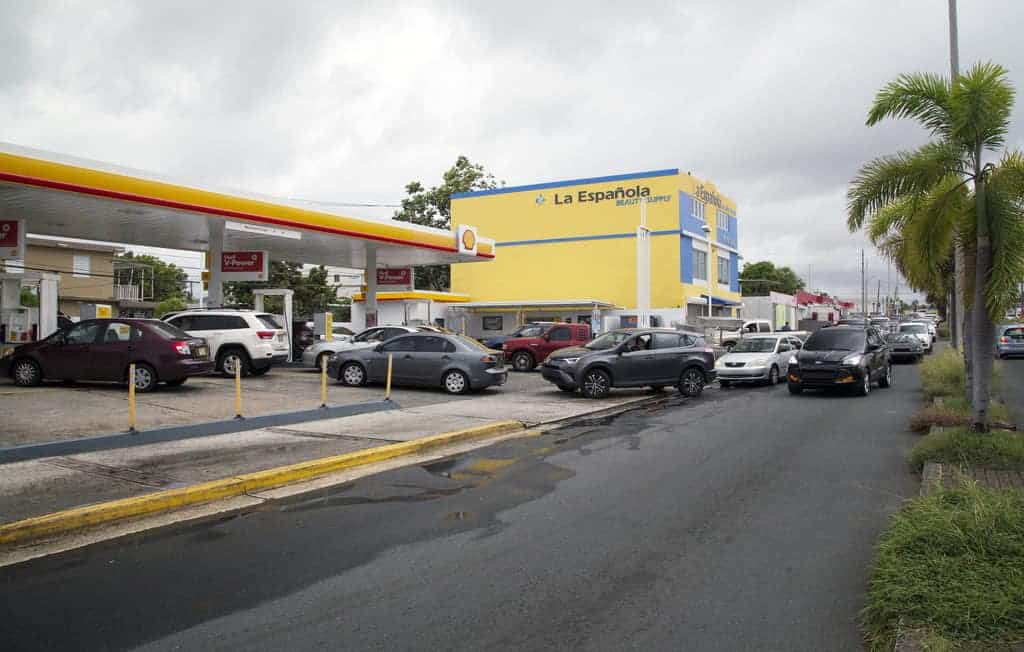 Transportation
There will be disruptions to general transportation. Stop lights and signals will be out. When workplaces aren't powered, they won't open. Normal patterns of commuting won't happen. Places that are typically hubs of dense human activity may feel like ghost towns. Neighborhood and vertical neighborhood socialization will ramp up as people seek human connection within shouting distance of their front door.
Information and Communication
Information will be much, much harder to get than we are accustomed to. The average iPhone is a miracle of information-delivery. On a device not much bigger than a deck of cards I can collect more first aid, weather, social, and news information than I'll ever be able to read. Current events? Instant wind speed updates? Done. When cell towers go out or the phone batteries runs down, people accustomed to meeting their information and communication needs instantly will be craving news and updates desperately.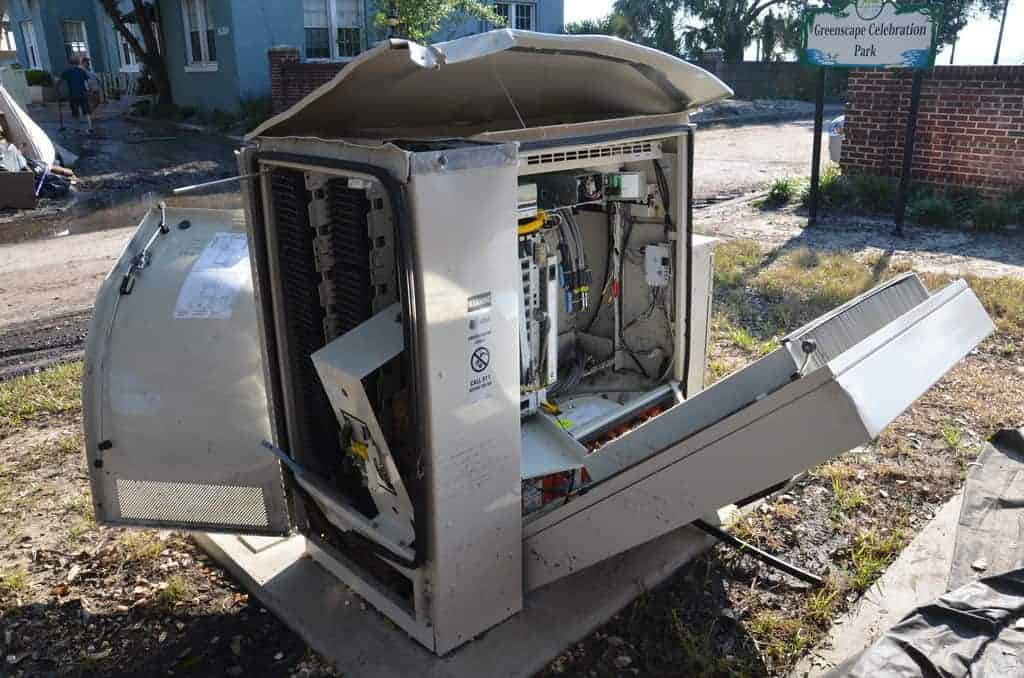 Sanitation
Without water pressure, toilets won't flush. Garbage pick-up, removal and processing might stop for awhile. Depending on your home, plumbing, and the nature of the disaster, sewage flowing back up through the plumbing system could severely compromise your home. If you fear you're at risk for sewage back-flow, the only real preparedness step is prevention through the installation of a sewer back-flow valve.
First responders
Medical, fire and security first responders will all be slowed, both by their ability to physically reach people and a local need for help that outstrips the supply of professional helpers. Depending on the nature of the emergency, the buildings that support first responders might be damaged, further limiting the efficiency of the emergency support services. Neighboring communities and states will mobilize to help, but even efficient and well-organized disaster response doesn't mean aid will reach you quickly.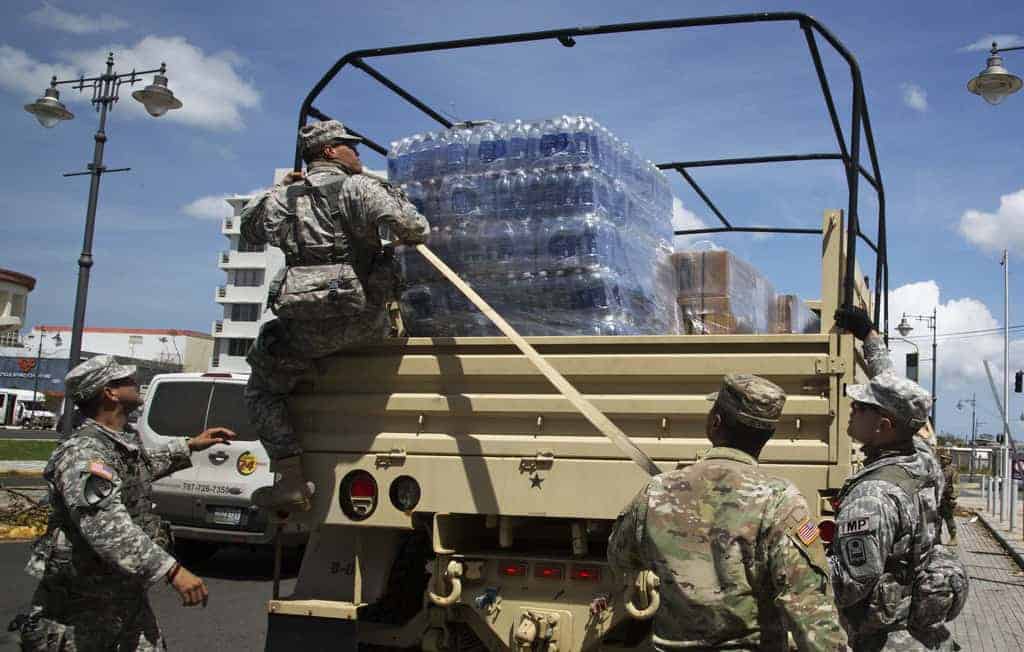 Entertainment
Don't forget this – it's more important than you might think. Assuming everything is more or less ok, but you're in the dark for two weeks, how are you going to cope? Just like information, we are used to instant, always-on passive entertainment. (No judgement from me – I watched 7 seasons of Game of Thrones in about 2 months fairly recently and it only took that long because I had to wait a whole week between episodes towards the end. Torture.)
Without iPhones, Netflix, your kid's tablet, a TV, online games, YouTube, or streaming media of any kind…what's the plan? Not just for you, but also for your teen, tween or Thomas-obsessed toddler. Something will have to fill the time.
For my rural friends:
If you're in a rural environment, the bad news is you're typically last in line for help and for getting the power back on. The good news is, you probably already know this and don't need very much help because you have already prepared for it.
I have readers for whom the idea of not having at least 6 months worth of heating oil, plus propane, firewood, food and a clean well is just inconceivable. How you live is close enough to resilient every day that, I'll be honest, I'm not too worried about y'all. Just keep doing your rural thing.
However, if you are in one of those rural-suburban locations, where you live in someplace that looks like the forest, but no one is allowed to own chickens and it would be super weird to have a 500 gallon propane tank in your yard, you might be in one of the hardest preparedness positions. You won't get help as quickly as urban folks, but the self-sufficiency of rural life isn't really common either. If that is your situation, aim for at least 3 weeks worth of emergency supplies, and more if you can swing it.
Today's Preparedness 101 Challenge:
Imagine you bring all your family into the house, shut off the main electrical breaker, turn off the gas, shut off the water, and for 2 weeks, no one goes further than the edge of your property. You don't buy any groceries, Amazon doesn't shows up at your door, and Costco is but a fading memory of abundance.
What would be your biggest problems? Air conditioning? Drinking water? Not knowing what's going on a few miles away? Not knowing what to do with your own poop?
We're going to address each component of hunkering down separately in order to keep this post from running way too long like the last one. For now, I just want you to read through the Basic Needs list above and think about how you would meet the challenge of providing those needs for two weeks on your own.
In our next several posts, we will talk about how to get ready to meet each of these basic needs at home for at least two weeks. In the meantime, give a think and leave a comment about the greatest challenge you would face right now if you had to hunker down at home without any outside help for two weeks.
All images: FEMA
•          •          •
Preparedness 101: The September Series
Preparedness 101: Hunkering Down At Home <— You are here
26