In most emergency situations staying in your home, where you have all your supplies and you can be reasonably comfortable, is preferable to leaving. Even if the power goes out, even if you are cold, you're in a familiar place with resources. Staying put through an emergency is called sheltering in place or "bugging in" in the preparedness community.
However, in some scenarios, the best chance you have of coming through an emergency unharmed is to not be there when it happens. As we saw with both Harvey and Irma, a hurricane threat can prompt planned evacuations. Chemical spills or fast-moving fires might require a very rapid, unplanned evacuation. A tsunami siren might mean you have just a few minutes to get higher and further inland or you will die.
"Evacuation" can mean many different things. It might be a flight off a small Caribbean island, or a quick drive up the road to higher ground or a designated shelter. It could be a Consular Officer knocking on your hotel door in a foreign city and telling you a coup is in progress and you have 10 minutes to pack and get to the airport. It might be a relaxed weekend in a different city or a frantic race out the door with only what you can carry.
Think of your 72-Hour Bag as a highly portable collection of your most essential emergency supplies.
72-Hour Bag Basics
Pack your 72-Hour Bag now, before you need it. In an emergency evacuation, not only will you not have time to pack – you may not be thinking clearly or rationally. (I frantically packed for a two week trip in 10 minutes once after screwing up on the departure time of the airplane. I forgot to pack clothing. Seriously.)
You can and should customize your gear for your needs, family situation, location, etc.
It's ok to add to your bag over time – get the most critical items assembled, and work on your "nice to haves" as money becomes available.
Every full-sized family member should have their own 72-Hour Bag. Scale the size and weight of the bag appropriately for different family members.
If you have small children who cannot carry their own pack, you'll need to pack supplies for them as well.
Keep the contents of your 72-Hour Bag organized. I use heavy duty plastic ziptop bags and label each bag with the contents. Works great!
Review and refresh the contents of your bag every 6 months, test batteries, and swap out aged bottled water and storage food for fresher stuff.
Memorize the saying, "Set your clocks, check your stocks" and check your emergency gear every spring and fall, when you adjust your clocks for Daylight Savings time.
I don't foresee grabbing my pack to go live in the woods while society collapses, so I don't pack wilderness-type gear. Some people do – you decide what you think makes sense for you.
Although I would prefer that your 72-Hour Bag be maintained at-the-ready for evacuations and sudden emergencies, once it's done you also have the basic preparedness supplies you need for at-home power outages, flu season etc.
What Should Be In Your 72-Hour Bag
Here are the general components of a good 72-Hour Bag. You may not need and/or want everything on this list. Or, there might be something you would never leave home without that I didn't include. Customize for your needs!
1. Start with a good quality backpack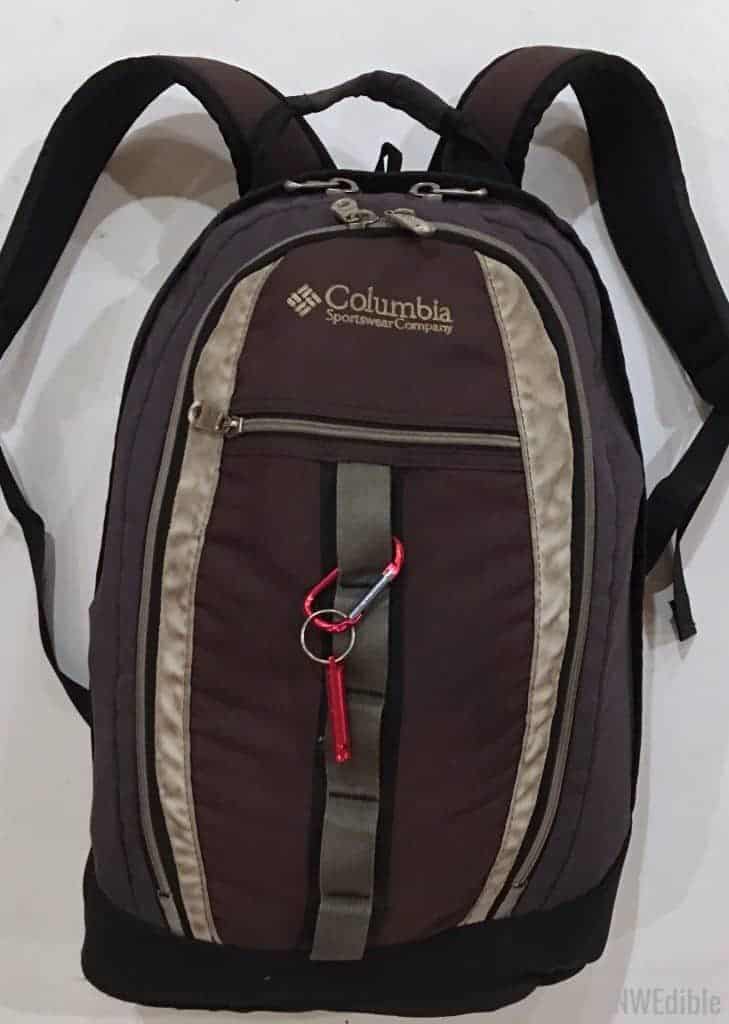 I prefer backpacks for 72-Hour Bags. Some people use totes. Backpacks have the major advantage that you can comfortably carry them if needed for long distances. They are also ubiquitous – no one gives a second glance at someone wearing a backpack.
I prefer a comfortable, basic academic or laptop style backpack. Get something easy to carry, lift and wear. Make sure the straps don't rub your neck or otherwise irritate you. I use this backpack everyday and think it's the greatest thing in the entire world.
Thrift stores often have inexpensive but good quality backpacks, especially at this time of year when students are upgrading. I bought my current 72-Hour Pack at the local thrift store for $7.
Your backpack should be sturdy and roomy, but not so large you are tempted to overload it. Ask yourself, "Can I carry this for 10 miles?" If not, you may have too much stuff in there.
You don't need anything fancy, like a framed camping backpack or a military pack. Unless you have current military skills to back it up, avoid anything that looks technical, like a camo or a "tactical" backpack. As I told my mom when I insisted she set up a 72-Hour Bag, "If  you have to grab this pack and walk to my house, you don't want to look like you are a 65-year-old grandma with a lot of useful supplies."
2. Water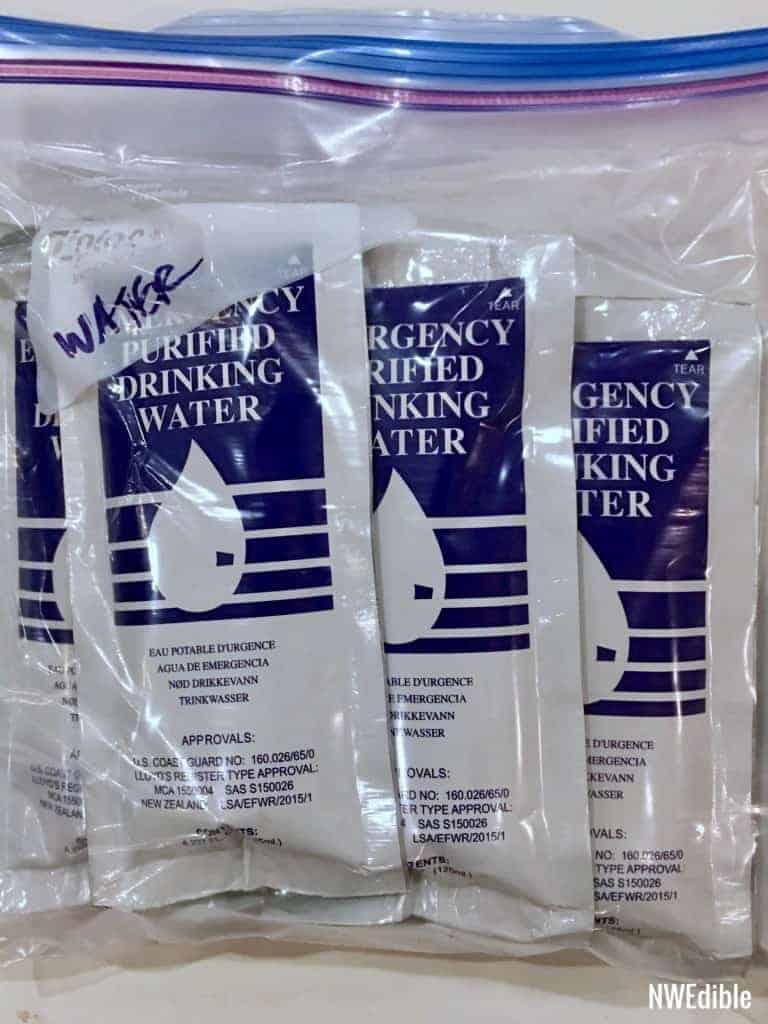 Water gets very heavy, very quickly. If you live in an area where fresh water is likely to be accessible (i.e., not the desert) don't try to carry all the fresh water you need on you. It may make more sense to pack 16 to 32 oz. per day of ready-to-drink water along with a way to purify more.
Sealed water bottles don't really expire. (They do but they don't.) However, the thin cheap plastic will degrade over time and leak. Swap out any plastic water bottles regularly so your kit doesn't end up soaked.
Although they are more expensive, I do prefer emergency water pouches over inexpensive commercial water bottles particularly for water which will be stored in a car. The pouches are BPA free, and will handle freeze-thaw and heat cycles far better than commercial plastic water bottles. They also last about 5 years.
Water purification tablets or drops are small, lightweight, and an excellent way to treat clear (i.e., non dirty) but possibly contaminated water without boiling. Most chemical water purifiers require a treatment time of up to several hours before the water is safe to drink. You'll need a water bottle or container to hold water that's being treated.
Lightweight water filters and filtering "straws" are effective at removing bacteria and parasites from water. I keep a a small "straw-like" inline filter called the Sawyer Mini in my bag. A similar product is called The Lifestraw.
Higher volume filters are a good choice for parents who will be responsible for filtering water for their children too. They also typically remove more contaminants than straw-types. If you go camping or hiking you probably are familiar with something like this.
If you are evacuating by car, it's ideal to have a case of water or a some bulk storage containers of water handy that you could throw into the car as you leave.
3. Food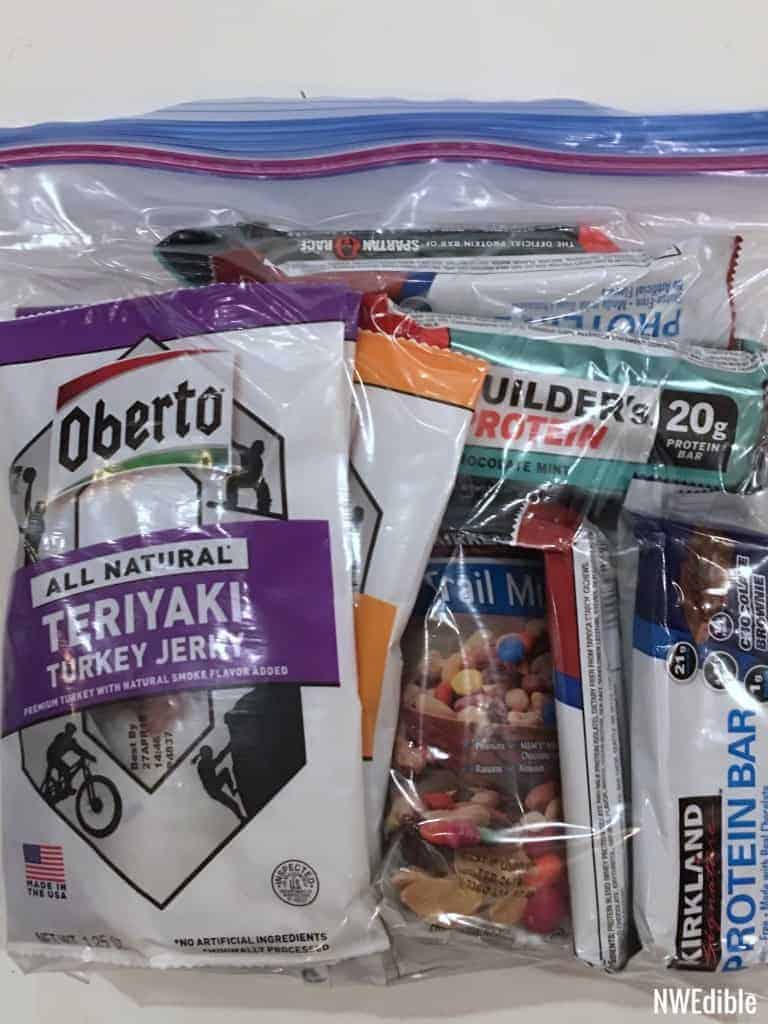 You want lightweight, nutrient dense, portable and shelf-stable food. Ideally, you'll have about 2000 calories per person per day worth of food in your bag. For three days that's 6000 calories. Skip food options that require cooking for your 72-Hour Bag.
Some options:
Granola bars or protein bars
Nuts, dried fruit, or trail mix
Jerky, pouches of tuna, or other protein sources
Individual pouches of peanut butter, almond butter or similar
If you just pack very easy to eat snack foods like this, you won't need bowls, plates, cutlery, a camp stove, etc. Note that this type of food will require higher water consumption.
If you prefer to have more (or hot!) food options, consider a very lightweight fold-flat stove designed to work with solid fuel tablets. Solid fuel is a better choice than propane or similar fuel canisters in a 72-Hour Bag. Throw in a metal camping mug and you've got options like:
Freeze dried commercial camping food, like Mountain House
Noodle soups
Instant coffee, tea, cider, cocoa, etc.
Consider also specialty food needs of children and infants. Will you need formula?
4. Clothing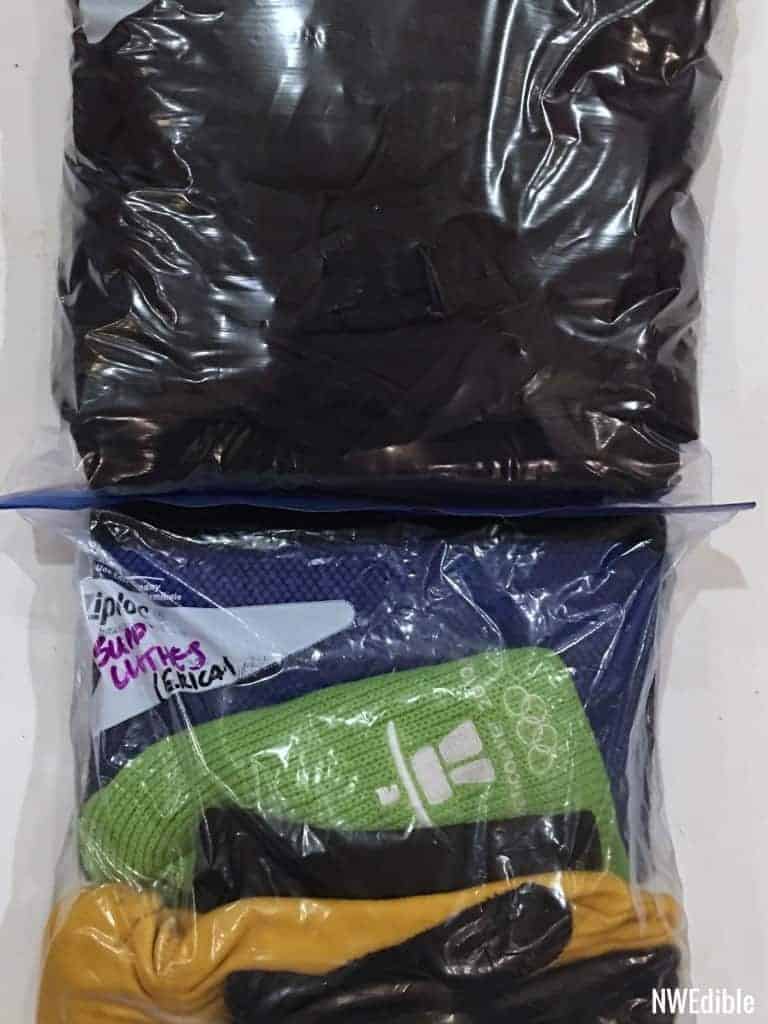 Pack a complete change of clothes that are appropriate to your locale. Rotate clothing seasonally if necessary. If you have kids, make sure to swap out their clothes as they grow out of them. Thrift stores are a good place to look for clothes, or "retire" older, sturdy clothes to your 72-Hour Bag. If you tend to go up and down in weight, pack clothes that will comfortably accommodate you at your "up" size.
I include the following basics:
And these supplemental clothes:
5. Warmth or Temporary Shelter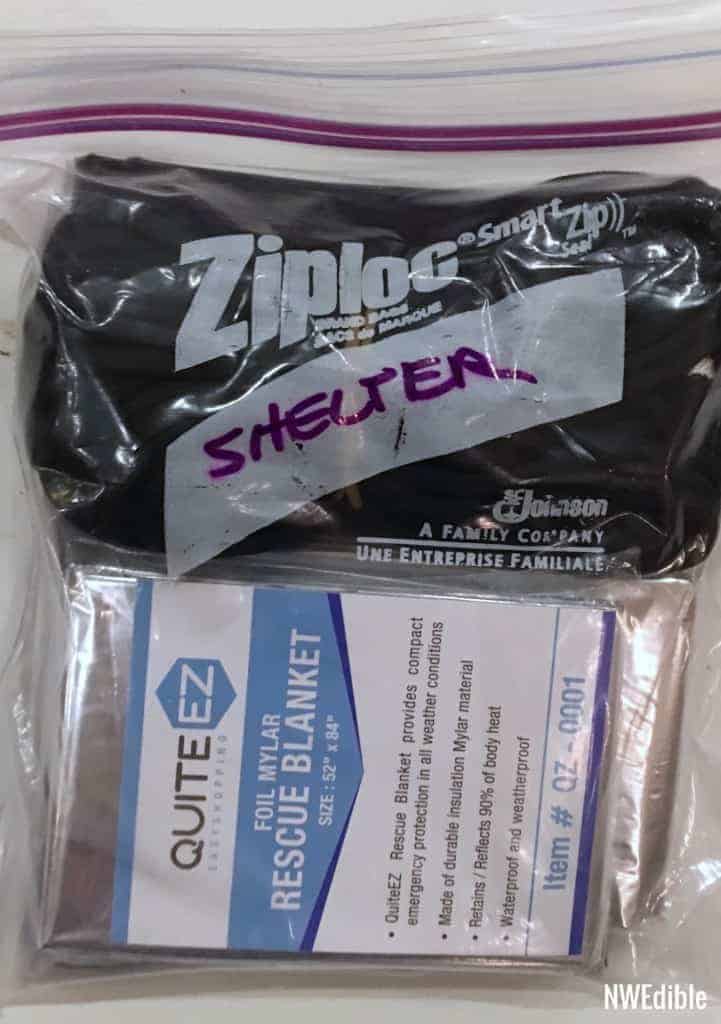 If you have to keep warm away from home, the ideal solution is to go stay with a friend or check into a hotel. An emergency shelter may be an option too, depending on your town and the emergency. However, if you are stuck (for example in your car in a winter storm or forced to sleep rough in transit from work to home) the ability to keep warm is critical.
Mylar blankets are a basic essential. Wrap yourself in them so you end up looking like a human Jiffy Pop and they will keep your body heat in your body where it belongs.
Black, heavy-duty plastic trash bags can be used as an impromptu tent to keep rain off, or filled with debris to make a ground bag that will elevate you up off the ground so you can sleep more warmly.
A more robust (but also more expensive) option is a bivvy sack. This option is basically a sleeping bag made out of mylar, like the cheap space blankets but far more heavy duty.
6. First Aid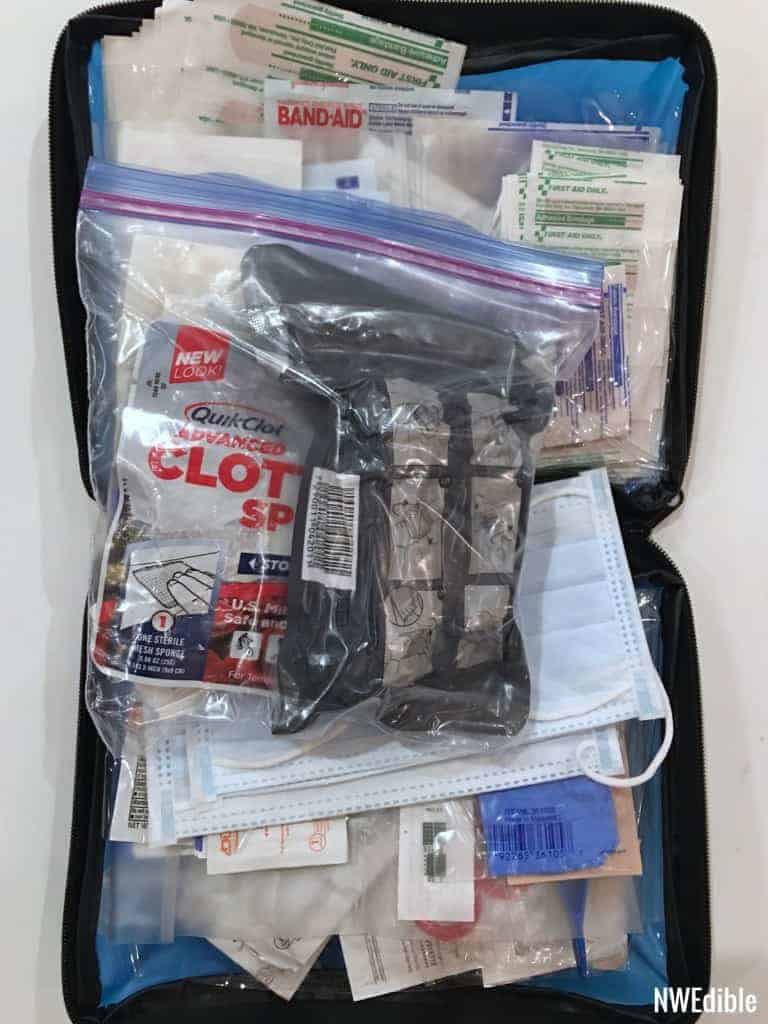 Buy or assemble a basic first aid kit. This is one area where I think it can often make sense to just purchase a kit. Then, personalize it based on your needs, what medicines you do and don't take, etc. At a minimum you'll want to include:
Band Aids in a variety of sizes
Antiseptic wipes and/or alcohol prep pads
Antibiotic ointment
Sting relief cream
Burn cream
Antacid
Aspirin, ibuprofen or other pain killer tablets
Gauze pads in assorted sizes
Gauze roll
Medical tape
Small scissors
Eyewash
Disposable gloves
Antiseptic gel
Tweezers
All that stuff should come in any halfway decent First Aid Kit. Then, I highly recommend adding:
7. Hygiene and Health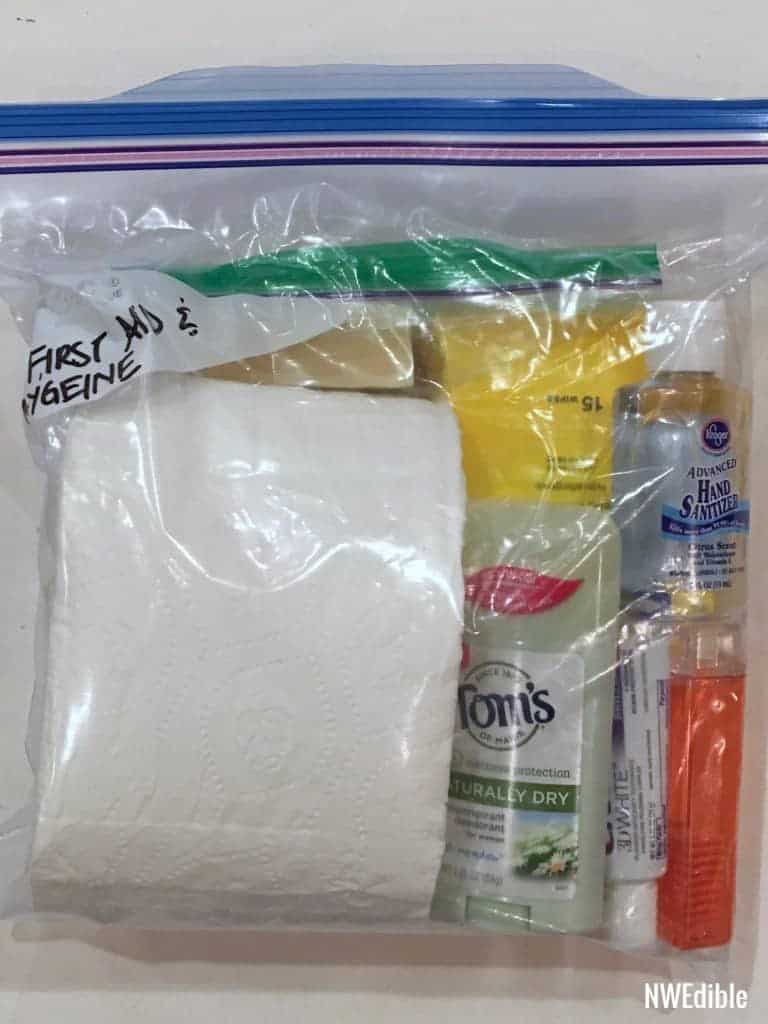 You'll want this stuff so you can feel human:
Three days worth of any medications or vitamins you take on a regular basis
One roll of toilet paper (remove the cardboard center tube to make it easier to flatten)
Toothbrush and a travel-size toothpaste
Deodorant
Soap
Insect repellant
Sunscreen
Other items to consider depending on your situation:
8. Illumination and Fire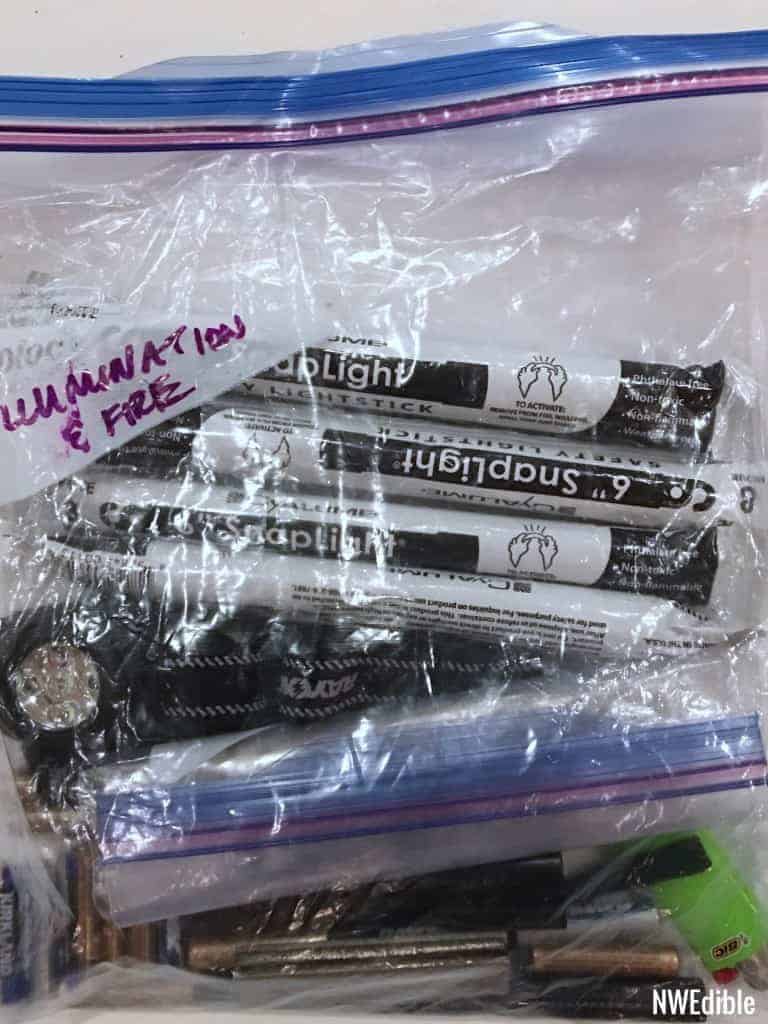 Everything you might need to reliably get a fire going, plus assorted ways to light up your life. I highly, highly recommend including a headlamp. In an emergency situation, in the dark, hands-free illumination is the way to go.
I also recommend standardizing your batteries if possible. If all your battery-operated things take the same size batteries your life will be easier in an emergency, and every six months when you refresh your supplies.
Batteries – store them out of the flashlight and headlamps. Pack twice the number of batteries as "should" be needed.
Bic lighters – my preferred fire starting tool.
Emergency fire starter fluff (Make your own by mixing laundry lint with melted coconut oil or Crisco.)
9. Communication and Navigation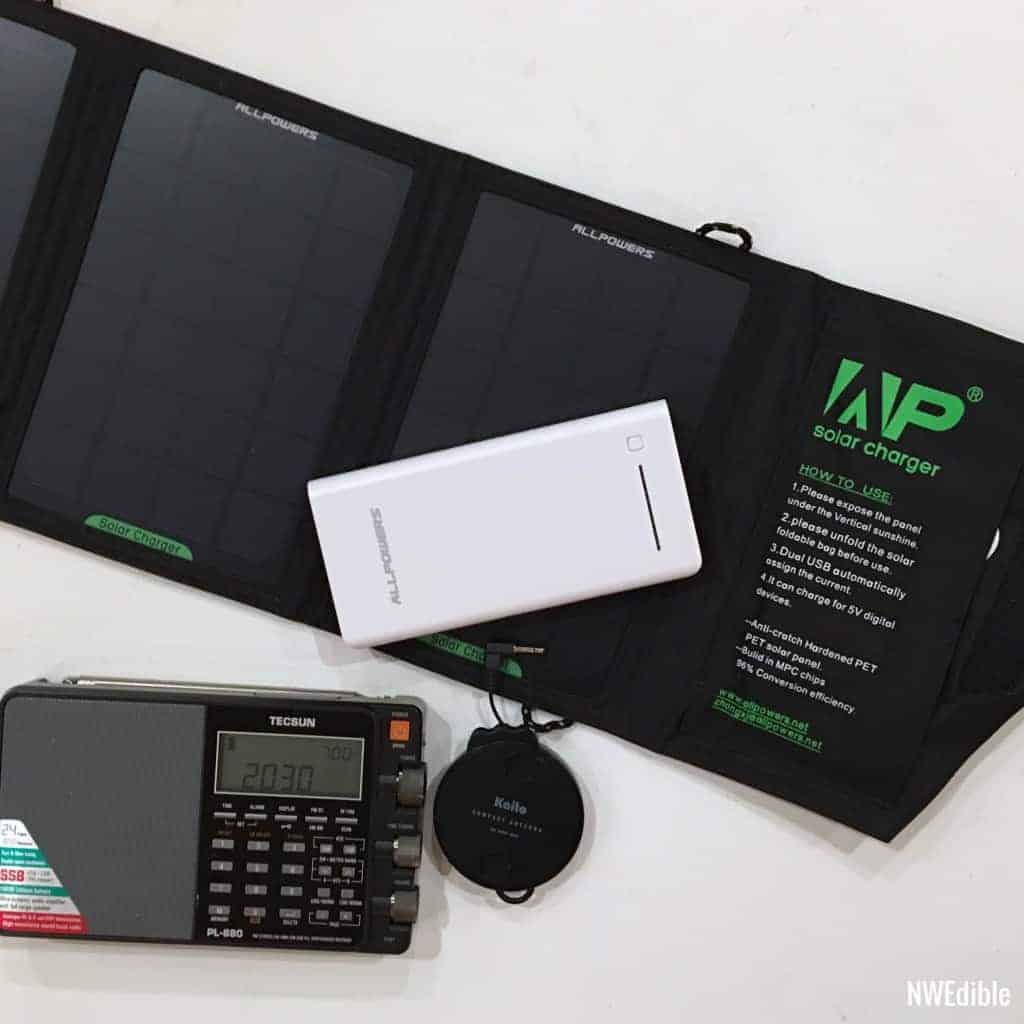 A whole post is going to be devoted to emergency communications in a little bit. Many of our communication tools like a cell phone fall into the category of "Every Day Carry Items" (EDC in preparedness lingo.) Other communications tools are more home based. You'll have a better idea of how to customize your communication needs once we cover that topic in depth.
Items to consider:
Your evacuation plan (We'll talk more about this later in the month)
Paper maps of your region, or regions you are likely to be in an emergency
Paper list of family and friends to communicate with in an emergency
Paper list of contact info for local hotels
Handheld, handcrank radio to receive NOAA Weather announcements and emergency broadcasts
Spare USB charging cable for your phone
Backup battery for phone unless that's part of your EDC.
10. Tools and Miscellaneous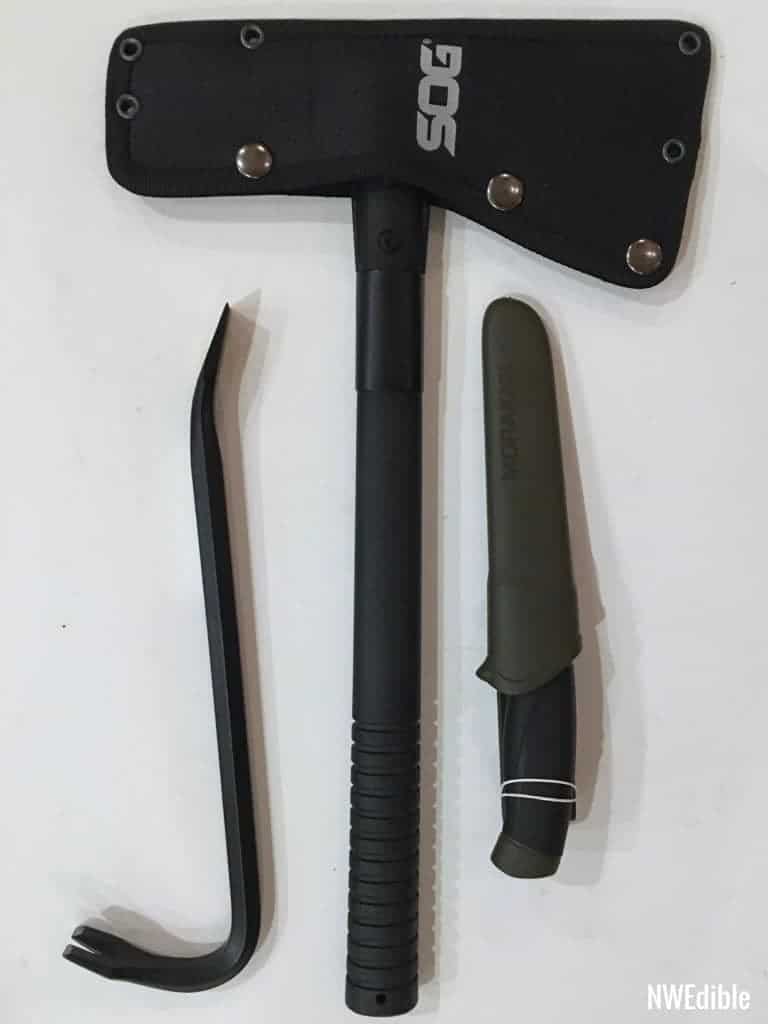 An assortment of tools can be useful in dealing with the aftermath of a storm or other natural disaster.
Small items everyone should have in their bag:
Ballpoint pen
Black sharpie
Emergency cash – $10 is great. $100 in small bills is greater. Do what you can.
Specialty Items
Emergency info on encrypted flash drive. (We'll talk more about this later in the month)
Specialty comfort items for children – small toys, coloring books, stuffed animal, etc.
Photos of family members
Children's identification cards (We'll talk more about this later in the month)
Any specialty supplies for pets that would evacuate with you.
A religious text that's meaningful to you
Get-Home Bag: It's Just Another 72-Hour Bag
Just as emergencies can force you out of your home, sometimes emergencies can make it difficult to get back to your home.
That's where a Get-Home Bag comes into play. A Get-Home Bag is simply a 72-Hour Bag that you keep in your car, office, or other place you are likely to be in an emergency. The only thing that's different is your Point A and Point B.
When stored in the car, the purpose of a Get Home Bag is to help keep you alive in the event you are stranded in your car for some time before help can arrive (such as in a winter storm), or to get you home safely in the event you need to abandon your car and traverse on foot for some distance. Consider adding car-specific items like road flares, jumper cables, etc to a car-based Get-Home Bag.
When stored at an office or other place you are likely to be, the purpose of this bag is to allow you to shelter in place if needed, or to set out for home with more than just the shirt on your back.
Does this mean you might need multiple 72-Hour Bags? Maybe? We deal with that issue by keeping Nick's 72-Hour Bag in the car, and mine and the kids' bags in the house. Your individual situation with work, travel, commute, etc. will help inform the right solution for you.
Prioritizing and Shopping For Your 72-Hour Bag Gear
It might take a while to fully stock your 72-Hour Bag. That's ok! In fact, it's always kinda a work in progress. Some of this stuff you probably have around your house right now, some will be easy and cheap to get, and some might get added down-the-road.
Start With The Basics
Sadly, a tactical tomahawk shouldn't be your first purchase. If you are just starting in preparedness, start by filling your backpack with these 10 essentials:
A basic first aid kit
Protein bars or similar
A good multi-tool with a knife
A headlamp with extra batteries
Appropriate change of clothing for your area
Heavy duty black plastic trash bags
A good length of paracord (you really can never have enough paracord).
Where To Shop
Amazon is really excellent for emergency preparedness supplies, your best bet for the more obscure things like an IBD compression bandage, and generally I find the reviews very helpful.
Warehouse stores like Costco often have great prices on basic medical supplies, power bars and snack food items, bottled water, heavy duty trash bags, and batteries. I often see items like flashlights and first aid kits there, too. (See more: Costco Business For Preparedness Supplies – Patreon).
Your local hardware store or a Big Box store like Home Depot or Lowes is a good options for wire, duct tape, crowbars and other tools.
The thrift store is an excellent resource for clothes. I find high quality seasonal gear like rain pants, snow suits, etc. at my local one, particularly for my kids.
Dollar stores often carry a wide selection of medical and first aid supplies.
You can buy pre-packed, 72-hour emergency bags. (Many are terrible – this one at least comes with decent, name brand components.) However, if possible I do recommend taking the time and effort to put your own pack together. You'll probably save money, and you'll have a far better understanding of what your resources are in the event you need to use them.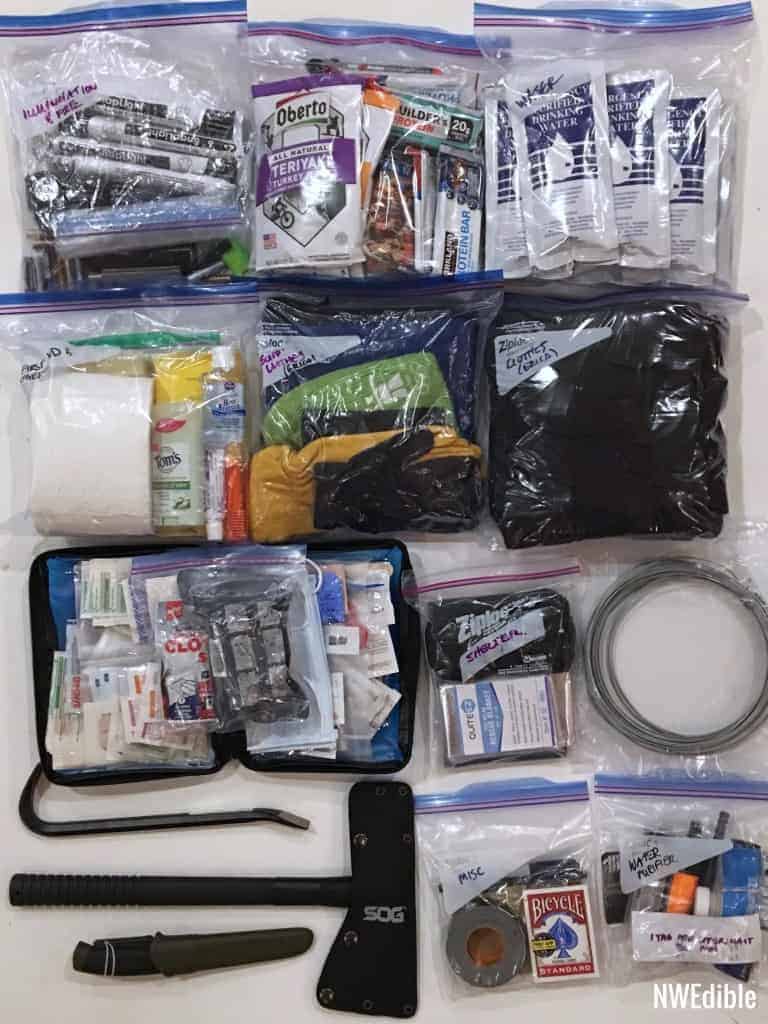 Where To Store Your 72-Hour Bag
Now that you've got your 72-Hour Bag put together, where are you going to keep it?
You want all this gear in one, easily accessible place so you can grab it and go. A front closet is great. One friend of mine combines style and sensibility by storing her family's 72 Hour Kits in an attractive lift-lid bench by the front door. Most of the time, the bench provides a convenient place to sit down and take off shoes, but in an emergency, she knows exactly where her gear is.
In a mom's preparedness group I belong to, members have come up lots of great solutions for storing their emergency supplies that would work very well for 72-Hour Bags. One mom keeps her gear in a heavy duty tote on the back patio, another in a tote in the garage. One mom picked a bedroom closet because it was central for all family members, another opted to store her disaster kit in a backyard shed.
If you spend a lot of time in or near your car, and break-ins aren't too problematic in your neighborhood, keeping your 72-Hour Bag right in your car might be your best choice.
Today's Preparedness 101 Challenge
Get your 72-Hour Bag together! If you already have an Emergency Go Bag, Bug Out Bag, or similar, bring it out, check it, test it, and update it. If you don't have an emergency backpack, start gathering in what you will need to put one together for each member of your family.
In the comments, I'd love to hear what your critical grab-and-go preparedness items are.
•          •          •
Preparedness 101: The September Series
Preparedness 101: Assembling A 72 Hour Bag <— You are here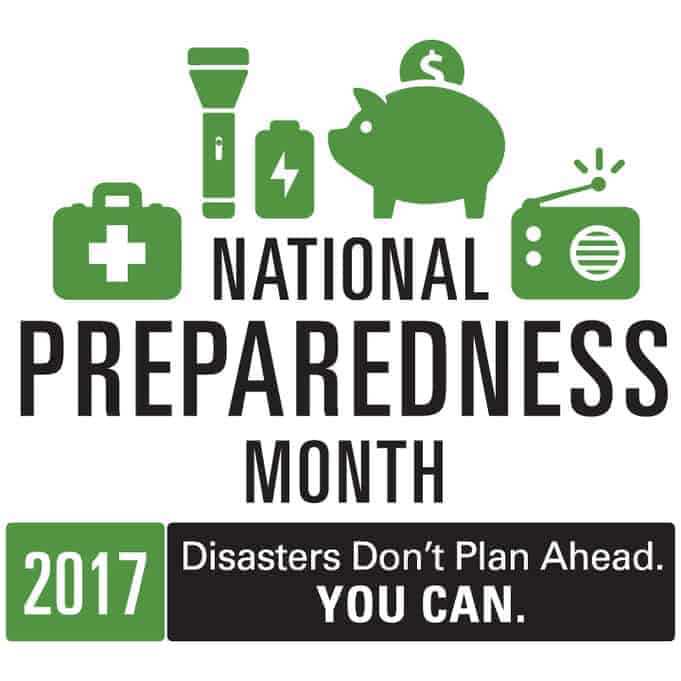 105