New Orleans had her Katrina. New York had her 9/11. Houston has her Harvey. No matter where you live, there is some disaster that can put all others to shame, some event so upending that you will always remember what you were doing when this thing happened.
Lets call this your Zombie Apocalypse Scenario.
The Centers for Disease Control actually put out a Zombie Survival Guide, thereby demonstrating that some parts of the government are allowed to have a sense of humor. (Not you, IRS.) The Zombie Survival Guide created such a social media buzz that it crashed the poor CDCs website. The creator of this preparedness hit said, "the whole idea was, if you're prepared for a zombie apocalypse, you're prepared for pretty much anything."
Exactly.
When Your Biggest Threat Is Complacency
Realistically, the most challenging emergency a lot of people will face is a couple days without power, but the most challenging emergency they could face is a whole lot worse. The problem is, nobody is motivated by the threat of 48 hours without power. If anyone was, we'd all have the government recommended three days of food and water on hand. (Nearly 50% of the United States does not have that.)
That's why gearing up to fight imaginary Zombies works but gearing up to fight a gas leak doesn't. That's why people who exert 100 units of energy to battle an emergency can't be bothered to spend 5 units of energy preventing an emergency. That's why events like Harvey get you off your ass.
Sometimes it takes a little well-placed shock and awe to overcome complacency and to get us going. Don't feel bad, it's not your fault – that's just the way the human brain works. And we are going to use this to our advantage.
There is some event in your region that is your particular Zombie Apocalypse Scenario. Some event that has enough psychological power that it will snap you out of your complacency and get you taking the action you know, deep down, you should have taken years ago.
Let's figure out what it is.
My Personal Zombie Apocalypse Scenario
When I researched the types of emergencies most likely to affect my family here in the Maritime Northwest, I learned about the Cascadia Subduction Zone. Seattle is in a very geologically active region, crisscrossed by fault lines that occasionally shift or stretch. We puny humans feel this tectonic yoga as earthquakes.
Of the many fault lines that can cause earthquakes in this area, The Cascadia Subduction Zone Fault is the biggest and baddest of them all.
As you'll recall, in 2011 there was a devastatingly powerful earthquake off the coast of Tohoku, Japan that triggered the tsunami that eventually let to the failures of the Fukushima Daiichi nuclear power plant. The Tohoku earthquake was what's called a megathrust quake. At magnitude 9.1 it was the fourth most powerful earthquake on record. All earthquakes of that magnitude are megathrust quakes.
The Cascadia Subduction Zone is the type of fault that creates these extreme, powerful, megathrust quakes. Running along the coastline from Northern California to Vancouver Island, it periodically experiences full or partial ruptures.
Geologists believe an earthquake along some or all of the Cascadia fault line occurs, on average, every 243 years. The last Cascadia quake happened 317 years ago, on January 26, 1700. Geologists don't like to use terms like "overdue" but c'mon – on a scale of 1 to 243, we're at a 317.
According to Kathryn Schulz, writing for the New Yorker, the odds are about one in three that a partial rupture of the Cascadia fault will unleash an 8.0 to 8.6 earthquake on the Pacific Northwest within the next 50 years. The odds of a full-margin rupture and an earthquake that measures 8.7 to 9.2 is about one in ten.
A full rip of the Cascadia Fault is pretty much total Zombie Apocalypse territory. But don't take my word for it, here's what governmental and scientific studies found when they looked at the likely results of a Cascadia quake.
Oregon Resilience Plan Results
In 2013, The Oregon Seismic Safety Policy Advisory Commission (OSSPAC) completed an exhaustive earthquake preparedness study.
The result was the 314 page Oregon Resilience Plan (giant PDF, be warned). It includes information on how long after a Cascadia quake it would take before basic services were restored to the I-5 corridor area that includes Portland, Eugene and Medford (the "Valley") and the Oregon Coast.
Time to Restore Services:
Electricity (Valley) 1 to 3 months
Electricity (Coast) 3 to 6 months
Police and fire stations (Valley) 2 to 4 months
Drinking water and sewer (Valley) 1 month to 1 year
Drinking water and sewer (Coast) 1 to 3 years
Top-priority highways (partial restoration) (Valley) 6 to 12 months
Healthcare facilities (Valley) 18 months
Healthcare facilities (Coast) 3 years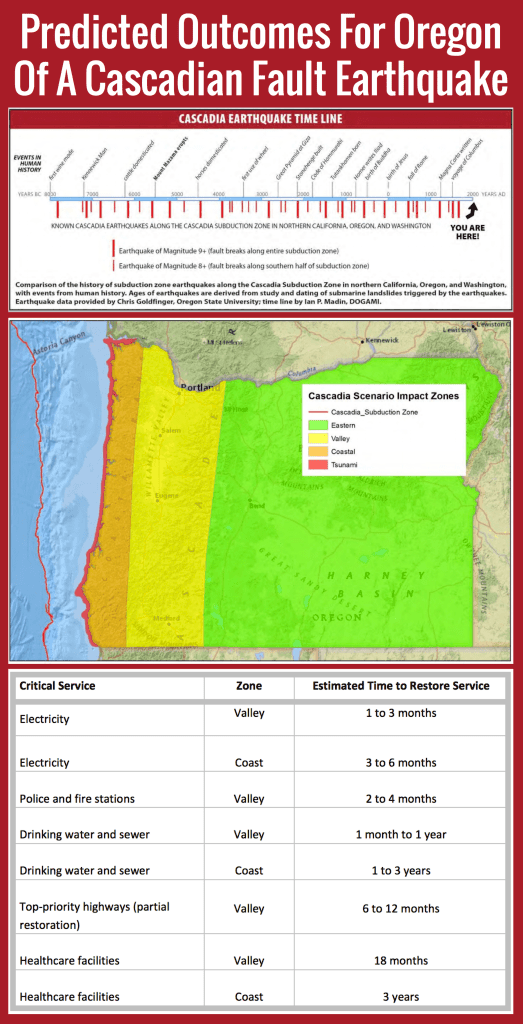 Cascadia Rising Results
If you're in Washington State like me, it's not much better. After participating in a regional 2016 earthquake drill called Cascadia Rising, The Washington National Guard published a summary of their findings about the risks of a Cascadia Fault rupture.
The Washington coast and Olympic Peninsula are expected to be completely inaccessible by road. Because of soil liquefaction, pretty much all of South Seattle along the I-5 corridor is expected to sustain major structural damage.
While the greatest initial damage won't occur around the highly populated areas of Puget Sound, the knock-on effects caused by infrastructure damage could be terrible.
According the the Washington National Guard:
37% of the region's 48 Emergency Operations Centers will be unusable.
46% of region's 112 hospitals will be unusable and another 17% will be able to operate at half capacity. In all, hospital capacity is reduced by 45%. There will be virtually no hospital capacity west of I-5.
All senior living facilities west of I-5 will be unusable.
30% of the region's 971 fire stations will be unusable. In all, fire fighting capacity is reduced by 33%.
48% of the region's 178 police stations will be unusable. In all, police response capacity is reduced by 51%.
Most sea, air and rail facilities west of the I-5 corridor suffer complete to severe damage, and along the I-5 corridor damage is severe to moderate.
All major roads west of Puget Sound will be unusable. 1-5 corridor roads in liquefaction zones (from Seattle south to Tacoma along the I-5 corridor) are likely to be impassable.
8,440 deaths and 12,114 injuries are anticipated as a direct result of the earthquake and tsunami.
1,274,327 million people in the Western Washington region are expected to require "mass feeding and hydration".
Over 500,000 homes are expected to be damaged.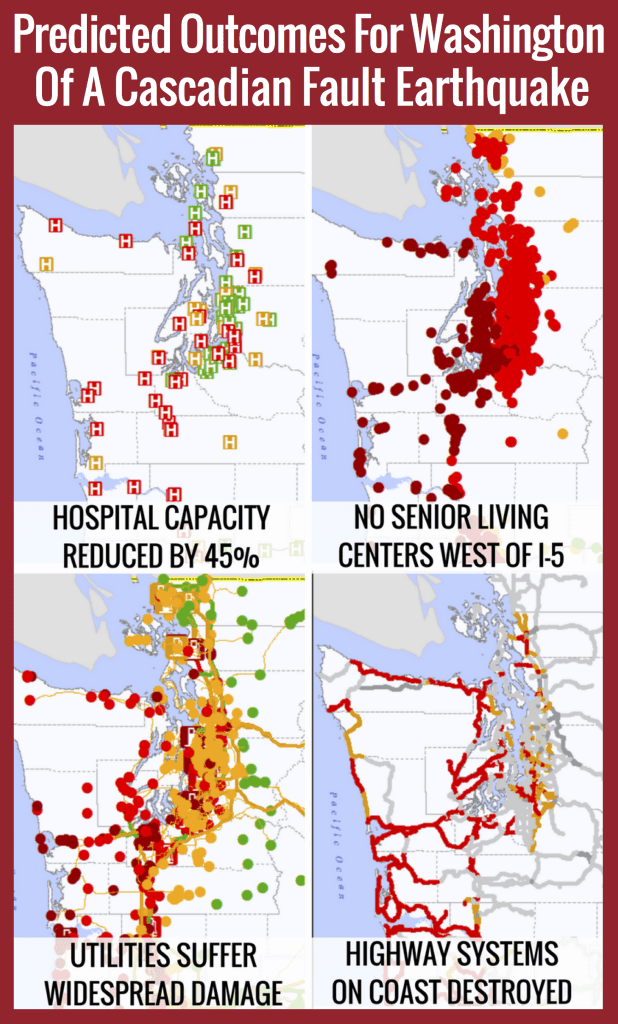 If the earthquake we Northwesterners call "The Big One" hits in our lifetime, many of us will be totally cut off from the systems that make modern life possible. It will be a very difficult situation. This is not hyperbole; these are just the sober facts about a disaster that will, eventually, hit my region.
When I think about my preparedness, I think about that inevitable, eventual Cascadia quake. That's the thing in the back of my head that keeps me from getting complacent. In working towards better preparedness for that eventuality (and of course I'm not there yet) a nice side effect is preparedness for all the run-of-the-mill standard regional threats, like windstorms and power outages.
Select Your Own Zombie Apocalypse Scenario
Every region has some kind of major disaster threat – something where Mother Nature just gets really angry. Regional disaster threats tend to impact many people at once by shutting off power, destroying infrastructure and generally overwhelming a region's ability to immediately deal with the disaster.
These threats are generally expected in the sense that, if you live in tornado alley, you know it. If you live on the Pacific coast, you know the ground might go wobbly at any time. If you live on the Florida coast, you know hurricanes are part of life.
One or more of these scenarios is probably a credible threat to your region:
If you live someplace immune to predictable regional threats (where would that be exactly?), consider non-regional threats which are more personal in nature or which can happen anywhere.
Anyone's home or apartment building can catch fire. Chemical spills can happen anywhere a tanker-truck or train could crash, which is most of the country. By their nature, these threats are less predictable. Some require fast action, some require long-term planning. Some require rapid home evacuation, some require hunkering down.
Although non-regional threats can seem more scary because they aren't as predictable, our basic preparedness will help make these difficult situations easier to handle too.
Terror Attacks
Civil Unrest
Today's Preparedness 101 Challenge: What's The "Big One" You Are Preparing For?
Pick one specific, credible emergency that really motivates you to increase your preparedness – that's your Zombie Apocalypse Scenario. Write your scenario down (a comment is great, or wherever you like) then spend 5 or 10 minutes learning about your emergency.
Your emergency scenario could be a major earthquake, Category 4 Hurricane, extended snowstorm, etc. Remember the goal: if you're prepared for this, you're prepared for pretty much anything.
Do some research! What emergency events are likely to hit your region? How do people prepare for and come through that kind of emergency? (Follow the links above to get started.) What would it be like if you were in that scenario?
Really see that these types of events do impact real, live people and they could impact you. I don't want you to prepare out of fear, but if it takes a little bit of fear to overcome inertia – use that as motivation.
FAQ
Q: I live in an area with multiple risks. Can I pick more than one scenario?
A: Sure, but the main idea here is to find the clear, precise risk assessment that will give you something to benchmark off of as you advance your preparedness. We also don't want folks who are new to prepping to get overwhelmed trying to prep for everything all at once.
Q: If you live in someplace with a 1 in 3 chance of being destroyed in 50 years, why not just move?
A: Some people do choose to move in order to get away from environmental risk factors. Personally, I love my region – just like Floridians love their low-lying tropical-storm prone coasts and Montanans love their big, open, wildfire-prone land. No region is perfect, but Cascadia has a lot going for it.
Q: Is this whole month going to be thought exercises? When do I get my checklists?
A: No! And soon! We're gonna get to the Bug Out Bags and water storage and all that stuff starting with the next post. But don't skip this high-level stuff, ok? If you are thoughtful about your philosophy of preparedness and your risk factors, you'll actually save money and time in the long run, and you'll end up ahead of 90% of the Mall Ninja Preppers who go big on gear but short on thinky-thinky.
8