In the preparedness world, things like this list go around periodically: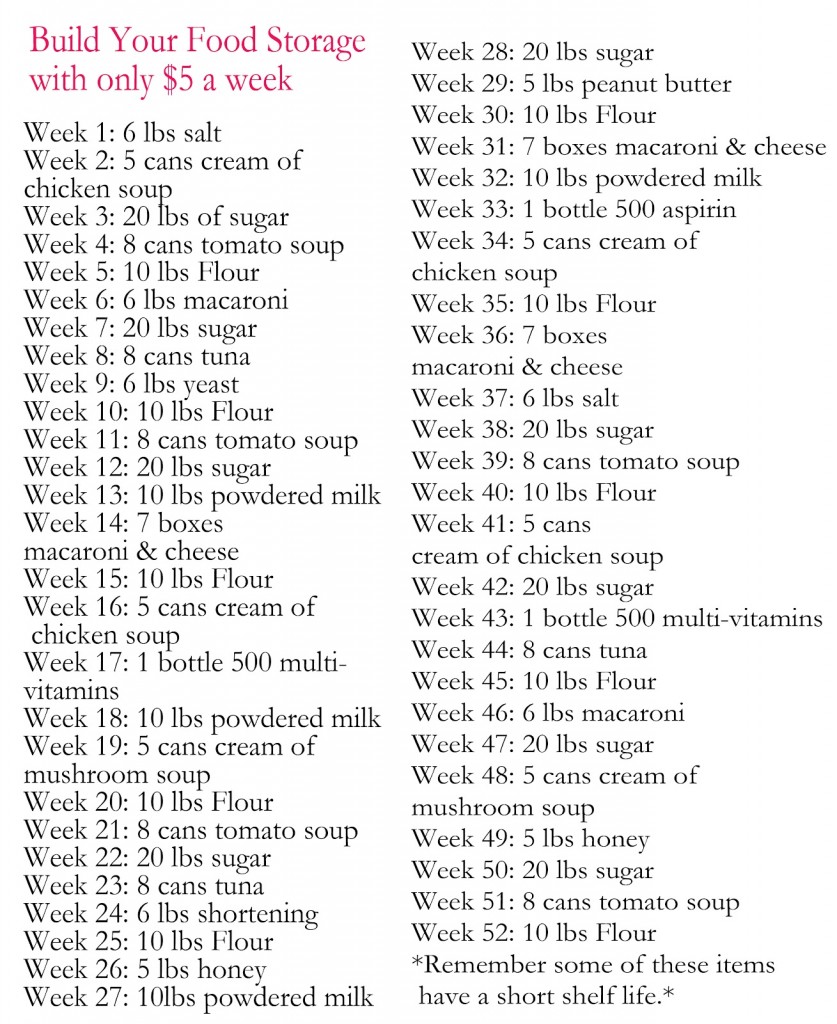 This is a guide to building your food storage on $5 a week. Ignoring for a minute that food prices have clearly gone up since this list was put together (5 pounds of honey for $5? I don't think so), my reaction every time I see something like this is: whoever is following this must absolutely hate food and want to make it as disgusting as possible.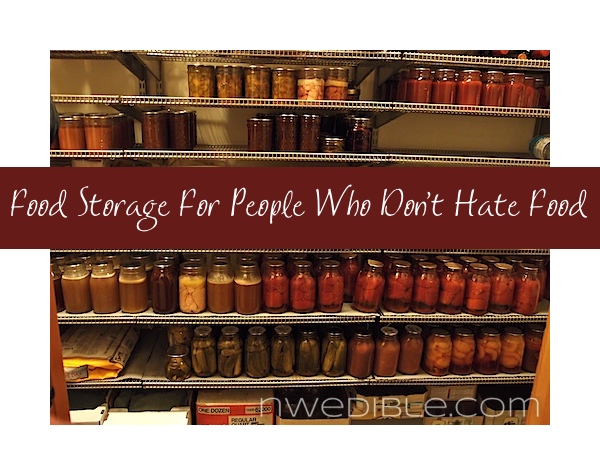 Now, I know the hard core preppers will say, "In an emergency, it's all about maximum calories. Screw worrying about whole foods or organic or GMO crap – this is TEOTWAWKI!"
Maybe societal end times will come and I'll be proven wrong, but I'm more interested in being prepared for financial instability from job loss, earthquakes and the sweet bliss of not having to run to the grocery store every other day than from hoards of roving zombies. Unless you have the means to buy $3000 worth of freeze-dried bug out food (in which case, hey, do whatever you want for food storage – stockpile caviar and melba toast for all I care) food storage only makes sense within the context of regular food usage.
You should not separate them, but preppers fall into this trap all the time, putting away #10 cans of oat groats for a family that regularly eats drive-thru. Store what you eat and eat what you store. Stockpiling 1000 pounds of wheat berries if you swell up like a Zeppelin when you eat gluten is a terrible idea. Filling your shelves with Kraft Mac & Cheese if you are hard-core into traditional foods – equally dumb. And if you are a paleo prepper and eschew all beans and grains, well – start making jerky now and buy a good local foraging book.
I believe in being prepared for the likely hiccups of life, but I take a different approach to food storage to many preppers, one I learned in professional restaurant kitchens. In a commercial kitchen, items are purchased in large quantities, in bulk, but you don't keep a bunch of food you won't use on hand just-in-case.
Managing food inventory is based on the twin concepts of "FIFO" – First In, First Out – and "Par" – the amount of staple items you like to keep on hand at all times. Applying these concepts to my home has allowed me to build up a deep, secure food store while filling my pantry with food we actually eat.
Here's how it works, in a nutshell. I don't wait until I'm out of something to go buy more. I buy more when I'm about to dip below my "Par" level of backstock. So, I don't buy a tub of coconut oil when I run completely out of coconut oil. I buy a tub when I only have two tubs left (two tubs is "Par" for coconut oil around here) on the shelf. Similarly, I don't wait to buy another case of tuna or 10 pound bag of sugar when I'm down to my last can or last cup. Backstock of these items is purchased when 6 cans or a lonely bag of sugar is still on the shelf.
Older purchases move to the front of the pantry and the newer purchases get tucked behind, which naturally rotates our food stores for maximum storage – that's FIFO. This isn't prepping the way most people think of it, but over time it has turned my pantry into something I could really use to feed my family for months, using staples to which they are already accustomed.
Treating food storage this way is how our grandmothers or great-grandmothers managed their larder. Those farm mama's didn't go out and buy bunch of nutrient-devoid processed food then throw a bottle of multi-vitamins in the cart to ward of scurvy. Nah, they managed a rotating (seasonal) inventory of staple foods and used those and garden produce to fill hungry bellies.
Thinking of building a larder instead of hoarding beans, bullets and band-aids is more versatile, too. Prepping tends to focus very heavily on emergency grains that can last for years, whereas building a deep larder allows you to incorporate all kinds of delicious seasonal foods into your "preps" – root cellar items like winter squashes, potatoes, carrots and cabbage – traditional cured meats, nuts, hard cheeses and even coffee, chocolate or wine can be items you choose to maintain at "par" levels.
This isn't to say I don't also store flour and grains and oatmeal and rice and beans – I do. But I do because these are foods my family already eats, and in a protracted emergency – a job-loss, say – I could stretch those staples for a very long time without asking my kids to substantially change their diet. My goal is to have enough food that, if I had to, I could feed my family for six months to a year just from the food in my larder.
That may sound a bit crazy, but just think about canning jam, or tomatoes: I try to put by enough strawberry jam or canned tomatoes in season to last us a year, typically. Now just apply that idea to everything you routinely use in your kitchen and you have your own personal "Par" list to start building towards. Having a year's supply of strawberry jam sounds crazy, until you realize that might only be six half-pint jars. As long as you're talking about foods you'd eat anyway, food storage through larder building starts to really make sense and can, over time, save you money.
I figured out approximately what we eat per week, then extrapolated that out to get a rough inventory of our annual consumption of larder items. My "Par" level for most items is 50% of that level – so at the point when I'm down to six months of stored staple food, I try to purchase, order, grow or make more as soon as is reasonable.
This doesn't work with certain very seasonal items. If I run out of jarred tomatoes in February, it will be late August before I can make more. Salmon is the same way. I only buy it in the summer when the Alaska salmon are running and the prices are good. That's the way it is.
Some items I do like to keep a lot of on hand for reasons that are a little bit more "prepper." I like to have a lot of salt and vinegar and canning jar lids in my pantry. If we face an extended power outage (very rare in my area) we don't own a generator. And before I watch my freezer full of perfectly good meat and fish thaw and spoil, I will preserve it in more traditional ways: salting, curing, picking or pressure canning (if gas is still available to us). A case of salt is a fraction of the cost of a big generator, and doesn't require me to keep a ton of gasoline on hand in my home – something that, with two kids and in a tightly-packed suburban environment, makes me uncomfortable.
So you can adjust your par levels for ingredients up or down based on your concerns and comfort levels.
Some people aren't going to sleep at night until they have a thousand pounds of wheat berries buried in the woods around their bug-out shelter, and that's cool, if you want to take preparedness to that degree. My method of incidental preparedness through larder building works for me and puts my family in a very good position to weather the bumps of life I think are most likely to impact us.
I don't think there is any kind of one-size-fits-all Food Storage plan – it's about what keeping on hand what your family eats, after all – but I offer up my attempt at a real foods version of the above list based on the foods my family eats, and with an eye towards that goal of keeping between 6 and 12 months worth of basics on hand.
My Basic Pantry Par List
This list doesn't include the massive quantities of veggies I grow and can, or the meat I buy in bulk and keep frozen. It's just a representation of my pantry, and as such doesn't really represent the full value of my larder, which stretches far outside and into my garden and chicken coop and community. But it's a start, and if everything else fell apart, the food in my pantry would keep us going for months.
Download Par List as a PDF.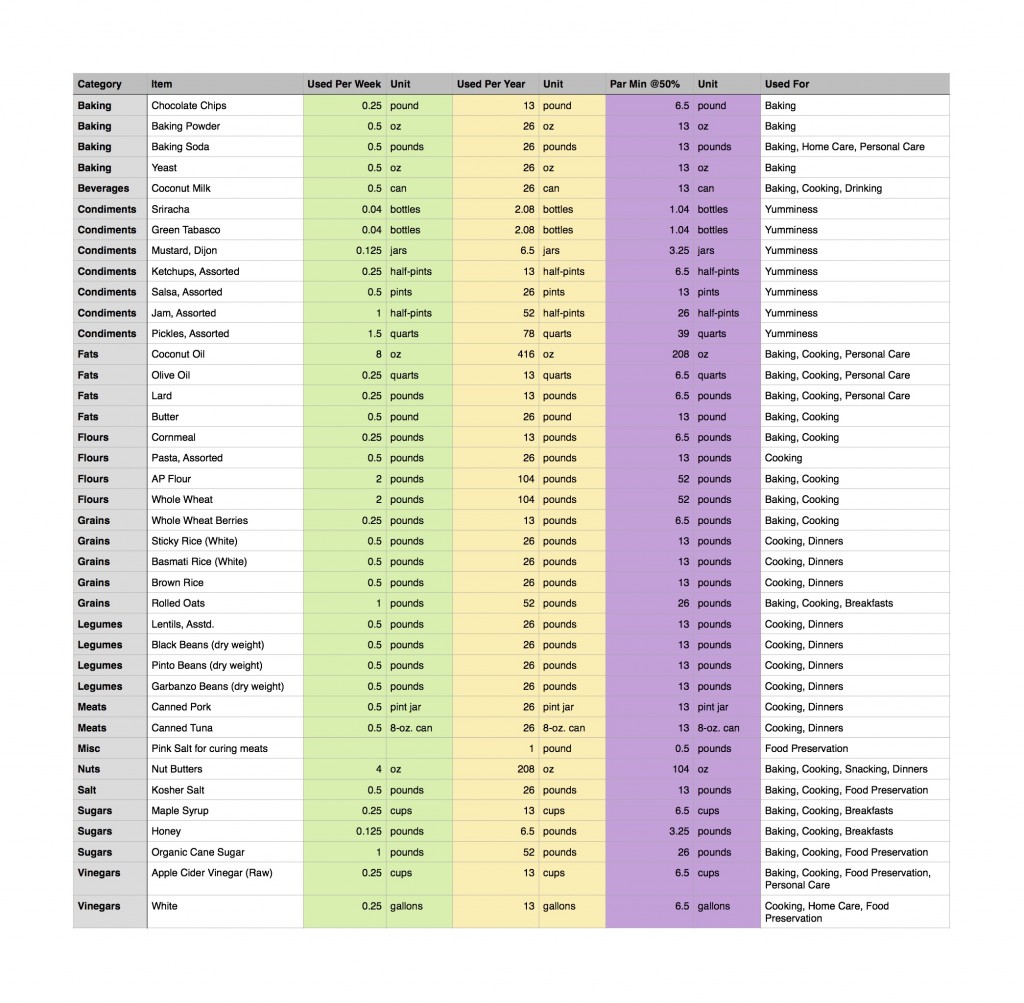 Whole Foods Preparedness List
I created my own version of the meme-like list I shared at the beginning of this post. It's not perfect. It's way more expensive, coming in at about $20 a week, and not everything on the list is organic. But it assumes that the person looking at this list for inspiration is attempting to juggle the same tricky balls I am: financial reality, accessibility of specialty items, overall wholesomeness and healthfulness of food, food storage optimization and food palatability for multiple family members.
This list further assumes that the prepper looking at it has a garden, or access to fresh fruits and vegetables. I can't stress the importance of this enough. I rely on my pantry (dry goods) and my freezer (meats) for calories, but I rely on my garden and my relationships with local producers for nutrition.
In any event, take it as inspiration and adjust as is appropriate for your situation.
Download Real Food Prep List as a PDF.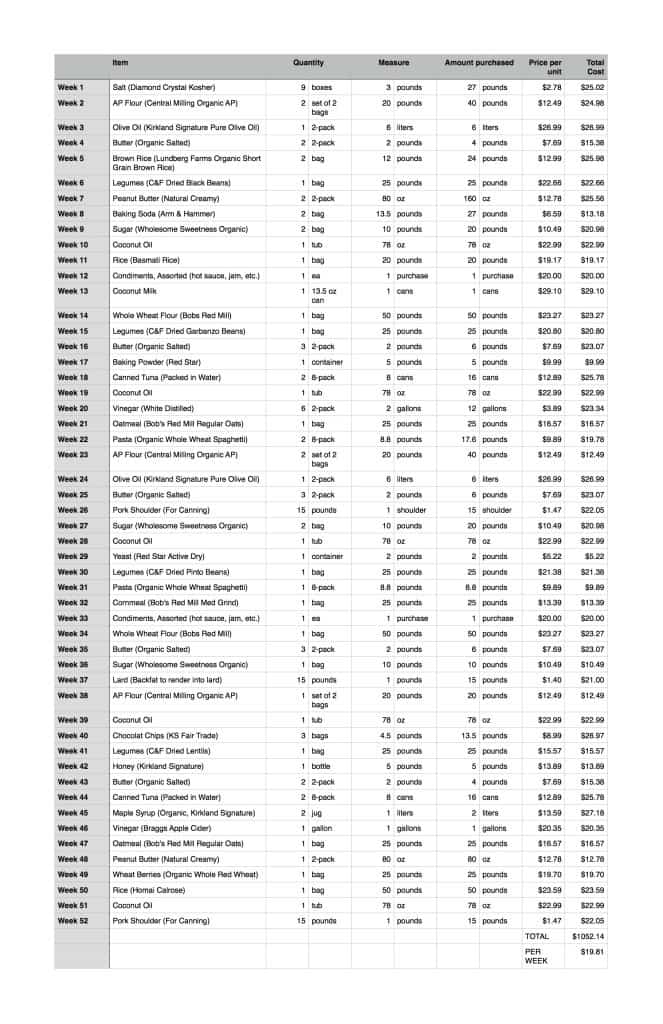 How do you handle food storage?
Resources
The Church of Jesus Christ of Latter-Day Saints (The Mormons) are the reigning champions of food storage info. The LDS church promotes food storage as a duty for members and provides a ton of info to help folks in and out of the church get their food stores in order. Start here.
57