It's the end of the week so it's time to review progress for No Spend November. I'd say this month of extra frugality is going quite well. A few purchases, but very much in the "known knowns" category.
As expected, here at the mid-month mark I'm a little tired of being creative and figuring out another way to make chickpeas interesting. But I'm also blown away at how fast we are really clearing out the pantry this month! Good feelings.
In the last two days I've turned my attention to Thanksgiving, and that's going to be an interesting challenge. I think meat and some essential dairy is going to use up the bulk of my $150 allotment for the holiday dinner, which means I'll be relying quite heavily on my larder for staples.
Luckily, this was a banner year for winter squash which is always welcome at the Thanksgiving table. I just roasted my Long Pie Pumpkins – they will be the base for my pumpkin pie. I'm thinking of doing a butternut squash soup, as well.
Ok, all the details on this past week not spending (much) money:
What's Worked Well
It seems to me that the "eat-down" component of this No Spend is the strongest it's ever been. I think it's because I didn't buy beef or pork this year, and we didn't even "pre stock" on dairy before we threw ourselves into the challenge.
The time of the year probably plays a big role too. I attempted a half-ass Eat Down The Larder Challenge in…July, maybe? And it just didn't work. I was too busy eating from the garden to make a dent in the pantry and freezer.
In any event, the result: my outside freezer looks positively bare and you can really see the space opening up in the pantry.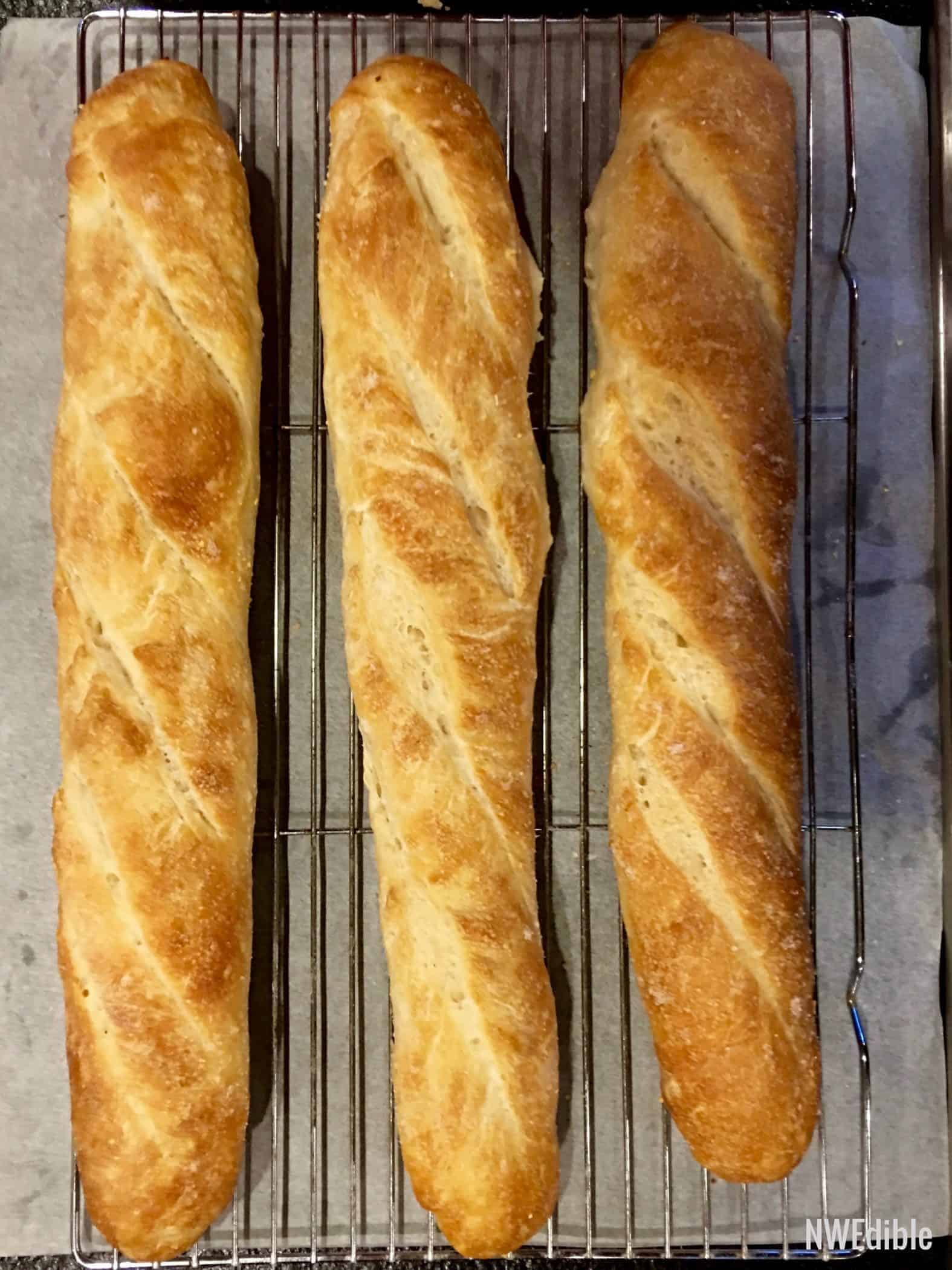 Another big win this week: baguettes! I'm sorry to say this, because I do think a lower-refined-carb diet is probably healthier for the vast majority of folks, but having bread around made my life so much easier.
Lunches! Sandwiches! So simple!
Late season summer vegetables are holding out. I can't even believe it. I still have fresh tomatoes and peppers. That's insane. But man, it's really helped because if I can put pico de gallo on pretty much any staple food, I'm a happy girl.
What's Been Hard
Boredom.
We've done chili like three different ways this month. I really like chili. The kids like chili. But the whole meat-bean-tomato genre is getting pretty dull. Egg scrambles are delish but I'm tired of egg scrambles.
The kids had chicken salad four-days-in-a-row for lunch. Day 1 they were telling me how delicious it was. Day 2 they ate it all. Day 3 they picked at it. Day 4 they pretty much went on a Chicken Salad Strike. I can't blame them, but I don't have the deli meats they've become accustomed too, and I don't have large pieces of meat to roast as a DIY substitute.
I absolutely can come up with a fresh and new and vibrant tasting meal. It just takes a lot more work than throwing together a jar each of beef, tomato, and pinto beans and warming everything together with some chili seasoning.
The upside to this? Thanksgiving is going to feel so special. I'm really looking forward to it. The kids are both excited. I think that after a fairly limited diet (by their standards), and after hearing, "no we're out of that" quite a few times this month, they are both really looking forward to the bounty of pie and mashed potatoes with gravy.
What We Spent: 11/10 – 11/16
11/13 – $14.24 for gas. (Exempt as per challenge rules)
11/13 – $5.00 for parking as part of Nick's tutoring gig. (Exempt as per challenge rules)
11/13: $11.50 to cafe for sandwich, coffee, and tip as part of "rent" for Nick's tutoring gig. (Exempt as per challenge rules)
11/16: $3.00 to cafe for coffee and tip at a child's extracurricular event.
Total: $33.74
Month long total ($58.08 + $33.74): $92.82
Non-Exempt total: $3.00
Month long non-exempt: ($15.51 + $3.00): $18.51
All told, really nothing too terrible in our spending this past week. It's all basically stuff to allow Nick to work his extra tutoring gig. This week he met his student over the dinner hour and they grabbed a casual dinner. When you use a cafe as a surrogate office, you have to pay rent for the time you spend in the space. That's just ethical.
Lunches
These are all variations on the same thing, basically. Every lunch was based around the batch of chicken salad I made with home-canned chicken thigh, homemade mayo and homemade sweet zucchini relish. Then I added whatever sides I could scrounge up.
Chicken Salad on Baguette with broccoli, carrots and dried apples. There was also homemade pear sauce with this (not shown).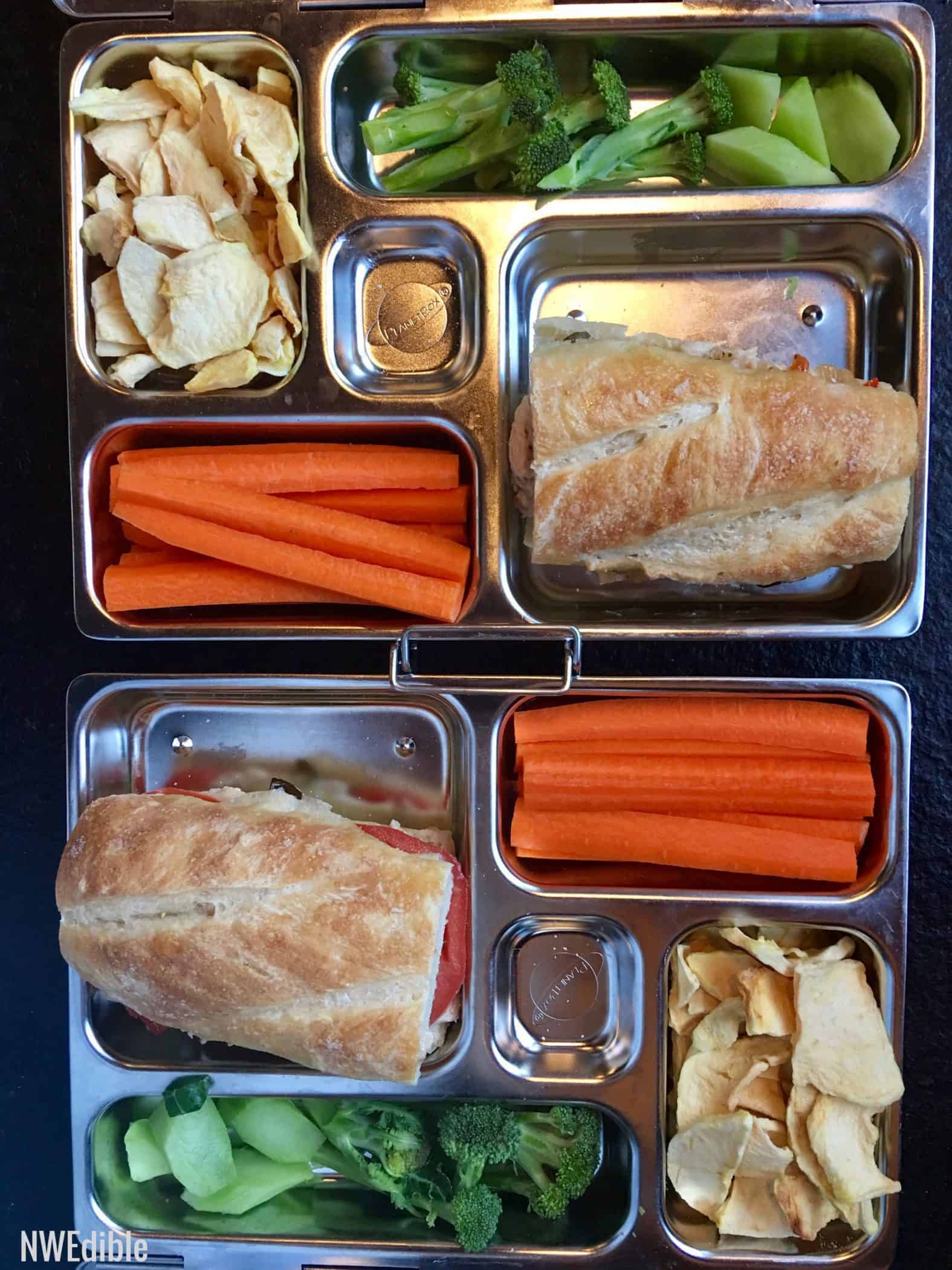 The same basic chicken salad with store bought crackers I found hidden in the pantry, tomato and feta salad, black olives, homemade hummus, and Halloween candy.

Chicken salad on baguette with kohlrabi, tomato, carrots and hummus, raisins and Halloween candy.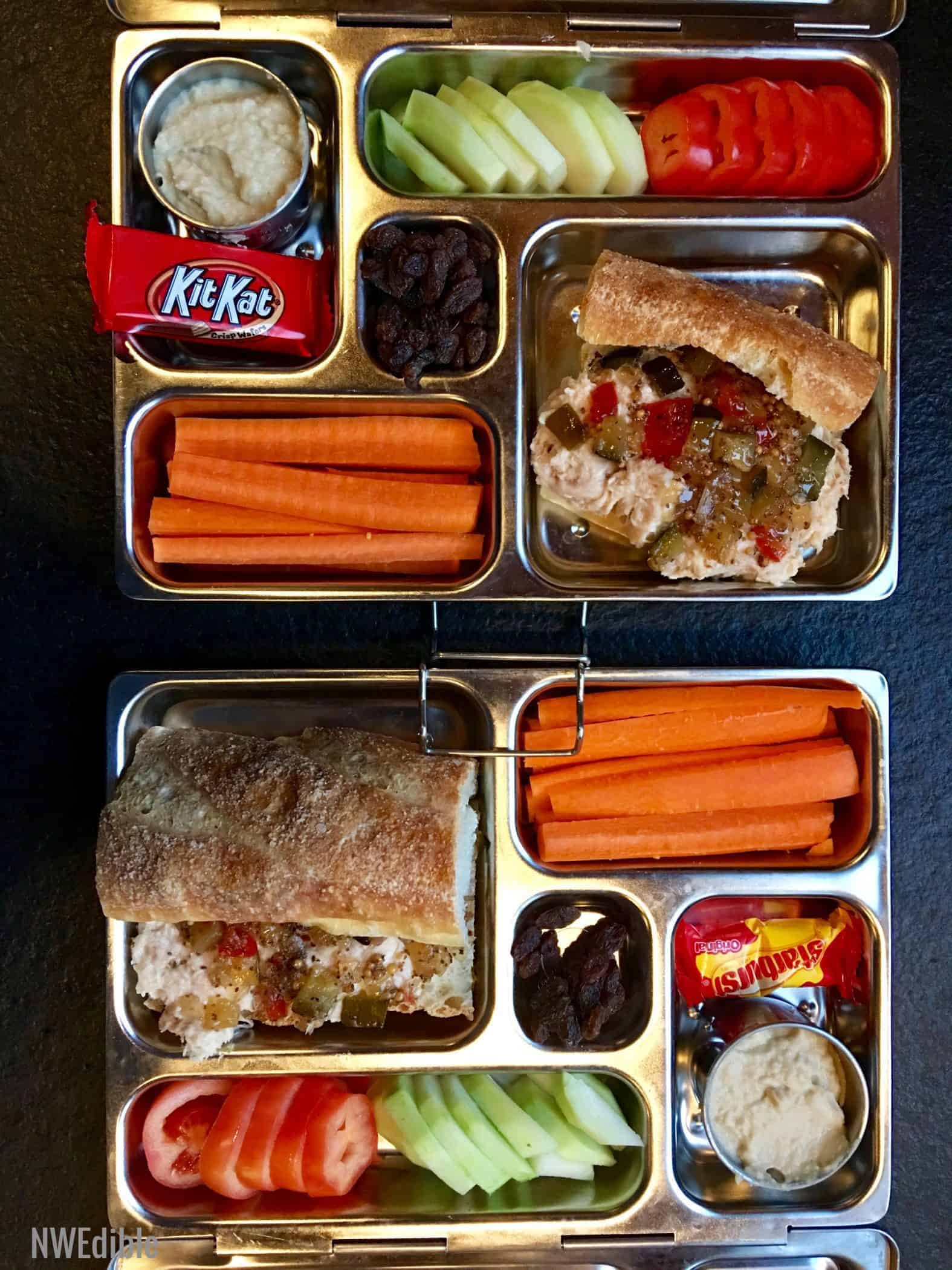 Dinners
A few nights were basically "pick-and-choose" – scrounging for leftovers, basically.
Pork with black beans, corn salsa, and fermented spicy jalapeno mash mixed with fermented salsa verde. This was somewhere between a stew and a messy plate of beans with stuff in it. I love food like this, but that salsa was fiery!
(Homemade: corn salsa, canned black beans, fermented jalapeno mash, salsa verde. Homegrown: most of the stuff in the corn salsa, most of the stuff in the fermented salsa verde.)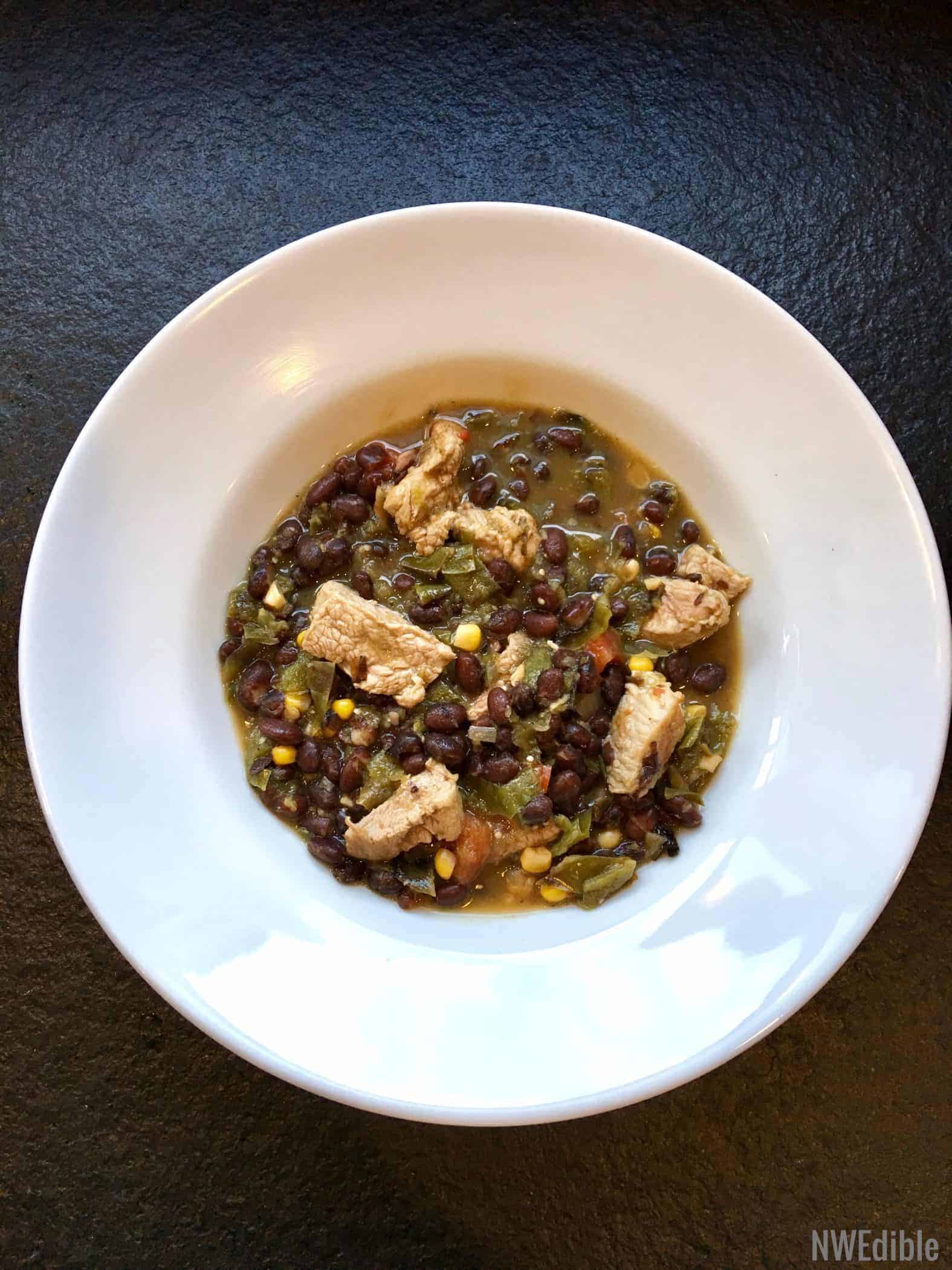 Egg rice. I love egg rice. We eat it all the time. This particular plate was mine so it was about 1/3 spicy fermented radish kimchi by volume. As it should be.
(Homemade: fermented radish kimchi. Homegrown: eggs, kale.)
Roasted chicken thigh with herb butter, bowtie pasta in tomato sauce, and kale with roasted roma tomatoes and sunflower seeds. I'll just have to ask you to imagine that this plate looks attractive. It tasted quite good. There were so many herbs in the herb butter it didn't melt on the chicken – it just baked into an herby disk. But the Tuscan kale with tomatoes and sunflower seeds was the best.
(Homemade: herb butter, slow roasted tomatoes, tomato sauce for pasta. Homegrown: kale, tomatoes for the tomato sauce.)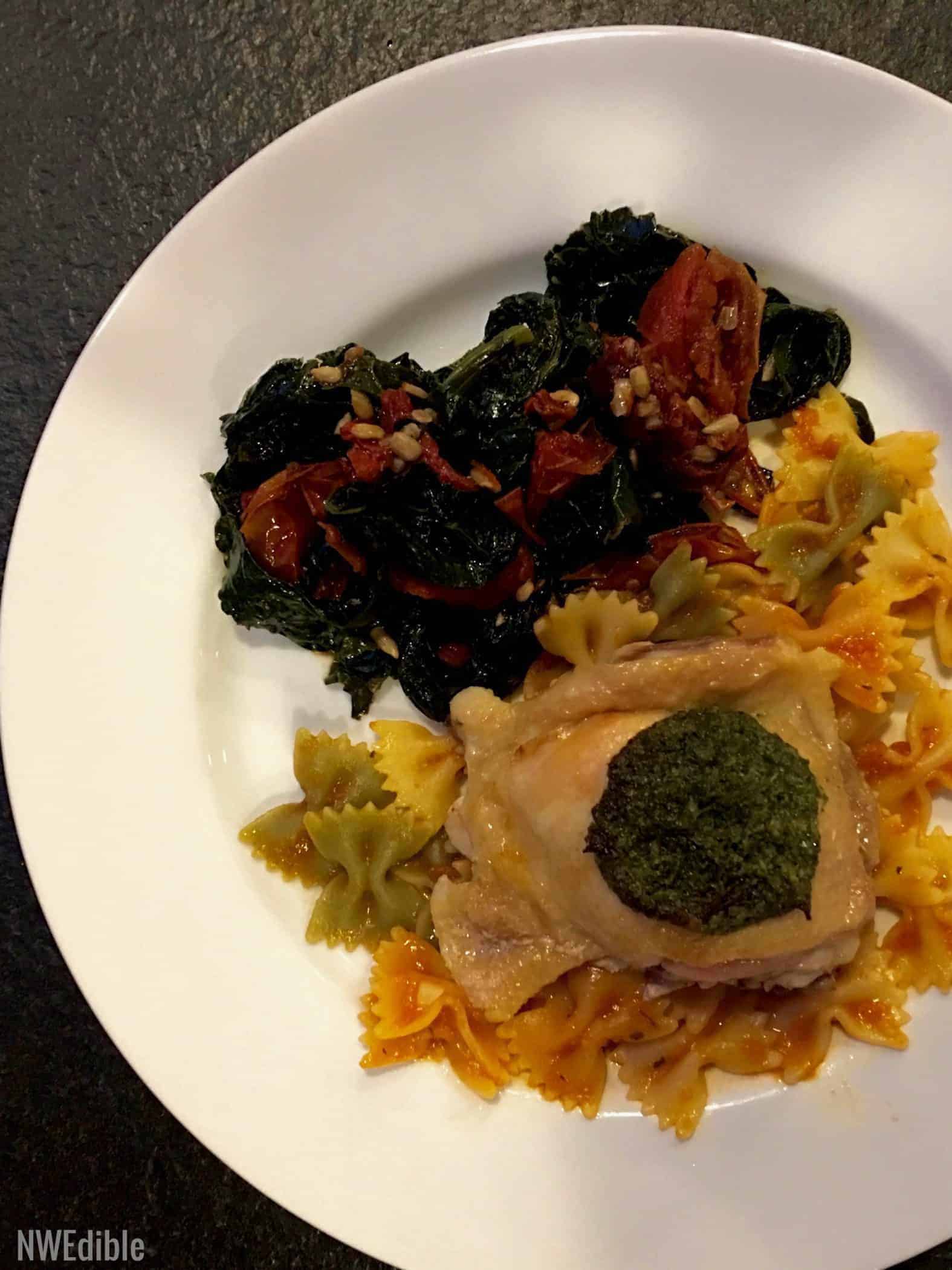 Ages ago I opened a can of chipotle peppers in adobe. I don't care how 1992 chipotle is from a flavor standpoint, I think it's a great flavor that makes everything better and I always will.
Anyway, I used one chipotle (as you do) then the rest of the chilis sat in a jar in my fridge for a couple months until eventually I cleaned my fridge and was shamed into doing something with them. So I made chipotle honey butter and put that in the freezer, and then that sat in the freezer for God knows how many months, until last Saturday when I made a batch of cast iron skillet cornbread to go along with the easy pantry chili I'd made and remembered the chipotle honey butter in the freezer.
And that's how I know that chipotle honey butter on cornbread is perfection.
(Not shown: Beef and bean chili. Homemade: chipotle honey butter, home canned beef, home canned tomatoes, home canned kidney beans.)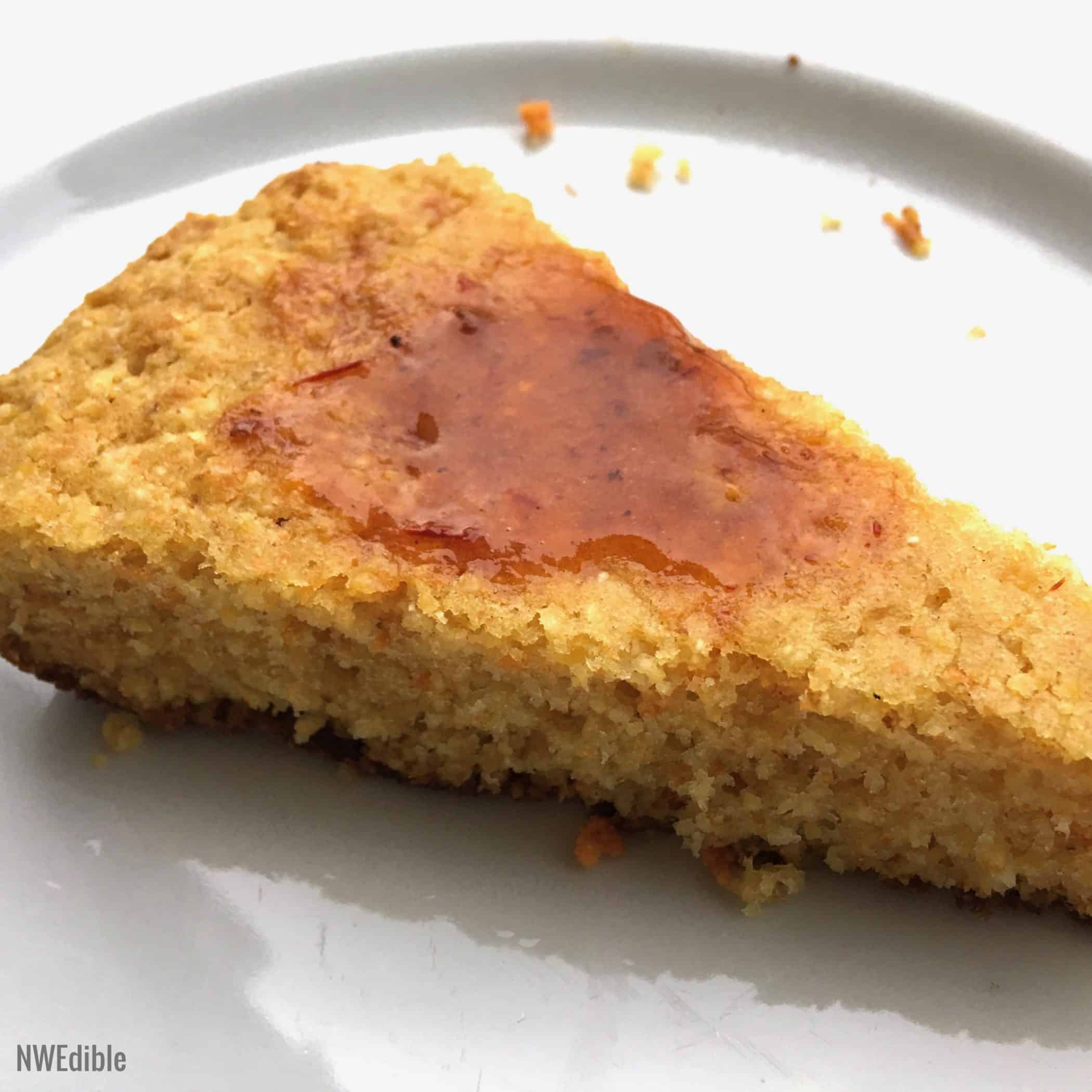 Egg scramble with fresh tomatoes and feta. Simple, but yummy. I don't remember if this was a breakfast or a fast dinner.
(Homegrown: eggs, tomatoes.)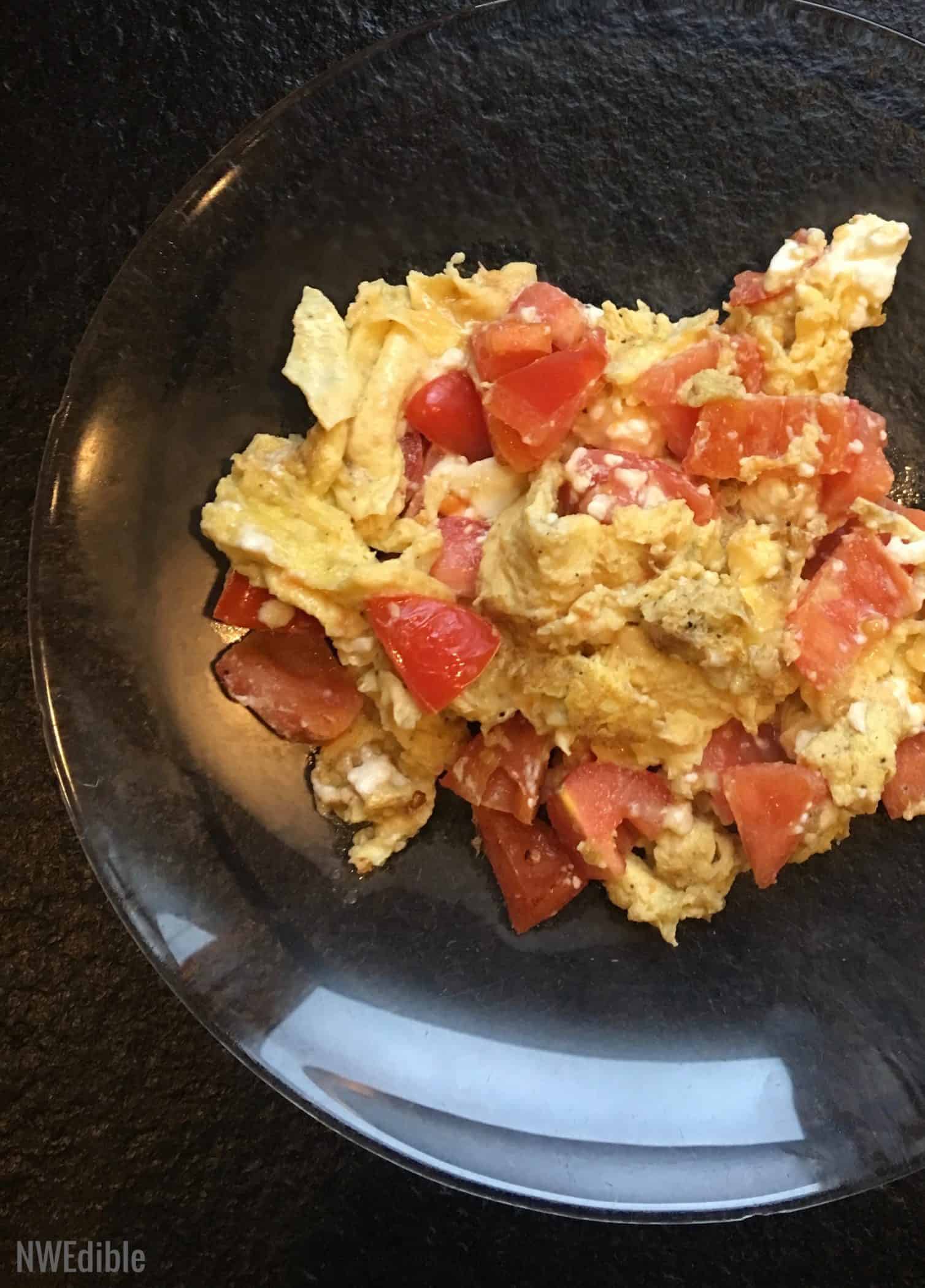 Chicken thigh braised with yellow curry, coconut milk, zucchini, carrot, onion and kohlrabi, served with jasmine rice. The overgrown zucchini in this dish has been sitting on my back porch for a month or more. I really wanted some bulk for the curry, so I thought, let's try it! And it turned out really well. The skin was a little tough but slow cooking the zucchini in the curry sauce gave it really nice flavor and it got soft but not mushy. Very pleasant surprise.
(Homegrown: zucchini, kohlrabi.)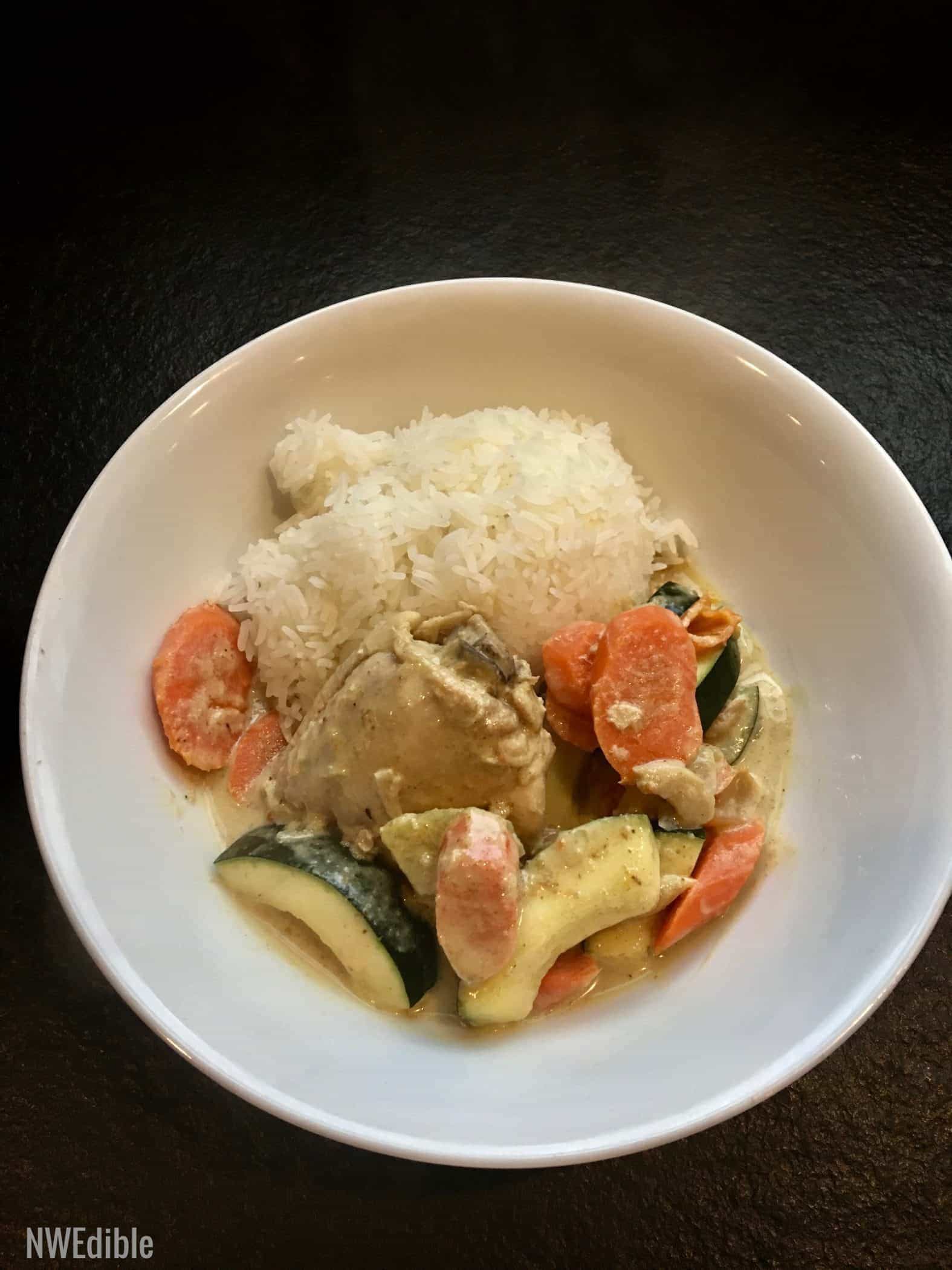 Ok, that's it for the Frugal Friday update for Week 2. How is your No Spend November going?
•          •          •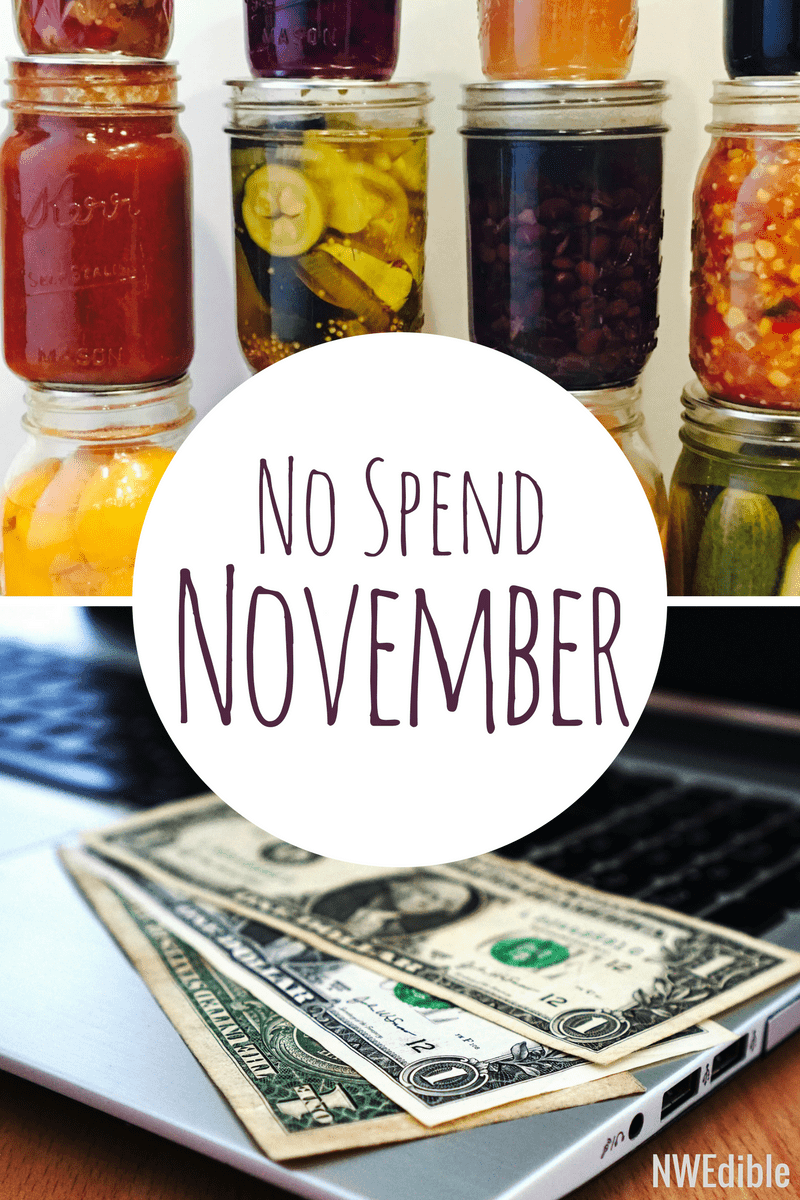 6