I was glancing through a preparedness forum last night and saw that one of the posters was embarking on a "No Spend November."
This immediately pushed my "Good Idea" button. I've done several No Spend and Eat From The Larder Challenges, and it clicked that right now was a great time for my family to do a No Spend month.
My No Spend November Goals and Motivations
A couple of big expenses have eaten into our savings and it would be fantastic to build that back up more quickly.
I have a very, very, very full pantry right now.
Breaking "hedonic adaptation" for everyone – but especially the kids – before December and Christmas time, makes for more gratitude and appreciation.
I've gotten kinda lazy and repetitive when it comes to cooking and I'd like that kick-start to use up things in a creative way.
A specific "No Spend" challenge will provide tons of fodder for from-the-larder cooking videos for my Patrons.
If you've been a reader for a while (and I think nearly everyone who's still chugging along with me in this space is a regular at this point) you know that I encourage challenging but customized "rules" for challenges like these.
"No Spend November" is, therefore, more of a cute savings mnemonic than a full pledge to spend $0.
My No Spend November Rules and Exemptions
These are mine! Yours can be different!
Regular household bills like electricity, water, car insurance and Netflix will still get paid.
Regular planned kids activities like piano lessons, etc. will still be done and paid for. Periodically the kids have opportunities to attend plays, concerts, lessons, etc. for homeschool enrichment. Although we don't have anything planned, if something like that comes up, we will pay for it.
Gas will be purchased such that the gas tank does not full below a 1/2-tank. In the past, we've allocated a certain dollar amount to gas, and "gamed" the system by running on fumes until the month's end when we could fill up. For reasons of preparedness, we don't let the gas tank drop below a half-tank anymore. Since Homebrew Husband doesn't commute to work any more, our "essential" driving works out to about 20 miles a week so gas just isn't that big of an expense anymore.
We're still finalizing Thanksgiving, but I will probably host. Assuming I host, I'm giving myself a $150 budget to purchase items specifically related to making the holiday meal (mostly the meat).
Homebrew Husband is currently tutoring a student. Periodically he meets with this student at a coffeeshop. On those occasions, he will buy coffee or such to "pay rent" for the space in the cafe.
The following known purchases are exempt from No Spend November: printer paper for school work, cat food and litter as necessary, and a $15 fee for a licensing exam Homebrew Husband needs to take mid-month.
My local Yuppie-Hippie Market send out an amazing set of coupons where it's buy-one, get-one on organic free range chicken and free organic pears and stuff. You can only redeem one coupon per week. I will most likely redeem them all.
Hey Erica, that's a lot of exemptions!
Meh, maybe, but probably not really. In past months I've just declared a total weekly or monthly budget that I would not go over for "incidental" spending – basically everything but monthly recurring bills. Back in 2011, for example, I gave myself a $250 budget for the month.
I think total incidental spending this month will be about $150, plus another $150 for Thanksgiving expenditures. Thanksgiving is my favorite holiday of the whole year, and the only holiday I really go all-out for, typically, so I feel zero guilt about building in some turkey money.
All told I expect total monthly expenditures will be around $300, which will be a nice reduction over our typical monthly expenditures even compared to months without a major holiday. I'm looking forward to breaking the hedonic treadmill and putting some extra money back into our savings account.
Interested in joining me?
Every Friday this month I'll do a weekly Frugality Friday wrap-up where I'll tally up how much we spent and show some of the food I'm making from the larder. Feel free to let everyone know how you're doing. Anyone who wants to participate can swap tips and status updates.
If you want to participate, just leave a comment and let us know: what are your No Spend November rules and goals this month?
•          •          •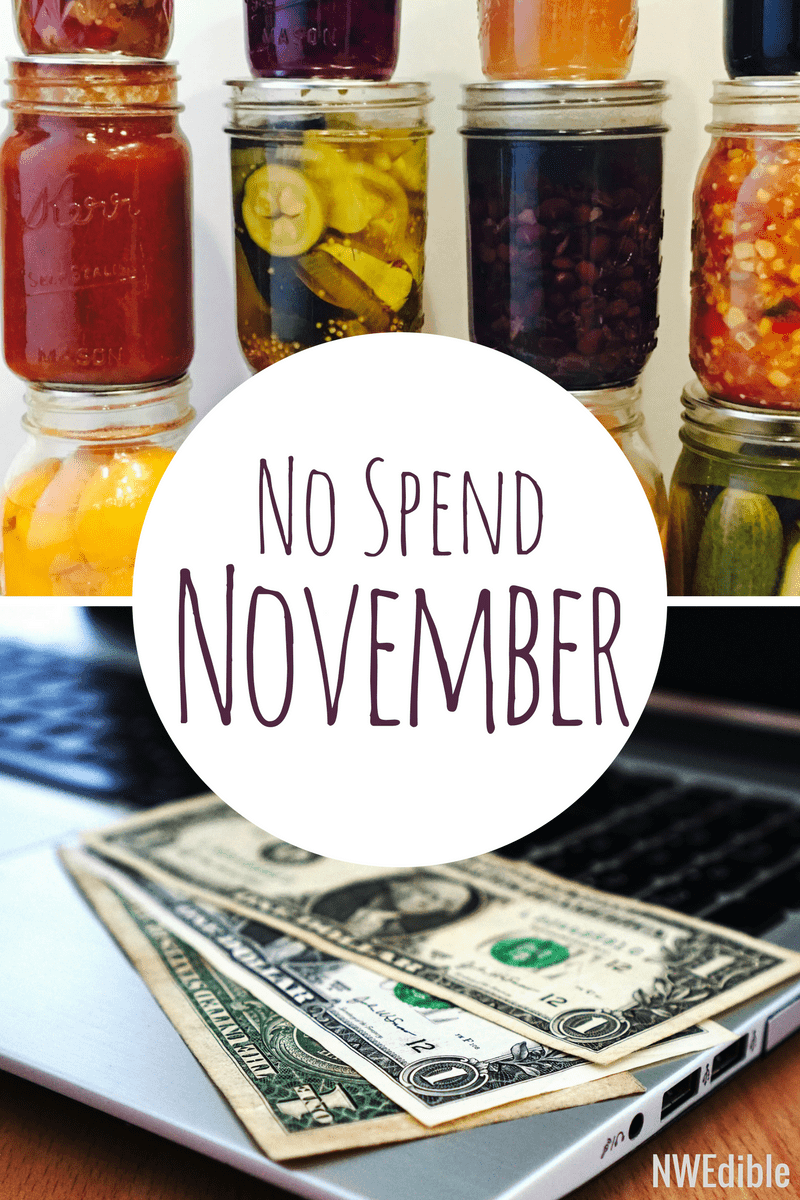 6