As a gardener, going away or taking vacation in the summer is always a bit of a deal with the devil. On the one hand, a long weekend spent camping (or whatever) is awesome! On the other hand, when you come back home, you are likely to find your tomato plants have taken over your yard, climbed up your house siding, and are working their way into the second story windows.
At the very least, a 19-pound zucchini is pretty much inevitable.

We went camping for a few days on the Olympic Peninsula with our friends (see obligatory Pacific Northwest ferry selfie….)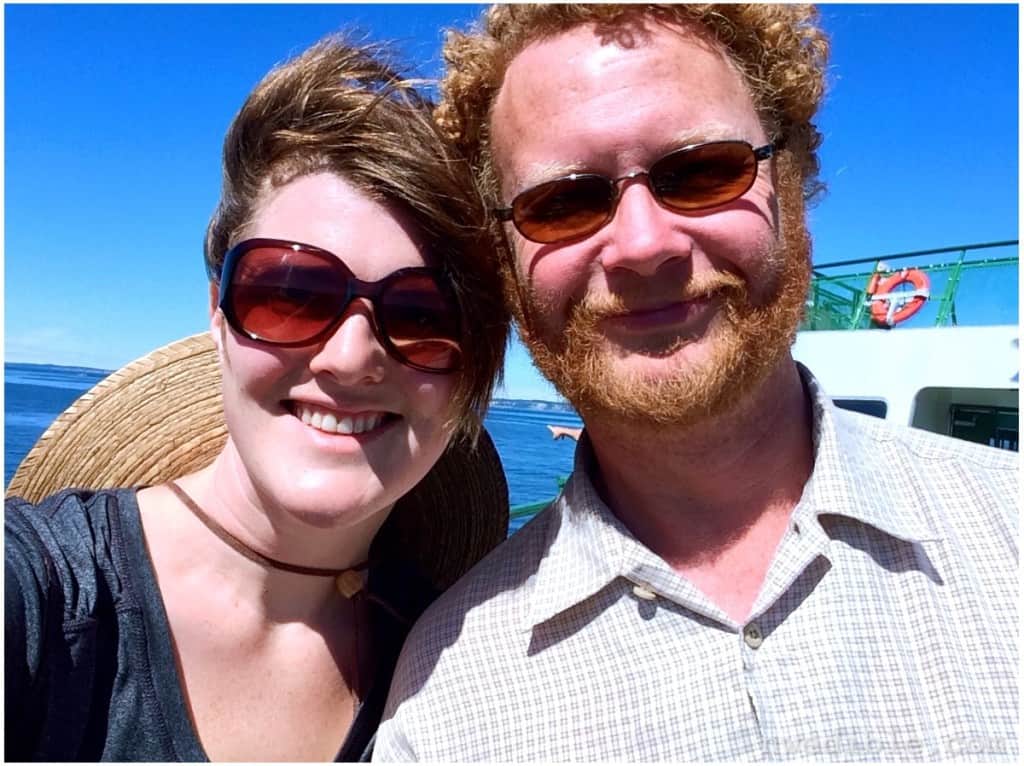 …and came home to tomatoes for days. Seriously, it's like all my tomato plants saw me drive away and thought, "This is our moment! Live free or die!" and went into overdrive.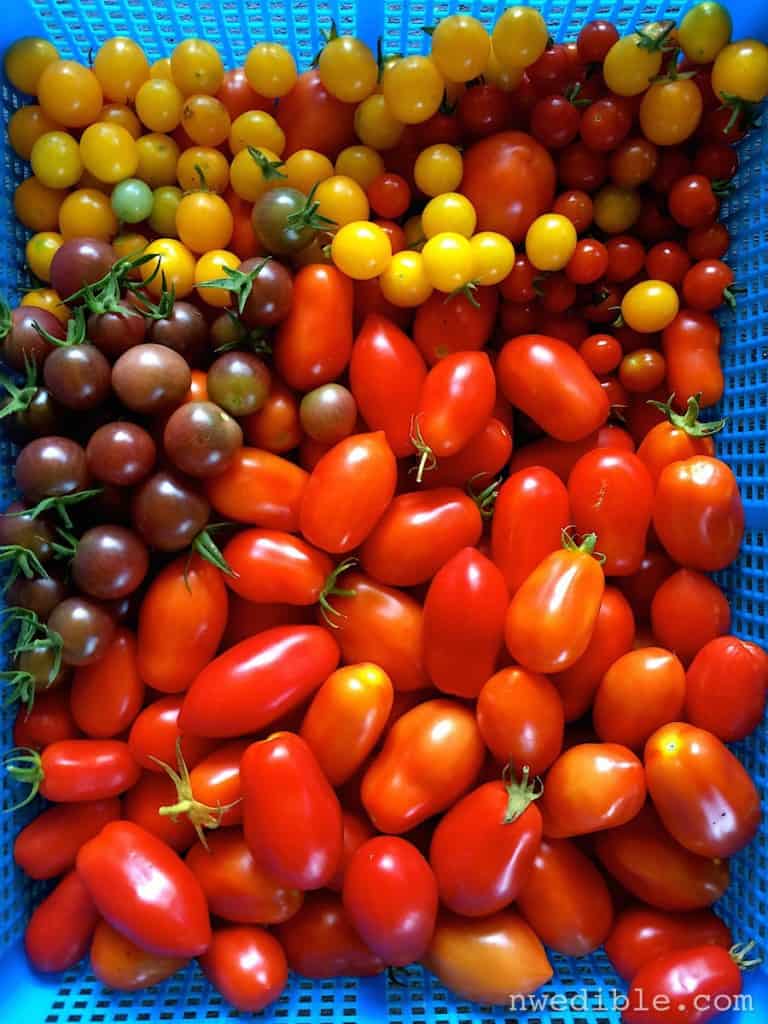 I know many of you guys are in the same boat – harvesting tomatoes as fast as you can. When you've had your fill of caprese salad, try these Oven Roasted Herb Confit Tomatoes.
This recipe, shared from my book, is a low-effort way to process a ton of tomatoes. Pop the resultant soft, intense, slightly caramelized tomato halves in your freezer. Come winter, you'll be so glad you made a batch or five.
These tomatoes make an easy sauce for pasta, and are lovely alongside (or stuffed inside) fish or chicken. Toast a little slice of bread, smear it with goat cheese and top with a chopped, roasted tomato half for a lovely holiday appie.  Use these in place of anemic supermarket tomatoes on burgers, sandwiches, salads, and more. Mash them up for a lovely tomato spread that's excellent on flatbread or pizza, or for stirring into a bowl of white beans or lentils.
Versatility, thy name is Confit Tomatoes.
Oven-Roasted Herb Confit Tomatoes
I can about 100 quarts of basic crushed tomatoes every summer in a giant preserving push I call can-o-rama. One year, I was just over canning tomatoes. I was sick of the steamy kettle, sick of standing in front of my stove,
 sick of peeling tomatoes. It would have been a great time to take a break from preserving until the apples came ready.
Only one problem: I still had forty pounds of local Roma tomatoes on my counter, and they didn't care that it was high summer and my tired feet were so sweaty they were starting to smell like wet dog. I decided to come up with a way to process all those tomatoes while sitting down. This recipe is the result. The quantities given here are for one sheet pan's worth of tomatoes, but it's simple to scale the quantities to accommodate multiple batches if you have extra tomatoes on hand.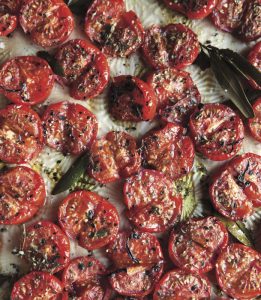 Print
Oven-Roasted Herb Confit Tomatoes
Ingredients
5 pounds thick-fleshed Roma or other canning-type tomatoes
10 large cloves garlic, peeled
¼ cup extra-virgin olive oil, divided
Kosher salt and freshly ground black pepper
Fresh or dried herbs, such as thyme, oregano, basil, or bay leaf
Instructions
Preheat the oven to 250 degrees F. Get a big sheet pan (or several, if you have a lot of tomatoes and a big oven) and line it with parchment paper. Drizzle 2 tablespoons of olive oil over the parchment.
Wash and core the tomatoes. Slice them in half lengthwise, and set the halves on the prepared sheet pans, seed cavities facing up. The tomatoes can be very snug on the pan because they will shrink as they cook, but they should be arranged in a single layer.
Scatter the garlic over the tomatoes, then drizzle the remaining 2 tablespoons oil over the tomato halves. Sprinkle the tomatoes generously with salt and pepper, then scatter whatever herbs you might have over the top—several sprigs of fresh thyme seem nearly essential, some oregano and basil are nice. If you have a bay leaf, drop that onto the pan, too. If you have no fresh herbs, a pinch each of dried thyme and dried basil will do just fine.
Put the tomatoes in the oven and roast for several hours—at least 3 but up to 7—depending on how big the tomatoes are and how soft and caramelized you like them. Roast until the tomatoes are collapsed and tender throughout and beginning to brown and caramelize nicely on the bottom.
Pick out anything that looks unpleasant to eat like an herb twig or bay leaf, then fill wide-mouthed mason jars or plastic freezer bags with the tomatoes, garlic, and any herbs clinging to them. Divide all the lovely infused roasting oil from the sheet pan evenly into the jars with the tomatoes.
Lidded tightly, the tomatoes will keep in the refrigerator for several days, and in my home a jar never lasts that long. I freeze most of the confit in widemouthed pint-size jars. If you make sure the tomatoes are submerged in juices and oil (add an extra glug of olive oil to the jar if needed) and press a layer of plastic wrap onto the tomatoes before lid- ding and freezing them, they will keep for at least 6 months. If you use freezer bags, simply squeeze out as much air as possible before sealing.
Stuff!
You can pre-order my book The Hands-on Home now via Amazon.
For you shop-local types, the rumor on the street is that several indie bookstores are going to be carrying the book, too. I'll share which local bookstores (Elliott Bay? Yeah? huh?) will be carrying it as soon as I know.
Here's where I give myself permission to use my own recipe: (c)2015 by Erica Strauss. All rights reserved. Excerpted from The Hands-On Home: A Seasonal Guide to Cooking, Preserving, and Natural Homekeeping by permission of Sasquatch Books.
Tomato Confit Photo by the charming, lovely and uber-talented Charity Burggraaf.
10