Great news! My publishers have given me permission to share several recipes, photos and tips from my soon-to-be-released book! The Hands-on Home is now so close to launch that it's time to start promotion – which means giving you guys a little taste of what's inside the book.
These herby, peanuty pork meatballs are one of my favorite options for a light meal. They have a refreshing Thai-ish vibe going on, but – they're meatballs. Easy peasy, and a kid-favorite.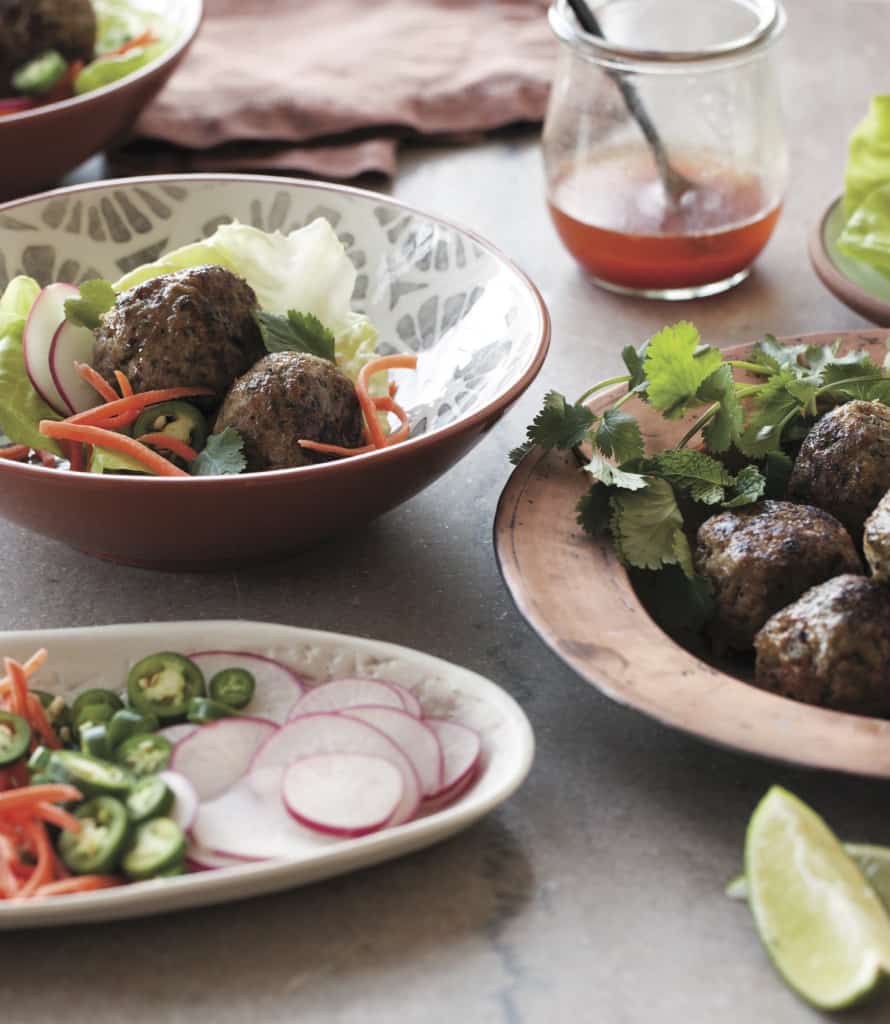 Like all the food I really love, this recipe is versatile enough to accommodate what's growing in your garden right now. Play around with the herbs. Add additional vegetables. Steam a pot of rice to serve on the side if you want. If you can't have peanuts, substitute in a different nut or seed, or leave them out entirely. If you don't eat pork, try these with ground chicken, turkey or even lamb.
Green Herb & Peanut Pork Meatballs in Lettuce Cups
Over ten years ago, I planted a little four-inch pot of adorable lemon balm in a moist, partially sunny location in my garden. It grew rapidly into a patch of lemon balm that threatened to overtake my garden.
Beyond drying the leaf for tea, I was at a bit of a loss for how to use it all up and how to contain the herbal monster I had created. It took a few years, but eventually I realized that lemon balm is great as a temperate-climate substitute for the lemongrass used throughout Southeast Asian cooking. Now I keep my patch of lemon balm in check using recipes like these Thai-inspired meatballs.
My lemon balm is at its most fresh and lovely in the spring, when the lettuce, mint, and first cilantro of the season are just getting large enough to harvest. Later in the year, I use lemon verbena. Either of these lemony herbs work well here.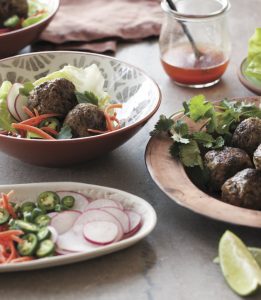 Print
Green Herb & Peanut Pork Meatballs in Lettuce Cups
Yield 4 servings
Ingredients
For the meatballs:
¼ medium white onion, roughly chopped
2 cloves garlic, peeled
½ cup unsalted peanuts
½ cup lightly packed fresh lemon balm or lemon verbena
½ cup lightly packed fresh mint
½ cup lightly packed fresh cilantro
1 tablespoon fish sauce
1 tablespoon lightly packed light brown sugar
1 tablespoon Thai sweet chili sauce
1 pound ground pork
For the sauce:
3 tablespoons freshly squeezed lime juice
2 tablespoons water
2 tablespoons fish sauce
2 tablespoons sugar
Asian-style chili paste or pepper sauce
To assemble
2 medium heads butterhead lettuce, separated into leaves
½ cup shredded carrot
½ cup sliced or shredded radishes
1 thinly sliced serrano or jalapeño pepper
Additional fresh mint and cilantro
Instructions
Move an oven rack to the center position and preheat the oven to 400 degrees F. Line a sheet pan with parchment paper.
In the bowl of a food processor fitted with the metal blade, combine the onion, garlic, peanuts, lemon balm, mint, cilantro, fish sauce, brown sugar, and chili sauce. Pulse until the mixture resembles a course paste, about the texture of pesto, 30 seconds to 1 minute.
Scrape the herb mixture into a medium bowl, then add the pork and mix together until well combined.
Use a 1-ounce portion scoop or your clean hands to form the pork mixture into meatballs about the size of golf balls. Evenly space the meatballs on the sheet pan and bake until the meatballs are cooked through and lightly browned, 15 to 20 minutes, turning once halfway through.
While the meatballs are cooking, prepare the sauce. In a small bowl, add the lime juice, water, fish sauce, and sugar and stir until the sugar is dissolved. Add a bit of chili paste or Asian-style hot chili sauce if you like a bit of spice. Set aside.
Set out the lettuce, carrot, radishes, serrano, and herbs on a tray or large plate.
When the meatballs are fully cooked, transfer them to a serving plate. Let everyone assemble their own wraps with several leaves of butterhead lettuce, a scattering of fresh vegetables and herbs, a meatball or two, and a drizzle of sauce.
Notes
Lettuce wraps like these can be messy. We serve them outside on a warm spring or summer day when eating with your hands and drippy sauce will just add to the fun. If this is too messy for your house (or your kids!) just turn the components into a lovely, light salad. Tear the lettuce up a bit, top with the herbs and shredded vegetables, finish with the meatballs, and use the sauce as a dressing.
1