This past weekend was pretty much dedicated to canning. Homebrew Husband and I did this last year (see: Can-o-Rama 2012). Dedicating a solid weekend to putting up staple foods like pickles and tomatoes can be a bit of a whirlwind, but it feels fantastic to take the pantry from nearly-bare to nearly-full in 48 hours.
This year worked out even better than last year. We tackled a slightly smaller, more focused work-load and happened to line Can-o-Rama weekend up with a our-daughter-visits-her-auntie weekend. Our focus was on tomato and pickle products, plus a few other things from the garden that just needed to be dealt with. Last year we did more jams and sweet fruit preserves but this year I am seriously limiting my jam making. No for real, don't laugh. I can resist the siren call of jam-making. Mostly.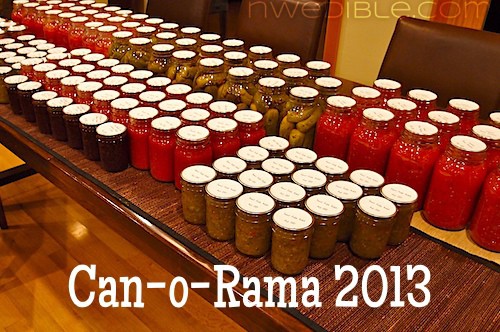 Here's the total tally of canning completed this past weekend:
Roma Tomatoes (halves) – 25 quarts
Roma Tomatoes (crushed) – 16 quarts
Tomato Sauce – 30 pints (See my method for making Nearly Free Tomato Sauce)
Assorted Dill Pickles – 24 quarts
Sweet Pickle Relish – 18 half-pints
Dill Pickle Relish – 20 half-pints
Roasted Corn Salsa – 15 pints
Fig Preserve with Balsamic, Mandarin and Thyme – 7 half-pints
Roasted Corn – 4 quarts, frozen (not pictured)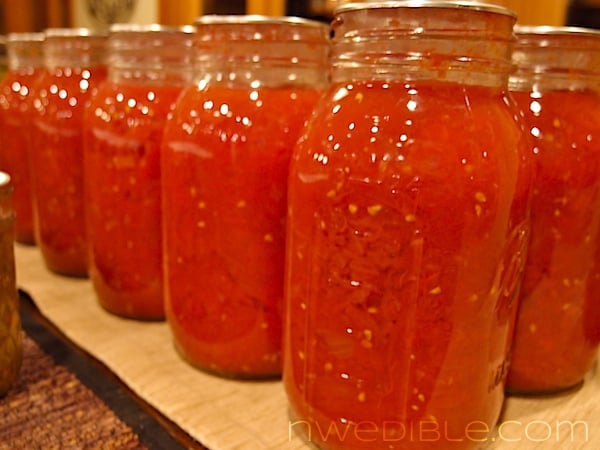 If you are new to canning tomato products, you can learn everything you need to know from the National Center for Home Food Preservation. Those guys will not steer you wrong.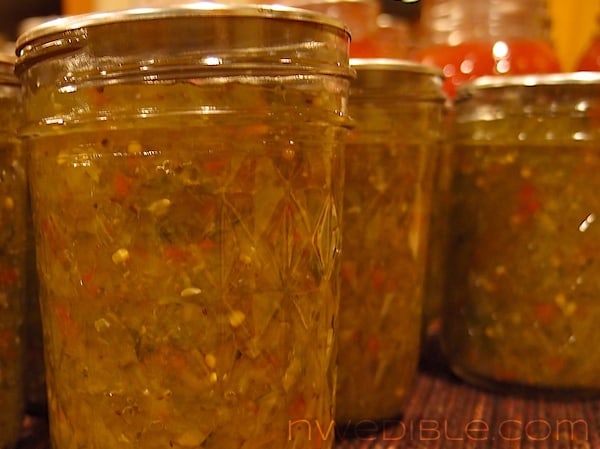 The Sweet Pickle Relish recipe came from Canning For A New Generation. I really like this canning cookbook, but this particular relish recipe was a touch sweet for my taste. I added additional vinegar to balance the flavors. When canning pickled items, it is always ok to add additional acid to your recipe but it is never ok to reduce the acidifying ingredients in a recipe. To learn why, check out my post on how not to die from botulism.
The Dill Pickle Relish Recipe was from NCHFP. I substituted a few spicy jalapeno peppers for an equivalent amount of some of the sweet pepper to give it a bit more kick.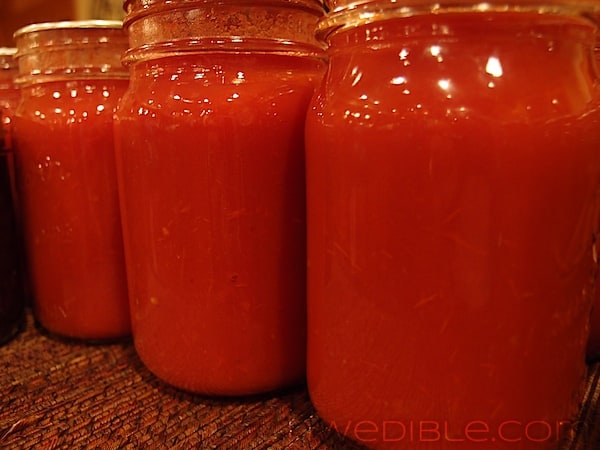 The tomato sauce was, as usual, my Nearly Free Thick Tomato Sauce. If you are still composting skins and cores from your peeled tomato products, read this post to learn how I stopped throwing away free tomato sauce.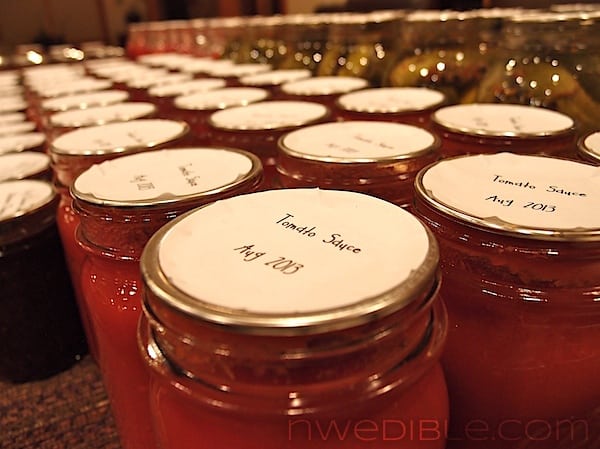 This year, the peels and clean trimmings from my nearly 120 pounds of canning tomatoes gave me 30 pints of nearly free tomato sauce in addition to the 41 quarts of "intended" canned tomato products. Waste not, want not!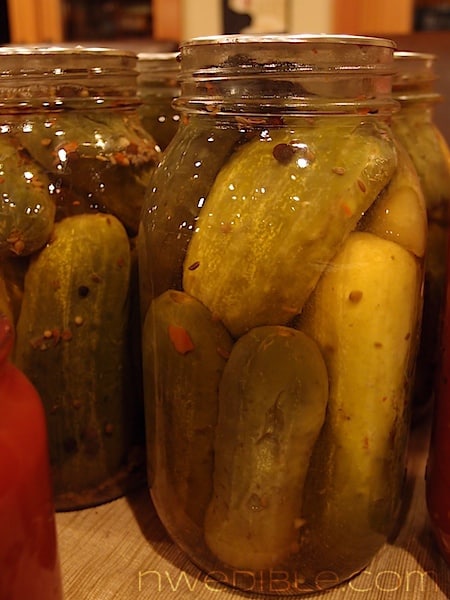 Of the two dozen quarts of pickles we processed, six are Indian Spiced (this is an experiment – hope they are good!), six are Classic Dills from the Food In Jars cookbook, and a dozen are Garlic Dills.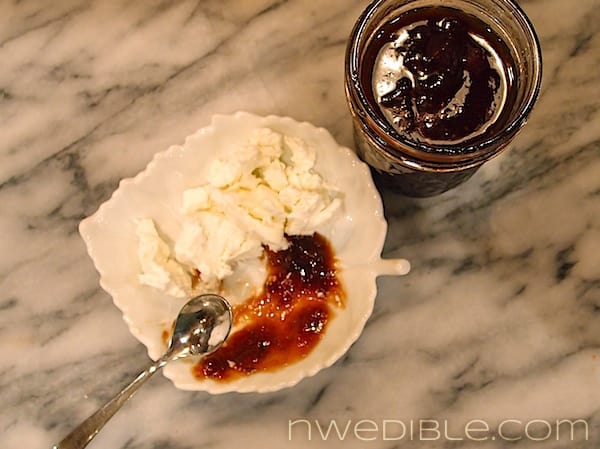 In the midst of canning all these tomatoes and pickles my figs started screaming at me that they, too, were ready to be preserved and had no interest in waiting for a more convenient time. I had about 2-and-a-half pounds of figs and simmered them down with sugar, lemon juice, mandarin orange peel, fresh thyme and a bunch of balsamic vinegar. The result is a sweet, tangy sauce that is fantastic with chevre or blue cheeses, and is going to make saucing up chicken or pork dead-simple in the year ahead.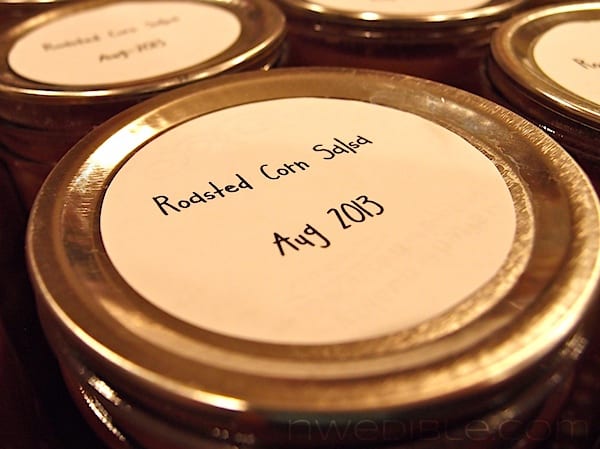 The runaway favorite from this Can-o-Rama has got to be the Roasted Corn Salsa, from the Food In Jars Cookbook. It's fantastic! Kinda sweet, kinda tangy, a teeny bit spicy. I substituted ground chipotle pepper for the chili flakes called for in the recipe, so my variant has a slight smokey quality too. It's awesome.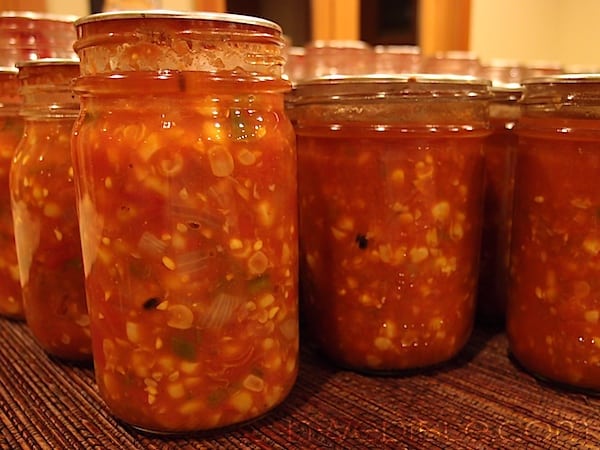 I've already eaten two jars of this salsa. It's getting ridiculous. The first jar full I ate with a spoon and I kept thinking, "wow, this would be great with seafood." So last night, I seared up some salmon, topped it with some more Roasted Corn Salsa, and called that dinner.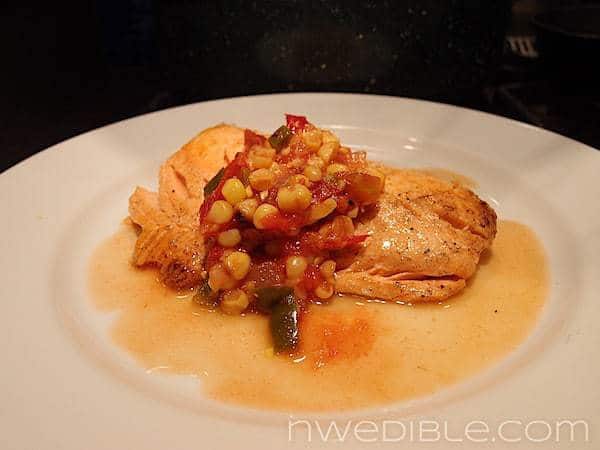 I was right. It's great with seafood. If you don't have the Food In Jars cookbook, it's worth buying for this recipe alone.
So, happy to say the pantry is approaching that "fully stocked" point. I still have peaches, pears and apples to tackle and I may try to sneak in another dozen jars of crushed tomatoes if the mood and produce strikes. But I feel like I'm in a good spot going forward.
How is your preserving going? Do you go for the Can-o-Rama method, or are you taking a more slow-and-steady approach to your preserving this year?
1