My friend Theresa is the Co-Executive Producer of Growing A Greener World, a fantastic TV show about all things gardening. She's also a wicked good urban homesteader, master canner, great writer (check out her personal blog), and a super nice person.
Theresa knows I have a soft spot for combining jam with booze (strawberry jam margarita, anyone?), so when she asked me to participate in a Virtual "Jamtini" Cocktail Party, my answer was, "Pass the ice, pass the shaker! Let's do this!"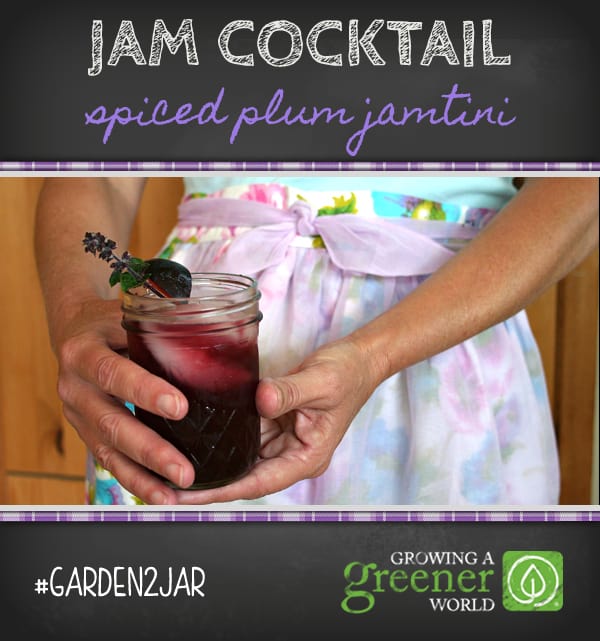 Right now in the Pacific Northwest the juicy Asian Plums are coming on strong and the fleshier, European types are right behind them. With three plum trees in my yard, I put up a lot of plum jam, plum chutney and plum sauce every year. This year, some of that plum jam is going into this amazing Spiced Plum Jamtini Cocktail Theresa developed.
Spiced Plum Jamtini – A Jam Cocktail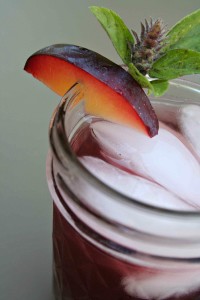 You Will Need:
6 whole cloves
1 oz. pomegranate-cherry juice
1 oz. simple syrup (see note)
2 oz. vodka
2 heaping spoonfuls plum jam
Ice
A ½ pint jam jar (as your serving glass)
Club soda
A slice of a plum as garnish (optional)
Basil blossom as garnish (optional)
Method
In a cocktail shaker, muddle the cloves. Add the juice, simple syrup, vodka, jam and some ice. Put the lid onto the shaker and shake. Shake some more! (You need to distribute the jam.)
Add some ice to a clean jam jar or small glass and strain in the cocktail. (Discard solids in the shaker.) Top off with a splash of club soda if you wish. Garnish with the plum slice and basil. Serve.
Note: Simple syrup is just a boiled solution made of equal parts water and sugar. It needs to be made ahead of time and allowed to cool before using. In a small saucepan, combine at least 1 cup water and 1 cup sugar. Bring to a boil to dissolve the sugar, stirring occasionally. Turn off the heat and let mixture cool completely before making cocktails.
Jamtini In Action
If you are more of a visual learner, you can watch Theresa's Jamtini creation method below. She's demonstrating with a Strawberry Jamtini.
Raise a Glass With Friends!
Tonight, invite your friends and neighbors over – raid the pantry and the liquor cabinet. Growing A Greener World has all the info you need to create your own Jamtini recipe (see: Easy Jam Cocktail Recipes).
Plus check out my friends-in-virtual-cocktailing for more great Jamtini ideas.
The Kitchn – sipping on a Lemon Raspberry Jamtini with lemon verbena and fresh raspberries.
Food in Jars – kicking back with a Blackberry Jamtini that captures the flavor of summer with a twist of lemonade.
Learn to Preserve – letting her hair down with a Pear/Pineapple Jamtini with a kick of fresh ginger.
Now it's your turn – join the party and share how you use your garden produce, herbs and preserves in refreshing drinks, without or without the booze. Everything from cocktails to teas, shrubs, juices and more make refreshing fresh-from-the-garden libations. What's your favorite?
1