So, my last post was about making ice cream and then I got busy and haven't posted in a week and now I'm back with a post about sorbet. This is not what I'd call a blogging win, because clearly I am obsessed with homemade frozen desserts. You can't really blame me – it's 85 degrees outside in Seattle, which is the extreme upper limit of what we mossbacks consider an acceptable temperature range. So, fresh blackberry sorbet it is.
This sorbet was inspired by a beautiful harvest of Triple Crown Thornless blackberries. I planted this cultivated blackberry last year, so this is the first year we are harvesting from it. I am blown away at how awesome this plant is. I have none nothing except whack at the canes with my Felcos a little bit, and it's putting out big clusters of huge fruits that are very sweet and very easy to harvest (did I mention this blackberry is thornless!)
Big berries. I mean really, really big.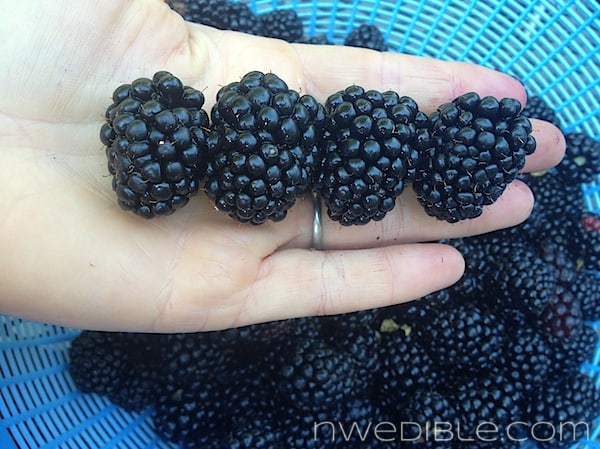 Fresh Blackberry Sorbet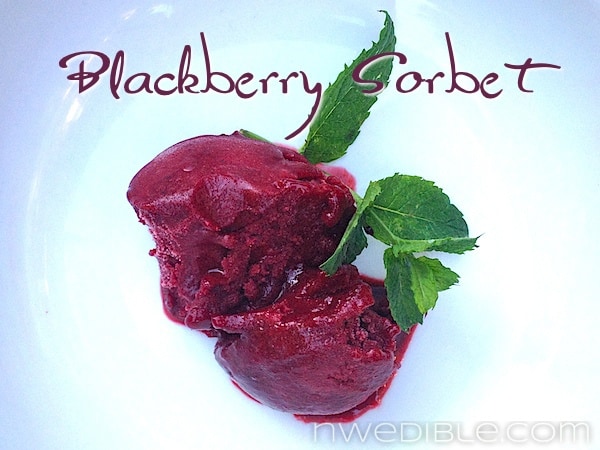 Ingredients
2 lbs fresh, ripe blackberries
½ cup organic sugar
½ cup water
2-3 small sprigs mint, lemon verbena, Thai basil or other blackberry-compatible herb. (Optional, but I like a subtle herbal quality with berries.)
¼ cup lemon juice
¼ cup Cointreau
Method:
Rinse and dry blackberries gently.
Boil sugar, water and mint together until sugar is fully dissolved. You should have about 3/4 cup simple syrup when you are done. Strain syrup and chill completely. The simple syrup can be made up to several days ahead of time and kept refrigerated.
Puree blackberries, mint simple syrup, lemon juice and Cointreau together in a food processor until very smooth.
If desired, strain seeds from blackberry puree by working mixture through a fine mesh strainer.
Chill blackberry puree for 1-2 hours
Process in an ice cream maker according to manufacturer's directions.
For a firmer sorbet, transfer to a freezer safe container with a tight fitting lid and freeze for several hours.
For The Visual Folks:
I washed the berries and assembled the rest of the ingredients: mint simple syrup, lemon juice and Cointreau.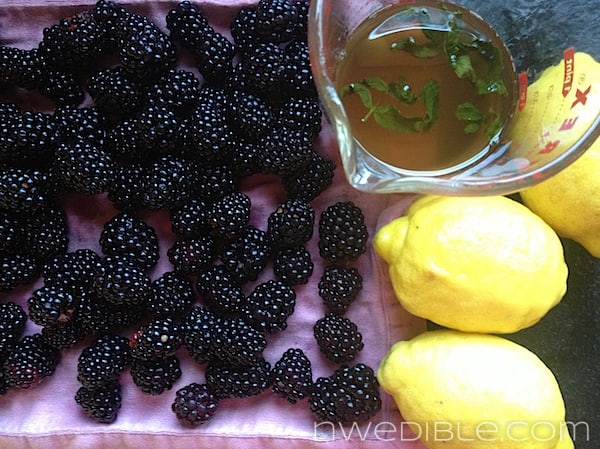 The ingredients were pureed in a food processor fitted with the metal S-blade until smooth, and then strained to remove seeds.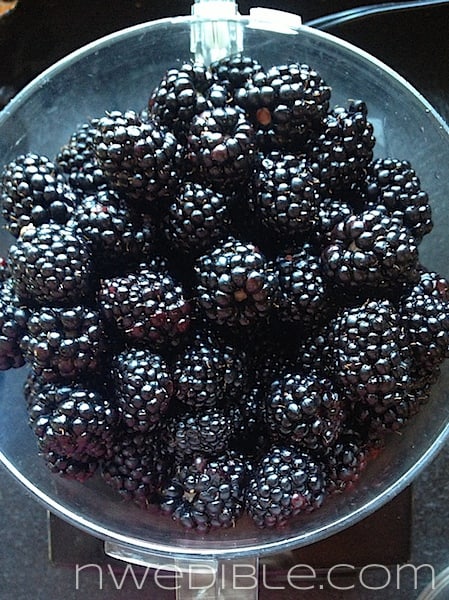 I recommend using a fine mesh strainer and a small ladle to get all the good juicy bits of the sorbet base out whilst leaving the seeds behind.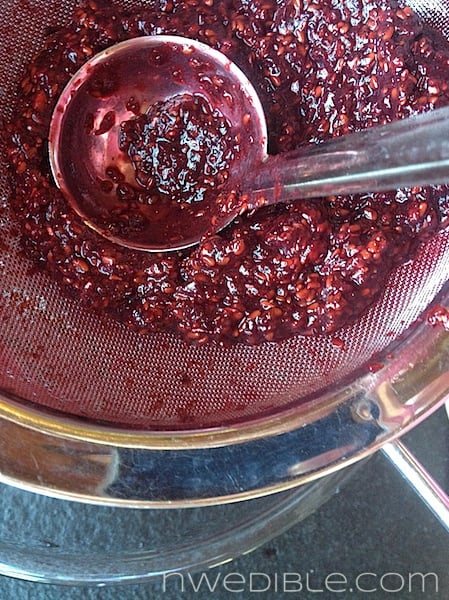 I chilled the sorbet mixture for an hour or so, then poured it into my ice cream maker.
I used to use the KitchenAid Ice Cream Maker Attachment for my stand mixer, but it started leaking blue coolant all over everything – even into my ice cream! I'll admit this put the breaks on my ice cream obsession temporarily, but now I am the proud owner of a rather awesome new Cuisinart 2-Quart ice cream maker. Back in business! Yeah!
The sorbet finished in the ice cream maker with a rather soft-serve texture, so I transferred it to a glass container and popped it in the freezer to firm up until after dinner time.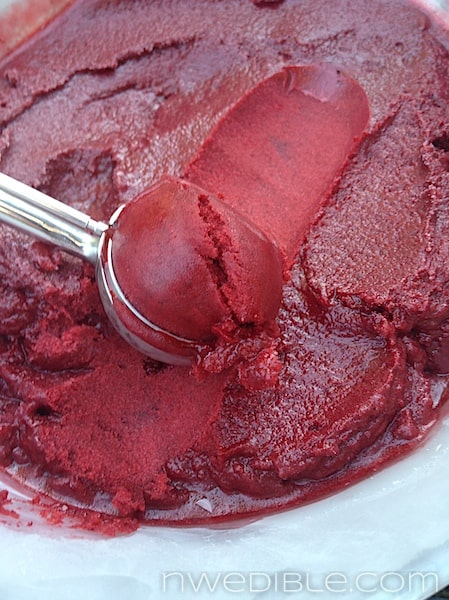 My daughter wasn't sure if she wanted the blackberry sorbet or the ginger peach jam ice cream or the fresh picked blueberries. The nice thing about August is, you don't actually have to pick.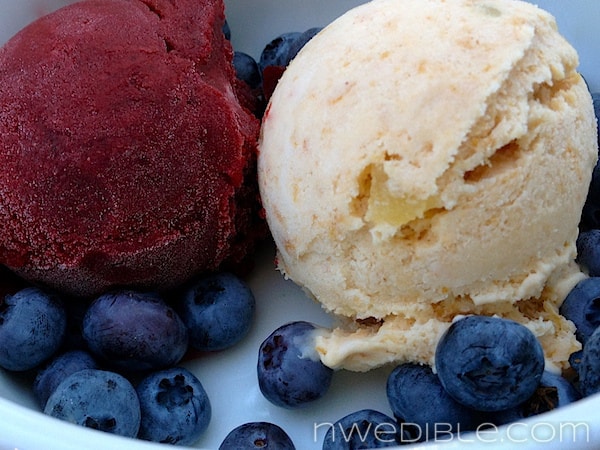 Note: I liked the sweetness of this sorbet just fine, but I was using dead ripe, cultivated berries. If you make this recipe with wild or more sweet-tart berries, you may need to adjust the sugar level up a bit.
2