Is the exciting bounty of the season slipping into a dull pounding of obligation? Perhaps your calves and your neck are tired from days of standing at a cutting board, a dehydrator, a canning kettle.
Are you are starting to give the side-eye to the zucchini and the cucumbers? What insanity possessed you to plant 8 hills of zucchini for a family of four, anyway? And why did your kid pick this week to declare they hated pickles?
Perhaps you are questioning this whole, damned endeavor. Maybe you're starting to remember how your grandma never actually ever sat down from July through October. Is the gingham-marketed joy of the grow-your-own, preserve-your-own, cook-your-own life starting to look a bit more like a self-made hell, than the modern road to freedom?
Look, my friend, I've been there. You're trying to keep the garden alive and productive through the heat, and keep the canning kettle rolling despite it. You're trying to transplant out the fall crops as you bring the summer harvest in.
As a matter of principle you can't stand to see a single raspberry or cherry tomato go to waste. And in the middle of this, something cultural nags at you that you should just try to relax, ok? 'Cause it's summer!
They didn't tell you, when you signed up for this, when you first read Radical Homemaker, that this part would be such a grind.
In the words of Harriet Fasenfest, you are both the farmer and the farmer's wife now. When the sheer thrill of that DIY jam lets go, you're left with a simple truth: what you started with passion has become obligation.
It happens. Every year, it happens. This is the crush of the harvest.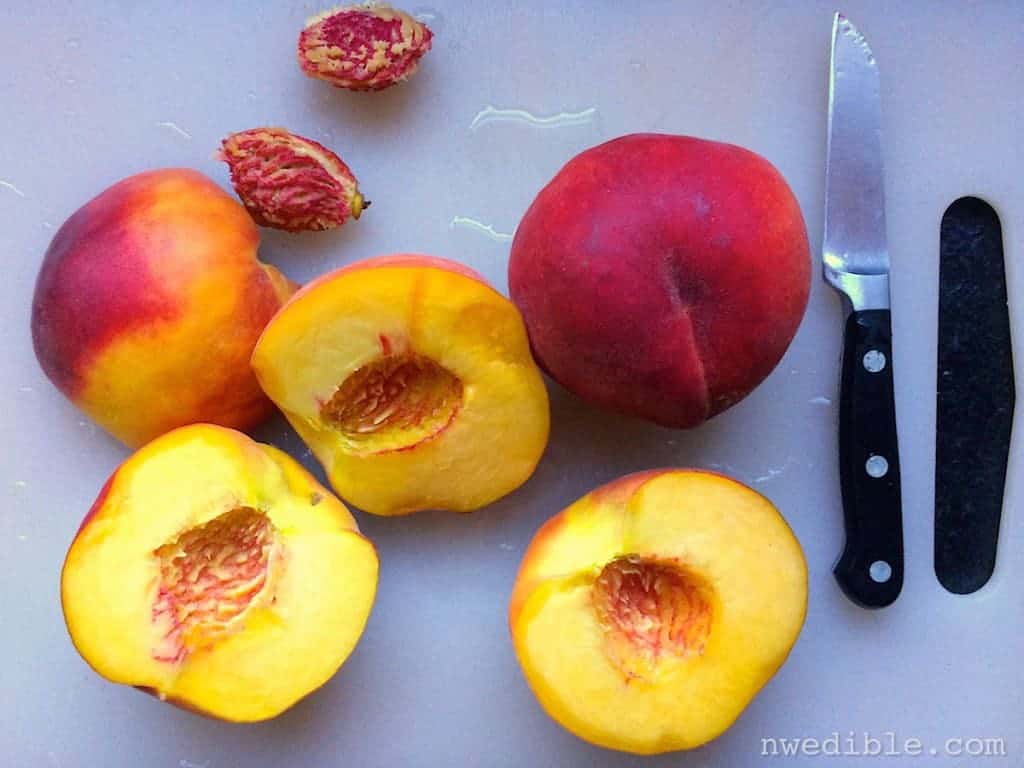 This feeling that stalks up on you, that you might be living on the razor's edge of food chaos – this is totally normal. Stacks of produce on the counters, multiple dehydrators spread across a few rooms, a mad dash out to get more mason jar lids or distilled vinegar – all normal.
Here's the bad news, my friend: you're not done yet. We need to get through these peaches, nectarines, tomatoes, peppers, corn, blackberries, beans, cucumbers, zucchini and figs.
Here's the good news: this brief, overwhelming bounty is fleeting. As much as it feels right now like it may never end, the end is terribly close. I can see it, just over the border in September. Just a couple more weeks.
Once we get through the highly perishable produce of late summer and early fall, we will breathe again. We won't be done, but the din will be. More slowly, we will dry prune plums, tuck winter pears into boxes, sauce apples, cure winter squash, ferment cabbage. These things will keep. They will wait for some lazy, cool fall day when a little food preservation project feels like a charming vacation after the crunch you're feeling now.
Sometime around mid-October, your feet will have recovered. You'll throw open your cupboard and row after row of home-canned food will greet you.
Blackberry syrup from gleaned berries will top whole wheat waffles. Your kids will snack on fruit you dried. Relish you made will top burgers, salsa you canned will be dolloped onto black beans. You'll wonder what's for dinner and find an easy solution in your pantry.
You will – and I'm quite sure of this – break into a smile at the sight of the larder you stocked for your family. You won't exactly forget what it took to get that food into those jars, but the pain will shift, change into something like pride, as you use the long-term value you've created.
When that happens, you're screwed. At that moment, there's no turning back. Your Natal Chart is cast – more canned tomatoes, more dried peaches, more jars of pesto – this is your ordained future.
You might even start jotting down reminders for next year:
"October – already out of raspberry jam."
"Note – crushed tomatoes just as good as whole peeled."
"Pickled carrots a hit with kids! Ferment more in 2016!"
"Dry more peaches! Dry more pears! Perfect school lunch snack!"
After a few years of this annual roller-coaster, you will find your stride. It's not that the huge push of late summer preservation gets easy, exactly, but you begin to appreciate how incredible it is that a few weeks of extra effort once a year sets you up for a year of homemade deliciousness. There may even come a point when you begin to look forward to the rise and fall of the food preservation calendar.
I know I do.
Now, if you'll excuse me, these tomatoes aren't drying themselves.
3