I haven't been posting much lately. I have all kinds of things I want to share with you, but with summer in full swing I'm prioritizing kid-time and project-doing. Speaking of projects…as I was walking around my kitchen a few days ago, I had to laugh. It was such a perfect snapshot of the total wonderful insanity that our home becomes at this time of year.
I figured you guys might want to play nosy neighbor and see what's cookin' in my kitchen right now. So here – I swear it – are a series of unstaged photos taken over the course of about an hour. I think they pretty much capture what I've been up to.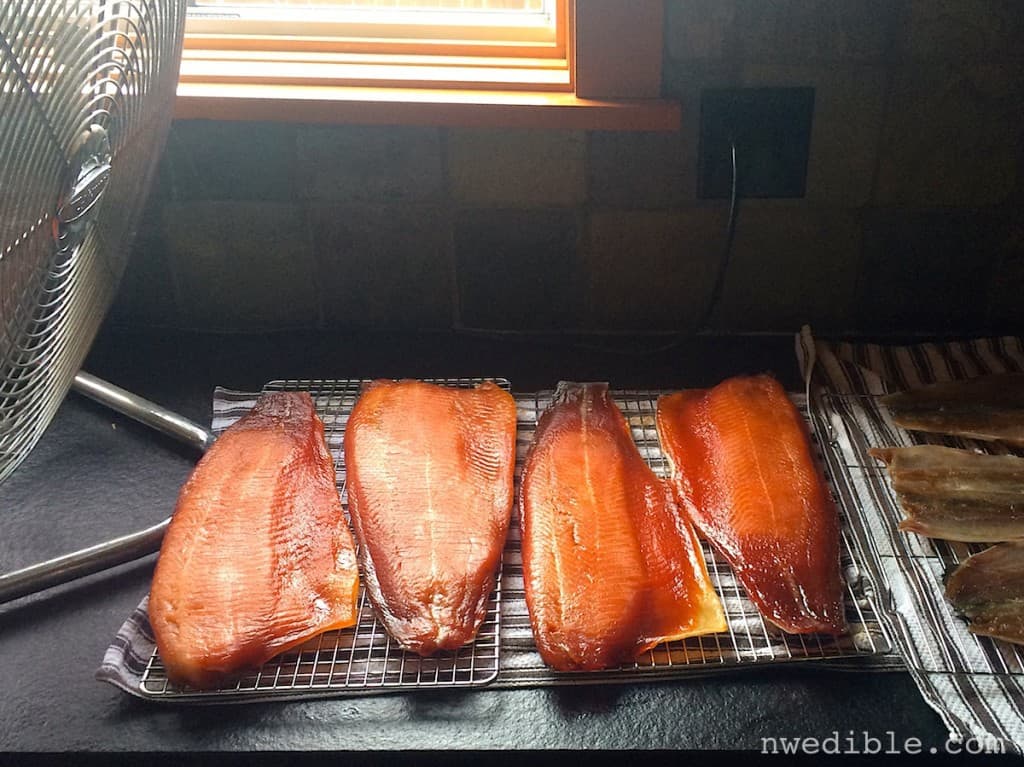 Smoked Copper River sockeye salmon in progress. These whole filets were cured in a mix of salt, sugar and five spice powder. Here I've got them set up with a fan blowing on them to form a pellicle before I move them into my smoker and finish them over applewood.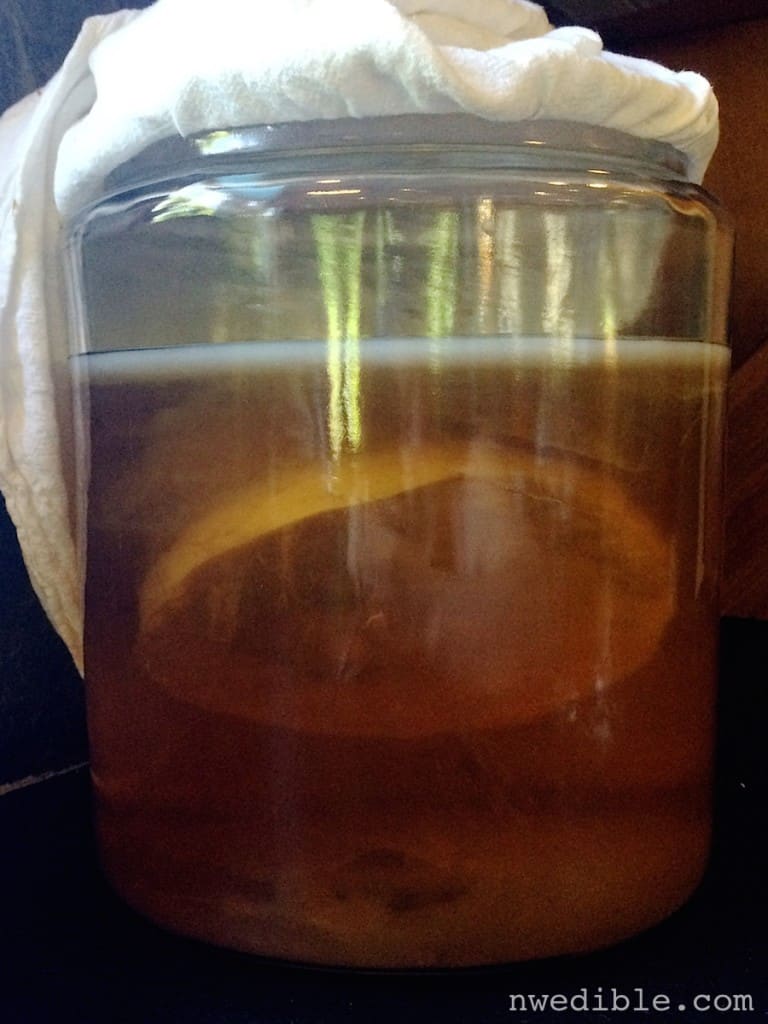 Right next door to the salmon station is my huge jar of kombucha. It looks like I'm preserving a creepy jellyfish for science. I let my kombucha lightly ferment then pull some off and bottle it for the kids. The stuff I drink just keeps going until it tastes like vinegar, then I add more sugared tea to the jar.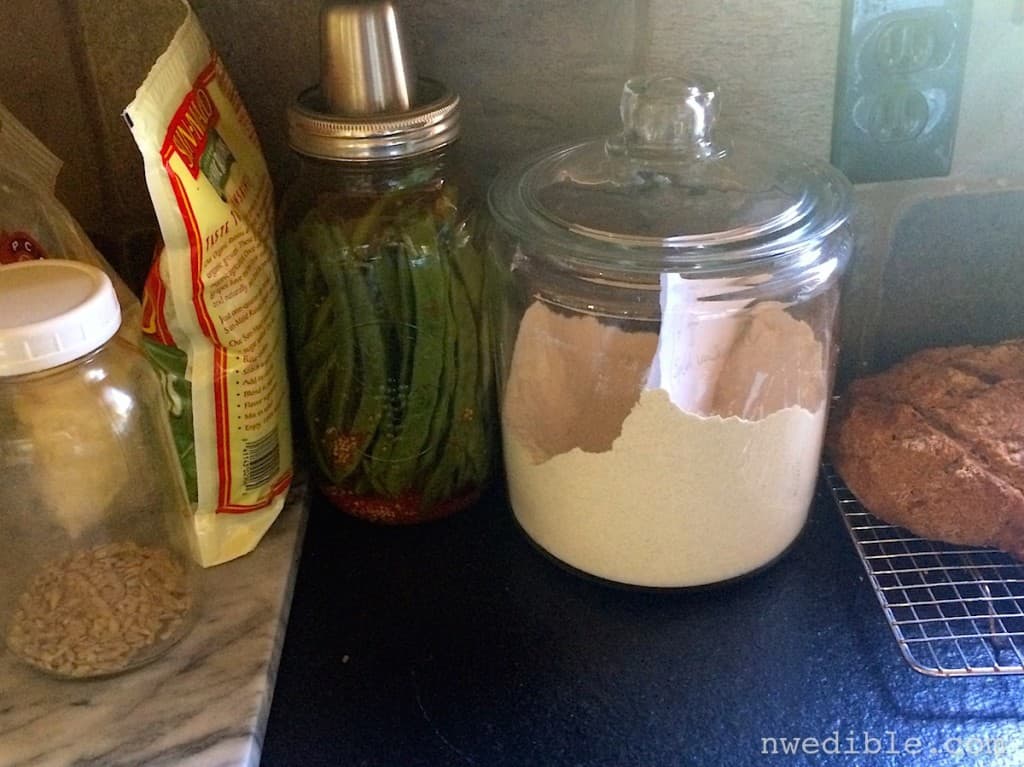 Shoved off to one side there's a bunch of projects in mid-flight. From right to left: coconut flakes, raisins and sunflower seeds pulled out of the pantry to make granola; a half-gallon jar of lacto-fermenting romano green beans; my jar of DIY waffle mix, which has been a godsend over the summer since it makes super fun waffles almost as easy as scrambled eggs; a hunk of bread from an experiment in making bread with wild yeasts (still working on that).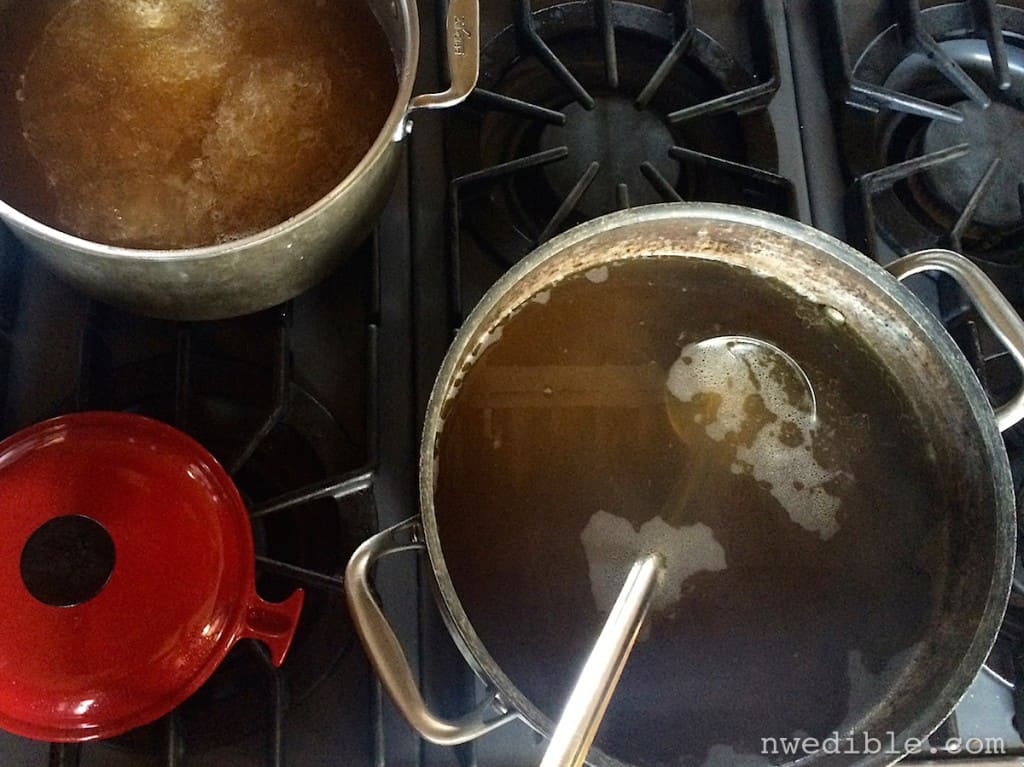 On the stove I have the end bits and trimmings of meat being rendered for tallow in the small red pot, homemade apple cider that aged past it's prime reducing for syrup (top left) and duck stock I'm simmering down before freezing or canning.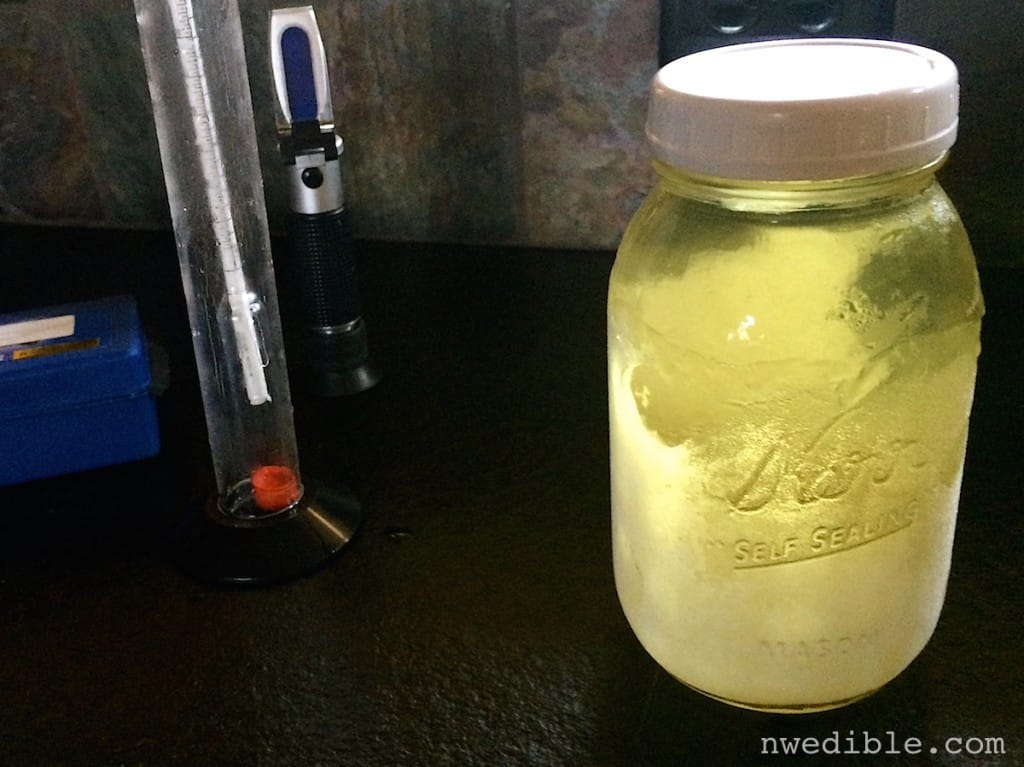 This is, shockingly, not a jar of frozen pee. That's one of my jars of limoncello, before sweetening. We pulled it out from the freezer to test the final alcohol content. That's why the hydrometer and refractometer are sitting there in the background, looking like props from a safehouse in Underworld.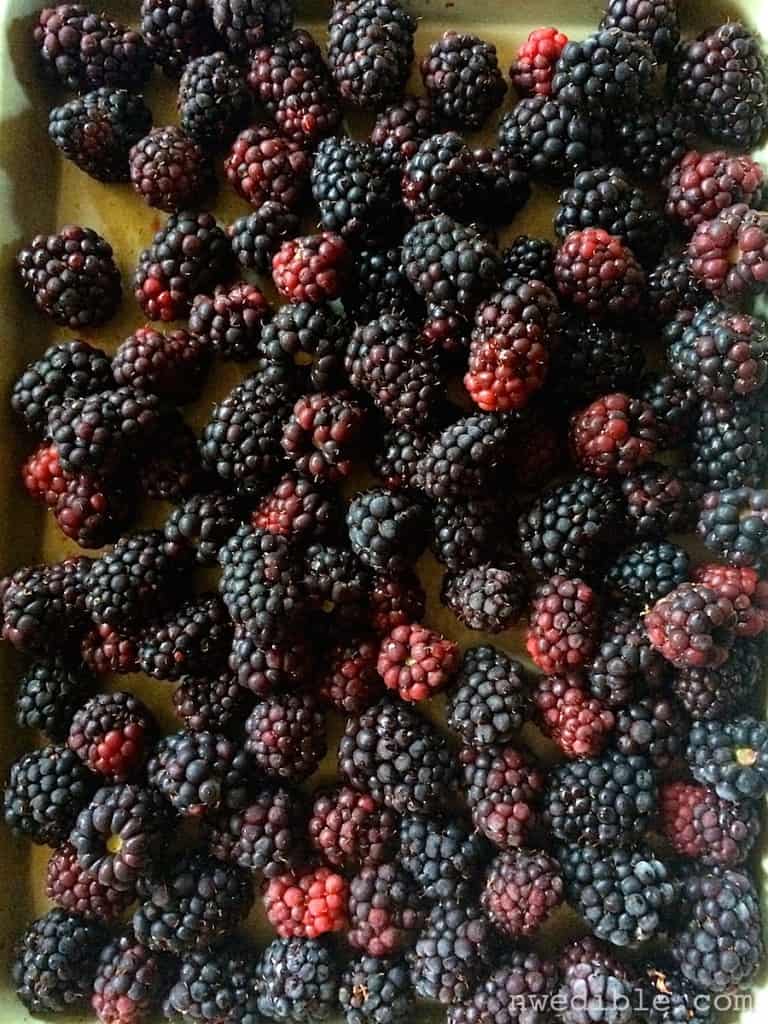 A decent harvest of awesome and huge Triple Crown blackberries proved too much to eat fresh, so I popped the remaining berries in the freezer.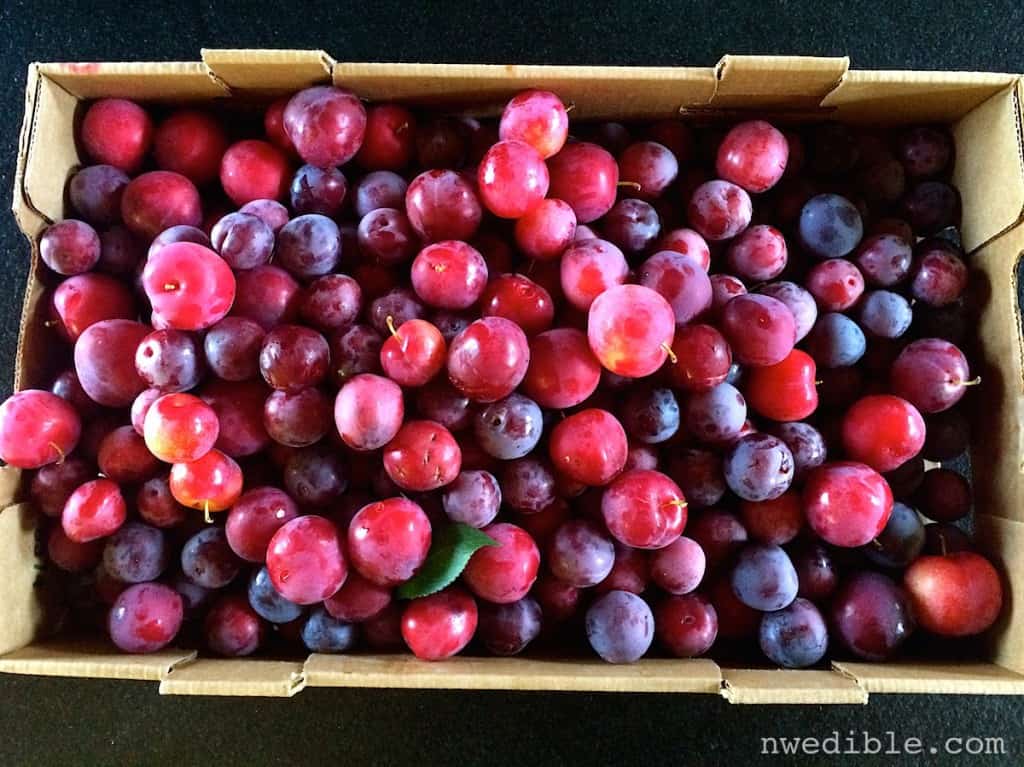 This summer has been the summer of plums. Here, I'm dealing with yet more of 'em. My Asian plum tree has been insane this year, and it's all I can do to keep up. That box had about 15 pounds of plum in it, all far too ripe to keep for more than a few hours.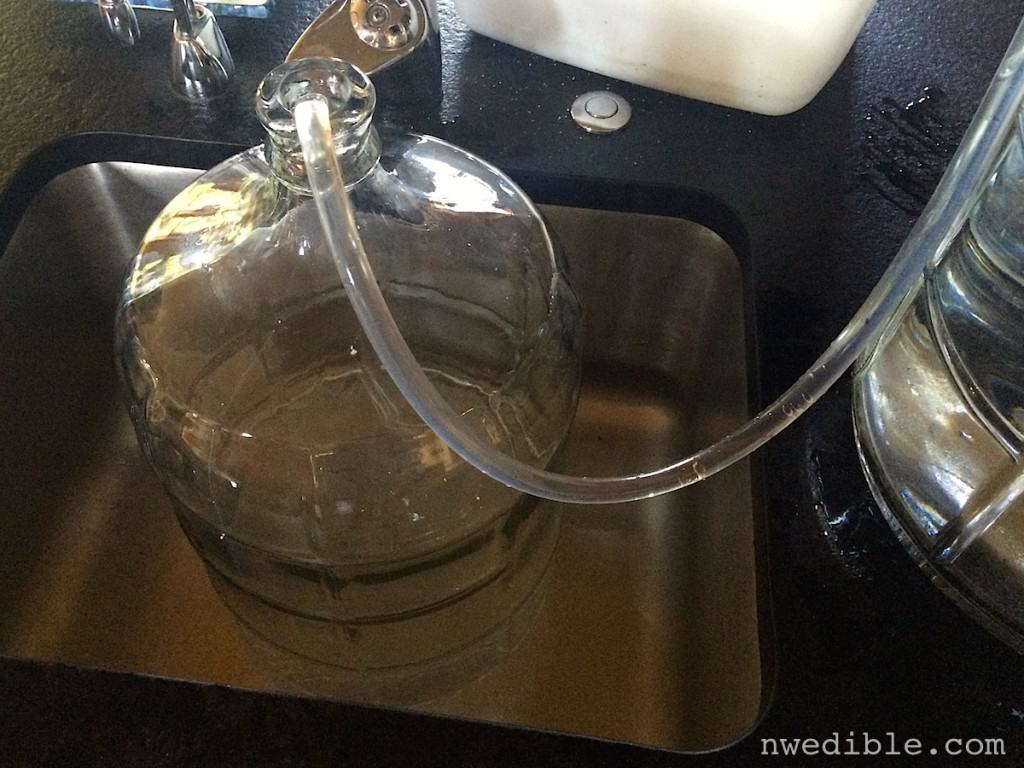 Which is why Homebrew Husband was, as I snapped all these photos, sanitizing carboys. All our hooch had to move one step along, to make room for those plums. So, the IPA in secondary had to move to the kegging system. The session ale in primary had to go into secondary. The first batch of plum wine had to go from open vat ferment to primary. The new plums had to be crushed and mixed with honey and water, to begin the first step of  fermentation on their way to what will hopefully be a lovely plum honey cider.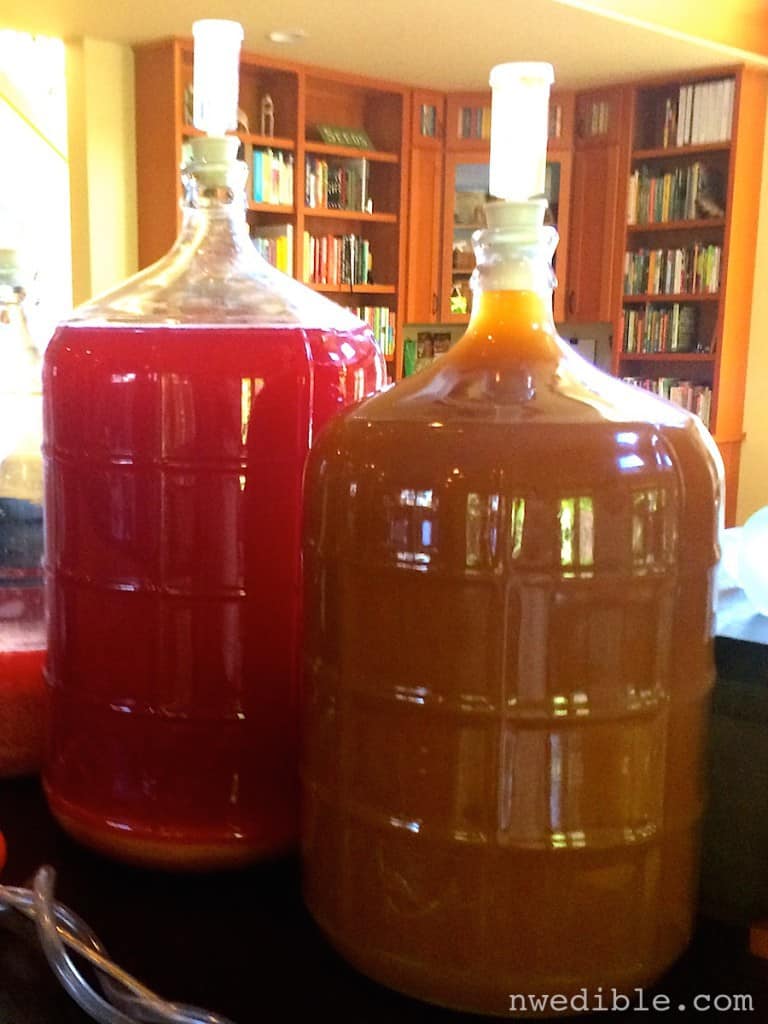 A bit later, after the great booze shuffle, here's the plum wine on the left and the session ale on the right.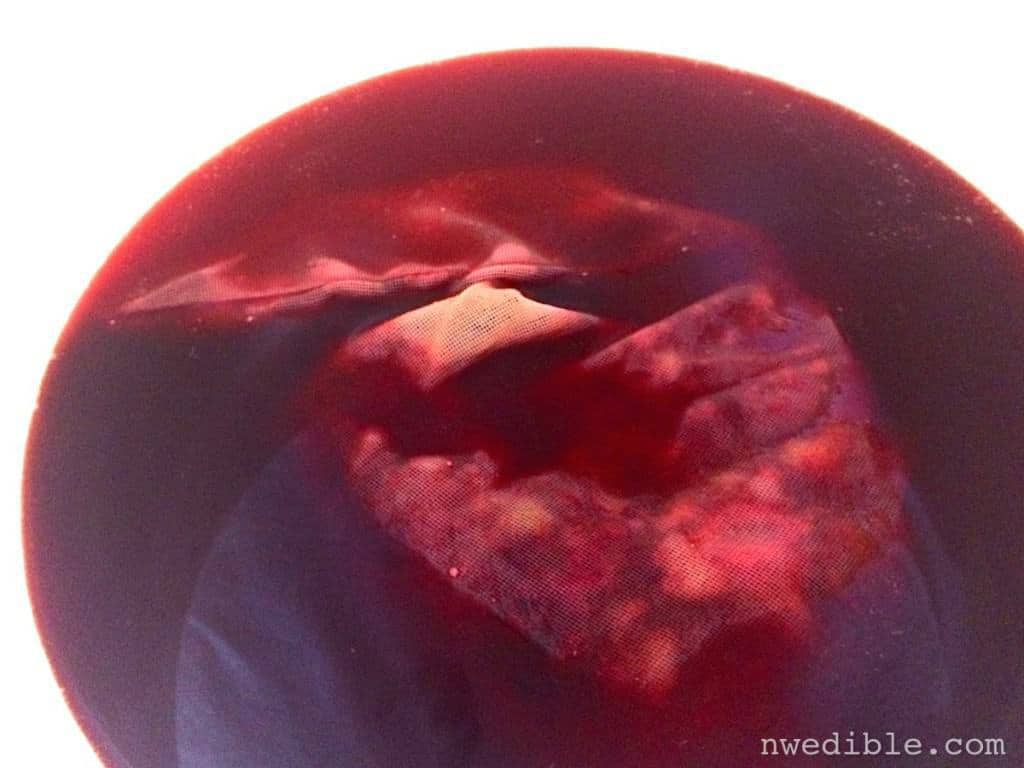 And this photo is the crushed plums, honey, and water in the vat for initial fermentation. I know, it looks like a horrible placenta birthing scene. Sorry about that.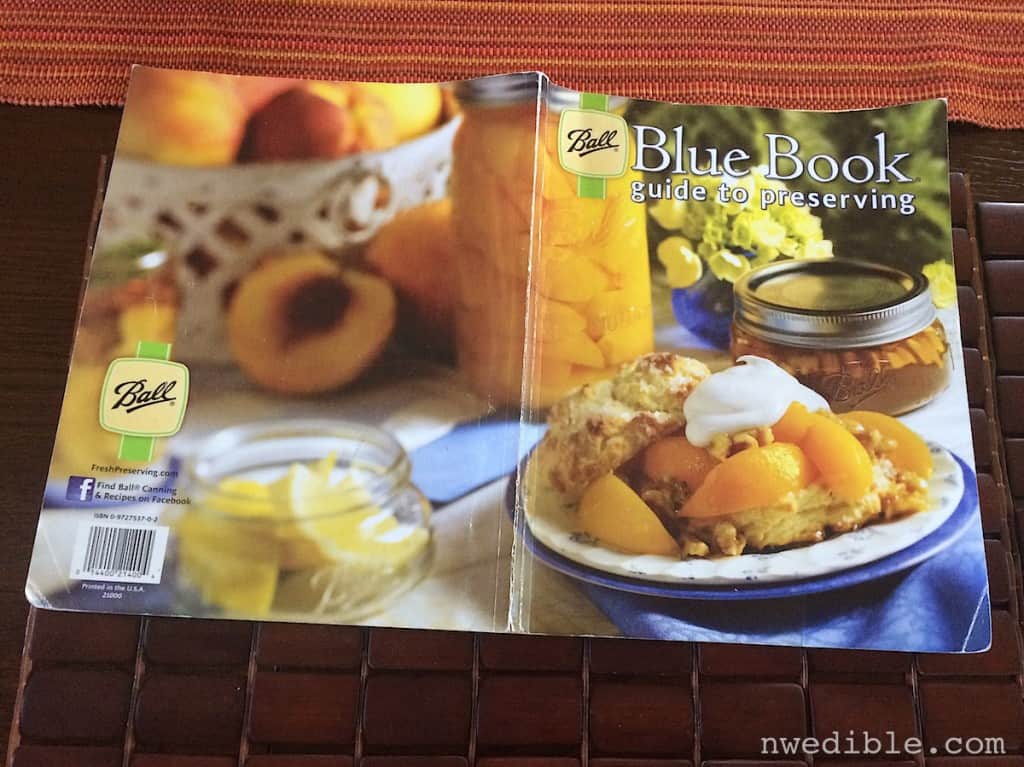 Our dining room table sits right next to the kitchen. Apparently I had to check something, because the canning book every single canner should own was sitting over there as if daring me to take on another project.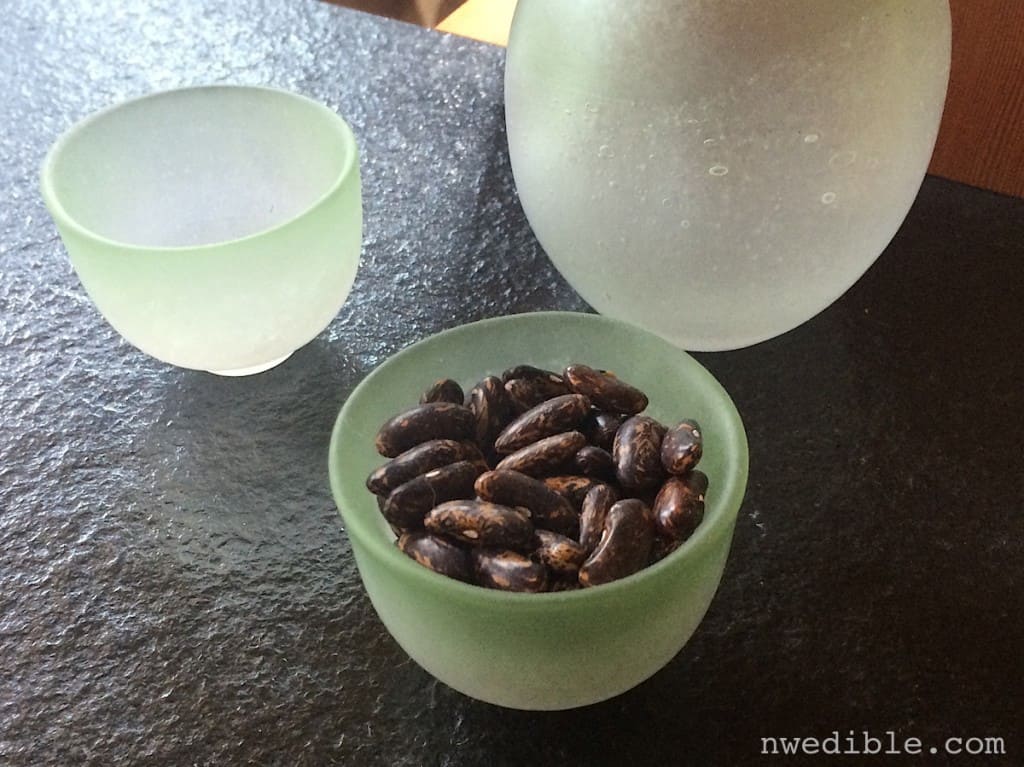 On the counter that separates the kitchen from the living room, I have this set of sake cups, given to me by a friend ages ago. I love these as decorative items, so they sit out where I can appreciate them. A few months ago, my neighbor passed on some heirloom bush beans that have been in her family for generations. I planted half the beans to trial them, but saved the other half. After planting the first half, I just sort of plopped the remainder into this sake cup, where they've been sitting for a couple months.
The beans, by the way, are incredible – like a bright green French filet bean marked with light purple-brown stripes. Very tender and prolific. They also remind me that it's time to get out and start planting again.
But garden projects will keep for one more day. Those plums won't.
What summer preserving fun are you having?
2