When the Washington State Fruit Commission asked if I would be a 2015 Canbassador for preserving local, sweet, amazing Washington-grown fruit I lept at the opportunity. You see, as a local Washingtonian, I already believe the fruit being grown by our orchardists throughout the state is the best in the country.
This isn't just hometown pride talking. Washington is the largest producer in the country for apples, sweet cherries, red raspberries and pears. We're number two in grapes, number three in blueberries and number six in peaches (but just give us time, California – we're coming for you).
If you drink beer – thank a Washington farmer, because the Yakima Valley grows 80% of all the hops in the country. If you prefer mojitos, chew gum, or just like to tinker with essential oils, Washington state farmers probably deserve your respect, too, since they also grow mint than anyone else. 79% of the all U.S. spearmint oil comes from Washington.
Canning Cherry Chutney
But let's get back to sweet cherries. (We're number one! Whoo! We are the cherry champions! Okay, sorry. I'm really done now.) When 18 pounds of these dark, sweet beauties arrived on my doorstep, I knew I wanted to do something that danced between sweet and savory.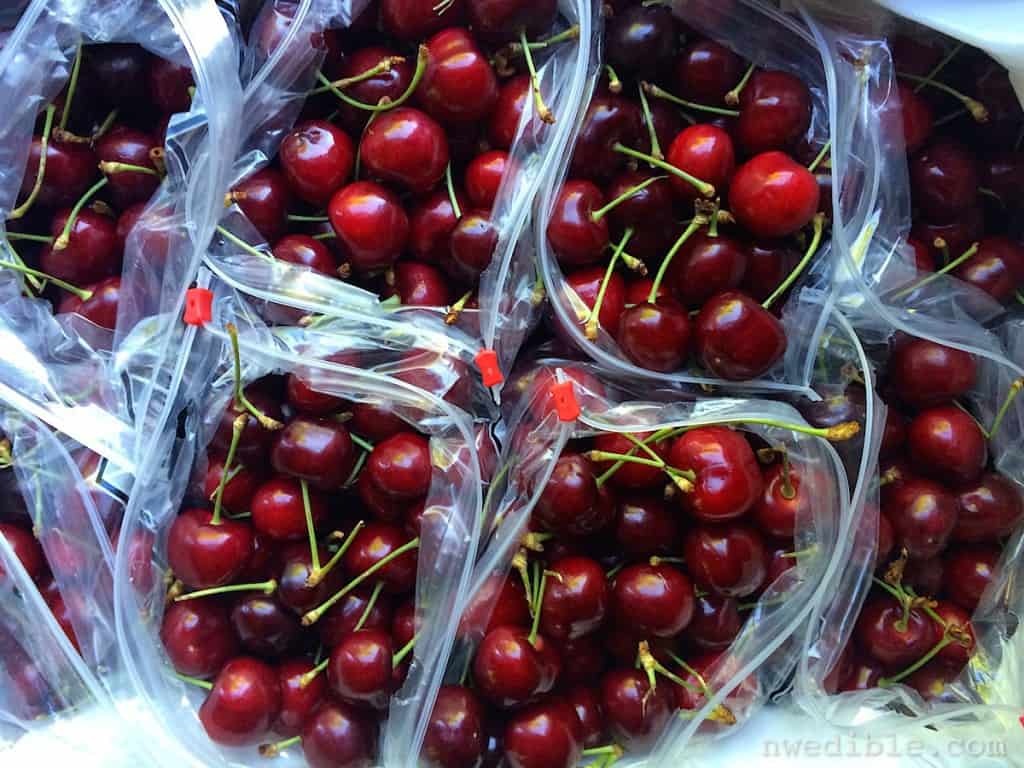 I wanted a sauce that I could pull out and pair with a simple grilled pork chop in early fall, or add to a plate of goat cheese or brie around the holidays. I wanted something like a chutney.
I started with an established recipe from the Ball Blue Book and then tweaked sweetness and spice to get the flavor I was looking for.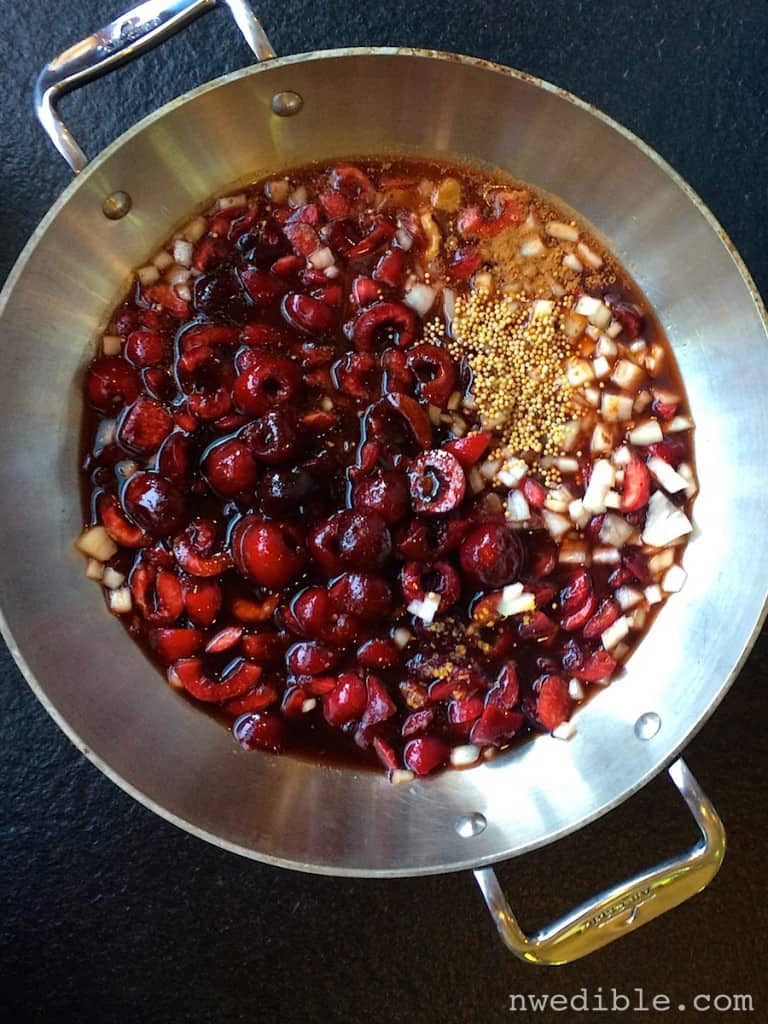 This chutney itself is very simple – just pit the cherries (this cherry pitter is why I don't go crazy during cherry season) then chop, measure, combine and simmer.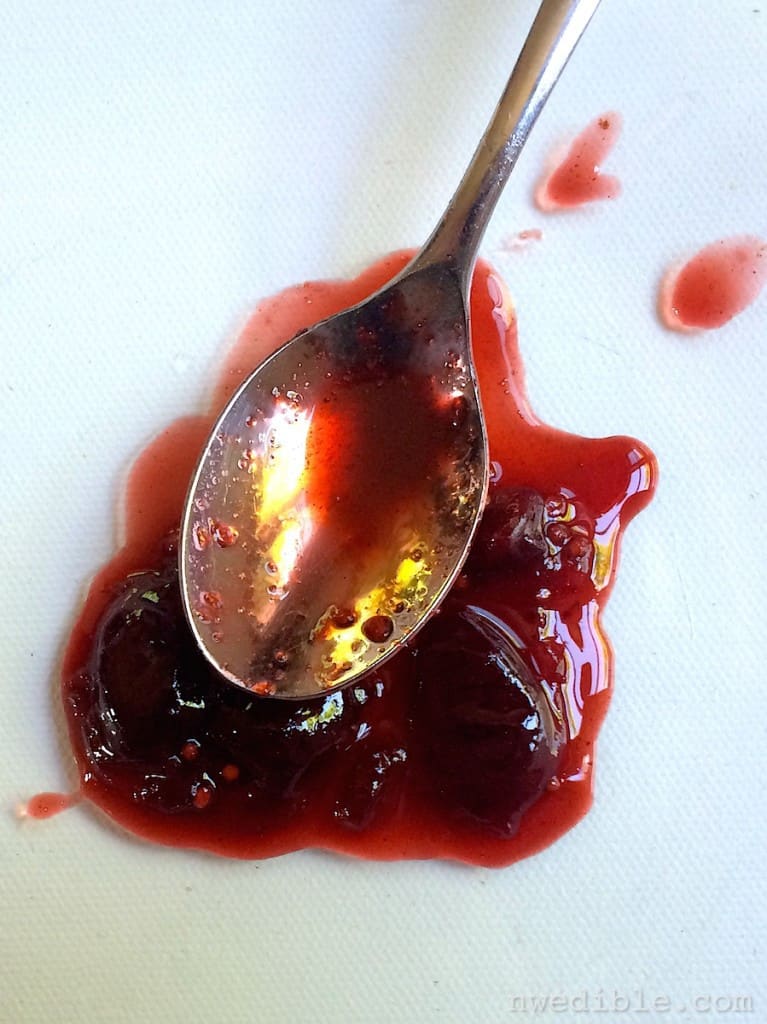 After 15 or 20 minutes of simmering, the chutney will get thick and glossy. You can test the texture by spooning a bit of the chutney on to a plate. It should be soft, but not runny.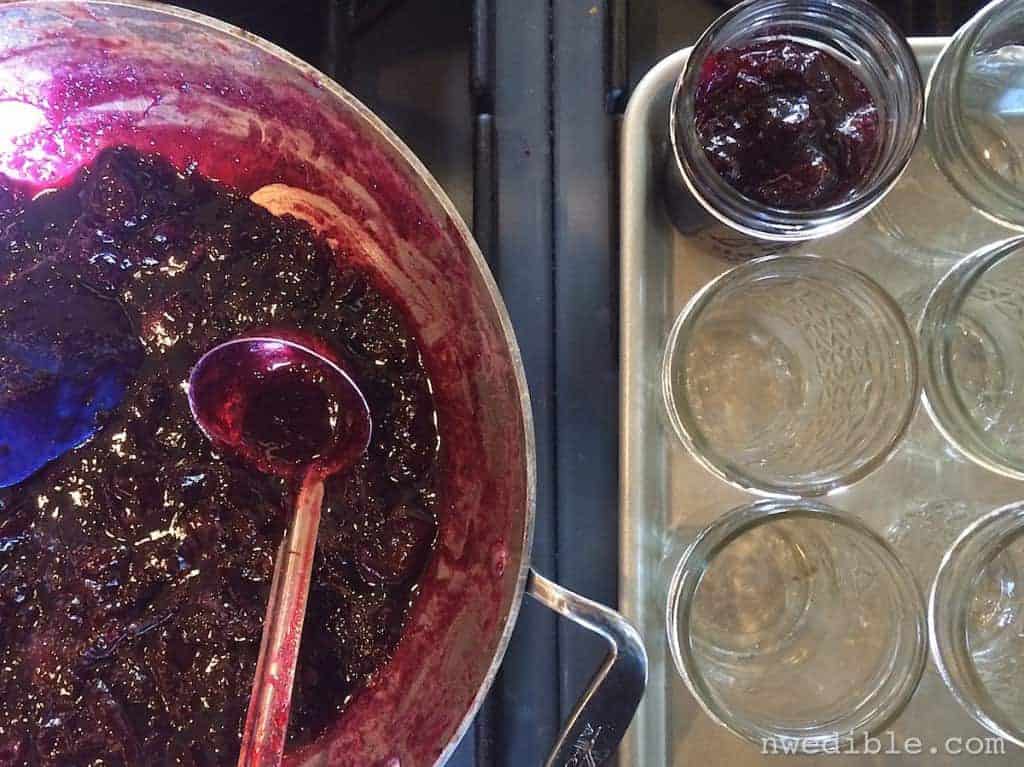 For powerfully flavored or specialty sauces like this, I like canning in small jars. I have become a huge fan of the little 4-oz jelly jars. They are just the right size for something like this chutney, but half-pints will work well too. This small batch recipe will fill 5 or 6 4-oz jars, or about 3 half-pints, depending on how juicy your cherries are and how much you reduce your chutney.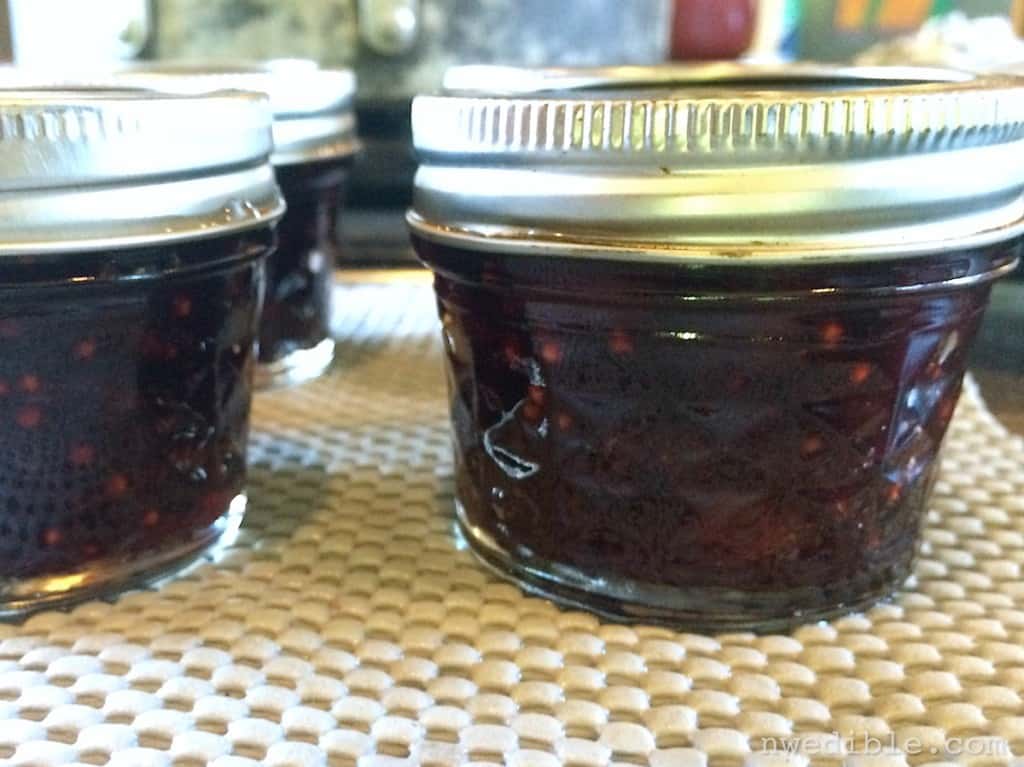 This sweet cherry chutney performed exactly as I hoped it would on the plate. When I served a few slices of pork tenderloin from my friends at Adalyn Farms, the cherry chutney enhanced the meat beautifully.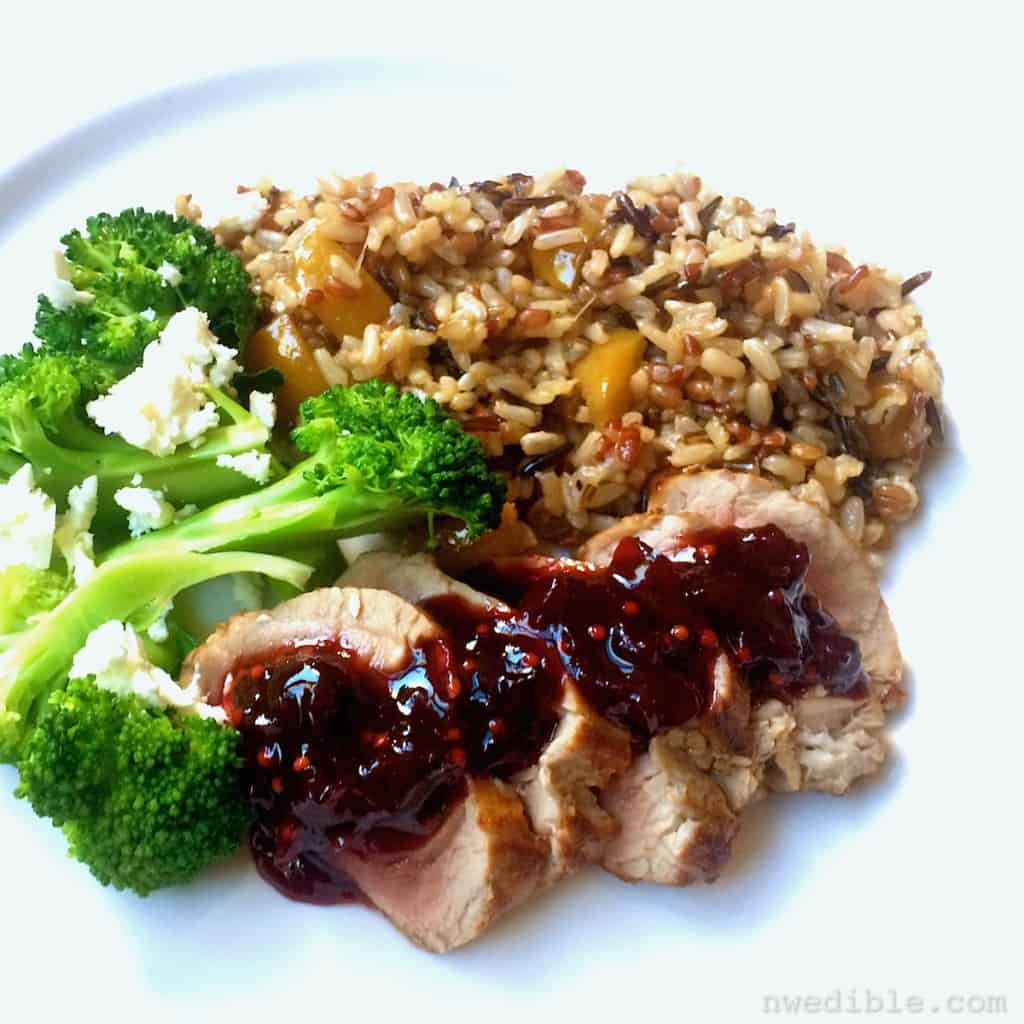 With creamy goat or blue cheese and some rustic bread it was a winner, too. And if you like the cheese-and-chutney combo, I imagine an old-school baked brie round topped with this chutney would be pretty much the best thing ever.

Printable Small Batch Cherry Chutney Recipe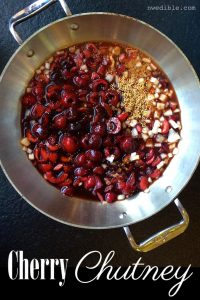 Print
Dark Cherry Chutney
A versatile sweet and savory cherry sauce for pork, chicken, duck or fish. Add to a cheese plate, mix into a grain pilaf or use as a glaze for roasted onions.
Ingredients
4 cups pitted, chopped sweet, dark cherries such as Bing
1 tsp fine sea salt
3/4 cup lightly packed brown sugar
1/2 cup apple cider vinegar
1/4 cup balsamic vinegar
3/8 cup freshly squeezed lime juice
1/2 cup finely diced onion
1 clove garlic, minced
2 tbsp Worcestershire sauce
1 tbsp yellow mustard seed
1 tsp dried powdered ginger
1/8 tsp ground cinnamon
1/8 tsp ground clove
1/8 tsp chipotle chili powder or other ground hot pepper
Instructions
If this is your first time canning, familiarize yourself with the process by reading this.
Prepare your jars, lids, canning kettle and tools for waterbath canning.
Combine all chutney ingredients in a large, wide, non-reactive pan. Bring mixture to a boil over medium-high heat. Stir frequently and cook until onions are translucent and chutney thickens, about 20 minutes.
Turn heat under the chutney to low, then ladle the chutney into hot jars, leaving a 1/2-inch headspace. Remove air bubbles, adjust head space and wipe jar rims carefully. Lid your jars according to manufacturer's directions, then transfer your jars to the canning kettle. Process ten minutes in a boiling water bath canner.
Turn off heat under canning kettle and let jars sit in the hot water for 5 minutes. Set a kitchen towel on the counter in a draft free place, and remove jars to the towel.
Jars should begin sealing almost immediately - you'll hear a sharp ping! as they seal. Leave jars alone for 8 to 12 hours to fully cool and set their seals, then check seals. Transfer any jar that hasn't sealed to the refrigerator and use it within 2 weeks. Store remaining jars at cool room temperature away from direct light. Chutney is best used within a year.
Courses Water Bath Canning: Sauce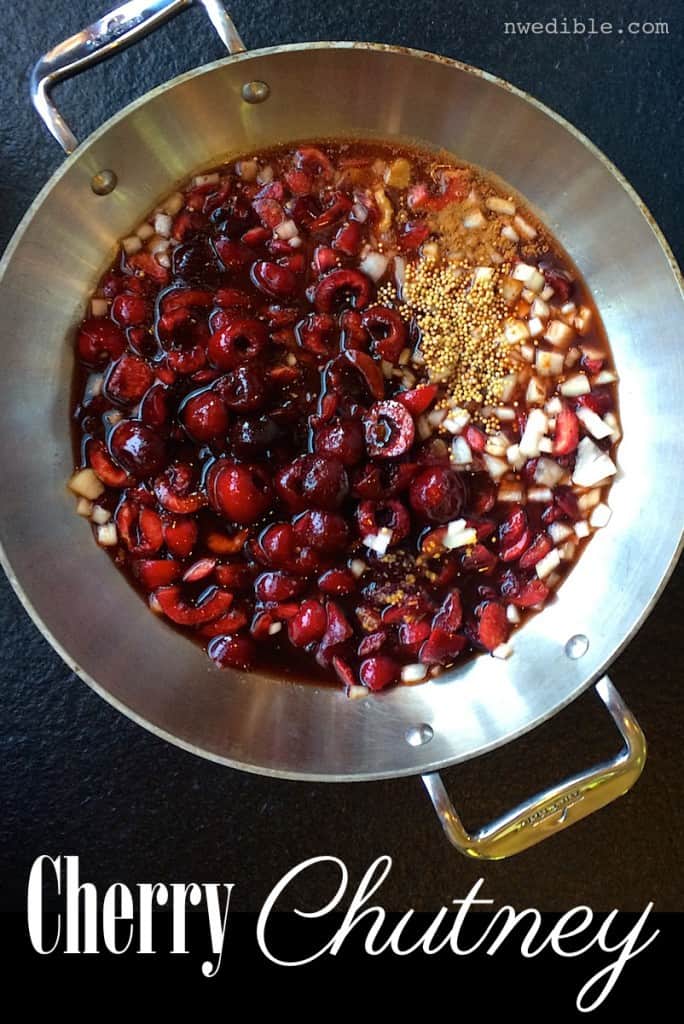 48