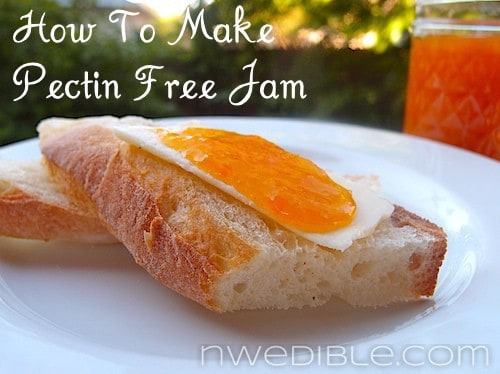 Do you need pectin to make jam? I used to think so.
I followed the recipe on the inside of the pectin box slavishly for 7 years before I broke free of the pectin bonds. Every year, my strawberry jam tasted exactly like the strawberry jam of everyone else who wore the Sure-Jell shackles. The jam was never bad, but it was never really mine, either.
Before, jam making was about following rigorous and strict recipes, adding in a ton of sugar to "ensure a good set," skimming diligently to remove foam and crossing my fingers while timing that one minute of "hard rolling boil" down to the second. That's what was required by the pectin box master and I was terrified to change a thing lest I ruin an entire batch of jam.
Now, I'm a liberated pectin-free jam maker, and I'd never go back.
When I make preserves now, I work with my fruit, tasting and adjusting things like sugar and spice based on fruit ripeness and variety and juiciness and what sounds good. I reduce water out of my preserves to get the consistency and depth of flavor I'm looking for. I reduce sugar levels down to one-forth or less of typical levels and still produce a preserve that is full of sweetness and sunshine. My jams, each and every batch, are creative and unique.
The only things I slavishly adhere to now are sanitation and processing standards, and acidity levels, which ensures that while I'm having fun and getting to be creative jam-girl, I'm also producing a product that is faultlessly and impeccably safe for my family and friends to enjoy.
Here's how I make high-acid fruit preserves. All photos in this series are from a batch of Apricot Jam with Lime, Ginger and Tequila that turned out so good I said, "Sweet baby Jesus!" upon tasting it. Except I pronounced it "Jesús" in the Spanish way. You know, in honor of the tequila.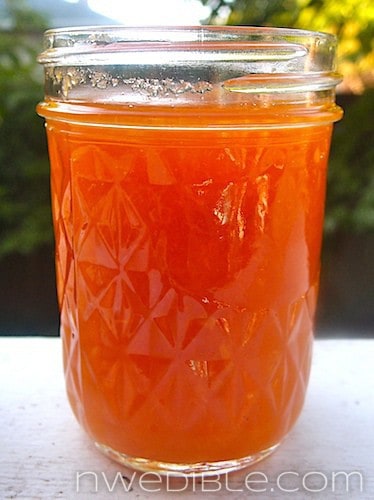 As I mentioned in yesterday's post, I think of the flavorants I add to my preserves as either "Dry Zing" or "Wet Zing" because they add that zing of flavor I'm looking for and they are either dry (herbs and spices) or wet (boozes, extracts, vinegars, etc.). If you missed it yesterday, you can download a Flavor Maker Chart of Wet and Dry Zing suggestions for all the fruits I typically jam on the Downloadables page.
Basic Pectin Free Preserve Formula
makes about 4 half-pint jars of preserve
2 pounds washed and appropriately prepared fruit (Peel, seed, chop, etc. Weigh after preparing.)
4 to 8 oz (a gently rounded ½ to 1 cup) organic sugar
1 tablespoon freshly squeezed lemon or lime juice
¼ teaspoon Dry Zing (optional, see Flavor Maker Chart for suggestions)
1 tablespoon Wet Zing (optional, see Flavor Maker Chart for suggestions)
Method
For every 2 pounds of prepared fruit, add 4 oz. sugar (a gently rounded half-cup is 4 oz.) and combine in a large bowl. Scale as necessary; I usually do 6 pounds fruit and 12 oz. sugar, which gets me about 10-12 half-pint jars of jam, depending on how much I reduce the jam. Cover fruit-sugar mixture and transfer to the refrigerator to macerate. Let sit overnight, or up to 24 hours.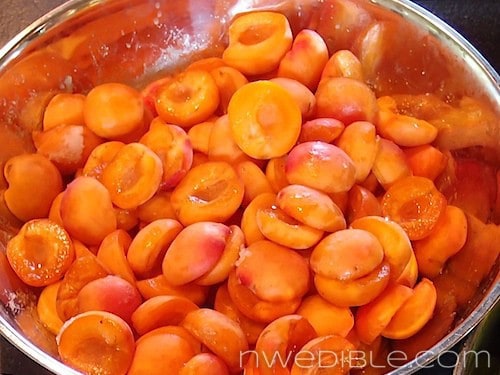 In truth, I've left my sugared fruit for a few days in the fridge and there's never been any harm done. That's another reason I like this method. Sometimes it's very nice to be able to put fruit "on pause" for a day or two until you can get it in a jar.
After 12-24 hours, the sugar should be mostly dissolved and the fruit should have released quite a bit of juice.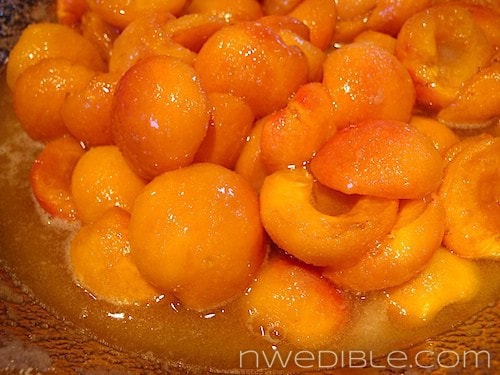 Prepare jars and lids as for standard water bath canning. Keep spotlessly clean half-pint or pint jars warm in a large pot of simmering water. Have new lids and clean bands ready. Have a clean lint-free towel or paper towel available to wipe jars. If you are new to water bath canning, I recommend you read this to get a feel for the basic procedures and precautions you must take to ensure you are creating a safe product.
Transfer the fruit, sugar and all the juices to a large, very wide, shallow pan. Something like a huge saute pan is good. You want as much surface area of the preserve exposed as possible to allow for the fastest evaporation of excess water from the preserve. If you have more fruit than you have pan, divide your fruit and juice as evenly as possible among pans, or work in batches.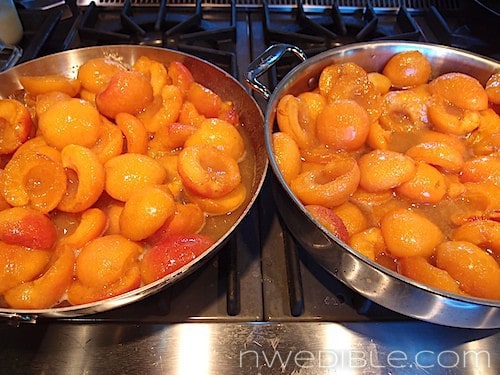 Bring the macerated fruit and juices to a simmer over medium heat. Stir frequently, you do not want your fruit to scorch.
When your fruit has softened but not fallen apart, add in your lemon or lime juice, 1 tablespoon for every 2 pounds of fruit initially prepared.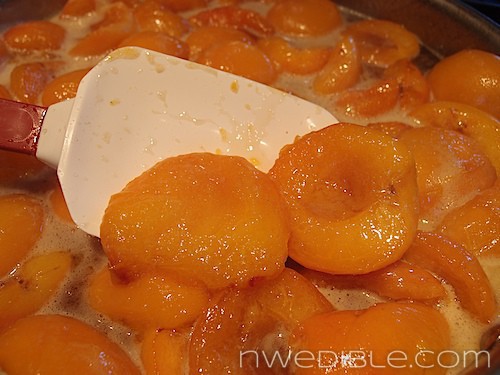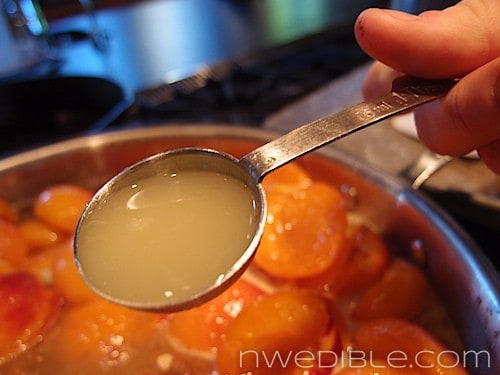 Also add in your Dry Zing component, if using. Use ¼ teaspoon for each initial 2 pounds prepared fruit unless you are using a really potent spice like cloves. Then use less. Stir.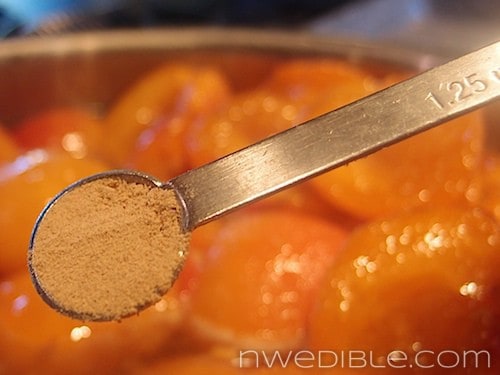 At this point you have to decide what kind of texture you want your preserve to have. If the texture in the pan is too chunky or the pieces are too large, crush your fruit with a potato masher or puree as desired with an immersion blender. I like a quite chunky texture but this is entirely personal.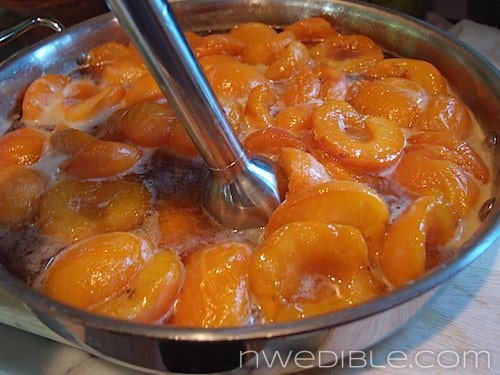 Take a small spoon of preserve, including some fruit and a bit of syrup together if your preserve is chunky, and taste them. Is your jam sweet enough? Does it need more sugar?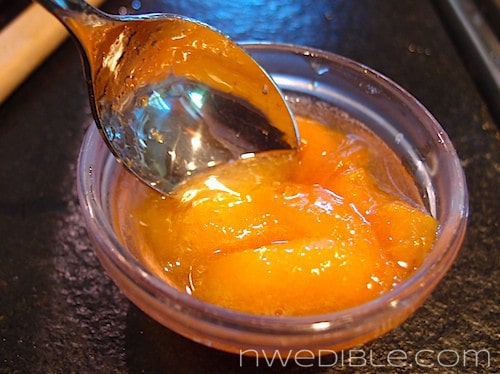 If your preserve is tart at this point, add a bit more sugar, up to an additional 4 oz. (another rounded ½ cup) for every 2 pounds of fruit initially prepared. You may need even more sugar if you are cooking something quite tart, like quince, currants or gooseberries. Trust your judgement. If you think the preserve needs more sugar, add it. If it is sweet enough to your taste, leave it alone. Remember that as you cook the preserve longer the flavors, including the sugar, will taste more concentrated. Stir everything gently but consistently.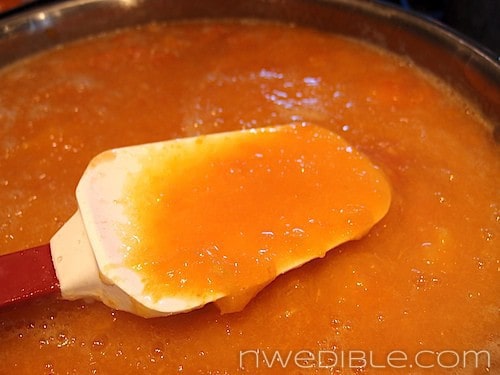 When your preserve is glossy, a bit darkened and looks slightly thickened, transfer a bit of jam to a cool (ideally refrigerated) plate. If you run your finger through a dollop of jam on a cool plate and the finger mark remains visible or runs together only very slowly, the jam has reached the soft spoonable stage I prefer.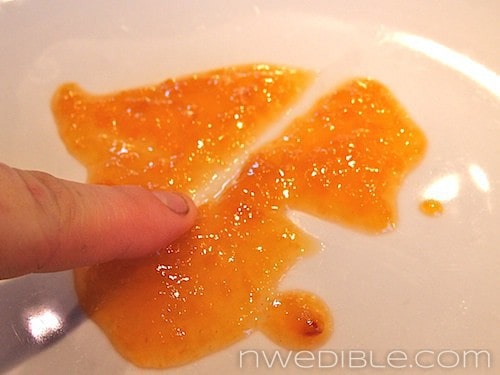 At this point, add the Wet Zing flavoring if desired, using 1 tablespoon for every 2 pounds of fruit initially prepared. If using a flavor extract, like vanilla or almond, use only 1 teaspoon and adjust to taste. Strength of extracts varies considerably by brand and you don't want to overdo it. Most of the Wet Zing components have flavor compounds that are quite volatile and should be added towards the end of the cooking time lest their flavor evaporate away.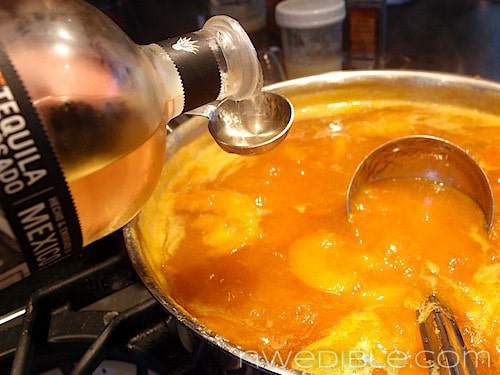 Stir well, taste jam one last time (clean spoon, please!) and make any final adjustments to the sugar level. You may also add additional citrus juice at this point, if desired. If a preserve tastes like it just needs a little something, usually that something is a few drops of lemon juice. No kidding.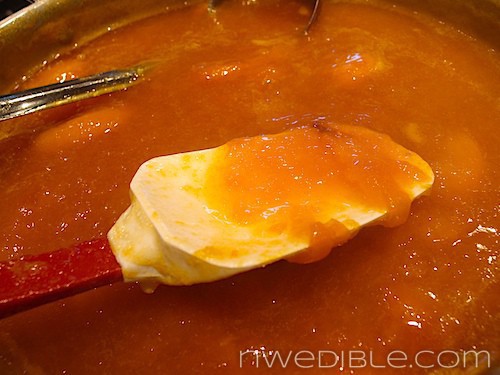 At this point, keep your preserve at a bare simmer and proceed to fill and lid your jars as per standard water bath canning procedure. Remember to wipe the rims of your jars before setting lids! Process half-pint or pint jars of jam for 10 minutes at a full rolling boil.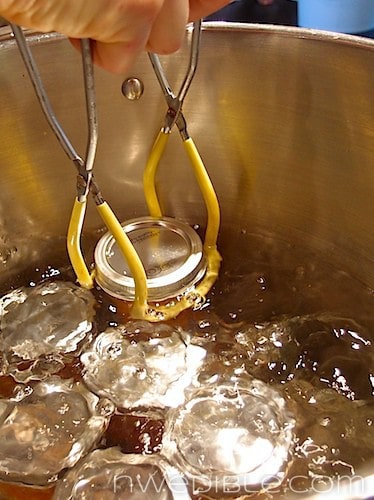 A word about texture: a jam made in this pectin-free manner will not give you the firm, high mounded spoon look of a pectin jam. The thickness does not come from gelling the moisture in the preserve, but from reducing excess water out of it (this is why using a wide, shallow pan is so important).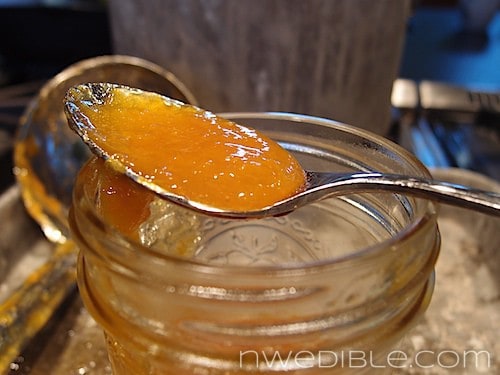 Preserves made this way will give you a French-style, soft jam, thicker than syrup or ice cream topping but not so thick as to allow a spoon to stand upright in the jar, as is the case with many pectin-set jams. I find this texture to be more sophisticated, frankly. The depth of flavor and slightly caramelized tones that come from lower water content, longer cooking and reduced sugar content can't be beat.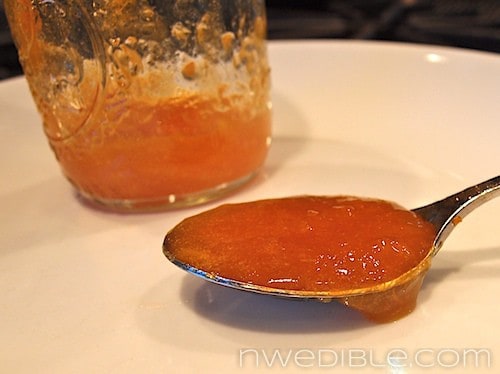 And because you are liberated from the chains of the pectin recipe you can have some fun with creating flavors all your own. The only caveat is that your jam, to stay safely water bath can-able, must stay high-acid, with a ph of 4.6 or less.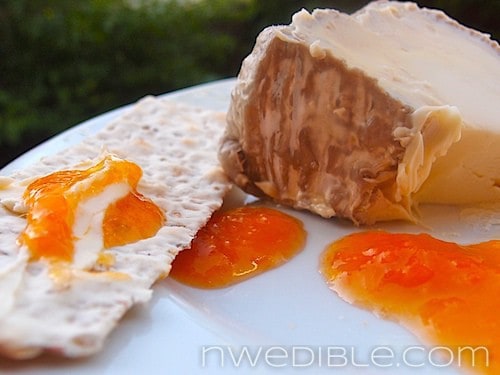 Have you made pectin-free jam or are you dedicated to the box?
159