It's unofficial Preserve Week here at Northwest Edible Life. I know because my floor is sticky with canning syrup and my refrigerator smells like pickle brine. It's hard for me to think of anything else but putting food by right now, so I'm going to be talking jams and pickles all week long. I hope you enjoy this week's line up of preserving posts.
If you like what you read here, you might want to join over 1600 other readers who have NW Edible blog posts delivered automatically to their favorite reader or email inbox. It's free, convenient and helps ensure you don't miss anything. Thanks for reading!
---
Adding Zing To Your Jam
There is nothing wrong with a jam that has nothing but fruit, sugar and a bit of lemon in it. The sublime simplicity of pure strawberry has a lot going for it, for example. But when you are ready to get creative with jam making, it is possible to turn a simple fruit preserve into something of a food statement. All you need to do is add a bit of flavor zing to enhance the fruit.
Then you start to develop flavors like…
Pear with Ginger and Rum
Strawberry with Black Pepper and Balsamic
Sweet Cherry with Mint and Kirsch
Nectarine with Lime and Cointreau
Plum with Cardamom and Port Wine
Apricot with Vanilla and Earl Grey Tea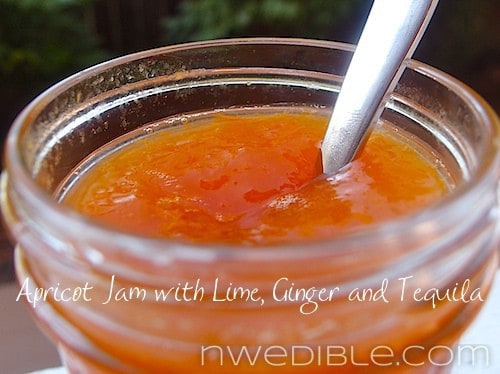 I tend to think of jam flavoring options as either Dry Zings or Wet Zings. Dry Zings include ground spices, citrus zests or dried herbs and are typically added in small quantity towards the beginning of the jam-cooking process. Wet Zings are liquids like alcohols and liquors, vinegars, maple syrup or citrus juices. They are added in slightly larger volume and are added towards the end of jam making to keep their flavors bright.
I have found that adding one Dry Zing and one complimentary Wet Zing to my basic preserve tends to give me just the right level of creative, appealing flavor without getting into that land of "yeah, that's just…too much" that can happen when too many flavors are competing. However, just adding either a dry or wet zing is a great way to dip your toe into the world of Signature Jams, too.
I've been putting together a remarkably geekish list detailing Dry Zing and Wet Zing options by fruit. These are flavors that will, when used in appropriate quantity and paired appropriately, taste good with the fruit they are supporting.
The list is by no means exhaustive, it's just my opinion on what spices and herbs and alcohols one can add to particular fruit preserves. It focuses on the fruits I preserve as jams most, and so does not include things like citrus or tropical fruits, which are rarely available in my area except through traditional (expensive-ish) commercial channels.
Do yourself a favor and don't try to combine multiple spices and boozes like some sort of crazed Swedish Chef of jam making until you have a few solid crowd pleasers, like Blueberry-Cinnamon or Apricot with Nutmeg and Bourbon or Blackberry with Lemon Zest and Grand Marnier under your belt.
Then you can start to really have fun and experiment with some more unusual flavors, like Strawberry with Cocoa and Framboise or Pear with Curry and Maple Syrup or Apple with Rosemary and Calvados.
Get the full, printable .pdf version of this chart for free on the Downloadables page.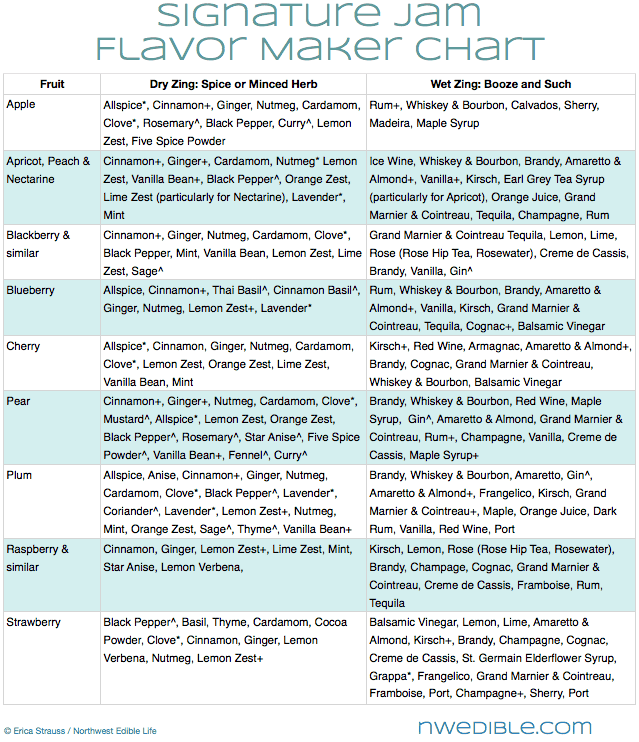 Tomorrow I'll be giving step-by-step instructions on how to incorporate Dry Zing and Wet Zing flavor options into pectin-free jam making. I hope you'll come back to see how to ditch the pectin box and really become the master of your own jam recipe.
What's your favorite custom jam flavor? Do you have a family favorite?
236