It started when my son, the would-be builder, saw a couple of pallets at our neighbor's house. They were propped up on the side of the road with a "free" sign stuck on. Have you ever seen a 6-year-old drag a full-size pallet for half-a-block? Adorable.
Our neighbor got wind of my son's scrap-wood obsession and donated even more pallets to the cause. (He even brought them to our house – I have the best neighbors!) Soon, our driveway was practically paved with pallets.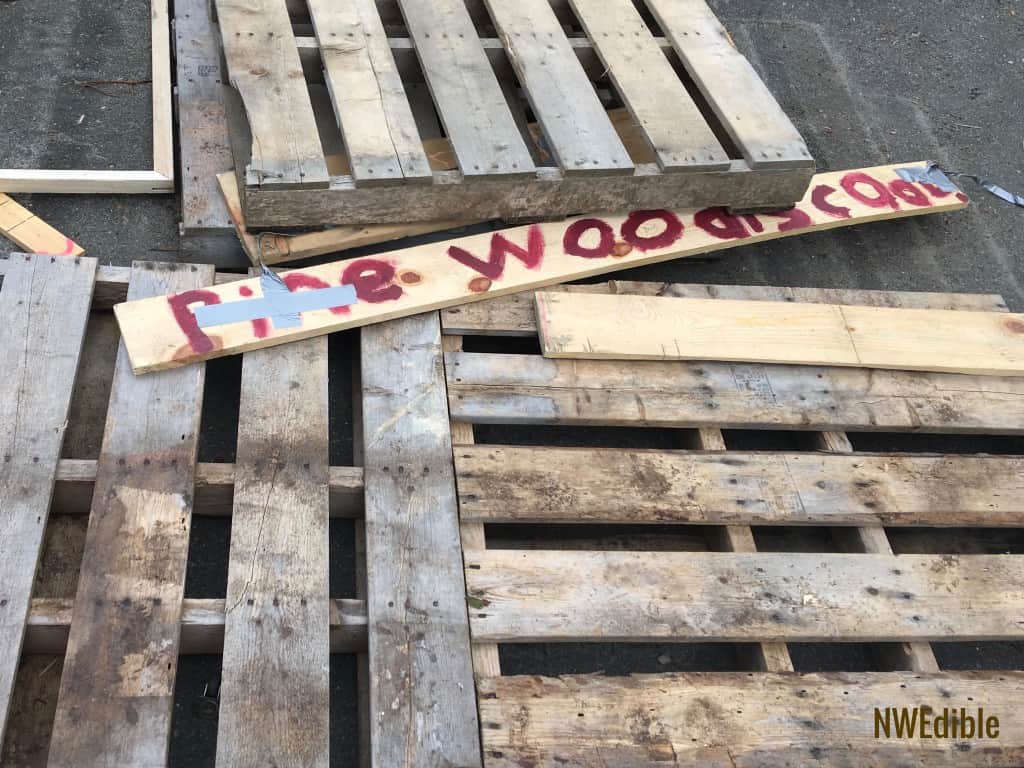 My son had plenty of opportunity to create with his pallets, but about the time I wrote this, I decided enough was enough and confiscated a few for my own use in the garden.
What I had in mind was a simple tool storage system. About five years ago, I used a pallet to screen one of those ugly, dumping ground storages zones on our property from view of the street. That pallet has held up remarkably well, and over time I started to just stick garden tools in it, where they sit happily, until I finally go weed the front garden.
I figured something similar out back would be a good space-saving way to store garden tools during active gardening season.
I started by hauling the two most attractive, solid-looking pallets around back, to the path area between my chicken run and the main garden (this photo collage should help get you oriented if you want).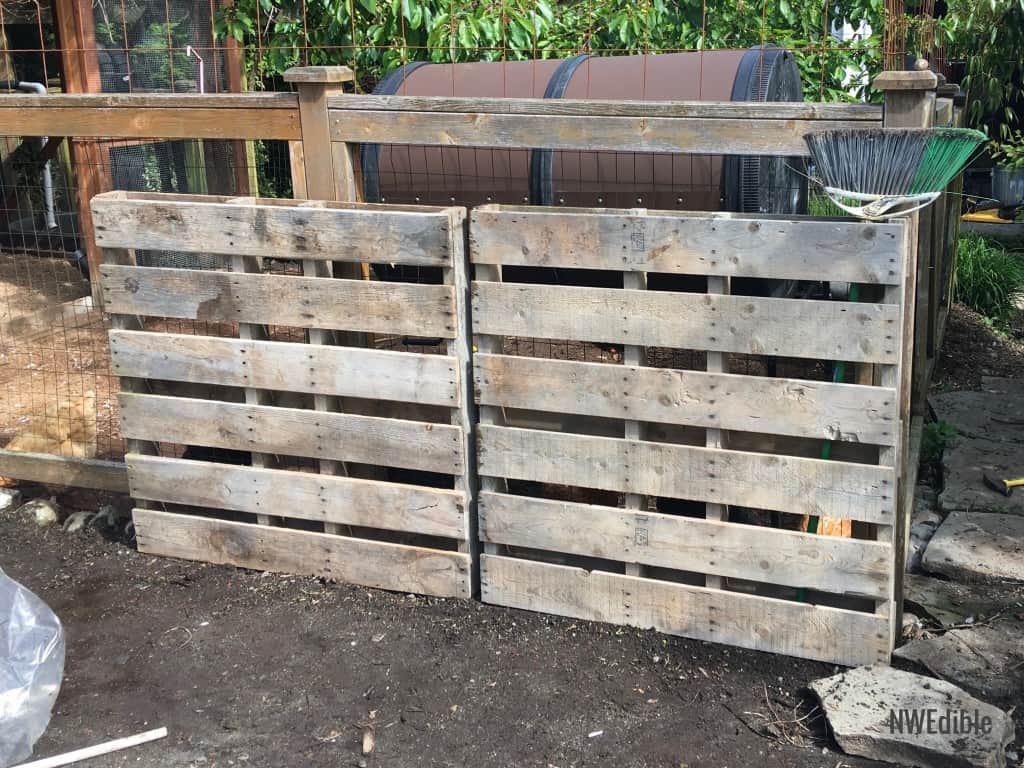 Because of the cross bracing in pallets, there are natural built-in dividers that nicely hold long-handled garden tools. I debating ripping down some 2×4 scrap to make more of these cross braces. If I had more skill with power tools, or owned a table saw, I probably would have. But as-built works fine.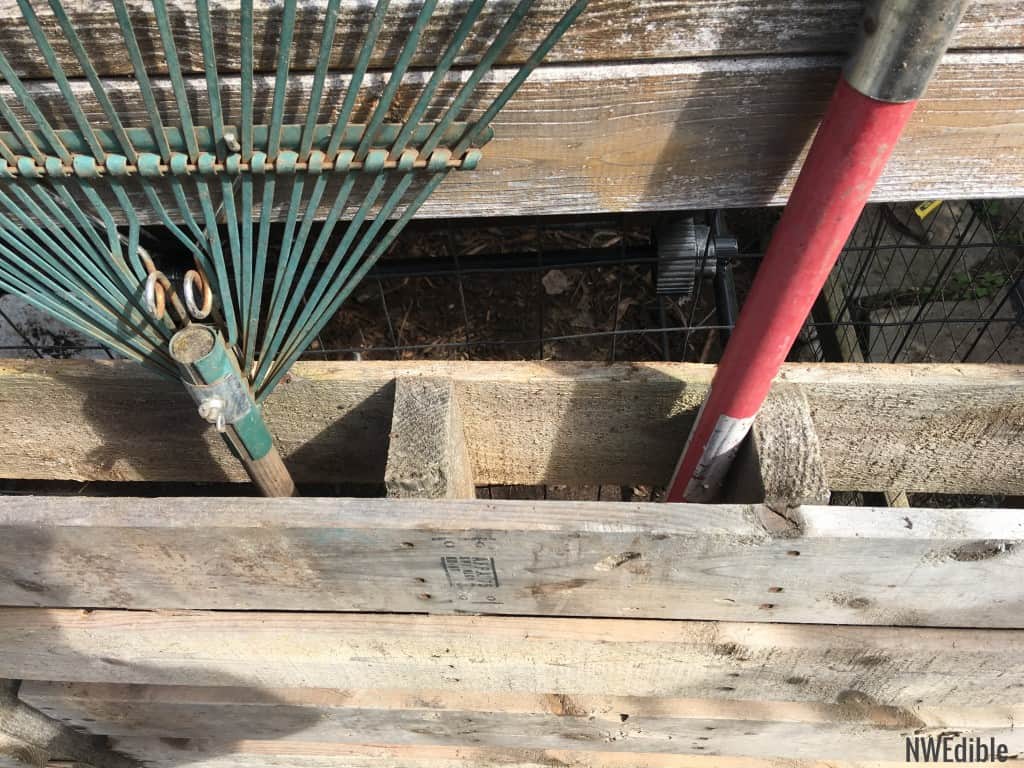 To level the pallets and to get them up off the ground where they would rot far more quickly, I set the pallets on a few cinderblocks. The pallets and cinderblocks were leveled very well. I took quite a while with this, doing it right, but since the fence behind the pallets isn't level, there's a bit of a wonky look when you step back. Oh well.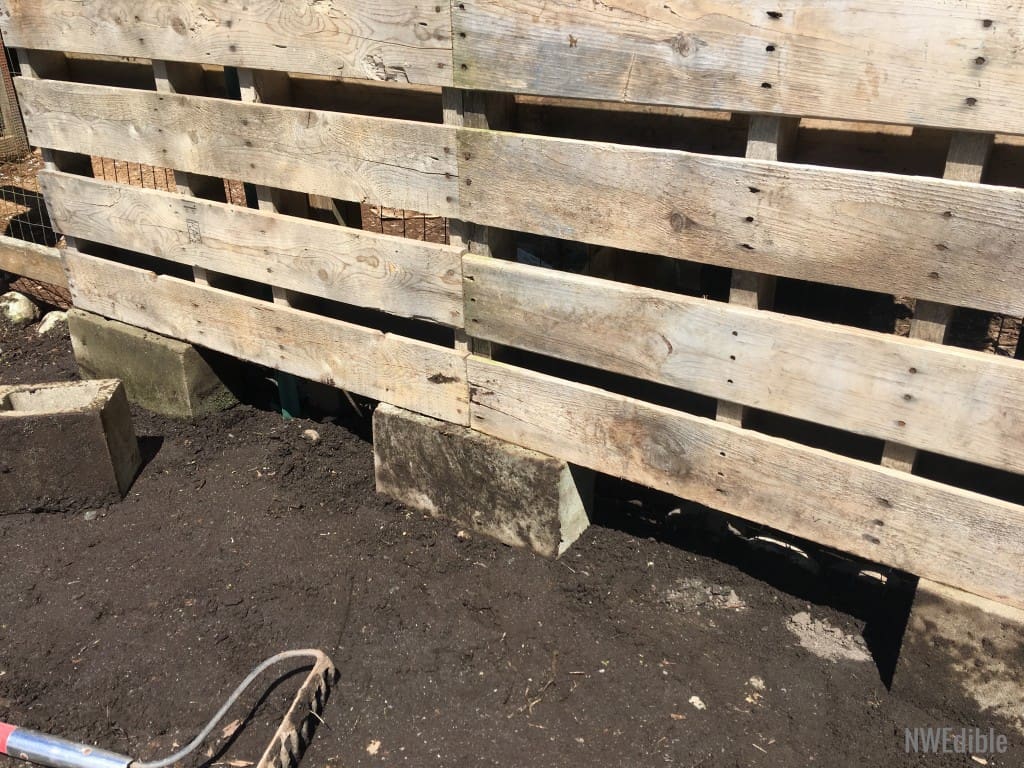 I wanted to secure the pallets in a way that would not permanently affix them to the fence. The fence badly needs to be stained, and that's on my list for this summer. So I wanted to be able to fairly easily remove the pallets and set them aside when paintin' time rolls around.
Solution? Hammer in some metal U-Posts! (Like these.) Each pallet got one U-Post, and they were positioned so they pushed the pallets back against the fence as much as possible for added stability.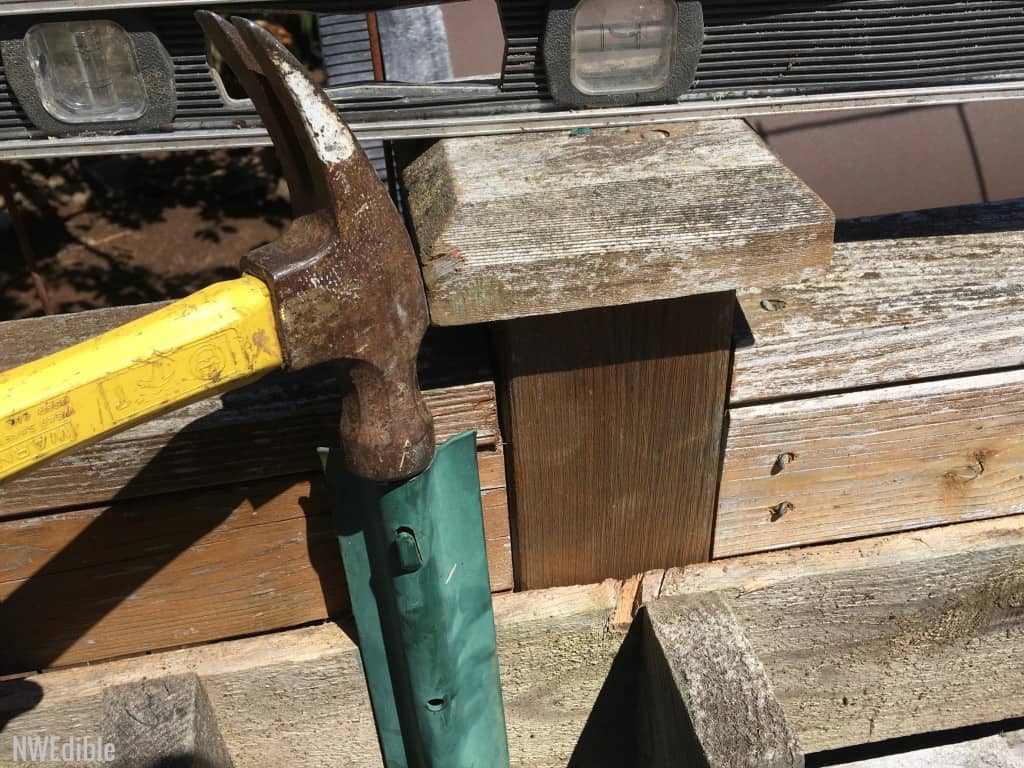 It took a bit but I got the U-Posts level with the pallets eventually. The pallets were tightly wired to both the U-Posts and the fence behind.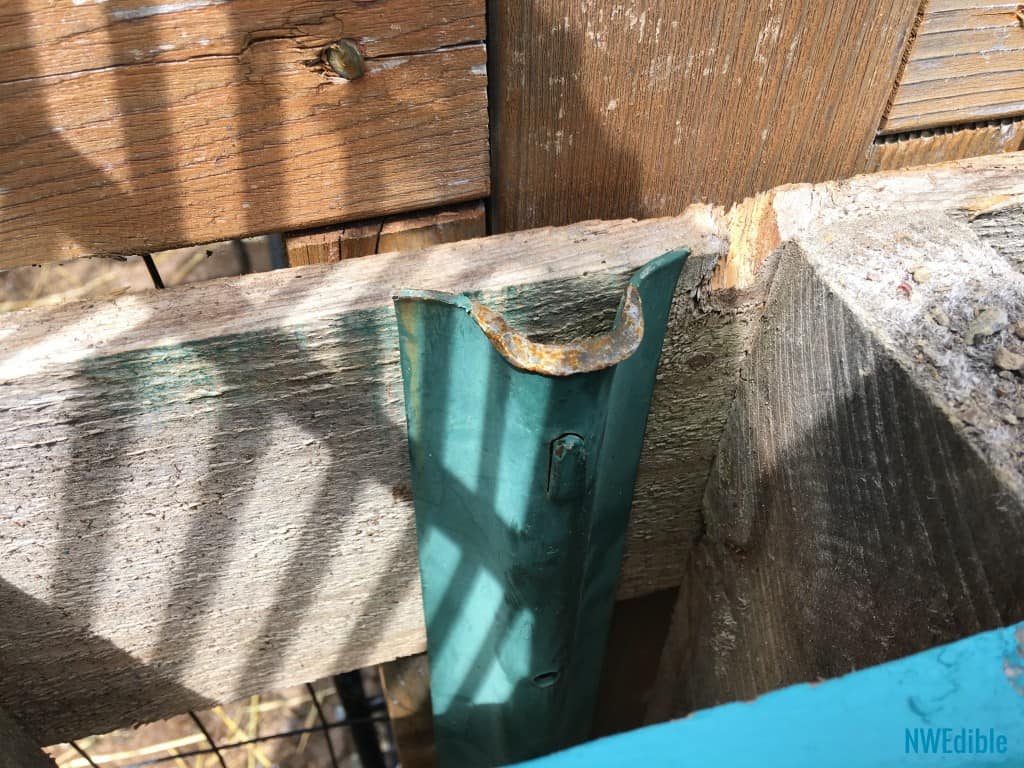 The next part was kinda a pain. I found whole and broken cinder blocks and big rocks, and filled in the gaps at the base, in-between the "real" cinderblocks that hold up the pallets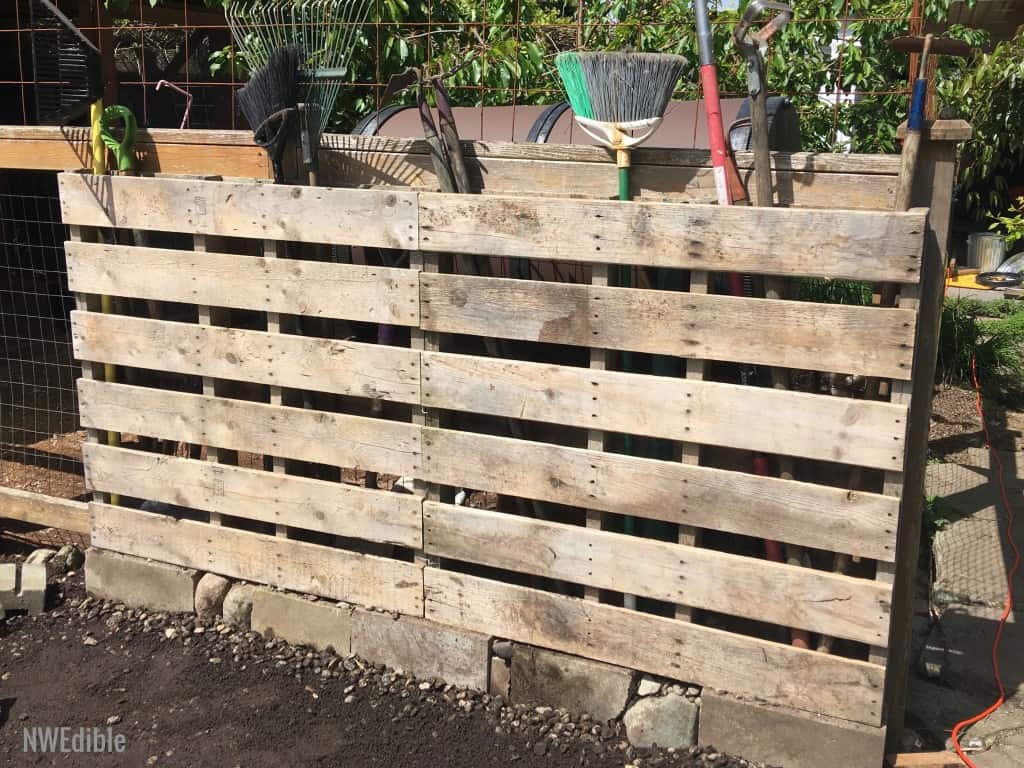 Then I poured a bunch of 1-2″ drainage rock we had leftover from another project down the middle of the pallet, to fill to about half-way up the first "course" of wood. This improves drainage, so the tools won't end up in a standing puddle if when we get late-spring rains. It also raises up the tools in the pallet so they sit a bit higher.
A bunch of rocks slumped down into the chicken-coop because there were some gaps in my foundation. That was a serious drag. Although I like the outcome of the drainage rock layer, it was tedious to do.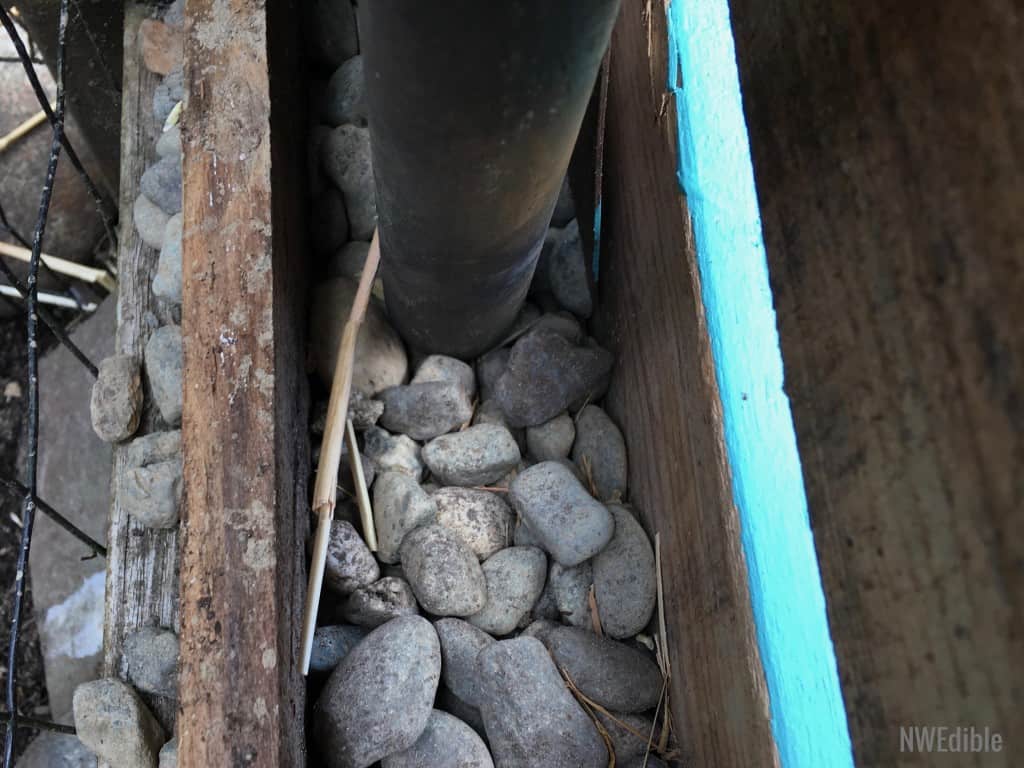 A nice bright coat of paint and my pallet tool storage rack is done! I really like this simple tool storage solution!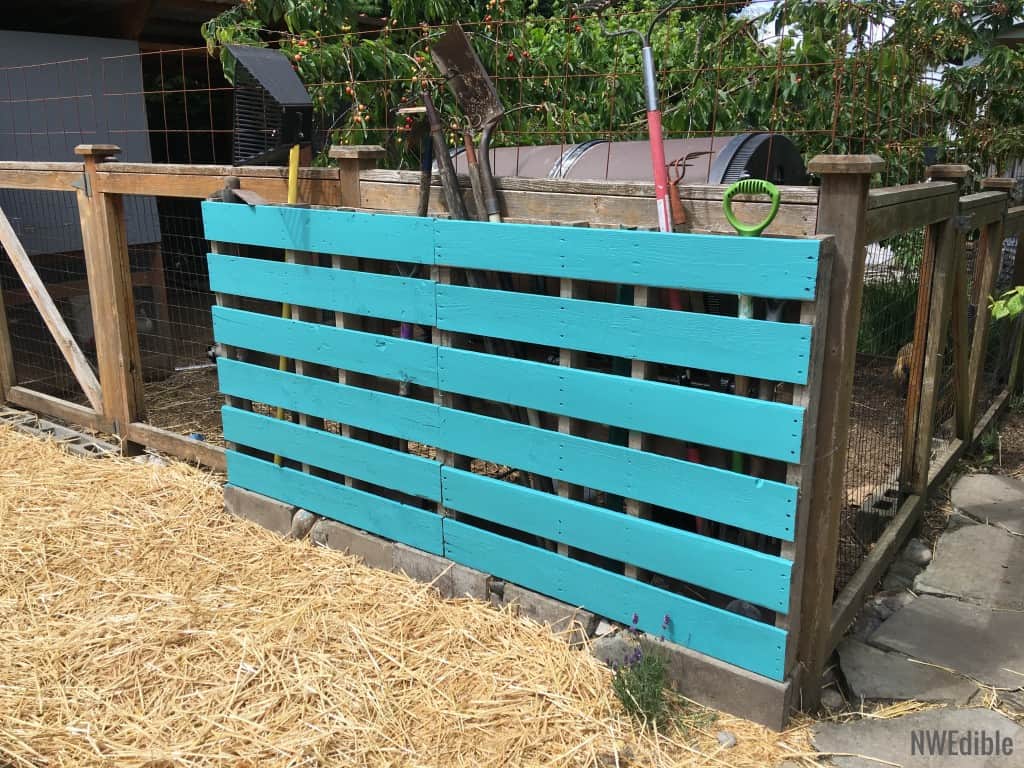 Thoughts, Ideas and Suggestions
If you have better woodworking skills than I do, additional divider sections would help more tools stay more perfectly upright.
Some hooks on the front for hand tools would work well.
Someone on social media asked (I think with mild horror) if I leave my tools outside. Yes, yes I do. I'm pretty good about getting the hand-tools I really rely on under shelter, but I leave my long-handled tools lying everywhere during active gardening season. It's not deliberate neglect, it's just that I sometimes hop from one thing to another faster than I should. If you take better care of your gardening tools then I do, this might not be a great solution for you.
However, my tool care failures are why I like this set-up, actually. It's so space efficient that it tucked right in next to my main gardening area, which helps me keep my tools put away and contained, even if they are exposed to the elements.
I think you could do something like this inside a carport or storage shed for year-round tool storage, assuming the roof on your covered area was tall enough to let you lift the tools up and out. Although for tool storage inside, it's hard to beat nails-in-studs.
Pin Me, Share Me, Save Me For Later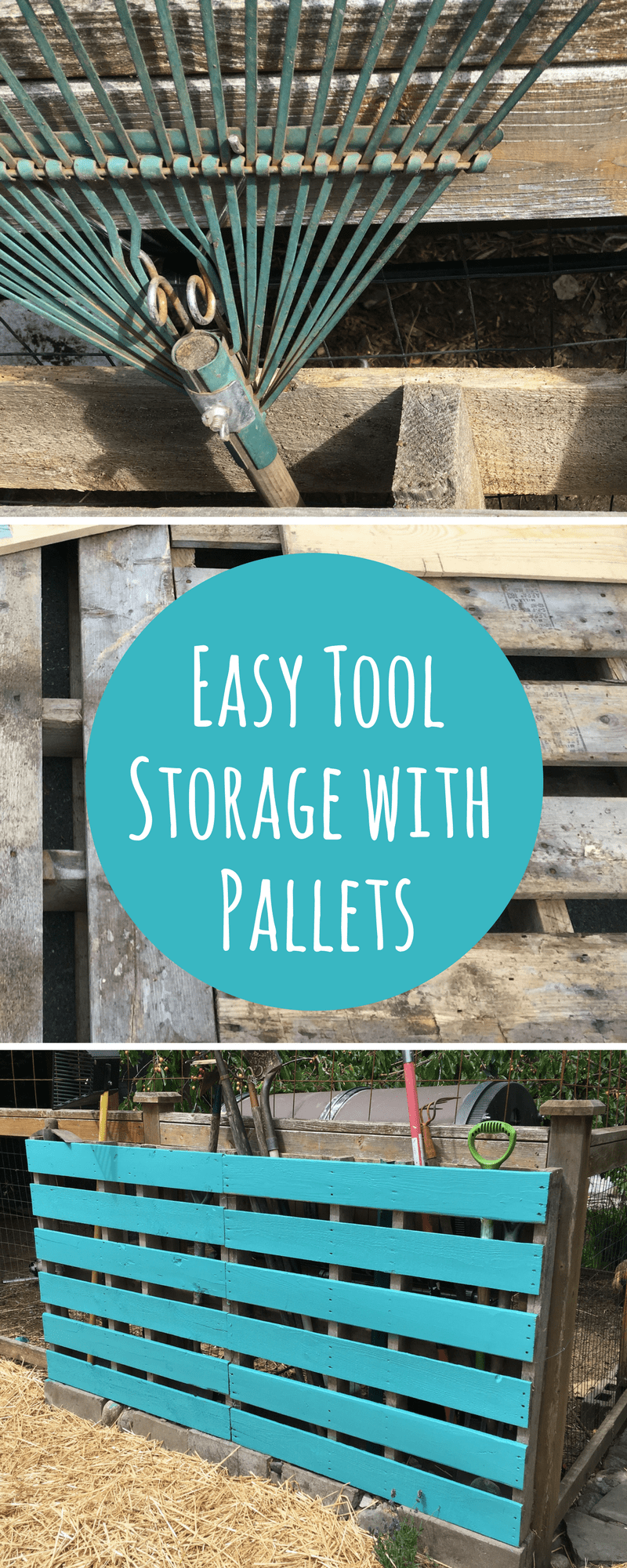 6