My grandfather on my father's side was a pack-rat welder with a huge garden. He could build anything and grew the best tomatoes I've ever tasted. He spray-painted all his tools red. Every single one. We used to make fun of him for that, but now I think it was a brilliant way of making sure he didn't leave a tool off in the yard somewhere. When he passed away, his children were left to deal with his labyrinth of a garage. It took them weeks.
My father is very organized, but if there's a tool that he needs for one of his hobbies, he has it. Vertical sausage stuffer? Clearly, a life essential, and I dare you to suggest otherwise.
My grandfather on my mother's side was a military man. He moved the family so many times while my mom was growing up, she'd attended 18 different schools by the time she graduated high school. As you'd expect, their household was efficient. The kids were trained to clean to "white glove inspection" quality, and taught the mantra "a place for everything, and everything in its place."
My mother doesn't keep anything around unless she uses it regularly or enjoys it aesthetically. (Unless it belongs to my father, and even then, accidents have been known to happen.)
Out of this combined genetic heritage: me.
Garage-labyrinth reality, white-glove inspection sensibilities.
•          •          •
So is your house a big jumble of transition right now? Mine is. Is it driving you nuts yet? I'm there.
Every night the plant starts get hauled in from the patio and take up space on the kitchen counter. Every morning the homeschool books get hauled out and plopped down on the dining room table.
Speaking of the the dining room table, it's about 18-inches from a feed trough that is holding three rapidly growing ducks. Tiny poultry in your house is adorable until it isn't. You know what I mean. Let's be honest, there's a smell. A smell, eighteen inches from dinner.
And can we talk about my garage? The space that does septuple duty as a seed starting space, back-up pantry storage, garage band musical instrument area, home workout gym, camping supply depot, toy and bike arena, and a general purpose workshop?
The one thing that isn't in my garage is a car. Screw that. Why put a single item that cost $18K in a protected environment, when you can store stacks of free cardboard from Costco and dollar store plastic beach toys in there instead?
I feel like Marie Kondo would very demurely shame me if she walked in right now. Sometimes I remember I wrote a book with a generous section on home care and I just laugh and laugh.
And then I cry a little.
•          •          •
I was avoiding organizing my garage the other day, and I saw the following comment on a Reddit thread: "The minimalist movement should really just be called outsourcing."
Minimalism vs productivity is a perennial struggle for me, and apparently I'm not the only one – because when I mentioned this quote last week there was huge feedback.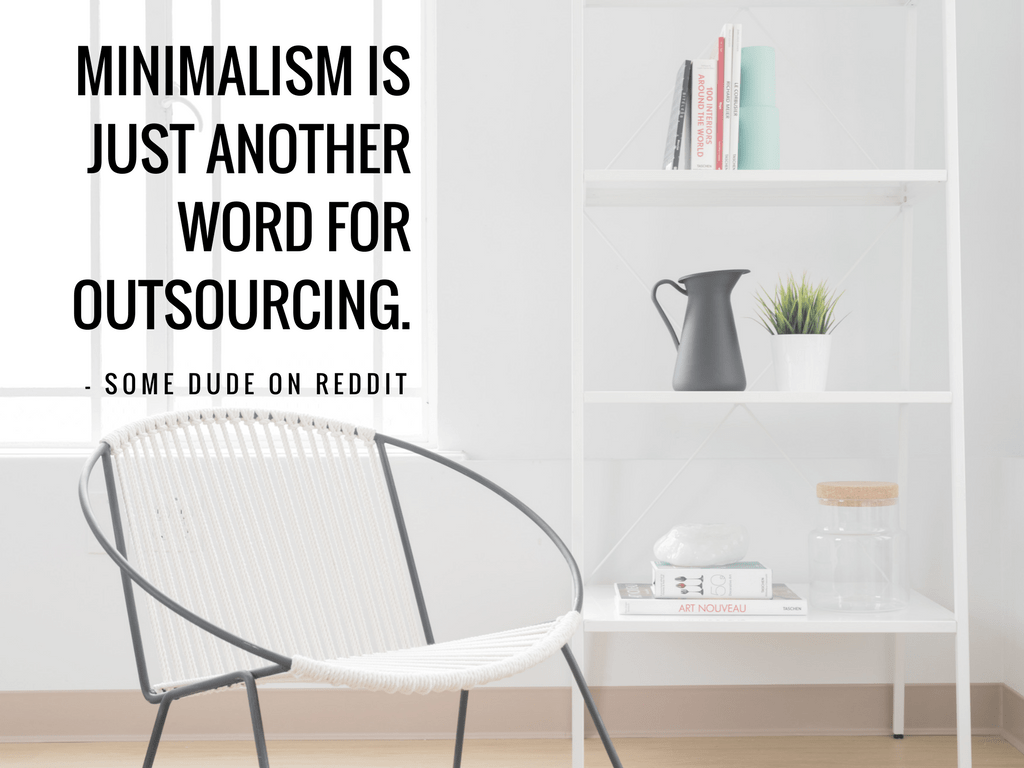 People wrote legitimate full-length blog posts in the comments section. It was great. A few pearls from the community:
I don't think that minimalism – which does require, I think, a fair bit of outsourcing – is inherently a virtue any more than having a lot of tools and materials on-hand for creative labour like cooking, growing, sewing, mending, building, painting, writing, sculpting, etc., is inherently a vice.

~ Meliad
I may have a few more kitchen items than a "real" minimalist, but I also have a smaller than average home, pared-down closet and avoid clutter and rampant consumerism. I don't think minimalism is necessarily incompatible with DIY.

~ Christina
Minimalism is a shitty word. Who wants "minimal" to be their goal? I don't know about you, but I believe that life is short, and I don't want to get to the end of life and be known for "wow, she really managed to not have a lot of stuff." Instead of minimalism, my goal is essentialism.
Get rid of what doesn't matter or what gets in the way of what does matter. Have less, use less in order to have more – and produce something. You grow something, create something and it moves on. Only if it stays does it become clutter.

~ Maria
Chicken stuff, seed-starting stuff, homeschooling stuff, soap-making stuff. Cooking gear, gardening gear, canning gear. Lord, what a lot of stuff, what a lot of gear.
For a bunch of people who typically think lower levels of consumerism are a good thing, we sure do own a bunch of crap. So it's really nice to know so many of us are together in trying to figure this out.
There has to be a balance point between a calm aesthetic and the messiness inherent in a life that needs stuff to work.
Doesn't there?
•          •          •
Thinking of minimalism as outsourcing puts the hot mess of productive homekeeping in more favorable light. We have this gear because we're trying to in-source more. Yeah, yeah, that's the ticket. But is that the right way to look at it – just throw minimalism under the bus?
On the one hand, even if there's a tension between modern homesteading and minimalism, we're all basically on the same team in terms of supporting greater thoughtfulness in our purchasing decisions.
On the other hand, the two philosophies do tend to lead to very different kitchen countertops. (Seriously, why are minimalist kitchens always white?)
A productive homekeeper might raise an eyebrow at an urban minimalist who simplifies their life by confining their cooking to toast, while a minimalist could justifiably scoff at how attached we get to our fancy pressure canners and expensive food dehydrators.
And then I'm over here, going, "Uh, sometimes I outsource dinner to the pizza guys because I'm balls deep in canning."
•          •          •
I think there's something each school can learn from the other. Productive homekeepers should ask themselves what's really necessary. Let's be honest: it's easy to fall into the gear trap with any hobby, and if you can justify those hobbies under the cover of "investing in a more sustainable lifestyle" – well, hey, time to buy that electric smoker, amirite?
But the spirit of the movement is to do what you can, with what you have, where you are – not to run to Cabelas or Tractor Supply at the drop of a hat. And the minimalists are right – everything you own owns a tiny piece of you right back. Less really can be more.
Except with mason jars – more is more with mason jars.
On the other hand, some minimalists might question if anti-stuff dogma is actually making them more dependent on a consumerist society. Some of the minimalist travel gurus come to mind here. Sure, you're free as a bird – as long as every flight, hotel, and restaurant supply chain functions perfectly.
•          •          •
To me, the ideal of minimalism is to have enough – just what you need for contentment, but no more. From this perspective minimalism is much more about breaking the psychological attachment to things than eschewing good, useful tools in the name of Asceticism.
Despite my simple-living fantasies, I will never be a minimalist.
Sure, I long for surfaces, sweetie darling! Surfaces! But given half an opportunity I'll cover those surfaces with boxes of fruit and canning rings and a huge pot because it's jam makin' time.
I love Katherine's mention of essentialism. (The book of that title is a great read – I've listened to it on audio book a half-dozen times. Highly recommend.) It turns the question on it's head – not how minimal can we get, but what is essential in our lives?
Life. It's messy. Mine is too messy for the minimalist label.
But essentialism….that I can keep working towards.
•          •          •
What do you think – are minimalism and a productive homelife incompatible? Is minimalism just another word for outsourcing? Have you found the right balance point for you? Let me know in the comments.
1