I had a dream the other night. I was working some corporate job and my boss lent me his car to run errands over the weekend. In the dream, I didn't know what kind of car it was, and somehow Homebrew Husband ended up driving it to pick me up from this job.
This was more-or-less the car, a very fancy silver convertible Mercedes: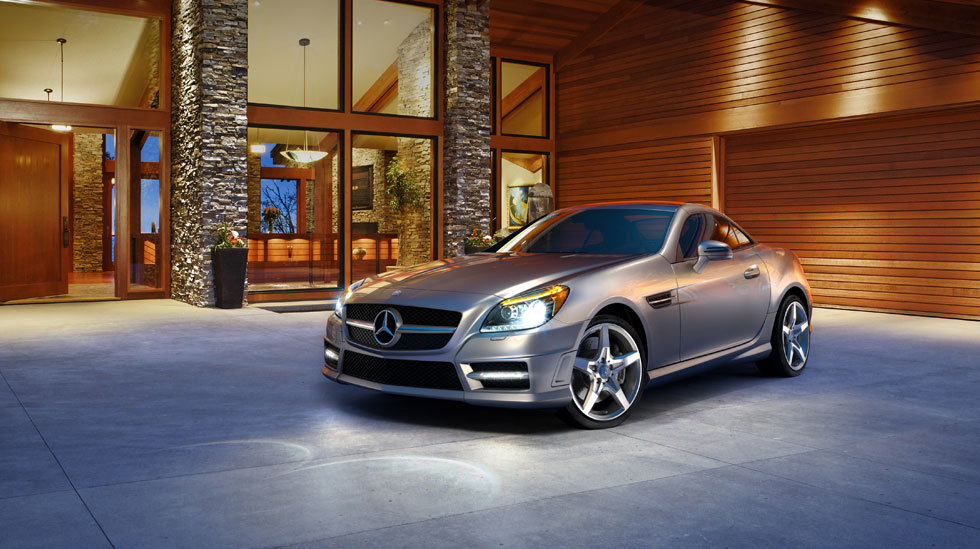 In my dream, I got in the car and Homebrew Husband drove kinda fast, zipping around other cars. The windows were down. I was surrounded by automotive opulence. Homebrew Husband bobbed and wove around semi-trucks and, improbably, had to dodge a clump of bamboo that grew spontaneously in the middle of the road.
I hated this experience. It wasn't fun or exciting, it was just scary. I didn't want the burden of this fancy, expensive car. I didn't want to worry about what would happen if I scratched the paint on bamboo groves popping through the highway. I dream-resented my dream-boss for dream-saddling me with his super-fancy luxury dream-Mercedes.
In my real, waking life, I know with 100% certainty that I do not want to own a $65,000 car with no room for a car seat or a bale of hay. Even if that vehicle was given to me for free, it's not something I would want to maintain, insure, gas-up, wash or worry about scratching. It was interesting to learn that apparently my subconscious agrees with my conscious mind on this.
What does this have to do with No Spend Month? Everything! Values-based spending is largely about being wholly in charge of and aware of how and why you spend money as you do. It's about prioritizing your expenditures to truly represent what you want long-term, and not what you are told to want right now.
"Well, of course I want what I want because I want it," you might say. "That's pretty obvious."
But it's not, actually. In 2011, $144 billion was spent on advertising in the U.S. As a quick comparison, the total 2011 budget for NASA was $19 billion. If NASA can put Rovers on Mars with an annual budget that's 13% that of the ad industry's, what can the full $144 billion targeted right at your brain do?
It can do tons.
Advertising effectively creates desires where none existed. It elicits feelings of fear, playfulness, inadequacy, pride, helplessness and more in order to sell things totally unrelated to those emotions. It convinces otherwise sensible people that there is a noticeable difference between identical items because of the suggestions on the label. Ads really can – and do – get in your head and tickle your neurons in just the way the ad creator wants. That's power.
Cultivating values-based spending habits means reclaiming your purchasing power. Think of it as an Occupy Movement for Your Brain with trickle-down benefits for Your Wallet. This isn't as easy as simply not buying stuff. You have to start to think about why you are drawn to buy the things you are, and what you are really trying to create in your life with that purchase. I'll warn ya: this can get downright introspective, even uncomfortable.
Your Mini-Money Challenge
Your Mini-Money Challenge today is to write down five tangible, purchasable items you want. Really important things like world peace and healthy children don't count – you can't buy those things. Things like a new Prius, $400 Jeans, or a Crockpot do. If you are doing No Spend Month, you may already have a running list of things you haven't purchased because of the challenge that you'd really like to get.
Jot down why you think you want these things, and then think a little deeper about what is really driving you to want these things. What problem do you think each purchase will solve? What feeling are these expenditures addressing? Once you nail those things down it's easier to identify what you really want.
Here's an example: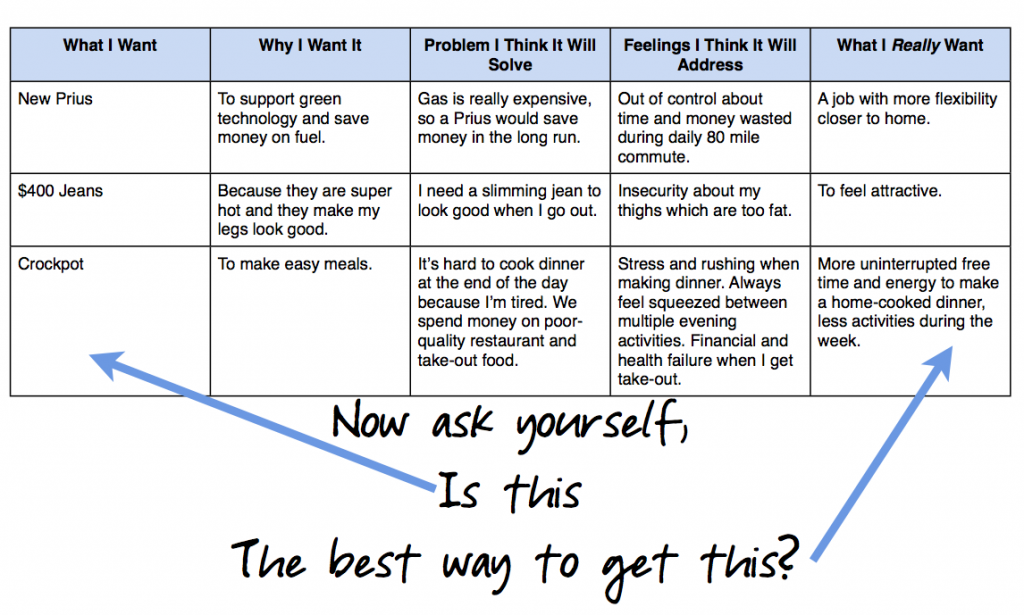 Once you've nailed down what you really want, it's pretty simple to look at the item you think you want, compare it to what you really want and ask, "Is this purchase the best way to achieve this?"
Sometimes, the answer will be, "Absolutely."
Usually, especially at first, it won't be. If you find yourself equivocating, saying things like, "Well, those jeans do make me feel attractive, for awhile…" then seriously think about if that particular spending solution is the best solution. It probably isn't.
And if you weren't able to even come up with the reason why you wanted one of your items? Dude, seriously? Cross that thing off your list for good and never look back.
You can download a blank What I Really Want From My Purchases Chart to make this Mini-Money Challenge super simple – just fill in the blanks.
Over time, as you reclaim your purchasing power from the power of advertising and cultural suggestion, this kind of values-based spending analysis will become easier and easier. Eventually, it's a second-nature, do-it-in-your-head exercise.
This doesn't mean you'll never spend money spontaneously or impulse buy. I have definite areas where I still fall for Hope In A Bottle salesmanship. But it gets easier, and I'm more aware of when I am "falling for it."
PS: Occupying Your Brain is a lot easier if you've ditched TV. Just sayin'.
Have you bought things for the wrong reason and regretted it later? What stuff do you tend to buy to solve a problem that can't be solved by all that stuff anyway?
15