The giant canister of coffee beans we keep on the counter clinked empty early this week.
Out. Of. Coffee.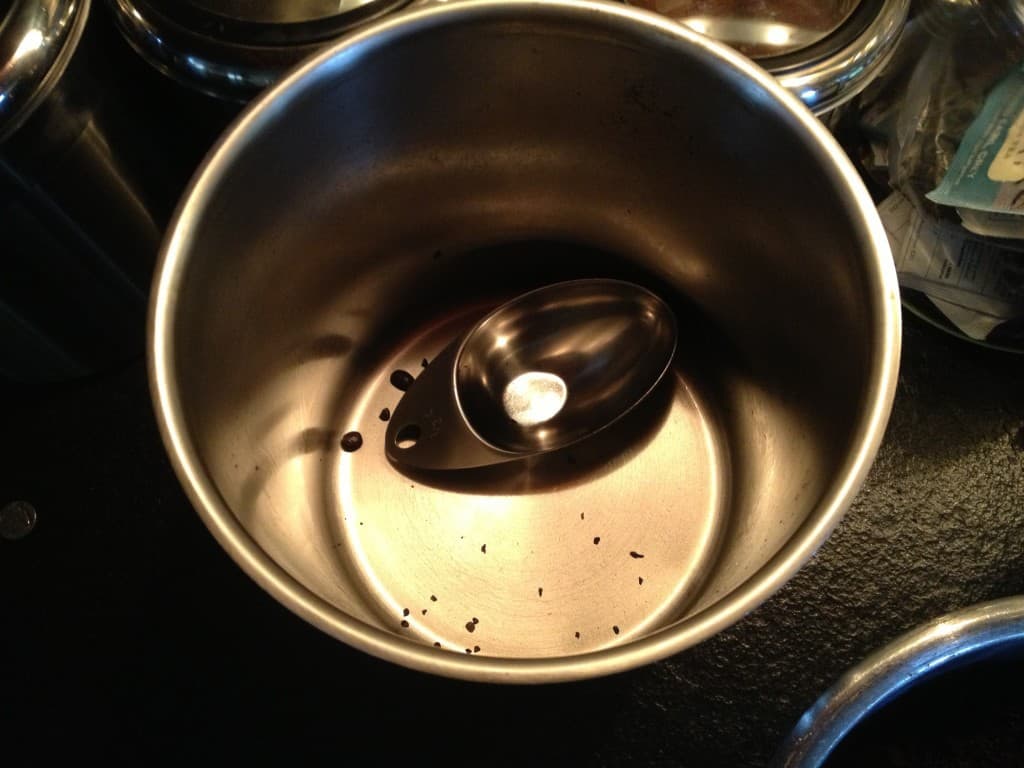 This is how most conversations before 10 am start in Seattle:
"I'm not really up and moving yet. Haven't had my coffee!"
"Hey, do ya wanna go get a coffee?"
"Um, could we talk about this…after coffee?"
"I'm stopping by the latte stand. Can I getcha a coffee?"
"Sorry, I guess I must just need another cup of coffee…."
"Has anyone seen my coffee? No, seriously…it was right here five minutes ago. Oh wait, I finished it. Never mind, sorry!"
Us? Out of coffee? That's a little problem.
If there's one thing that gets a solid beat-down when you talk personal finance and spending, it's coffee. Specifically, fancy-pants coffee. We don't much go in for fancy-pants coffee anymore, but that doesn't mean we've pried the caffeine monkey off our backs.
Once, in a fit of moral/fitness righteousness, I decided it would be healthier if I didn't consume caffeine at all. I went through the detox and came out the other side with boundless, consistent, steady energy. It was wonderful.
That didn't last very long.
Now we're back to a pot a day, made a home. Usually I take my java black, sometimes if I'm feeling sassy I add a splash of milk or cream or sugar or some combination.
Theoretically, we could cut coffee out of our lives altogether. I have big jars of homemade, homegrown herbal tea that give us essentially free warm and tasty beverages.
In fact, we thought, if there was ever a time to embrace a coffee-free life and go cold turkey on caffeine, running out of coffee during No Spend Month was the time! But I'll bet you can guess how that turned out. Homebrew Husband went out to get more beans within a few hours of us running out. An empty bean canister makes us twitchy.
Ah…that's better: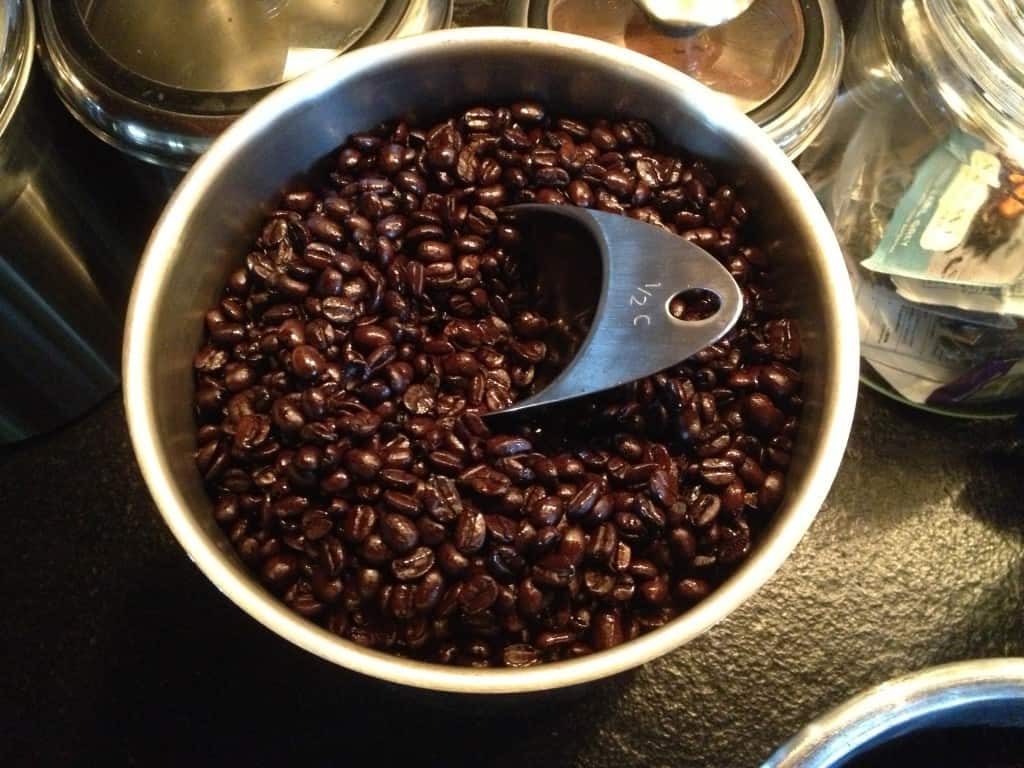 But before we recommitted to our substance abuse problem, we took the time to figure out what our addiction was costing us.
Cost Of Coffee At Home
This is the cheap option, utilizing inexpensive but still decent whole-bean coffee available at our local Costco. The price of coffee beans varies dramatically, but buying in bulk makes even the happy-hippy, organic, shade-grown, fair-trade certified type of coffee much more affordable.
3 pounds coffee – $16.79, or $5.60 per pound.
1, 12-cup coffee pot requires 3.5-4 oz of beans, ground. Let's round up to 4 oz. to account for occasional spills and because it makes the math very easy.
Coffee pots often mark "cups" in 6-oz increments, which is silly, but there you are. Our 12-cup coffee maker makes 4 huge, 16-ish oz., Seattle-sized servings which is just right for two coffee-loving adults.
Each pound (16 oz.) of beans makes 4, 4-oz. pots of coffee.
So, every pot of coffee costs $1.40 and each huge cup costs $.35.
Water and energy costs on a pot of coffee are really negligible  but even if you round up to $.40 per cup to account for those things, our pot-a-day coffee addiction is costing us under $2 per day.
If you want to start with beans that are twice as expensive for reasons of ethics, taste or fashion, you're still way under $1 for a huge cup, even if you start adding sugar or cream to it.
 Week Three Spending
Groceries (3 pounds coffee) – $16.79
School Activity Tickets – $5.00
______________________________________
Week 3 Total – $21.79
Prior Weeks – $126.90
Monthly Total – $148.69
Remaining– $101.31
I'm feeling good. We're really in the home-stretch now, with less than two-weeks to go. $100 for two weeks is kinda child's-play, since the car is gassed up and we are still bursting at the seams with harvested food. A few paychecks have come in since the beginning of the month, and we can really see the savings starting to pile up, which is the kind of reward that makes it easier to keep pushing forward with the not spending.
My only nagging concern is Halloween….we still don't have candy to hand out or costumes, but I think we'll be able to put some fun stuff, creative stuff together from around the house for the kids. Homebrew Husband will, as usual, wear his NASA Astronaut costume, and I won't be going out anyway due to ongoing eye-wackiness.
How has Week Three been for you? Are you feeling pretty solid as we enter the final twelve days?
0