A friend of mine recently reminded me that, back in October, I announced a new type of post – an end-of-the-week roundup of random stuff I've been thinking about. He gently pointed out that one post does not a series make.
Fair point.
This week: seed catalogs, minding your own business, Alan Watts, the pleasure of simple food and more.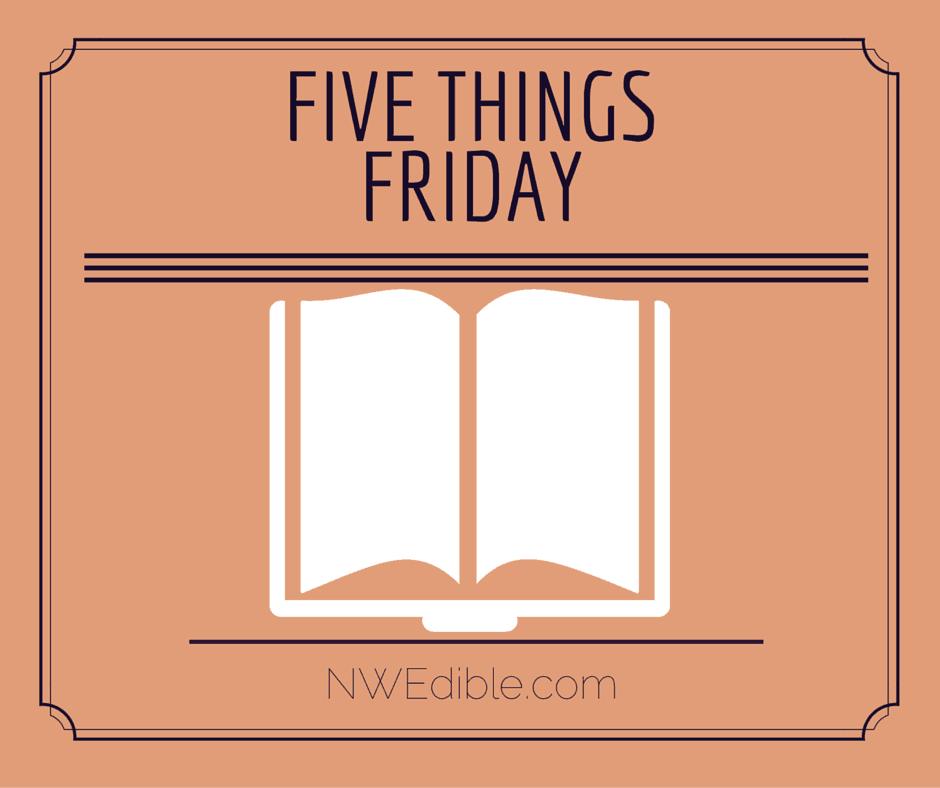 1. What I've Been Reading
Seed catalogs! What can I say, it's that time of year. The table closest to my favorite spot on the couch spot is piled high with seed catalogs and some of my old garden book friends. (Here are some of my very favorite gardening books.)
I'm hoping to get a copy of Carol Deppe's seed list this year and maybe even get my hands on her line of Sweet Meat winter squash. Here's Deppe's 2015 seed offerings – definitely worth a read if you're a Northwest gardener interested in the homestead calorie crops – but I warn you that website design is obviously not a priority for Ms. Deppe.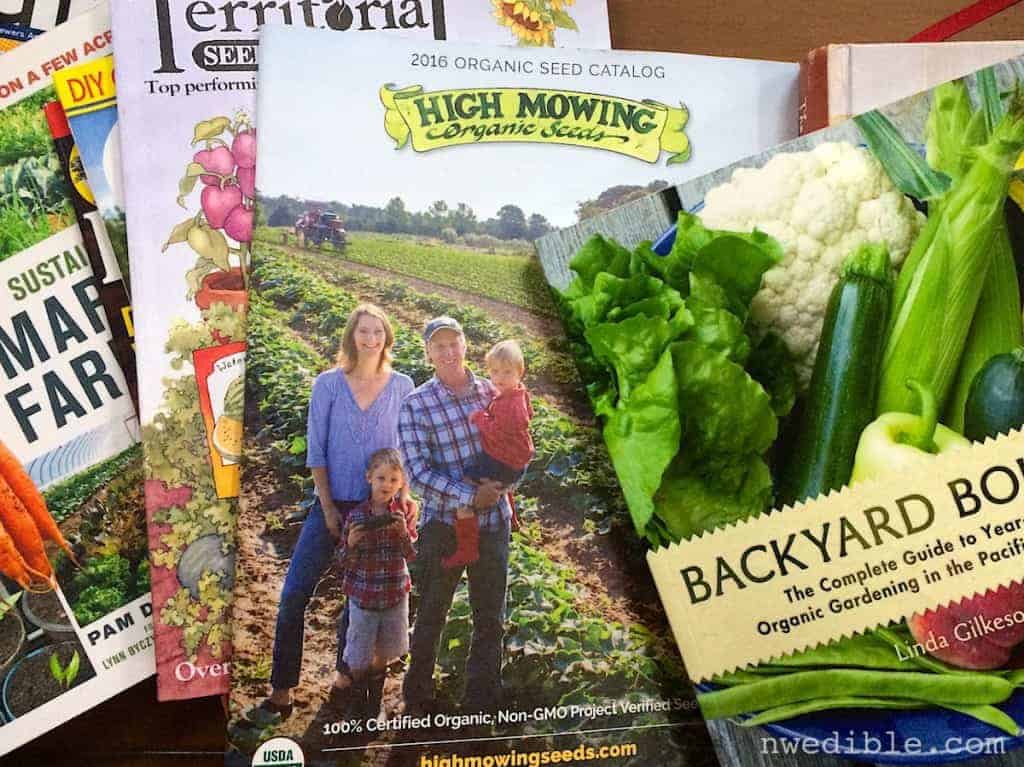 2. What I've Been Eating
Simple, simple food. After the giant holiday binge of 2015, food that any peasant would recognize gets the big thumbs up from me.
I really enjoyed this simple beef broth I made from the scraps and trimmings of our Christmas beef roast. With just a bit of salt and a handful of chopped green onions from the garden, it was perfect.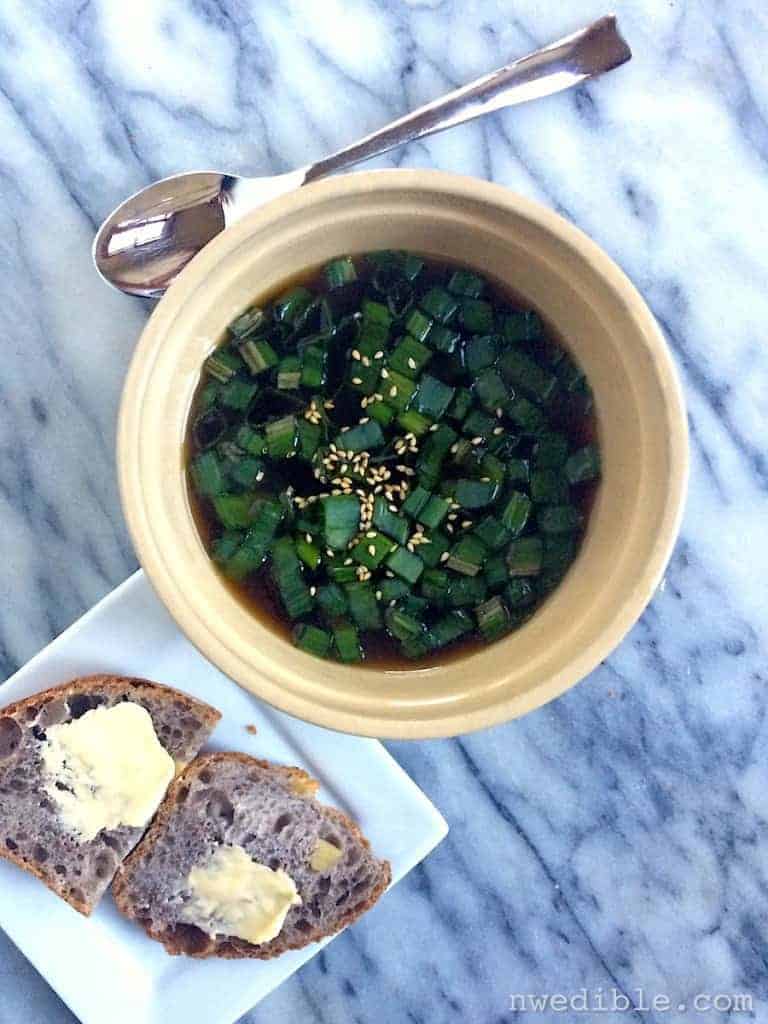 3. What I've Been Struggling With
Warning! Navel gazing ahead!
Honestly, I've been struggling with what to do with this-here blog. My regular readers will have noticed there hasn't been a lot of regular writing over the past…uh…18 months.
I was ready to shut the whole thing down there for awhile. I would open my computer to write something to you, type like 5 words, realize I had absolutely nothing to say, close my computer and go make a sandwich instead. I did this over and over and over.
Eventually I decided, "Well, that's it, then – I'm done. I have no more words. I used them all up."
Burnout is really common after bloggers write a book. I personally know several bloggers who wrote a book and soon after shuttered their blog. The Blogger's Book Curse, it's called. Or it should be.
The last couple years I've been writing in these massive chunks where I turn out like, 4-5 big, meaty posts a week for a while, (or, you know, write a book), but then I go hide for months.
This cycle isn't the best for me, or for you guys. Writing consistently is the best way to be able to write consistently. And I'm a blog reader too – I know we all want at least semi-regular updates when we take the time to read someone's blog.
The lesson for me is to do less, but do it more consistently. With the book really, truly wrapped up, I have high hopes for better balance in 2016.
I also want to get back to the more personal-type writing that I did in the earlier days of this site. I love a good tutorial post, but I've been less open in my writing lately because I just haven't had the emotional energy to deal with the inevitable blowback that happens when you have an opinion on the internet.
I think I'm up for it again. Maybe. Fingers crossed.
4. What I've Been Watching
Alan Watts videos on YouTube. This guy won't be everyone's cup of tea, but if he's yours, you'll know it pretty quickly.
I recommend starting here:
If you like what you hear, his more mystical/woo-woo lectures are available. YouTube channel Tragedy & Hope has a lovely selection of Watts' lectures set to background images and music.
5. What Quote I've Been Holding In My Head
Eric Hoffer wrote, "A man is likely to mind his own business when it is worth minding. When it is not, he takes his mind off his own meaningless affairs by minding other people's business."
My take-away? Fill your head and your life up with interesting things that engage you, heart and brain. When your own life is full of awesome things, there isn't space to give a damn about Kim Kardashian's ass shot or the latest round of media fear mongering.
If you've fallen a bit too deep into the 24-hour-news-cycle, tragedy-wanking to the latest outrage or clicking through galleries of red carpet celebs who show side-boob, maybe it's time to let the things you really value shove that other crap out of your head.
I've been overly invested in world events for the past several months (I was pretty much on WW3 watch for awhile there). It's time for me to return to a low-information diet. Time to fall back in love with my own life. Time to focus on making my own business more worth minding.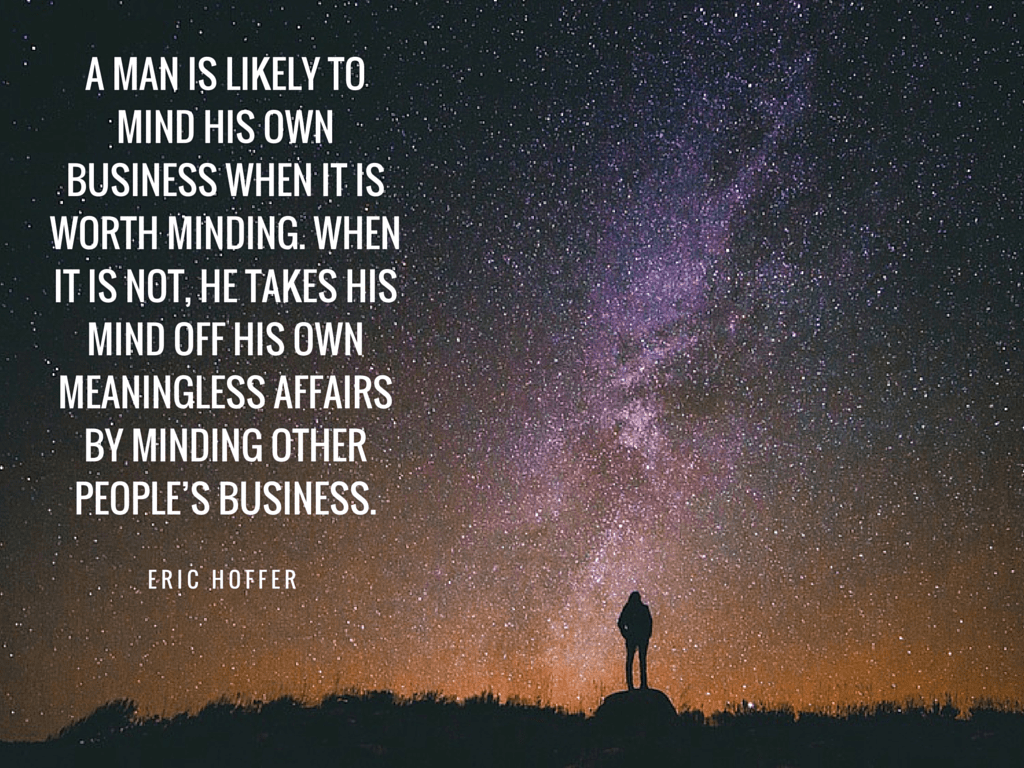 That's my Five Things Friday – but what's been on your mind this past week? Leave a comment and let me know.
1