Yesterday afternoon my son was doing his best impression of a barnacle, stuck to me in an emotional rebound reaction to going back to school from Winter Break. Getting anything done was challenging.
My husband walked in, back from his daily round of corporate servitude, our pre-teen daughter trailing in behind him.
"How was school?" I asked her.
"Is there anything to eat?" she responded.
And because earlier in the day I had thrown together this soup, I could say, "Of course there is, sweetie," instead of "What do I look like, your personal short order chef?"
Mom level 10: Activate. All thanks to this soup.
Click here for the printable recipe, or follow along for the step-by-step visual instructions.
Step-by-Step White Bean, Sausage and Kale Soup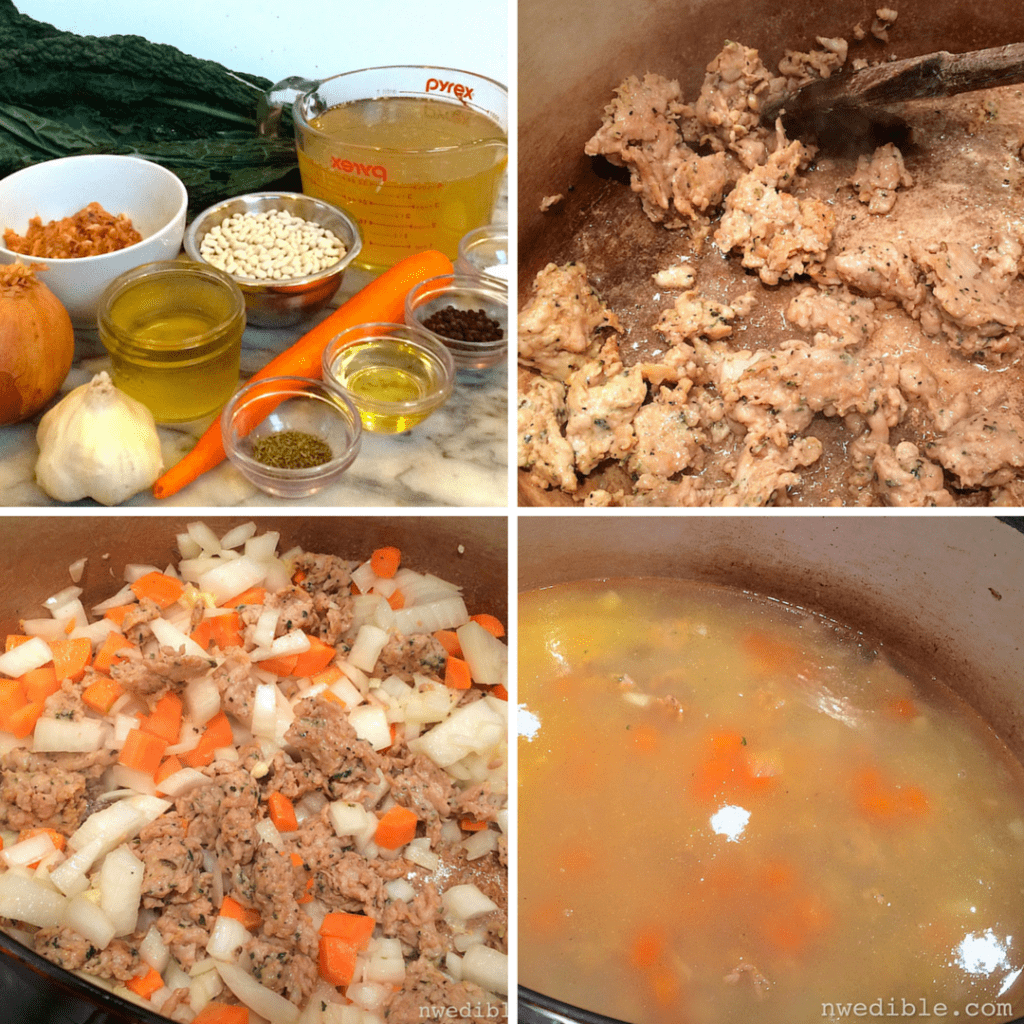 You will need:
Some Italian sausage: Carnivore? See Note. Vegetarian? Substitute portabella mushrooms, or leave out completely.
Flavor Building Veg: a yellow onion, some garlic and a carrot.
Feature Veg: wonderful Cavolo Nero kale.
Light stock: chicken or pork. Veg is fine too, if you are meat-free.
White wine: goes without saying.
Cooked white beans: you want the little cannellini or similar type for this. You can cook them ahead of time, or use canned beans.
Seasoning: thyme, salt, pepper, and – if you are feeling fancy – a good quality olive oil and some parmesan cheese.
Sausage Note: You can use mild Italian or spicy Italian, chicken or pork or turkey, in casing or loose. Whatever. It doesn't matter, so long as your sausage is uncooked. What you don't want is a pre-cooked sausage you can just heat-and-eat. If your sausage doesn't feel squidgy when you poke it, it's the wrong type. The Yuppie Hippie market had bulk, uncased mild chicken Italian sausage, so that's what I used.
Saute your sausage. Get it nice and brown, but don't burn it.
Add your flavor builder veggies to the pot. Just throw them right in there with your sausage. Cook them till they are nice and soft.
Next, add your liquids. In goes the stock and vino. While we are at it, toss your dried thyme in there so it has time to hydrate and soften. Keep the heat moderate and get everything bubbly together.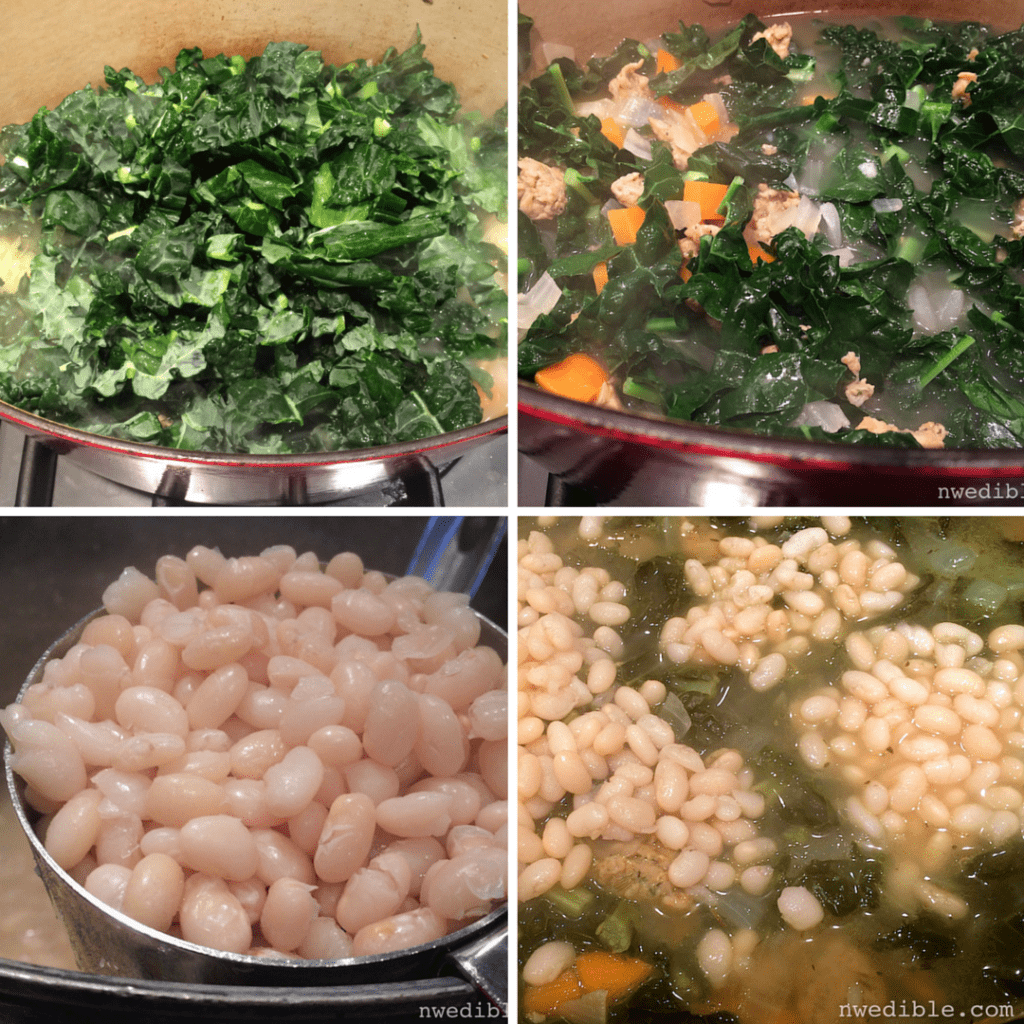 Pop your sliced up kale into the soup. It will look like a lot initially, but you know how greens are. It'll shrink down in no time. Cook the kale until it's pretty tender. (Kale never gets tender, tender. It's not codependent. This is one of the lovely qualities of kale.)
Add the cooked white beans. I had a pot of white beans going on the back of the stove anyway, so that's what I used but – to reiterate – canned beans are totally fine here. Just drain them well and rinse all that goopy snot-textured bean-gel off of 'em before you add them to your soup.
Gently, gently stir those lovely delicate beans into the soup, then season everything with salt and pepper like you mean it.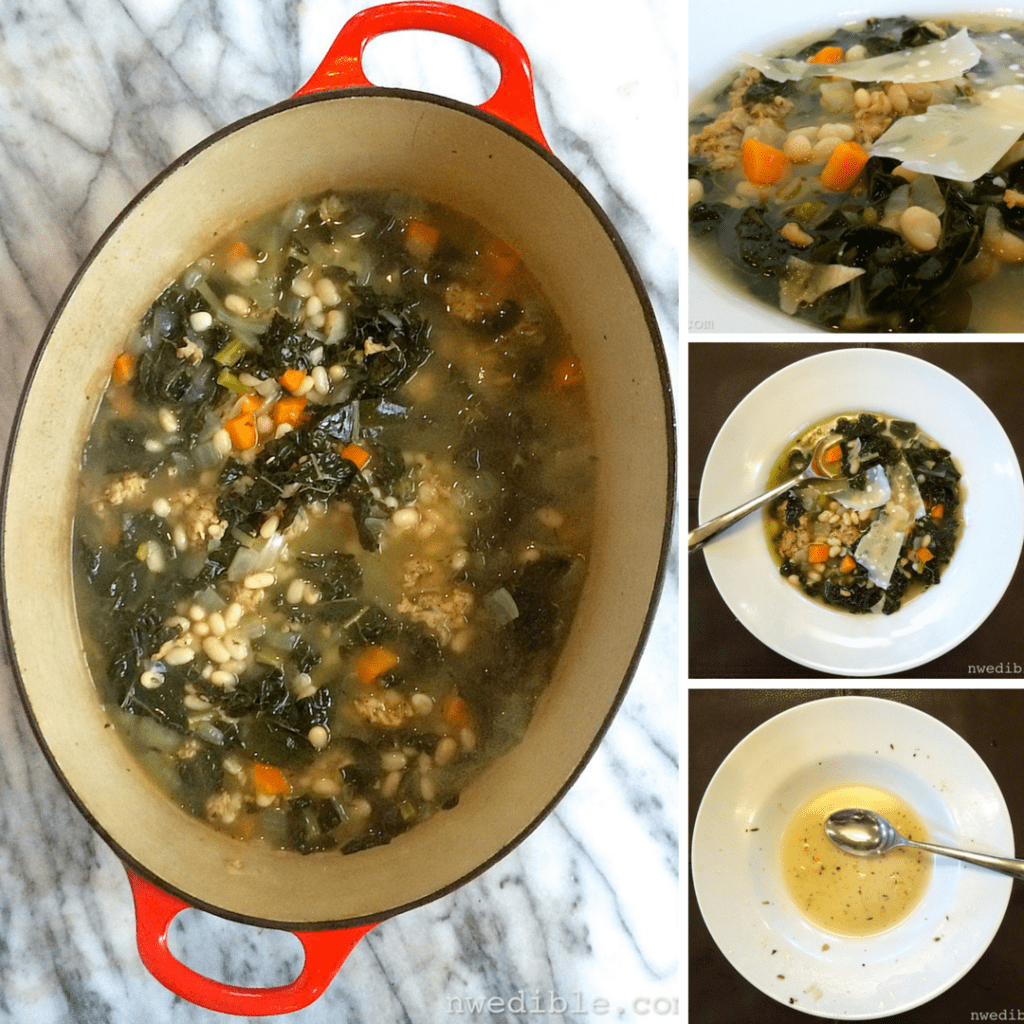 This soup is classic and delicious and needs no messing with, but if you really want the absolute best experience, it's all about the garnishing.
Dish up bowls of the hot soup, then drizzle each with some good quality olive oil, like the kind your friend who travels to Napa and Tuscany would bring you back as a thank you gift after you picked up her mail for a week.
Now top each bowl with a few shavings of parmesan. Skip the green can of cheese salt and take these right off a chunky wedge of fancy-pants cheese with a potato peeler. A few curls of good parm do a lot in almost every situation.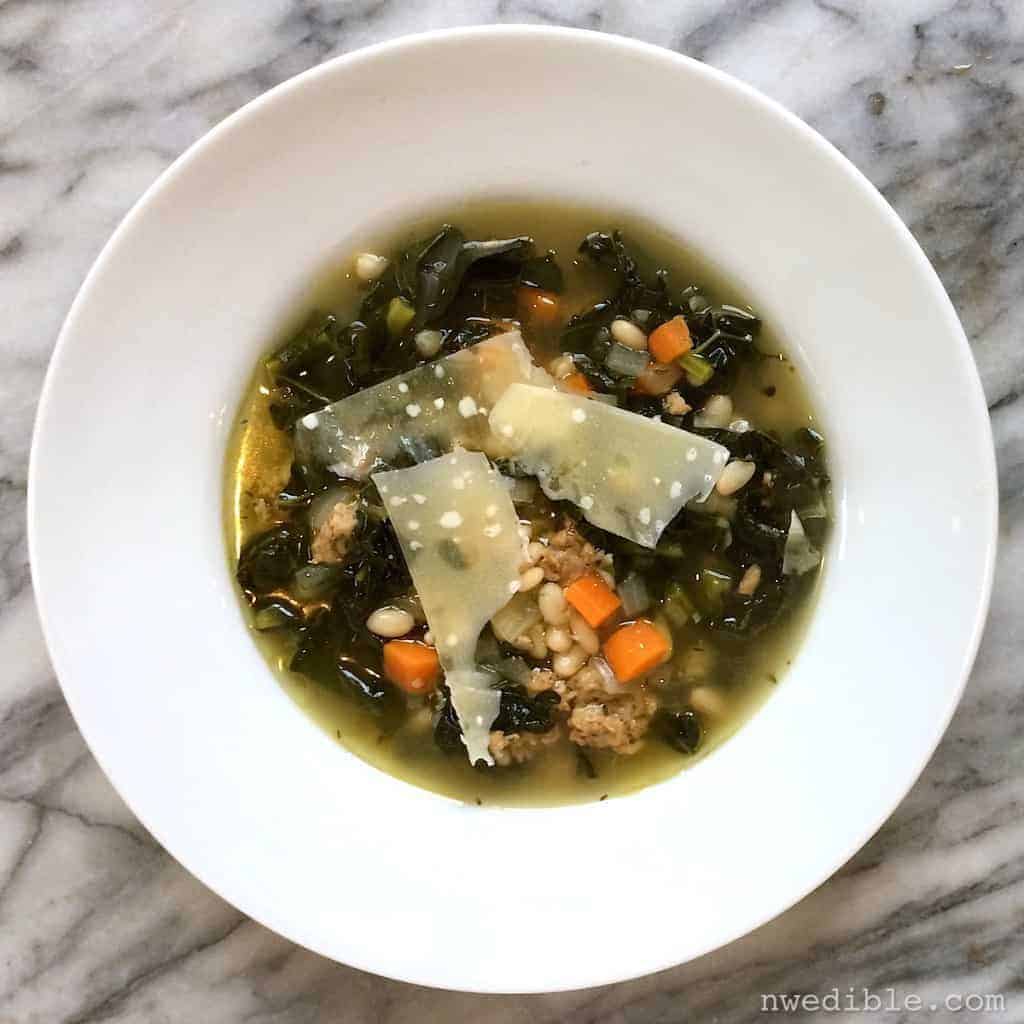 Enjoy with a glass of white wine. You had to open a bottle to make the soup, so you might as well.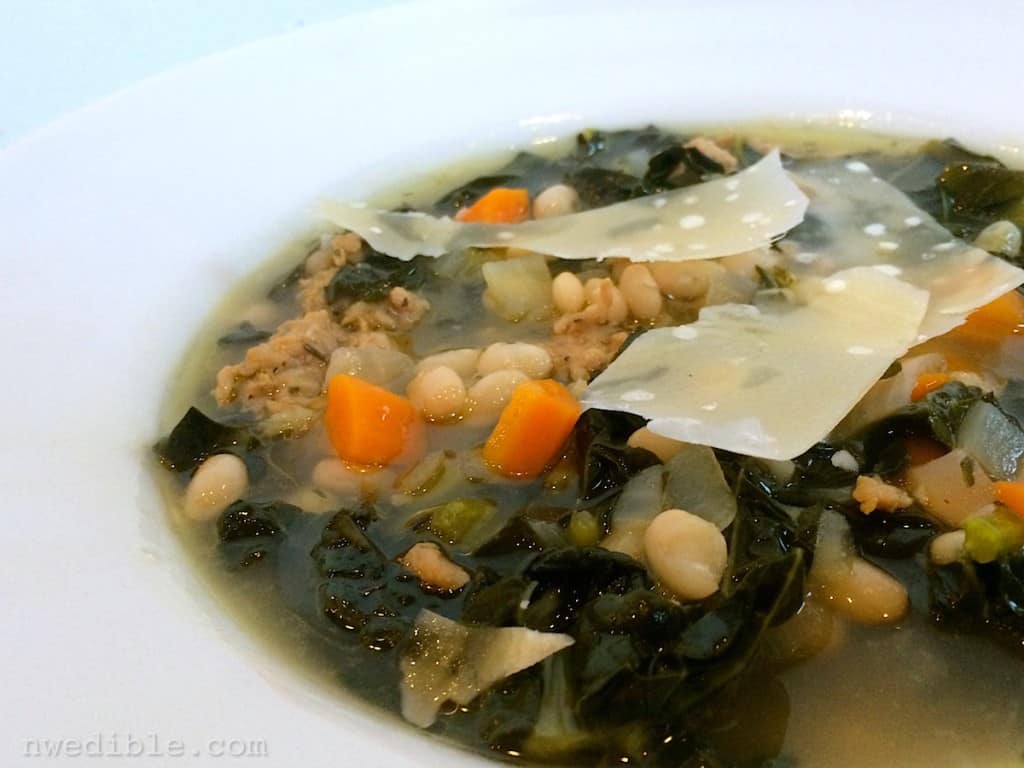 Printable White Bean, Sausage and Cavolo Nero Soup Recipe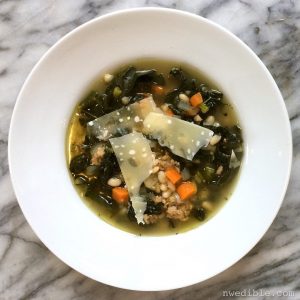 Print
White Bean, Sausage and Cavolo Nero Kale Soup
Yield 4 to 6
A simple and delicious winter soup.
Ingredients
1/2 lb bulk Italian sausage, or about 3 mild Italian sausages, casings removed
2 tablespoons olive oil
1 yellow onion, peeled and medium diced
1 large carrot, peeled and medium diced
1 garlic clove, minced
1 quart chicken or pork stock
1 cup dry white wine
1 tsp dried thyme or 1 tablespoon fresh minced thyme
2 bunches Cavolo Nero kale, rinsed, tough stems removed, and finely chopped
2 cups cooked (or canned) cannellini or other small, white beans
Salt and freshly ground black pepper to taste
Best quality olive oil, to garnish (optional)
Parmesan cheese, to garnish (optional)
Instructions
In a large pot set over medium-high heat, warm the oil until it shimmers. Crumble the sausage meat into the oil, and cook, stirring frequently, until sausage is browned.
Add the onions, carrot and garlic to the pot and cook, stirring occasionally, until the onions are translucent and the vegetables are tender.
Add to the chicken or pork stock, wine, and dried thyme to the pot. Bring everything to a simmer, then add the kale to the pot.
Adjust heat to medium-low maintain a very gentle simmer, cover pot, and cook until all the vegetables are quite tender, about 15 minutes.
Add the cooked cannellini beans to the soup, and season to taste with salt and pepper.
Gently simmer for a final 10 to 15 minutes, to allow the flavors to fully meld. Adjust final seasonings with additional salt if needed.
Serve the soup hot, topped with a drizzle of good olive oil and a few shavings of Parmesan.
Courses Soup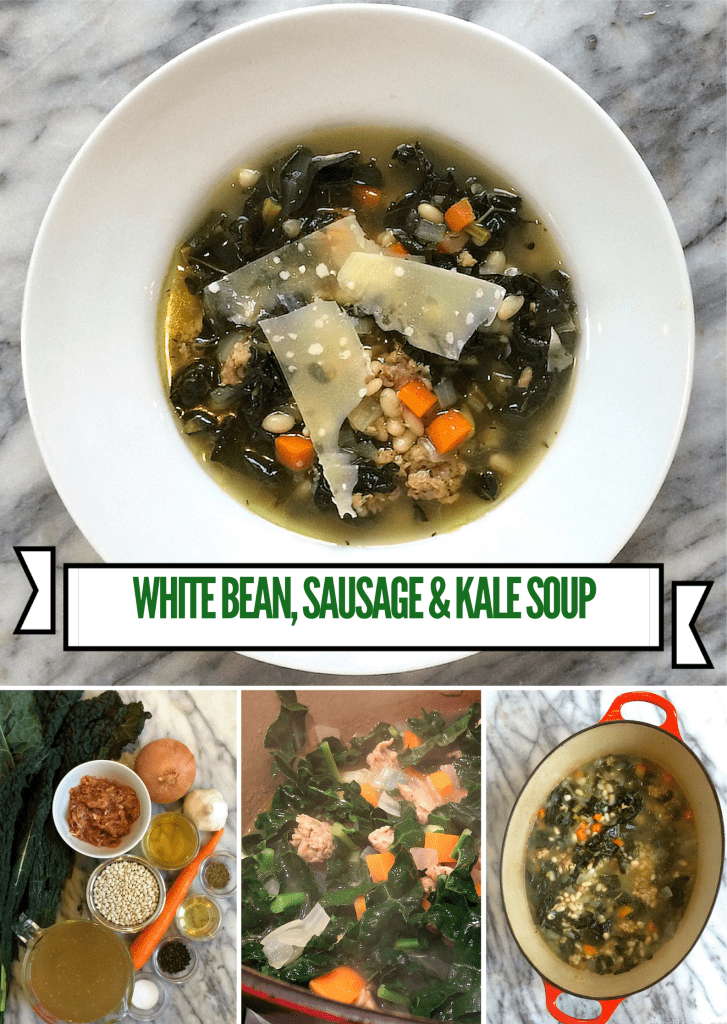 7