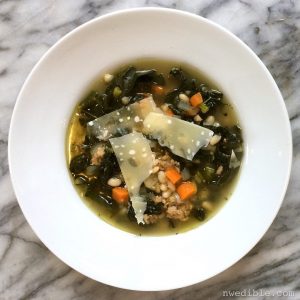 White Bean, Sausage and Cavolo Nero Kale Soup
Yield 4 to 6
A simple and delicious winter soup.
Ingredients
1/2 lb bulk Italian sausage, or about 3 mild Italian sausages, casings removed
2 tablespoons olive oil
1 yellow onion, peeled and medium diced
1 large carrot, peeled and medium diced
1 garlic clove, minced
1 quart chicken or pork stock
1 cup dry white wine
1 tsp dried thyme or 1 tablespoon fresh minced thyme
2 bunches Cavolo Nero kale, rinsed, tough stems removed, and finely chopped
2 cups cooked (or canned) cannellini or other small, white beans
Salt and freshly ground black pepper to taste
Best quality olive oil, to garnish (optional)
Parmesan cheese, to garnish (optional)
Instructions
In a large pot set over medium-high heat, warm the oil until it shimmers. Crumble the sausage meat into the oil, and cook, stirring frequently, until sausage is browned.
Add the onions, carrot and garlic to the pot and cook, stirring occasionally, until the onions are translucent and the vegetables are tender.
Add to the chicken or pork stock, wine, and dried thyme to the pot. Bring everything to a simmer, then add the kale to the pot.
Adjust heat to medium-low maintain a very gentle simmer, cover pot, and cook until all the vegetables are quite tender, about 15 minutes.
Add the cooked cannellini beans to the soup, and season to taste with salt and pepper.
Gently simmer for a final 10 to 15 minutes, to allow the flavors to fully meld. Adjust final seasonings with additional salt if needed.
Serve the soup hot, topped with a drizzle of good olive oil and a few shavings of Parmesan.
Courses Soup
Recipe by Northwest Edible Life at https://nwedible.com/white-bean-sausage-and-cavolo-nero-kale-soup/