Unfortunately, since I started writing this series, the number of specific, urgent things I can point to as reasons to be prepared have just gone up.
Puerto Rico is a heartbreaking example of long-term infrastructure disruption, and a cautionary tale in terms of how long it might take for outside help from government agencies to reach you.
Napa-Sonoma, possibly the most famous wine-growing region outside France, is burning. Fast moving, hard-to-contain fires blown by brisk, dry winds have claimed dozens of lives and thousands of homes in the North Bay area of California. If you needed a kick in the butt to finish your 72 Hour Bag and Evacuation Planning, those fires are it.
Mexico was hit with two major but geologically unrelated earthquakes in September. Together these earthquakes killed nearly 500 people.
There were even a couple major solar flares in early September, but you probably didn't notice (and be grateful you didn't).
The 2017 Hurricane Season is shaping up to be the costliest in history. And that's just the natural disaster side of stuff that gets press coverage in the domestically-focused U.S. media!
It's also been a particularly damaging year for flooding in both South and East Asia. There is a literal black death (pneumonic plague) outbreak in Madagascar right now. The US President's uncommon approach to 140-character foreign policy has left a few people just a tiny bit concerned. And as I write this, there's a hurricane warning in effect for…Ireland?
Rough damned six weeks.
You'd be forgiven for wondering if the Zombies can be very far behind. That's when prepper panic can set in.
I bring this up because it seems to me that most people who don't self-identify as part of the odd little sub-culture we call "preppers" tend approach emergency preparedness in a very binary fashion. Ones or Zeroes. All On or All Off. Total panic about an imminent or current emergency, or totally not aware at all.
State Zero: Blissful Ignorance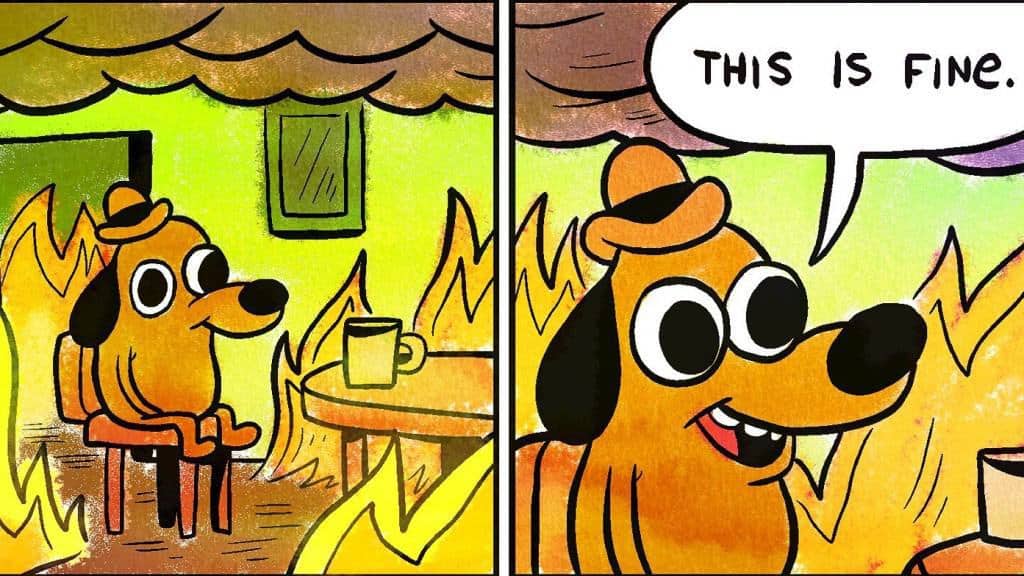 People in State Zero – let's call it "Blissful Ignorance" – are not going through life saying "that could never happen to me." That's a misconception. Anyone honestly asking, "I wonder, could that ever happen to me?" is already somewhere along the preparedness mindset.
The Blissfully Ignorant aren't even asking that question. Emergency awareness is just not even part of their world.
Here's an analogy. Have you ever seriously said, "Hey, I'm not worried. Quantum Tunneling will never cause my arm to spontaneously disappear from my body and reappear on the Moon."
No, you have never said that because no one ever worries about that because it doesn't happen. It's not even part of your thought process to consider disappearing space-traveling limbs as a potential disruption to your life.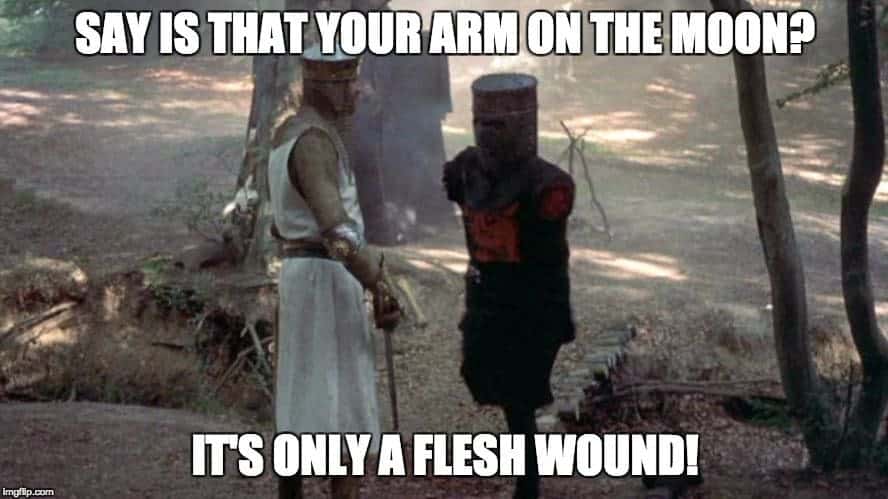 If your arm somehow did disappear off your body and start waving back to you from the Moon, you would absolutely lose your mind because a never-before considered scenario just directly impacted you and changed your life forever.
Now imagine that exact same total lack of awareness – you literally never even think about that possibility – only this time apply it to something like a 4-day power outage. Imagine someone so totally unaware of the potential for disruptions in their life that a 4-day power outage is to them, like Quantum Tunneling Disappearing Space Limb is to you.
That's State Zero, "Blissful Ignorance." It's main characteristic is entitled obliviousness.
State One: Perpetual Panic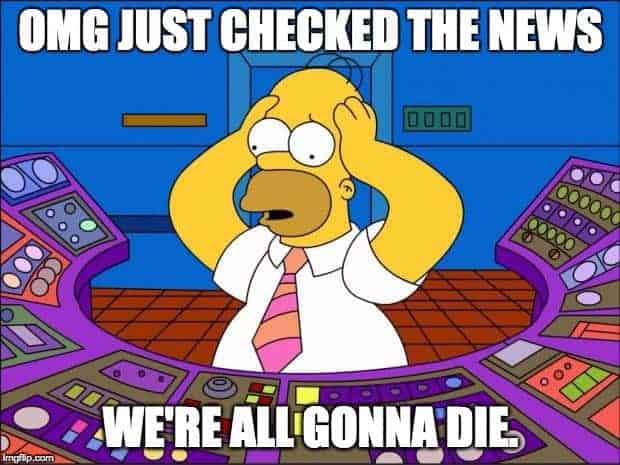 State One is the opposite. Let's call it "Perpetual Panic."
In State One, people are so keyed up about disasters that they lose the ability to perform good risk analysis. They might obsess about something with a minuscule probability of occurrence (like a North Korean-launched nuclear EMP) while neglecting things with a very high probability of occurrence, like retirement or temporary job loss or a medical emergency.
People in Perpetual Panic develop an overblown sense of imminent doom. They might engage in disaster-junkie type behavior. At best, maybe they spend money they don't have on gear or supplies without a real plan. At worst, they end up on Doomsday Preppers, screaming at their 4 year old daughter to pull the Concertina wire tighter during the home-invasion practice drill.
State One is primarily characterized by reactionary behavior driven by fear instead of logical risk analysis.
Unfortunately for the preparedness world, people who get an adrenaline charge from living in a state of constant panic are often the face of the movement. Those of us who really just want you to embrace preparedness as a way to be more calm during a windstorm kinda resent these people.
The Ignorance To Panic Flip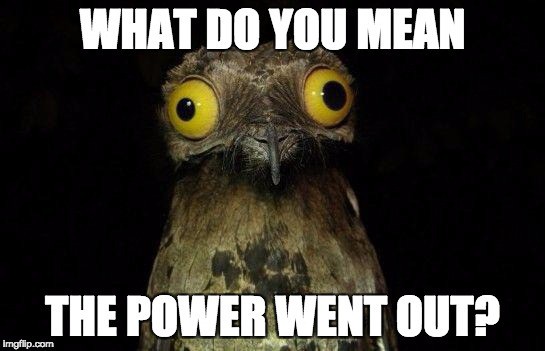 During particularly visible or imminent disasters, many people who live in State Zero: Ignorance briefly flip over to State One: Total Panic.
That looks like this: "Holy shit I don't have any food in the house and I need gas right now I'm almost out of gas, I have to go buy gas and Walmart has to have water because Walmart always has water and I'm going to get water now and maybe I should get a flashlight too because the power just went out – maybe it's because of this hurricane. Hey is that a tree branch?"
In an actual emergency, these people are dangerous. Individually they are in a state of hardly contained panic because they don't know what's going on and they feel like their arm is waving to them from the moon.
In a group they become the mob that's willing to fight over that last loaf of wonderbread. Avoid if at all possible.
A Better Way: Cultivate a Range of Readiness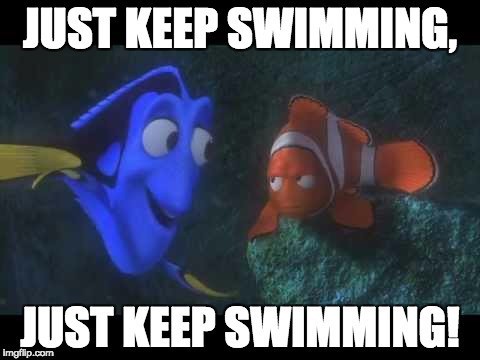 Right now, many people are getting the message that bad, unpredictable, random, destructive things do happen to good people just like you, all the time.
The smart response to the realization that:
disasters happen
they can happen to you
lack of planning on your part will not change the speed at which help arrives
….is not to flip back and forth like a pinball between ignorance and panic.
If a tiny bit of fear helps get you moving, I'll take it. But that fear should be just a little kickstart to get you somewhere into A Range of Readiness.
If you're in the Range of Readiness you:
Understand that some disasters are far more likely than others to occur and use smart risk analysis to prioritize your preparedness money and time.
Maintain appropriate emergency supplies to see you through likely regional disasters, without compromising your family's budget or financial security.
Maintain appropriate emergency supplies to evacuate rapidly if needed.
Maintain appropriate insurance and documentation to make putting your life back together after a catastrophic emergency slightly less horrible.
Maintain an awareness of various local, national, and international events, without allowing them so much emotional power over you that you freak out. ("Freaking out" is a useless State One activity and is to be avoided if at all possible.)
Can recognize "hype media reporting" and when you determine that an emotional fear reaction is being manipulated out of you, you can effectively shut that fear reaction down.
Can determine what constitutes a serious, imminent disaster that requires your action now.
Use media reports of disasters that don't directly affect you to inspire thought-exercises that can help you improve your own readiness.
Mentally place yourself in all manner of truly horrible scenarios, without fear that you will cause bad things to happen by thinking about them.
Utilize states of increased disaster awareness to gently nudge family members towards greater personal readiness.
See your neighbors not just as people who live near you, but also as your de facto first responders and tribe in the event of a regional emergency.
Seize opportunities to practice or learn a wide-range of skills, from cooking, to fishing, to communication.
Occasionally make yourself a little uncomfortable on purpose, through tech Sabbath days, camping, etc.
Regularly think about how to improve and iterate your own preparedness supplies, plans and skills.
Some people in the Range of Readiness will have lots of gear, some will have little. Some will be homesteaders, some will be urban apartment dwellers. Some will have 2 weeks of food, some will have two years of food.
Your stuff and your supplies beyond a basic minimum doesn't determine if you're in the Range of Readiness. That's why it's a range.
Your mindset, your cultivated philosophy of preparedness, and they way you think about resilience determines if you're in the Range. And once you're in, moving further in one area, expanding skills in another, or gathering supplies for specific things: that's just details.
You work on all those bit by bit over time.
Readiness = Use-Your-Head-iness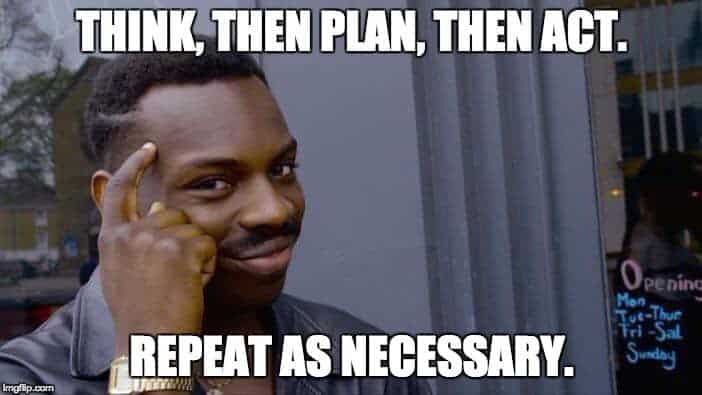 You may notice from the bullet point list above that someone in the Range of Readiness does an awful lot of thinking.
That thinking drives planning, and that planning drives action. Initial action gives someone in the Range of Readiness a baseline, and from this she periodically re-evaluates (more thinking) and refines (better and more specific planning and action).
In this way, a recursive system of non-fear-driven preparedness becomes a part of life. Then, if, God-forbid, you face an actual emergency, you aren't spending time battling people who've just suddenly and temporarily switched from State Zero to State One at the grocery store.
Instead, you'll begin enacting plans based on what you've already considered and mentally worked through.
For example, people in the Range of Readiness in the North Bay area right now who are not under evacuation orders or in direct threat from the fires – but who could be – are in a state of heightened alert.
They are keeping a very close eye on fire containment, winds and alerts.
They aren't waiting for someone to tell them it's bad for them specifically before they start to pre-position themselves to evacuate.
They have already checked their evacuation plans against fire locations, and made changes to their evacuation options if needed.
They've printed out alternate maps and backed up critical documents.
They've pre-positioned supplies in the car, ensured the gas tank is full, and possibly moved pets and livestock to lest risky locations.
If evacuating becomes their safest option, they will evacuate immediately.
Sensible Preparedness Doesn't Have A Season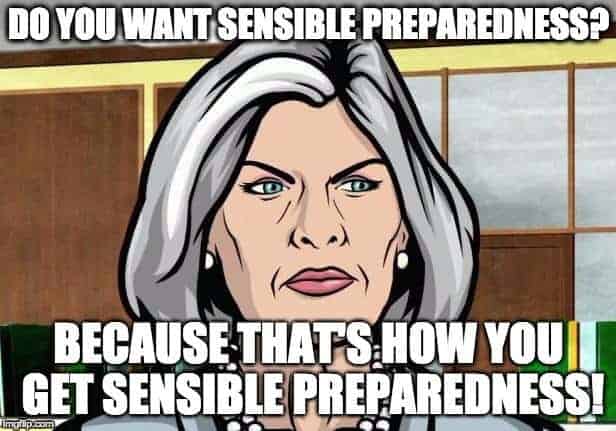 Right now, emergency readiness is an easy sell because all these disasters are in our faces, everywhere. Learn from these disasters, not in a state of panic, but for the long term.
Instead of embracing entitled ignorance or ineffective panic, try to just keep a nice even rhythm to your preparedness, cultivating readiness that makes sense for you.
In six months or six years, when the seas and winds calm down and the fires are out and the world seems calm (fingers crossed), just keep plugging away, periodically checking your supplies, rotating your food and re-evaluating your evacuation plans.
• • •
Preparedness 101: The September (and beyond) Series
Preparedness 101: Shun Ignorance and Reject Panic – Focus On Readiness <— You are here
5