With all that holiday baking and homemade gift giving I'll bet you ran through a fair bit of vanilla extract. Good news! If you start a new batch now it will be absolutely perfect for the 2015 holiday season.
Homemade vanilla extract is about as simple a DIY as you could hope for, and the results are indisputably better than store bought, but it's not necessarily a money saver. There are two ingredients in real, homemade vanilla extract, vanilla beans and booze. Neither comes cheap.
So this is one of those projects where you have to weigh your budget against your desire to be a vanilla connoisseur and your concern that your vanilla extract might include beaver anal gland juice. (A highly unlikely proposition, thank goodness.)
DIY Vanilla Extract is typically made by soaking vanilla beans in vodka. This works just fine, but I found that I far preferred the flavor of vanilla extract made with mild bourbon. So, it's up to you, but for a better vanilla, I recommend you infuse your beans in bourbon whiskey. You can also play around with mild rum or brandy if you like.
Confusingly, you'll periodically see vanilla extract sold as "Bourbon Vanilla". This does not mean that vanilla extract is made with bourbon whiskey. The most common of the three varieties of vanilla beans grown commercially is Vanilla planifolia, which goes by the common names Bourbon Vanilla and Madagascar Vanilla, after the islands in the Indian Ocean where it's grown. Île Bourbon is now called Réunion but the Bourbon Vanilla moniker lives on. Now you know.
Step By Step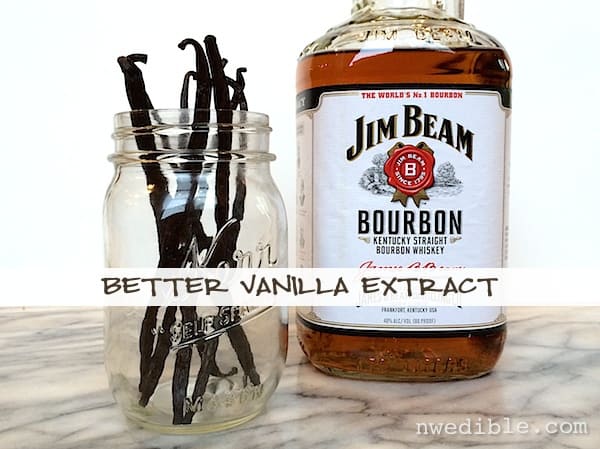 We'll need just two ingredients for our homemade vanilla extract.
Vanilla beans, and lots of them. I use 8 to 10 in a pint jar. Order on-line in bulk for the best prices. I used these beans.
Booze. A mild, 80-proof, mid-range alcohol is your best bet. I used Jim Beam, my preferred bourbon base for infusions.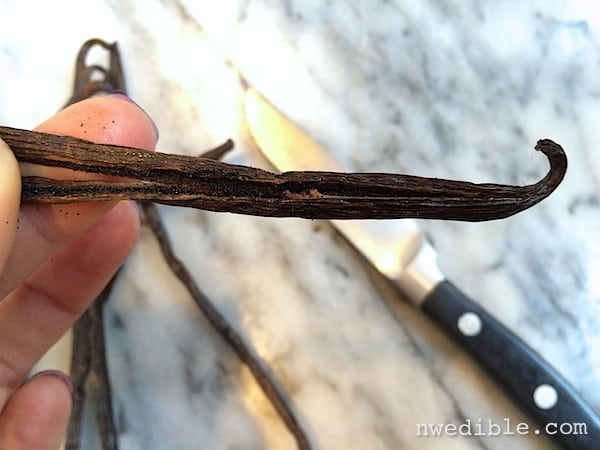 Slice each bean in half lengthwise. Some of the amazing little vanilla flecks may rub onto your knife or fingers. That's fine, but don't scrape down the inside of the bean. You want to leave those little seedy bits intact in the pod as much as possible.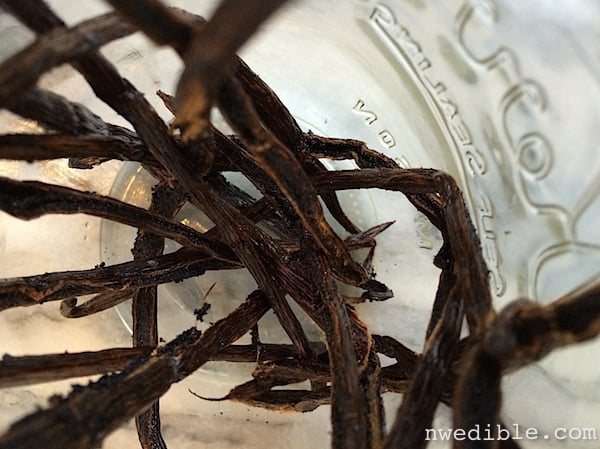 Cram all your split beans into a pint jar. If the beans stick up over the top of the jar just fold them over or cut them in half.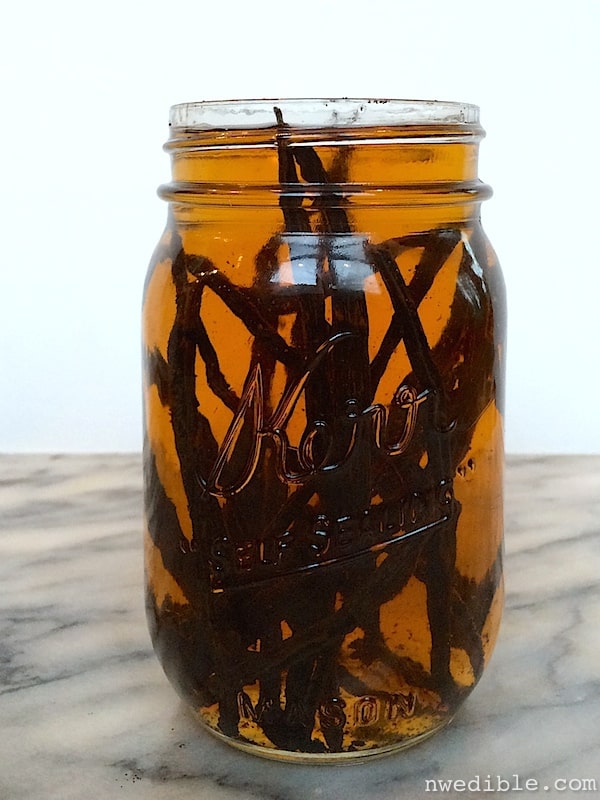 Fill the jar with bourbon.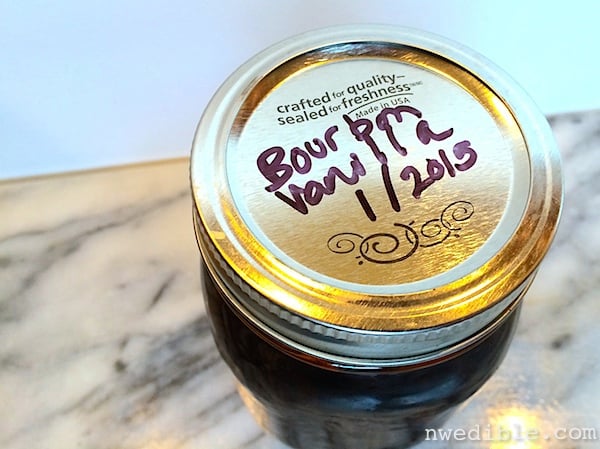 Seal your jar with an airtight lid and really crank the lid down. You don't want your bourbon evaporating away. Label your vanilla and now stick it someplace dark and cool and forget about it for several months.
That's it. In three months you can strain it, but I don't. In six months it will be the best vanilla extract you've ever clapped tastebuds on and by next year's holiday baking bender it will be transcendent. As you use it up, a teaspoon at a time, top it up with more bourbon. You can go on like this for some time, until you notice that the only thing flavoring your cookies is hooch. Then it's time to start over.
Do you make your own vanilla extract?
30