Oscar Wilde is credited with perhaps the world's best quip about manners: "A gentleman is one who never hurts anyone's feelings unintentionally."
Yeah, just take a minute and let it sink in.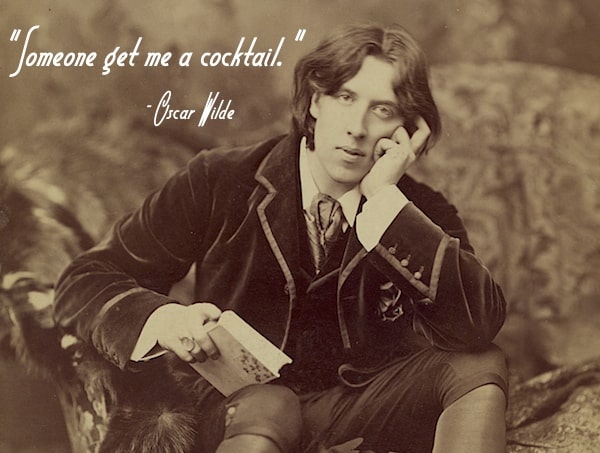 I feel the same way about cocktails: "A good cocktail will never get you drunk unintentionally." My preference is for drinks that leave no room for misinterpretation as to their contents.
Because of this, I am not naturally inclined to like vodka-based cocktails. Vodka is pretty much flavorless, and drinks made with vodka tend to be designed to sneak inebriation into you under cover of sweet and syrupy. Boo! But this is not, inherently, the fault of vodka. Vodka doesn't kill good cocktails, people who misuse vodka kill cocktails.
Or something.
In any event, my first step when using vodka as a base in a cocktail is often to bring some flavor to the party. Vodka, like all alcohols, is a great solvent – why use something deliberately tasteless when you could seize this flavor building opportunity?
The Jasmine Tea-tini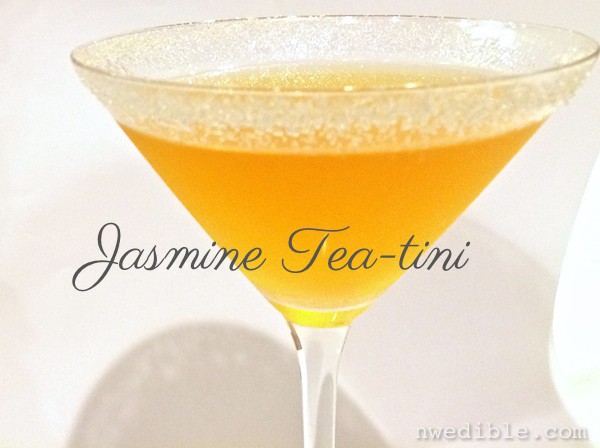 Today's cocktail starts with vodka infused with jasmine tea. This is a super-short infusion, so you can start it when you get home from work and by cocktail time it'll be ready.
For The Jasmine Tea Infused Vodka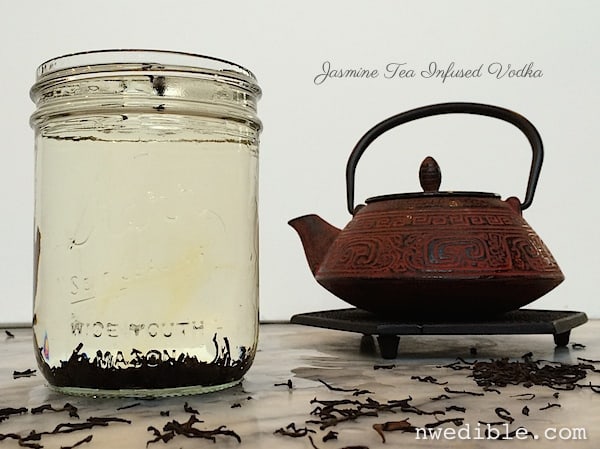 Allow 30 minutes to 2 hours for the infusion. If you want to make a smaller quantity of tea infused vodka, use 1/3rd cup vodka for each teaspoon of loose tea. This basic infusion is also excellent made with Earl Grey tea.
Ingredients
2 cups vodka
1 tablespoon loose-leaf jasmine tea (or two teabags of jasmine tea)
Method
Add the vodka and jasmine tea to a pint-jar. Lid the jar well, give the vodka a shake and set the vodka someplace out of the way for at least 30 minutes.
After 30 minutes, the vodka should be a warm brown color and distinctly tea-flavored. If you want a stronger flavor, just let the vodka sit a bit longer, up to 2 hours.
Strain infused vodka into a clear jar or bottle. Infused vodka will last more or less indefinitely.
For The Jasmine Tea-tini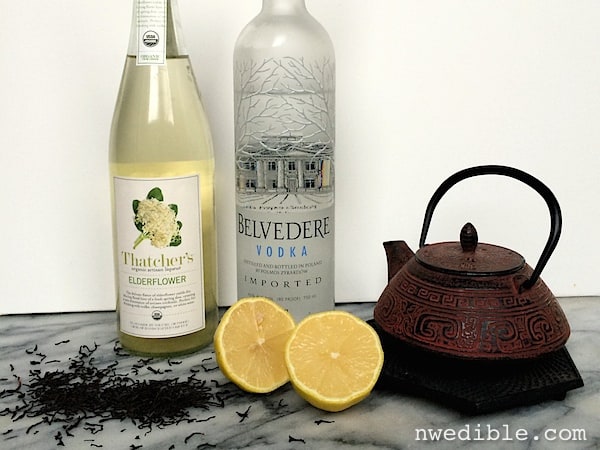 Makes 1 cocktail
Ingredients
Granulated sugar, for rimming cocktail glass
2 ounces (4 tbsp.) jasmine tea infused vodka
1 1/2 ounce (3 tbsp.) elderflower liqueur, such as St. Germaine
1/2 ounce (1 tbsp.) freshly squeezed lemon juice
Method
Sprinkle a bit of granulated sugar onto a wide plate. Moisten the rim of a cocktail glass with a wedge of lemon, then dip the cocktail glass into the sugar. Set glass aside.
Add the jasmine tea-infused vodka, elderflower liqueur and lemon juice to a cocktail shaker or mason jar filled with ice. Cover shaker or jar, then shake the cocktail hard for at least 30 seconds. Strain the Jasmine Tea-tini into the prepared cocktail glass and drink cold.
Have a great weekend, friends!
6