Disclaimer: if you think of your chickens as pets, if you let them live out their full, natural lives regardless of economics of laying productivity vs. feed, then this may not be the post for you. While there is nothing graphic in this post, it assumes the reader is comfortable with the concept of slaughtering livestock. This post is not intended to specifically advocate culling your birds at the end of their productive laying lives, but if you choose to, or if you send them off to some other form of retirement off your property, the approach to flock management described here may help you get achieve more consistent egg production.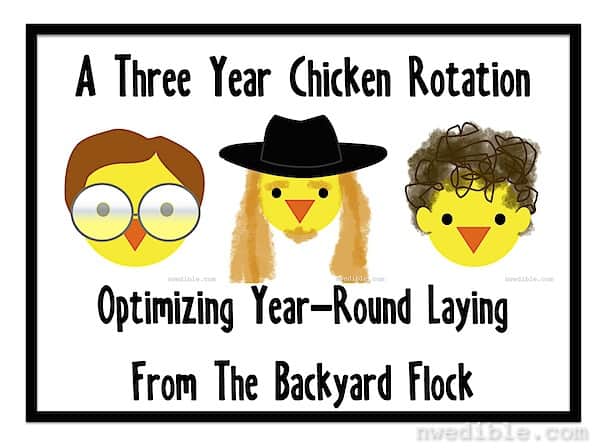 Suprise! Eggs Are A Seasonal Food
Small-scale chicken keepers know all too well how egg supply can vacillate between nothing (and a shameful trip out to the store for commercially raised eggs) and enough to supply the props department at a Cool Hand Luke remake.
As weird as it seems to folks used to those unchanging cartons of eggs at the market, eggs are a seasonal food. Several things contribute to this natural production variability:
• Hens stop (or dramatically slow) their laying during the short days of winter.
• Chickens must rest periodically, for reproductive health and when they are regrowing feathers after a molt.
• New chicks take about 5 months to mature into reliable producers.
• After about two to three years of laying, a hen's productivity starts to decline dramatically.
Industrial egg producers get around this by selecting breeds which are early and heavy layers, then raising them in artificially lit enclosures so that low natural light levels never slow frequency of lay. They keep flocks of same-age hens together, and force the molt of all hens in the flock simultaneously by manipulating heat, light, water and feed (including, commonly, total removal of food to initiate molting).
Forced molting keeps hens at the highest average rate of eggs production, but is ethically unbearable.
If a backyard, small-flock chicken keeper wants to ensure a more steady supply of eggs, we need different tactics. While natural egg production is much higher in the summer than the winter, the cycle we've developed for our hens gives us the best chance of some decent egg production year-round.
Let's Explain This With Classic Rock and Chicken Cartoons
In order to make sure we get eggs as close to year-round as possible without resorting to evil industrial-style shenanigans, we need to make sure we have some birds coming into lay, some birds at their peak production, and some birds easing off of strong production to make room for the younger batch.
To make this more clear, picture three bands of hard-rocking chickens. We'll call them Bennie and the Chicks, Lay Ladies Lay, and, naturally, The Free Birds. Here they are: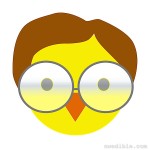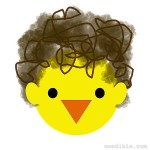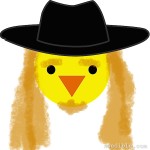 (Shut up. I never claimed to be a graphic illustrator.)
Starting Out
Figure out your ideal, stable, long-term flock size and divide that number by three. That's the number of members you can have in each chicken "band" We're going to add one band a year for three years to get us up to our desired flock size. Say you want no more than a dozen hens. 12 / 3 = 4. So, each of your chicken bands would contain four birds.
Year One
Spring: Bring home Bennie and the Chicks as chicks.
Late Summer: Bennie and the Chicks come into lay. Once they get going, expect 5-6 eggs per week per hen.
Fall: Bennie and the Chicks continue to lay very well.
Winter: First year chickens typically don't molt. Bennie and the Chicks will slow down a bit, but will continue to lay 2- 4 eggs per hen per week straight through winter, especially if a small amount of supplemental light is provided during the shortest days of the year.
Year One Egg Estimates
Bennie and the Chicks

No production March to July (chicks). Brief ramp up period as laying begins.
5 – 6 eggs per week, per hen from August to October.
2 – 4 eggs per week, per hen November to February.
Year Two
Spring: Bring home Lay Ladies Lay as chicks. No laying from them, but as the days of spring lengthen, Bennie and the Chicks are in their peak year of laying well. Look for a consistent 5-6 eggs per week per each Bennie and the Chicks hen.
Late Summer: Lay Ladies Lay start giving you eggs! It's a little sporadic at first, but they get there, and soon each Lay Ladies Lay bird is producing 5-6 eggs per week too. Meanwhile Bennie and the Chicks continue to lay.
Fall: Lay Ladies Lay are rocking out the egg production with 5-6 eggs per hen per week. Bennie and the Chicks are getting tired – they've been laying for over a year now! They need a freakin' break. One by one as the weather gets colder and the days get shorter, they start to molt. Egg production falls to almost nothing as their bodies do the hard work of re-growing feathers.
Winter: Lay Ladies Lay keep you in moderate egg production (2- 4 per week) straight through the winter. Depending on breed, climate, and supplemental lighting you may get a few eggs from Bennie and the Chicks, or they may just take the whole winter off.
Year Two Egg Estimates
Lay Ladies Lay

No production March to July (chicks). Brief ramp up period as laying begins.

5 – 6 eggs per week, per hen from August to October.

2 – 4 eggs per week, per hen November to February.

Bennie and the Chicks

5 – 6 eggs per week, per hen from March to October.
Sporadic laying from November to February.
Year Three
Spring: Bring home The Free Birds as chicks. Let them enjoy their peeping childhood for 20 weeks or so. Lay Ladies Lay come back up to their peak production as the days lengthen, giving 5 to 6 eggs per week per hen. Bennie and the Chicks are probably back to lay again after their first molt. Production will be a bit less than pre-molt, but should still be about 3-4 eggs per hen per week.
Late Summer: The Free Birds start laying. Meanwhile Lay Ladies Lay are at their peak of egg production and Bennie and the Chicks are contributing as well. You've got a lot of eggs now. Make sure you collect eggs at least daily, and be prepared to bribe neighbors, sell eggs, or freeze the inevitable egg glut for the slower production time of winter.
Fall: The Free Birds are up to full production and are laying 5-6 eggs per hen per week. By late fall, expect Lay Ladies Lay to need a well-earned break. They'll start to molt for the first time and Bennie and the Chicks will enter their second molt. Egg production falls, but The Free Birds continue to pump out eggs like tiny dinosaur champions.
Winter: The Free Birds maintain that first-year production at 2- 4 eggs per hen per week. Lay Ladies Lay may add a bit to the treasure in the nesting box, but without supplemental light, don't count on it. At their second molt, Bennie and the Chicks graduate to Stockpot Camp, or go on to whatever retirement you deem best.
Year Three Egg Estimates
The Free Birds

No production March to July (chicks). Brief ramp up period as laying begins.

5 – 6 eggs per week, per hen from August to October.

2 – 4 eggs per week, per hen November to February.

Lay Ladies Lay

5 – 6 eggs per week per hen from March to October.
Sporadic laying from November to February.

Bennie and the Chicks

3 – 4 eggs per week per hen from March to October.
Cull at second molt, around November.
Year Four and Forward
From now on, the flock size stabilizes. If your ideal flock size was 12 birds, this rotation will keep your flock between 8 and 12 birds consistently.
Going forward, as you maintain this rotation, a new batch of chicks is brought in every spring, and the oldest "band" of hens is culled at their second molt, about age 3, and sent to the soup pot.
The nice thing about a three year cycle with your birds is that you always have a cohort of pullets that is naturally inclined to keep laying through the winter. You also don't end up in that unfortunate Urban Chicken-keeper dilemma: 1/10th of an acre, 8 aged birds, and 4 months without backyard eggs. With an planned cull of older birds and a planned buy of new chicks, you can keep the small backyard flock productive.
What About Artificial Lighting?
Artificial lighting can do a lot to increase the rate of lay in younger birds in the winter. It's a personal choice if you use lighting in your coop. We do, to a point. We only add artificial light after birds have re-feathered in the winter after their fall molt. A natural molt is essential to a healthy chicken, and we don't want to mess with the change-of-season signals that tell the birds to molt.
Making feathers is metabolically costly, so we give the birds extra protein rich treats while they are in molt. They are disturbingly fond of scrambled eggs.
Once they've all stopped looking like tiny ugly dinosaurs, we will jumpstart "Spring" a bit with a single 7 Watt LED lightbulb that draws very little electricity. It's connected to a timer that's programmed to automatically turn the bulb on for a few hours before sunrise and run it a few hours after sunset. This triggers the "lengthening day" photoresponse that fires off egg production. Some sources will advise gradually increasing the length of this light window but we've had perfectly good success just snapping the light on. We aim to supplement natural sunlight enough that the birds get about fourteen hours of total illumination.
Other Considerations
Many variables influence the frequency of a chicken's egg-laying and the longevity of its egg-laying. Age is not the be-all and end-all. Breed, nutrition, temperature, humidity, disease, stress and more all influence how well your birds lay.
Many dual purpose and heritage breed birds – the kind you are more likely to want in a backyard flock – will continue to produce well for a 4th year. I've heard a few stories about someone's grandma's chicken that kept laying an egg a day until it was 9. While I'm sure there are a few super chickens out there, these numbers reflect our experience with common backyard breeds such as Buff Orpington, Barred Rock, Black Sexlink, Red Sexlink, and Australorps. Your milage may, of course, vary.
There is some cold logic to the timing of a late fall / at molt slaughter. Chickens have a pretty predictable productivity cycle. Every time they molt, their egg laying potential goes down. Laying stays very strong through the first molt, and then drops off after the second molt. After the third molt, egg laying drops off again, and in some breeds becomes pretty sparse.
Because every laying cycle gets less and less productive, we know that a bird after its second molt will not be pulling it's egg laying weight come spring. Therefore, we cull in fall/winter to cut down on the winter feed bill and stock the larder with chicken broth.
Backyard chicken-keepers who want to follow a rotation like this, but feel that a three year rotation is too aggressive, might also consider a Four Year Rotation. In this scenario, you divide your ideal flock size by 4. Follow the general outline as above, introducing one-quarter of your flock each year, but cull birds after their third molt. They will be nearly four years old at this point.
Just in case you skipped the disclaimer at the top, I'll say it again here: I am not suggesting you must, should, or would be well served by killing your chickens. I want you to manage your flock in the way that is best for you. If that is chickens-as-pets, you have my full support and blessing. So don't leave a bunch of crazy in the comments section, ok?. Keep it civil and on point, please. Thank you!
How do you manage your chicken flock? Do you use supplemental lighting?
31