Read any recipe for jam, and eventually you will come to some variation of the following instructional step: "Skim the foam from the jam."
What is foam? Why do we skim it? How do we skim it? Do we have to skim it at all? Is jam foam a safety issue? An appearance issue? What should we do with the foam once we skim it off? This article will attempt to corral and answer all yours questions about skimming foam when making jam.
What is jam foam?
The foam that rises from cooking jam is simply air bubbles, trapped in something like a jam matrix. It's light, thick and spoonable, with very fine bubbles. If jam was akin to caramel sauce, jam foam would be more like cotton candy.
According to my friend, Master Food Preserver Theresa Loe:
The air content of the fruit itself causes foaming. Chopping, mashing and macerating the fruit in sugar overnight will result in less foam because you're removing some of the air pockets from the fruit before you cook your jam. Pectin doesn't seem to have an impact on foaming – strawberries (low in pectin) are notorious for foaming but cranberries (high in pectin) also generate lots of foam.
What's wrong with foam from jam?
Jam foam has a different texture and color from your jam, jelly, or other fruit preserve. If you don't remove it from your jam before processing, you won't achieve the clear, jewel-like colors that are prized in jam making.
Instead, your preserve will be more cloudy, or will have pale, sea-foamy streaks standing out against the more translucent background color of your jam. In the photo below, you can see these foamy streaks particularly well in the apricot jam on the front-left side.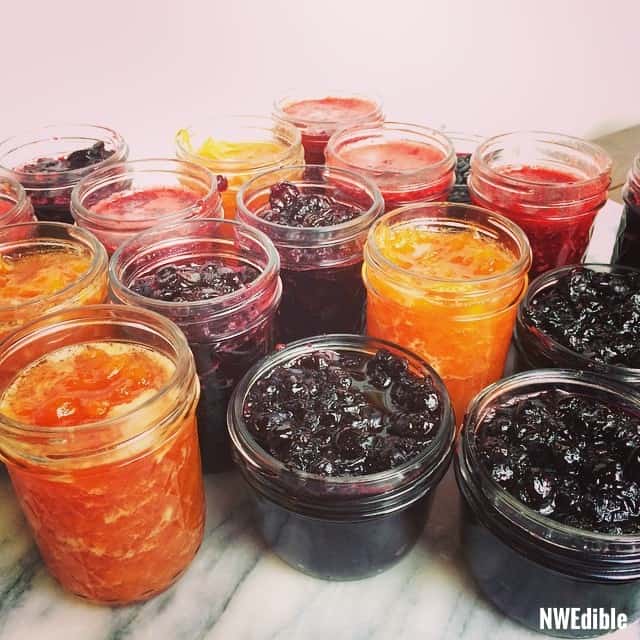 So is jam foam just an appearance issue? Or is there also a safety component?
The Big Bad in home canning is the growth of the botulinum toxin in your jars which can lead to botulism poisoning. In a high acid, high sugar fruit preserve, growth of the botulinum toxin is not a risk. The presence or absence of foam in your jam does not change that. Which is to say, if you follow all the other directions for safe jam making but neglect to skim the foam from your jam, you are not going to die.
However, because foam is mostly air, when you ladle a foamy jam into your jars for processing, you're introducing more air than is ideal into your preserve. There's two problems with this excess air.
Problem 1: Headspace
When you spoon a foamy jam into jars, you may not be able to accurately gauge proper headspace. Most jams and jellies will call for a 1/4-inch headspace. That's the gap between the top of the preserve and the very top of the jar. A foamy jam can give the appearance of a proper headspace when in fact the headspace is too high.
In processing, the extra air trapped in the foam is forced out of the jar, and the headspace in the jar collapses down to its "real" level. A jar with too much headspace is more likely to develop off-color and flavors in long term storage.
Problem 2: Incomplete Processing
Jams and jellies often call for very short processing times – five minutes is common, although I process all my jams and fruit preserves for at least 10 minutes just so I can avoid the jar sterilization step. Tested processing times will force all the excess air out of a jar in order to create a strong vacuum-seal with the lid.
If there's simply too much extra air trapped in the jar in the form of foam, the specified processing time may not be able to fully evacuate that air, leading to a weaker seal that's more prone to failure, and the increased possibility of mold growth in storage.
Problems with excess air are the same reason why we bubble jars to remove trapped air pockets.
How should I skim my jam?
Before you skim the foam from your jam, take the jam off the heat. Vigorous boiling makes it almost impossible to remove the foam.
I skim my jam using a wide, shallow ladle similar to this. I dip the very lip of the ladle just under the surface of the foam, and push the ladle gently towards the edge of the pan. The foam slides right into the ladle, and periodically I transfer the foam to a small bowl off to the side of my stove.
This is the most traditional way of skimming foam. Patrons can watch a video of this technique here.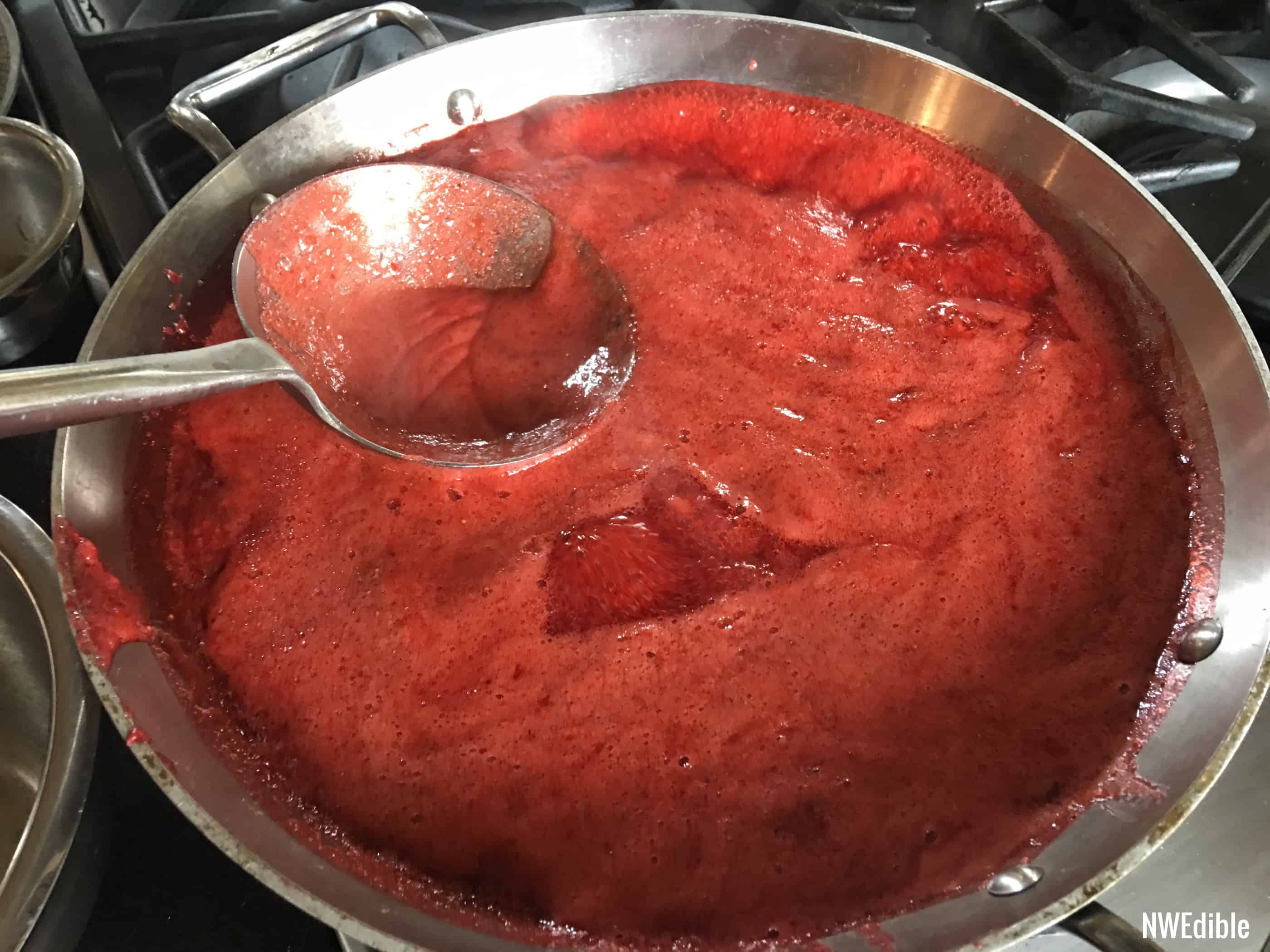 But the classic approach is not the only way to remove excess foam from your jam.
Again, Master Food Preserver Theresa Loe:
I prefer to skim off the foam using sheets of wax paper. Just tear off a sheet of waxed paper and press it down onto the surface of your jam. Quickly lift the waxed paper off without burning yourself. The foam will lift off in a jiffy. This is an incredibly fast way to skim. It only leaves traces of foam around the edges of the pan, which is easily cleaned up with a spoon.
Theresa's technique sounds great – I'm going to try in on my next batch of jam.
Do I need to get all the foam off?
There are aesthetic reasons to scrupulously skim all foam from your jam or jelly as discussed above. If you are angling for a blue ribbon at the fair, stuff like that is important!
However, the safety concerns regarding foam are more about the quality of your jam in long-term storage. In this regard, the problem is about the dose – how much foam is going into your jar, and how that extra air is going to impact the headspace and your seal of your preserve.
Tiny, residual amounts of foam aren't going to impact your jam at all. Even moderate amounts aren't dangerous – just a liability in storage. Use common sense. Skim off large quantities of excess foam (such as often develop in strawberry jam), but if the appearance aspect isn't important to you, you don't have to beat yourself up trying to get every last bit of foam.
Is there a way to reduce the foam so I don't have to skim it?
Yes there is, thanks for asking. I don't do this, but the National Center For Home Food Preservation (canning safety gurus, very trustable) says that you may add 1/2 teaspoon of butter or margarine to your batch of jam or jelly to reduce foaming. However, they caution that the addition of butter may cause off-flavors in long-term storage of jellies and jams.
This small amount of butter breaks the surface tension of the jam, and effectively discourages the jam from forming the jam-matrix that traps those air bubbles.
So why do I not add butter to my jam? If I had to justify not adding butter, I would point out that adding fat to any preserve decreases its shelf life, that butter can go rancid, and that I don't want to keep track of what jams might contain dairy from the perspective of sharing my jams with people who might have food sensitivities or constraints.
But honestly? It's just not how I do it. Everyone who cans their own food comes up with a process that – within the constraints of best practices for canning safety – works for them and their kitchen. For example, I prefer to pasteurize my vinegar pickles, I almost never use box pectin, and butter isn't something I add to my jams.
But I'm sure there's someone out there who adds a little blob of butter every time they make jam and loves the foam-reducing results.
Is there a way to not waste the jam foam?
If the foam is more like the scum that you would remove when making broth – grey, brown, or dingy colored – I just compost that. This kind of foam seems more common when making jam from stone-fruits like peaches or apricots. It's not harmful or dangerous, but it's just not very nice looking.
However, if your foam is some pastel variant on the color of your fruit (i.e., dark pink strawberry foam, pale orangey foam from peaches), please don't just throw it away! That kind of foam is super delicious!
You can skim the foam into a small bowl and let it cool. Use it as-is on toast, or, make our favorite: make Jam Foam Fruit Cream Cheese.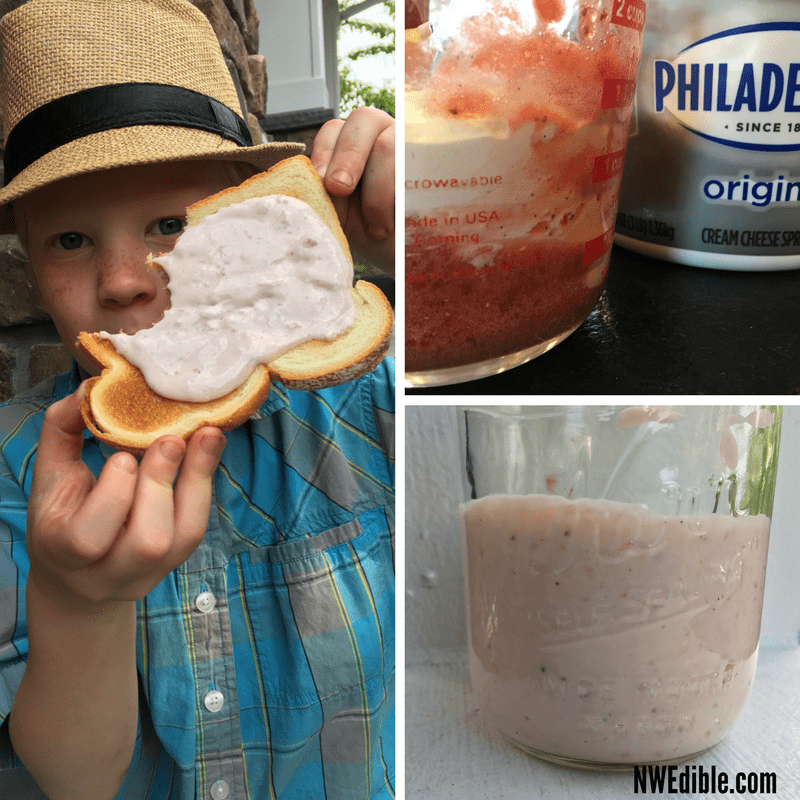 Jam Foam Fruit Cream Cheese
So easy! Just mix your reserved, skimmed jam foam with enough cream cheese to make a lightly-sweetened, fruit flavored spread. Use about twice as much cream cheese as jam foam, or less if you prefer a sweeter spread.
Spread this Fruit Cream Cheese on toast or use is as a dip for fruit.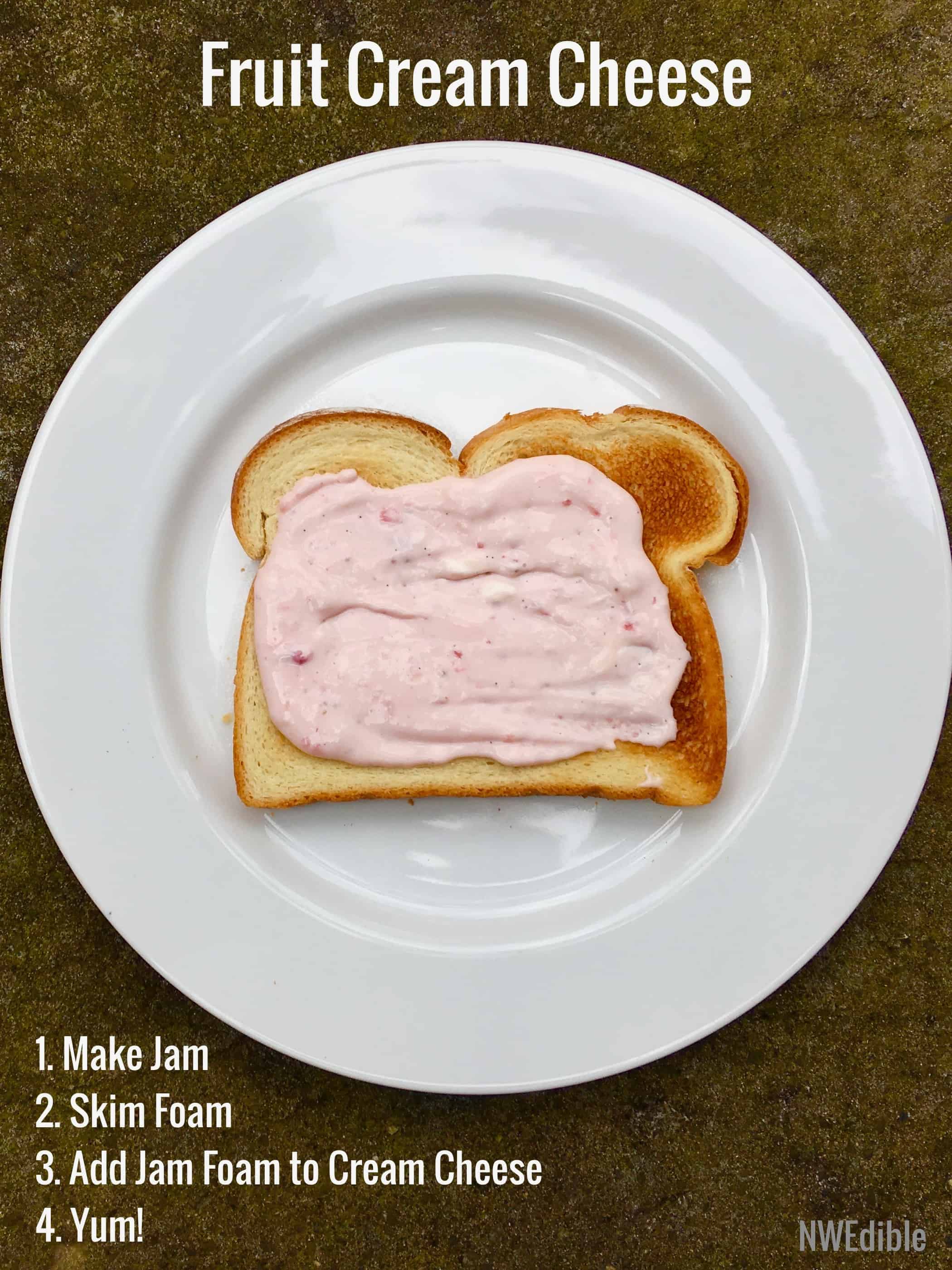 That's It!
Everything you ever wanted to know about skimming the foam from jam. At least, everything I could think of! Did I miss the one thing you've always wanted to know about jam foam? Leave a comment and I'll try to answer it.
Pin Me, Share Me, Save Me For Later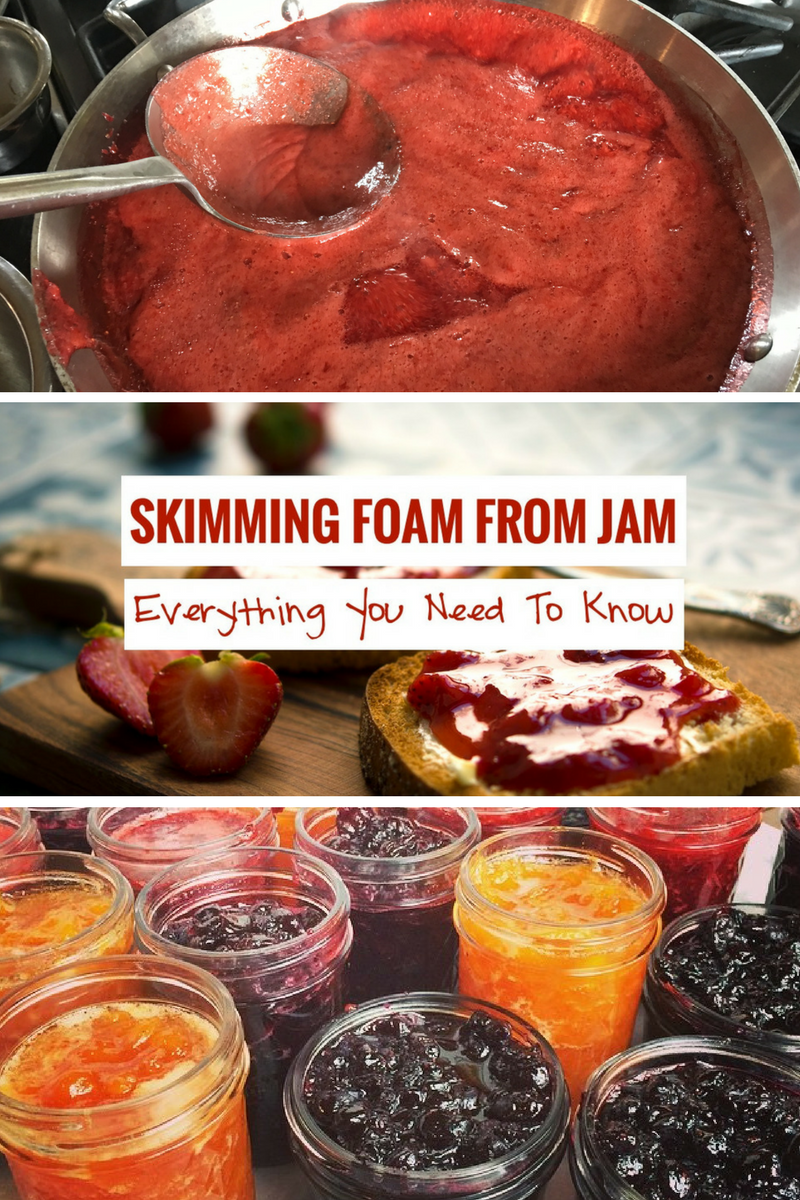 418